Domain Name Search Engine Registration Is A Scam
Most of the people were facing issues with the spam emails. Also sometimes there is no difference between the spam mail & Original Mail. This is creating lot of disturbance for the Website Managers. One of the spam mail which is getting increased in current time is "Domain Name Search Engine Registration for Your Domain".
By knowing the importance of the Search Engine Results and Ranking, people started grabbing money through some fake & illegal ways. Below, You can see the sample mail which we received frequently.
Attention: Important Notice , DOMAIN SERVICE NOTICE
Domain Name: ashndhfn.com

ATT: ______
ashndhfn.com
Response Requested By
18 – Marc. – 2018

PART I: REVIEW NOTICE

Attn: __________
As a courtesy to domain name holders, we are sending you this notification
for your business Domain name search engine registration. This letter is to
inform you that it's time to send in your registration.

Failure to complete your Domain name search engine registration by the
expiration date may result in cancellation of this offer making it
difficult for your customers to locate you on the web.

Privatization allows the consumer a choice when registering. Search engine
registration includes domain name search engine submission. Do not discard,
this notice is not an invoice it is a courtesy reminder to register your
domain name search engine listing so your customers can locate you on the
web.

This Notice for: ashndhfn.com will expire at 11:59PM EST, 18 – Marc. –
2018 Act now!
Just think if it is a normal person who doesn't have deep knowledge about the Search Engine Indexing Process, then am sure he will just pay them without any doubts. But it is not a true case, normally search engines will index the website in search engine result page based on their rules.
John Mueller (Webmaster Trends Analyst at Google) said that "No one needs this thing Search Engine Registration and without these things, your website must look fine". Below is the screenshot of this announcement in Google Plus.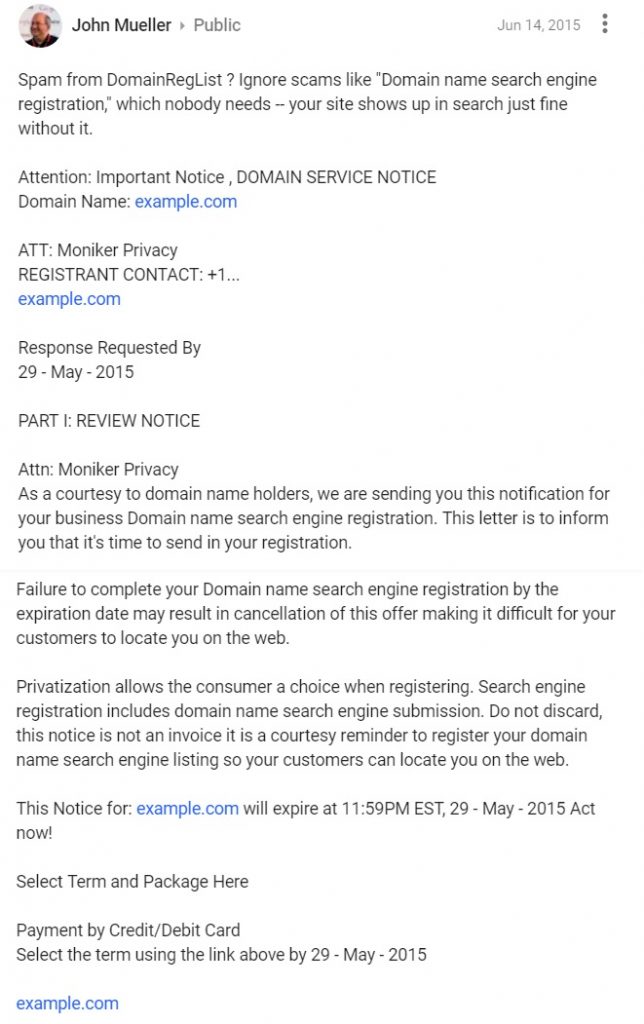 Make sure, you paying only for the people who value your things. Host your website with a reliable web hosting provider so you don't want to worry about your websites and its ranking or availability. If you receive such spam things, ask your web hosting support who must help you with these things.
At SeekaHost, we offering personal & business web hosting service with needed features at Affordable Cost. If your server is Good Enough and if you have a talented person in your support team then you don't want to worry about it.
With that being said, if you wish to learn about the in-depth knowledge about search engine ranking factors and how SEO works, you can learn the SEO skills online at the ClickDo Academy created by our mother company ClickDo Ltd. consultants after years of knowledge business website search engine ranking. 
You can learn the vital skills for your business domain name search engine registration and much more at the online training course.