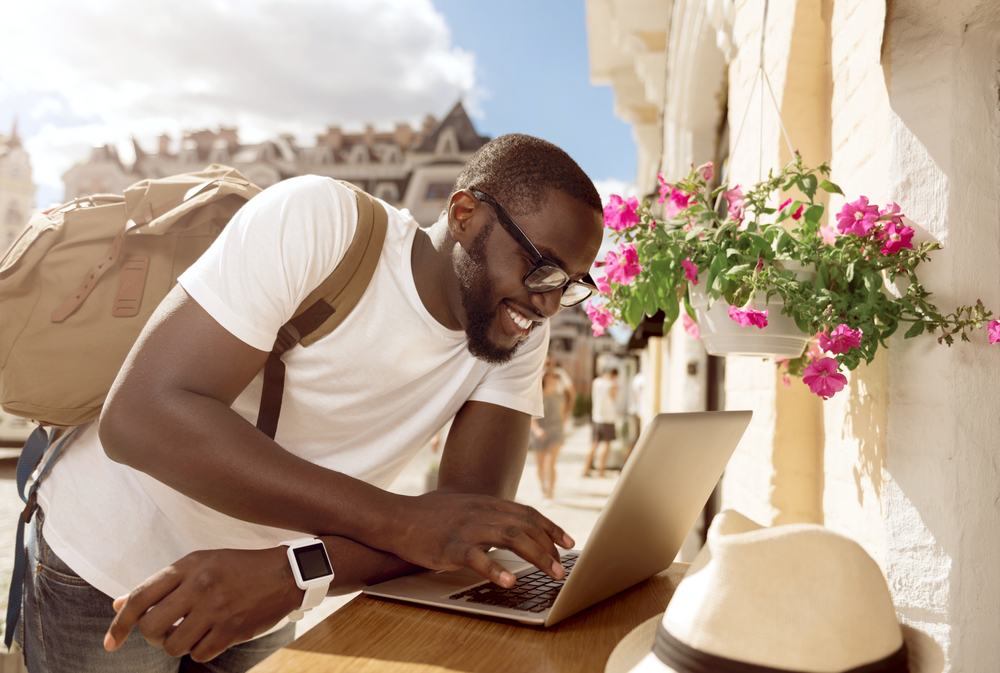 What is a digital nomad? Everything about digital nomad lifestyle

Do you want to know what a digital nomad is?
There are over 40,000 monthly searches on Google for the keyword "digital nomad", and I found that more and more people are trying to become a digital nomad. Still, they are not clear about what is a digital nomad or who is it.
What is a Digital Nomad?
Does the thought of seeking greener pastures in new lands excite you? Are you ready to embrace working from your phone or laptop as your office? Well, consider joining several industries that embrace remote work. Working as a digital nomad allows you to work from any location in the world and get paid.
Before you become a digital nomad, here is an honest analysis of the best places to work, payment methods and disadvantages:
Best Places in the world to work as a Digital Nomad
As much as remote work allows you the flexibility of walking from anywhere in the world, the location is essential.  Choose a location that aids your work. Pay attention to the internet connection, cost of living, security, and how much it inspires you. Also, consider the infrastructure like the availability of co-working spaces and transportation.
Having put these factors into consideration, these are some of the best cities to operate from as a digital nomad:
Ranked by Nomad List as the best location for digital nomads worldwide, Canggu, Bali is the ultimate place for you to work remotely. The city comes with ideal weather, affordable cost of living, and super speedy internet. You also get a lot of activities for your enjoyment. The popularity of Bali allows you to meet like-minded people to collaborate on projects or share living and working spaces.
The average cost of living in Canggu is $1376 per month.
With one of the most expansive beaches in the world, Thailand is great for those looking for adventure. The best place to stay in Thailand is the outskirts of Chiang Mai. The area is tucked away in the mountains for a peaceful working environment. It is also easily accessible through road and air transport. Meals costs around $1 in the city that makes it quite affordable. To blow off steam, you can get a Thai massage, or go out to play with elephants or trek the jungle.
The average monthly cost of living in Chiang Mai is $1115.
Mexico is a digital nomad paradise. It offers the high life with a wide variety of activities. Whether you are looking for extreme water sports, jungle excursion, or some good food, you will have it all here. Cancun has well-equipped co-working and living spaces, and ideal weather.
The average monthly living cost in Cancun is $1168.
Bueno Aires in the perfect destination for those who want to experience a rich culture and incredible weather. It has several beautiful landscapes and affordable travel for the ideal adventure. Besides, it has super-fast internet connections, low cost of living, and reliable healthcare.
The average monthly living cost in Bueno Aires is $992.
Lisbon is one of the most popular destinations for remote workers due to the great weather, architecture, and the general positive vibe. The city is slow-paced that allows you to enjoy its gifts while also finding time to work. Enjoy the incredible seafood, hill climbing, and the whole-year sunshine.
The average monthly cost of living in Lisbon is $1918.
One of the most beautiful cities in the world, Budapest is all about culture and comfort. The city has an active music scene and nightlife and advanced healthcare options. It tops off with fast internet speeds and a steady supply of co-working spaces. Moving to Budapest is relatively easy as you don't require a visa for stays of under 90 days.
The average monthly living cost in Budapest is $1643.
Tracking your Expenses
A new destination means new places to visit and things to buy. Without a laid down financial plan, you can find yourself running out of money. You, therefore, need a plan to ensure you have the right living conditions throughout your stay.
The first step towards tracking expenses is by determining the essential needs during your stay. First, you have to cater to travelling expenses. Look for the most affordable airlines and discounts if available. The next step is to consider the cost of the co-working and living spaces. Most destinations provide co-working spaces with a reliable internet connection and a conducive working environment. The best way to save on the cost of living spaces is by using shared spaces. Afterwards, set aside enough money for food and exploring the new destination.
One of the most important, yet least covered expenses by most remote workers is healthcare insurance. Good health is a must throughout your travelling escapades. Most people are also prone to getting ill when they tour new regions. You are better off taking an international health insurance cover before starting your journey. The cover comes with comprehensive medical benefits like wellness and routine checks, serious illness, chronic conditions, and other treatments. Now that you travel a lot, travel insurance plans will protect you from lost luggage and any other travel inconvenience.
The equipment to use is also another expense you must incur. The type of material determines your quality of work. That is not to say you should splash millions on the high-end gadgets even if you cannot afford it. Consider getting a mid or low-range device when starting and upgrade later after you are established.
To help you track your expenses, there are several mobile apps and tools to use. Nomad Budget app is one of the apps that enable you to avoid overspending. It allows you to create a spending target and watch your expenses. Work From is another app that provides a comprehensive list of places where you can work from in any location. It gives you a database of co-working details where you decide on the most cost-effective one to use.
Ultimately, the best means to help you track your expenses is by making and sticking to a budget.
Getting Paid as a Digital Nomad
Once you land a client, getting paid is the next concern. You need a payment option that guarantees you the fast recipient of money without incurring a lot. These are some of the best payment options for digital nomads.
TransferWise is the best cross-currency transfer method for digital nomads. It is affordable and easy to use compared to the other money transfer options. TransferWise lets the sender key in the amount they want to send in the recipient's local currency. It then converts automatically, which helps you avoid conversion fees.
The cost of sending money using TransferWise depends on the amount of money involved. It is generally cheap, with costs going as low as 0.5%.
Payoneer is a fast payment method for digital nomads. It is widely accepted in many countries to receive money in any location. It comes with a prepaid Master card for transactions in places that accept major credit cards. You can also use the card to withdraw money from ATMs.
Payoneer currently allows transactions in over 100 currencies and charges you an average transfer fee of $3.
Skrill has been operation for a while and is popular with many websites. It is one of the easiest payment processors to set up. Using Skrill is affordable as you don't pay to receive money. The sender pays for the 1% transaction fee. The fee is capped at $10. Skrill allows you multiple withdrawal and spending options. Like Payoneer, Skrill provides a MasterCard for transactions.
Revolut is a mobile payment app connected to a MasterCard. It allows you to receive money in over 20 currencies and spend it in over 90 currencies. Using the app is convenient as it automatically converts the cash into your local currency when transacting. It also allows for free monthly transfer of $500, and %2 charge on exceeding amount.
Revolut allows clients to initiate payments through SMS, WhatsApp, or email if they don't have your bank account details. After this, you complete the transaction within 24 hours.
One of the oldest money transfer methods, Western Union, is still a leader in receiving money by digital nomads. The main advantage of using Western Union is that the sender does not need your account details. You can, therefore, opt for it in case you lose your bank card, or the ATM is not working. The cost of sending money through Western Union is relatively low, while the bank transfer fees depend on the local bank.
PayPal is one of the most used online payment methods by digital nomads. Several online stores and websites widely accept it due to its flexibility and ease of use. The main concern that comes with using PayPal is the high cost of transactions. It charges a standard fee of 3.9% for transactions between users in different countries. It also comes with lower exchange rates for currency conversion. This can translate to you losing a considerable amount of money.
Disadvantages of Digital Nomad Lifestyle
While it might seem all grand and glam touring the world while getting paid, it is not full-time joy. It comes with its fair share of disadvantages that you have to be braced for. Only become a digital nomad if you are ready to battle the cons. They include;
Working online while travelling the world come means no guaranteed income. Some months you might have more than enough clients, while some months you have none. There is also the possibility of working, and the client rejects your work or fails to pay. Sometimes you create a product but don't make enough sales.
To avoid getting caught up in the rich-broke cycle, only get travelling when you have enough savings. This ensures you can survive for a considerable time without a steady income. Also, diversify your income sources by learning and perfecting more skills.
Travelling the world endlessly means you don't get to see friends and family as much as you want. This can affect your concentration levels and ability to enjoy new experiences. Even though there are several commination methods like Face timing and WhatsApp video calls, there is still the missing personal touch.
To bat the loneliness, make time to go back home from time to time. Make the return dates coincide with other activities and celebrations to help you meet several people at once.
Anyone starting the digital nomad lifestyle must be ready to work hard. Unlike the 9-5, working online does not come with weekends and holidays off. You are always looking to work as much as you can to earn more and settle seamlessly. Once you have settled in the new environment, you can create a working routine to factor in both work and pleasure times.
To help you through the work, consider outsourcing when you have extra work and spend your time on worthwhile activities.
While the lack of a fixed workplace is the allure of the digital nomad lifestyle, it comes with its challenges. As much as you might work from everywhere, you still need reliable internet connections, power sources, and comfortable sitting areas. All these might not be available in your location, thus hindering your productivity.
If you don't want to get caught up in a place where you can't work, research beforehand to ensure the area you are headed has reliable internet connections. You are also better off working in dedicated co-working places.
Most countries have visa provisions before you can visit. You also need to seek working permission to work safely in the country. Tax is also another concern that various countries approach differently. To ensure the right procedure, contact the country's local embassy for guidance before you travel. Also, look for information from online sources and consultants.
Now, watch this video by Lost LeBlanc, who is a top digital nomad to learn from everything about what is a digital nomad and how to utilize everything mentioned above for your location independent laptop lifestyle.
Now you are clear about what is the digital nomad and you might have got some ideas about how to become one of them.
You can read the digital nomad guide to learn more.
HOW MUCH does BALI COST?
You can follow the digital nomad blog by Fernando for more inspiring articles and learn how to truly become a free person to travel and live the digital nomad lifestyle.
Bottom Line
If you are contemplating joining the digital nomad lifestyle, you must have all the necessary information before starting. Ensure you use the right payment options and track your expenses. Also, keep growing your skills to increase your job opportunities.
Are you confused about how to go about becoming a digital nomad? Click here for the top tips to become a digital nomad, travel full-time and make money online.