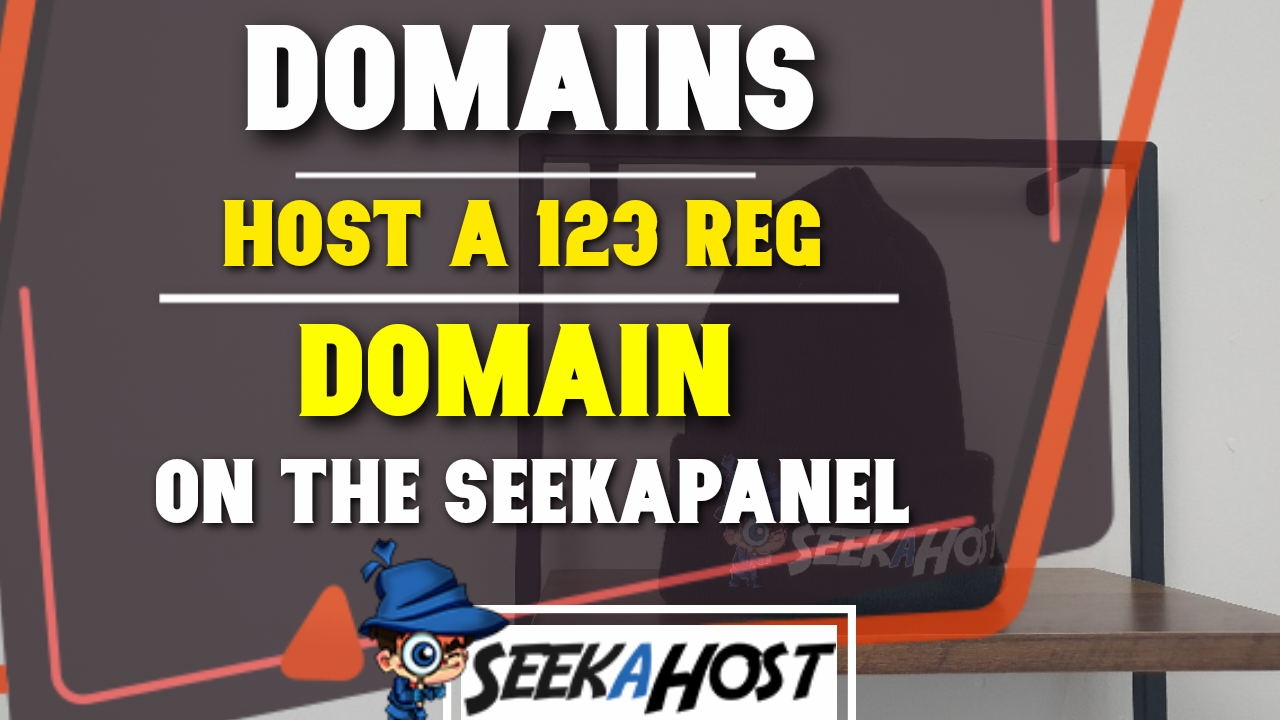 Best 123 Reg Domain Hosting Alternative
Are you looking for 123 Reg domain names hosting alternative or just want to know how to host it with SeekaHost?
In this detailed guide, you will learn how to use the SeekaPanel and easily add any domain by changing the nameservers over to match the domain with the hosting.
Meaning you can use all our great free features such as a free domain email account, free SSL, google and clicky analytics integration and much more. Check out SeekaHost.app to view our domain and hosting packages yourself.

123 Reg Alternative Domain Registration (With Easy Hosting)
A great 123 Reg alternative domain hosting is SeekaHost, this is even if you already have a domain registered with 123 reg. You can still just as easily add it to SeekaHost hosting to get much more for your money.
Not only do we have some of the cheapest hosting around but we also have other great features that other hosting companies charge for.
If you wanted to get a domain we also have some of the cheapest domains, made easy for you to search, find and add to hosting on the SeekaPanel.
Free Domain name based Email address
All our WordPress packages come with an optional but free email account connected to your domain. By that I mean matching so if my domain was www.blogger.com you would choose a name to start it with such as admin, you would have an email created that is [email protected]
As mentioned this is free and takes only a few seconds to setup using the SeekaPanel.
SSL Certificate for Free and Easy to Add
As the best 123 reg alternative we offer a free and easy way of setting up your SSL certificate so you can secure your site. This will give you the padlock next to your domain and also show as a secure site when people search for it. Websites with http will often come with warnings from the browser letting them know this site could be un safe to go on.

Google and Clicky Integration to Your Dashboard
We also offer an amazing feature of adding both your google and clicky analytics to your SeekaHost dashboard. As the best 123 reg alternative we provide as much as possible for our users with out extra charge and also with video tutorials to help you along the way to create your perfect WordPress site.
How to Host a 123 Reg Domain on SeekaHost
So lets go through you can host your 123 reg domain on SeekaHost. This only takes a few minutes and can always be altered at a later date if needed. A quick explanation if that to connect the domain to the hosting we need to match the nameservers in the domain to the nameservers provided with our hosting package.
Log into your 123 Reg account and Select Manage Domain.

Now you need to scroll down untill you see Manage Domain Locking.

Unlock the Domain, this will be re locked after the nameserver change.

Now go back to the manage domain age and select Change Nameservers (DNS)

On your SeekaHost account get your nameservers once you created the WordPress site.

Insert them into the 123 Reg nameservers panel 1 and 2 and then update.

Make sure to go back and lock the domain and you can close the 123 reg page afterward.

Simply head on over to the SeekaPanel and activate your SSL certificate and you can login with the details emailed over to you. The username and password will also appear on the WordPress info page prior to you activating the SSL certificate.

Conclusion
We want the best for our customers, as a 123 Reg Alternative Domain Registration and Best Hosting we offer not only a professional email account, security for your WordPress site or support if needed. Not only that but we have a huge tutorial video guide on our YouTube channel for anyone to use for help growing their website or blog.