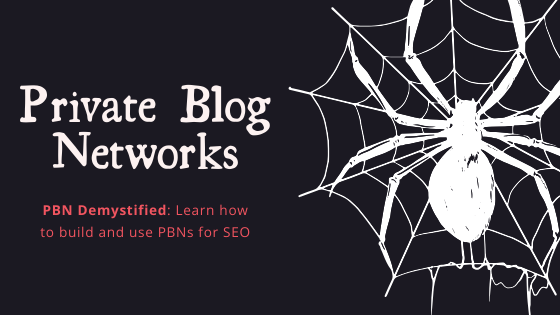 Private Blog Networks: Everything You Must Know About PBN SEO in 2022
The private blog networks are highly in demand and the multimillion-dollar expired domains market thrives due to PBN builders and PBN SEO folks who use private blog network SEO techniques to rank websites on search engines.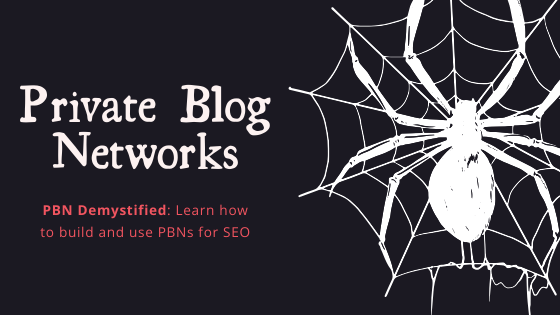 There is more to private blog networks than just using PBN for SEO.
To be honest, gone are the days anyone can build low quality private blogs and expect to get any SEO power from them for the websites that they link to.
Before going any further, let's look at…
What are Private Blog Networks aka PBNs?
A private blog network consists of a set of private blogs that are built with the primary focus on improving SEO for website to achieve higher ranks on search engines. In the past, many PBN owners would apply so called "black hat SEO" techniques within their PBNs such as keyword stuffing and this would lead to those blogs being penalised by search engines, losing domain authority (DA) and domain ratings (DR) and consequently dropping in ranks significantly.
Back in 2014 until 2017, the private blog networks worked very well and SEO was an easy task. We used to build blogs, pump content and place backlinks as we build them, and they worked within days.
I thought SEO was straight forward and I could use it to help business owners rank their websites and get leads, sell products and services and build a profitable SEO agency.
However, things got tougher as search engines like Google developed smarter bots and technology and tightened their guidelines, which impacted PBNs for the obvious reasons. Google and other search engines increased the quality scoring factors for expired domains as well, which are used to build blog networks.
Read more about what are private blog networks in SEO and how PBN expired domains can be used for SEO to get the full picture.
Are private blog networks good for SEO in 2022 and beyond?
If you search for private blog networks on Google, you may come across the below two articles showing that PBNs are bad and they are a good way to get your websites penalised.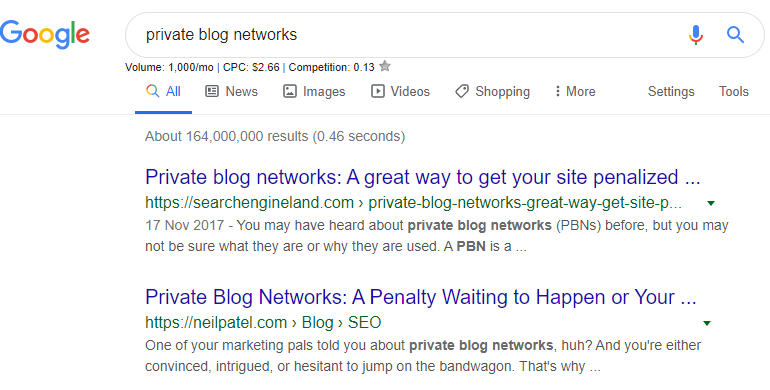 See when the first article of these articles was published, it was back in 2017 when PBNs started to get badly hit from Google, poor low-quality PBNs were impacted by dropping significantly in SERPs, losing a lot of their SEO power for the other websites they were linking to and from.
This is why we recommend anyone looking into building PBNs and private blogs to check out search engine guidelines that are freely accessible via Google or Bing. Here you will find out what to consider when publishing content on any of your websites and blogs: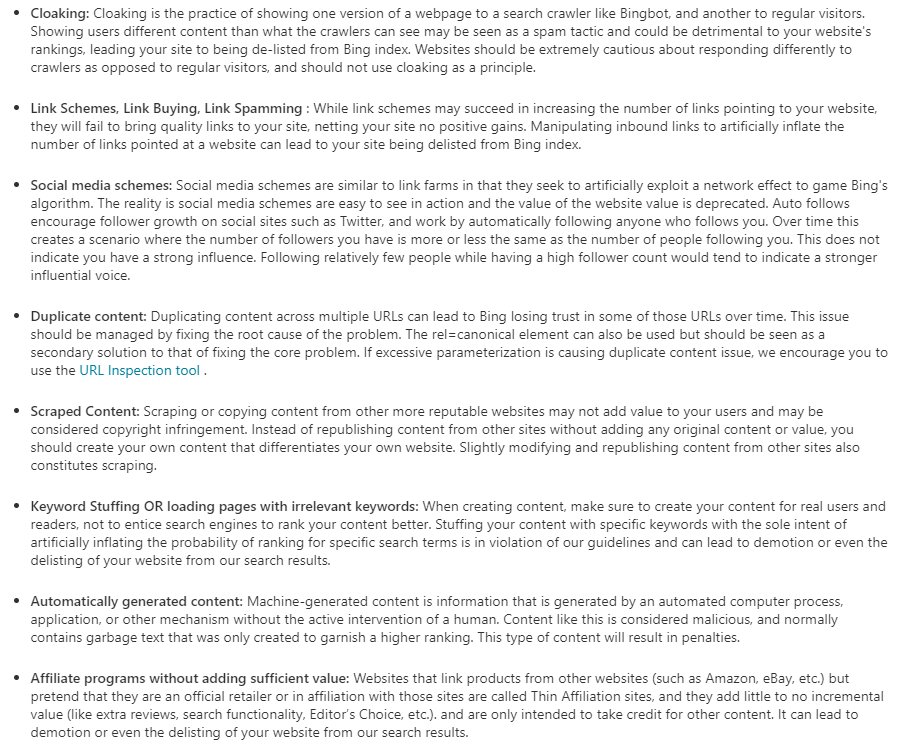 We've also written many articles at SeekaHost and at ClickDo about how blogs should be built effectively, if you are planning to use them for SEO and how you can profit from your blogs.
Recently I wrote about how to build PBNs to help your SEO:

In that article, I share some live blogs and how they were built by our team so that they are effective and legitimate for SEO purposes and ways to earn with blogging.
The problem is that many PBNs consist of blogs with low-quality content and most of them are built to plug links and not for the reader to get any value.
Search engines penalise it with negative rankings and SERPs and everything you have invested in your blogs won't give you a return, if you don't follow their guidelines or our success formula.
Because many people asked me about the value of buying PBN Links, I wrote about should you buy PBN backlinks:

In that article, I explain what to look for when planning to buy PBN backlinks and it will also give you a good idea about how to evaluate private blog network backlinks.
Read: Fresh Domain vs Expired Domain: Which One to Use for Affiliate Marketing? which will give you some ideas about how expired domains can help in SEO and with building PBNs.
What do you need to build a successful PBN?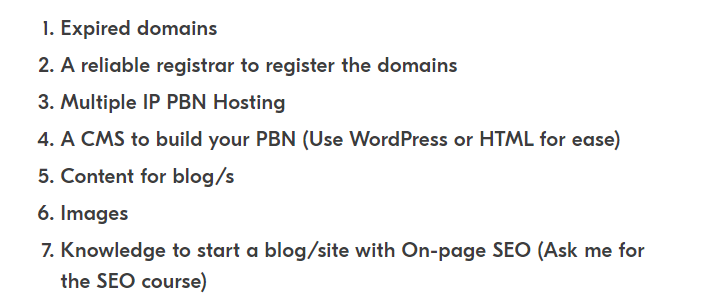 By now you have an idea about private blog networks.
Let me explain to you about the viability of PBNs.
You can use PBNs to help SEO by building authentic blogs with high-quality content that are maintained well and you can find the best success factors for private blogs that are part of a PBN in this article: PBN SEO: Does Private Blog Network SEO Still Work In 2021 (seekahost.com).
When you know how to build your PBNs footprint-less for SEO advantages you are good to go with private blogs that can offer SEO support in many ways plus deliver additional benefits.
There are many people who offer private blog network services and buying a PBN setup from one of the experts will be a good way if you have less experience or lack of expertise in identifying good expired domains or private blogs.
You can also look to buy a private blog network for sale and you must check if they are good to help in SEO. Create a free account on SeekaHost and open a support ticket requesting to evaluate the private blog network for sale.
If you have any questions about private blog network SEO or want to know where to buy an expired domain and how to place links on blogs, you can learn it on the Local SEO blueprint.
Private Blog Network Sites Examples 
To provide you with a better idea of how to follow search engine guidelines and build private blogs of high-quality, we share some of our examples here and what we implemented to make them rank well, achieve a good DA and DR over at least 20, which is the minimum to achieve good results for SEO, and generate an income through guest posting.
The below shared blog examples are managed by SEO & content experts and it is important to understand that maintaining a blog takes time and effort and if you are trying to build a network of different blogs in different niches, you may need to get assistance to keep the quality and standard high. You will see in the following examples what is required and what it takes to build successfully ranking and maturing blogs.
It is important to note that all those blogs are managed with WordPress as a CMS and they are hosted in the SeekaHost App with WordPress Hosting or PBN Hosting by SeekaHost. The newly developed SeekaHost Blog Hosting Control Panel is uniquely designed to manage dozens of blogs easily and quickly inside one dashboard. It has many more advantages especially for users looking to build PBNs and you can read more about it here: Best WordPress Hosting Control Panel To Host WP Blogs & Websites (In Less than 60 seconds) or watch this short explainer video:
So, let's have a look at some of the private blogs and how they have been built and managed to perform well on search engines and for SEO.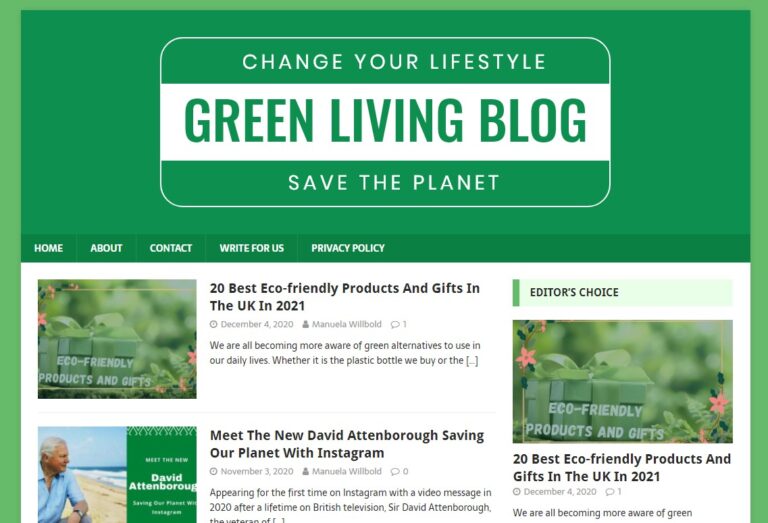 The Green living blog is a blog managed by top German blogger Manuela Willbold. She has found this expired domain with me on domain auction platform DomCop and we actually recorded this live as you can see here:
In the video you can see how we researched the domain history to ensure it offers a good backlink profile to benefit any SEO activity in the future. Using analytics tools is a MUST when building PBNs with expired or new domains and hosting your PBNs in the SeekaHost Control Panel will enable users to track each site with Google Analytics and Clicky inside the panel.
Once the domain was bought and registered with SeekaHost, it was added to the SeekaHost control panel within 60 seconds. You can do this very easily in a few steps when you buy the WordPress or PBN Hosting inside the app. Find out more here: How To Get Domain Name & Hosting At SeekaHost Portal?
Then Manuela went on to set up this WordPress blog with a suitable WP Theme, building relevant pages and adding images and information that every blog should provide. You can find fantastic tutorials for WordPress on the seekahost.org blog.
Before she started to publish articles about green living and eco-friendly lifestyle tips, she researched keywords that would be suitable to rank for this blog. As the URL contains "green living", it was obvious to publish a few articles covering "green living tips". But she also discovered other related search terms that are not too difficult to rank for such as "sustainable fashion" or "eco-friendly products".
She adds relevant links to each blog post, especially from relevant authority websites in this niche and you can check her articles. She now gets enquiries on a weekly basis for guest contributions about green subjects and the DA and referring domains to the root domain give a solid SEO power so that all other websites with backlinks here receive a healthy boost on search engines. In return, Manuela also gets guest mentions or guest posts linking back to the Green Living Blog on high authority websites in this niche.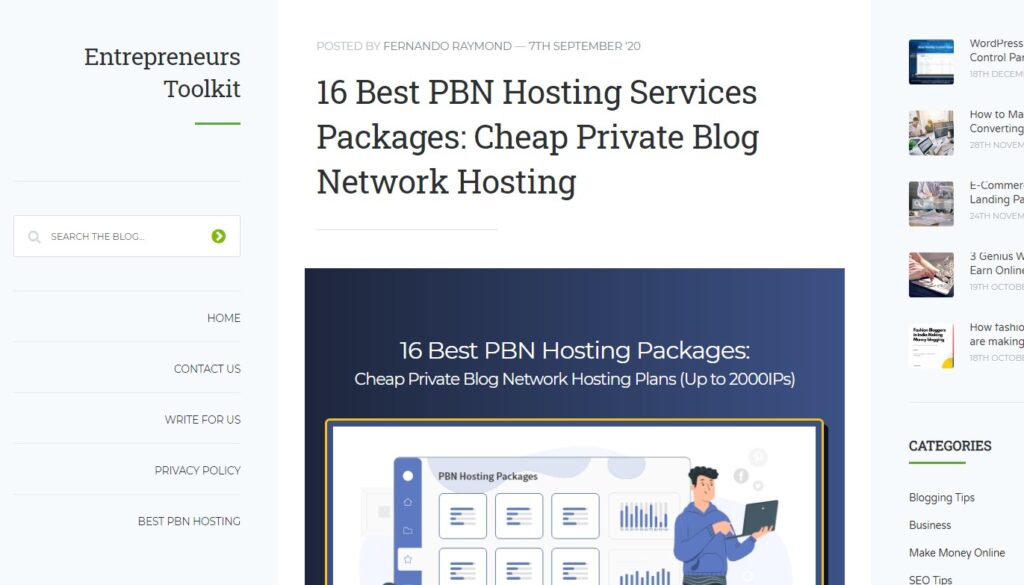 One of my favourite PBN sites on the list. This blog is also an expired domain that I found, registered and hosted in the SeekaHost app along with Dinesh from ClickDo. The domain name was ideal because it can be used to reach entrepreneurs and business people to share tips on web hosting, corporate websites and online businesses. The article I published with the keyword "best PBN hosting" already ranks on the first page of Google.
This proves how useful the use of a private blog for SEO purposes can be, because this blog helps SeekaHost to rank its web hosting services higher on search engines, as well as reach a wider audience and better market the brand online.
Guest contributions are also published by the team here if they are of high quality and fit the topic. With an article with 1000 or more words, you have a good chance of ranking for a competitive keyword with guest posts on authoritarian blogs in your niche. If you are looking to guest post on the above blog, get in touch with Dinesh at ClickDo or simply send an email to [email protected] to get published.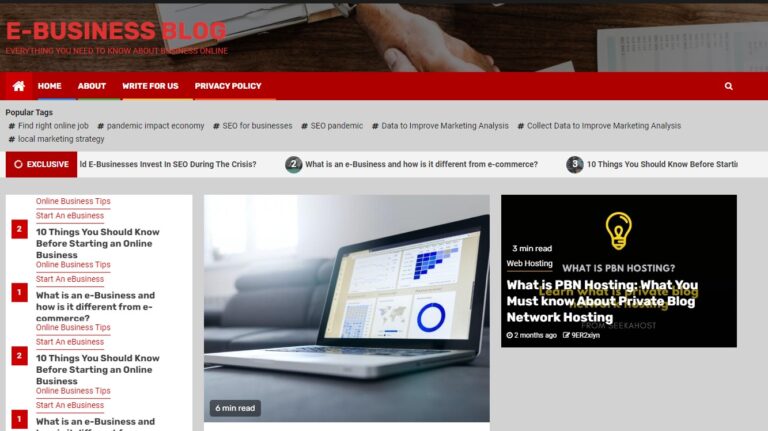 Just like the blogs mentioned above, this is also an expired domain with positive properties and a domain name, which is a good platform for content with relevance for e-commerce and internet companies. This is important for SeekaHost because many potential customers are active in this area. Thus, this blog is used to share tips and news for these topics and to link relevant articles from other sites that are part of the PBN here.
In order to give such blogs a higher domain authority, their articles and other relevant articles must be linked to other related PBNs. In order to expand such blogs, guest posts are often published and if the website has a domain authority of at least 20, guest authors are also willing to pay a fee for the publication of their articles. Thus, such blogs are used in several ways by the owner and our team uses this blog for both.
Now it is hopefully a little clearer what private blogs are in PBNs and how they can be effectively built and used for SEO to rank different websites higher on search engines.
If blog articles are regularly shared with high-quality content, search engines are even more likely to reward them than punish them, which many assume. However, they need to be properly hosted with WordPress hosting, PBN hosting or SEO hosting in order to reach their full potential and SeekaHost offers the best web hosting solutions.
All of these PBNs are hosted with individual IP addresses
Search engines such as Google or Bing classify websites with individual IP addresses as independent and not related. This means that these websites are not attributed to the same owner, which is positive for all SEO activities that are carried out from these websites.
If search engines do not recognize a direct connection between websites that link to each other, they consider these links to be positive, which increases their authority, even more so if they deal with similar topics and the links make sense and enhance the websites in terms of information.
Therefore, when building PBNs you have to follow some basic rules.
How do you design your PBNs legitimately and effectively?
The interactions of website visitors play a major role in terms of domain authority and domain rating. When readers quickly jump off the website, search engines rate it as negative and "punish" it by lower placements. Therefore, the goal of websites and PBNs is to convey high-quality content that interests visitors and offers them good value that ideally they will return to.
Checklist for websites and blogs of PBN Networks for SEO:
Choose a theme that is appropriate for the blog and its audience. If the blog has a news format, select a news theme that allows you to show different posts in different categories on the home page. Try to create high-quality and informative content, rather than just creating backlinks, which devalues rather than enhances the blog. You can see one of our news blogs that is growing very well: The London Business News Blog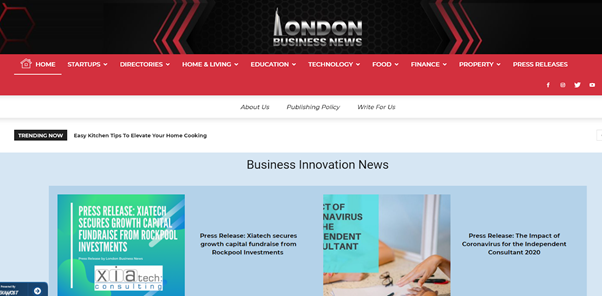 A logo is like your brand. Try to create an individual logo for each domain to give it a recognizable character so that visitors immediately know what this is all about. Use design tools such as Canva for this purpose.
Unique and relevant Content
Invest time or money in the content of your blogs to avoid footprints. If you publish similar or the same content and always use the same keywords to create backlinks, search engines will negatively rate your websites with lower domain authority and low ranks. Avoid linking PBN websites directly, especially if you have a small PBN network.
There are some basic pages that your website should be equipped with, such as an "about" page with about 400-500 words to explain to the visitor the purpose of the website. Change the title to "About us" or "Who we are" etc. on your different blogs. A contact page with some contact details and details to show authenticity should also be created. And other sites such as privacy pages, terms and conditions, disclaimer and more should be added.
This is the basic concept of building a PBN without leaving a footprint. If all your blogs are hosted at the same IP address, then it's a hint that they all belong to the same network or owner. Individual IP addresses for the blogs in your network present differences for search engine bots.
The private name server configuration is important so that all websites in your network vary in their name server details for the domain names. For example,  if your domain name is abc.com, your private name server is ns1.abc.com & ns2.abc.com. However, it is best to vary it for each domain and not disclose the details of the hosting provider.
Different Server Locations
This is an optional requirement to show more variation if you have more than 100 domains in your PBN network. If the IP files assigned to your sites belong to the same location, this can act as a footprint. If you have more than 100 domains in your network, you can select a PBN hosting provider like SeekaHost that can display variations in IP sites and servers.
You won't be able to find most PBNs with backlink checkers like Ahrefs, Moz and Majestic since most PBNs block their crawlers. Backlink checker tools like Linxact can crawl hidden backlinks from PBNs, which is useful for your own SEO strategy and to check your competitor's PBN backlinks.
Hopefully now you understand what a PBN is, how to go about building one with legitimate and effective techniques and strategies and what to look out for. For any further questions around the topic of PBNs you can join the PBN Demystified FB group or speak to the SeekaHost Live Chat team.