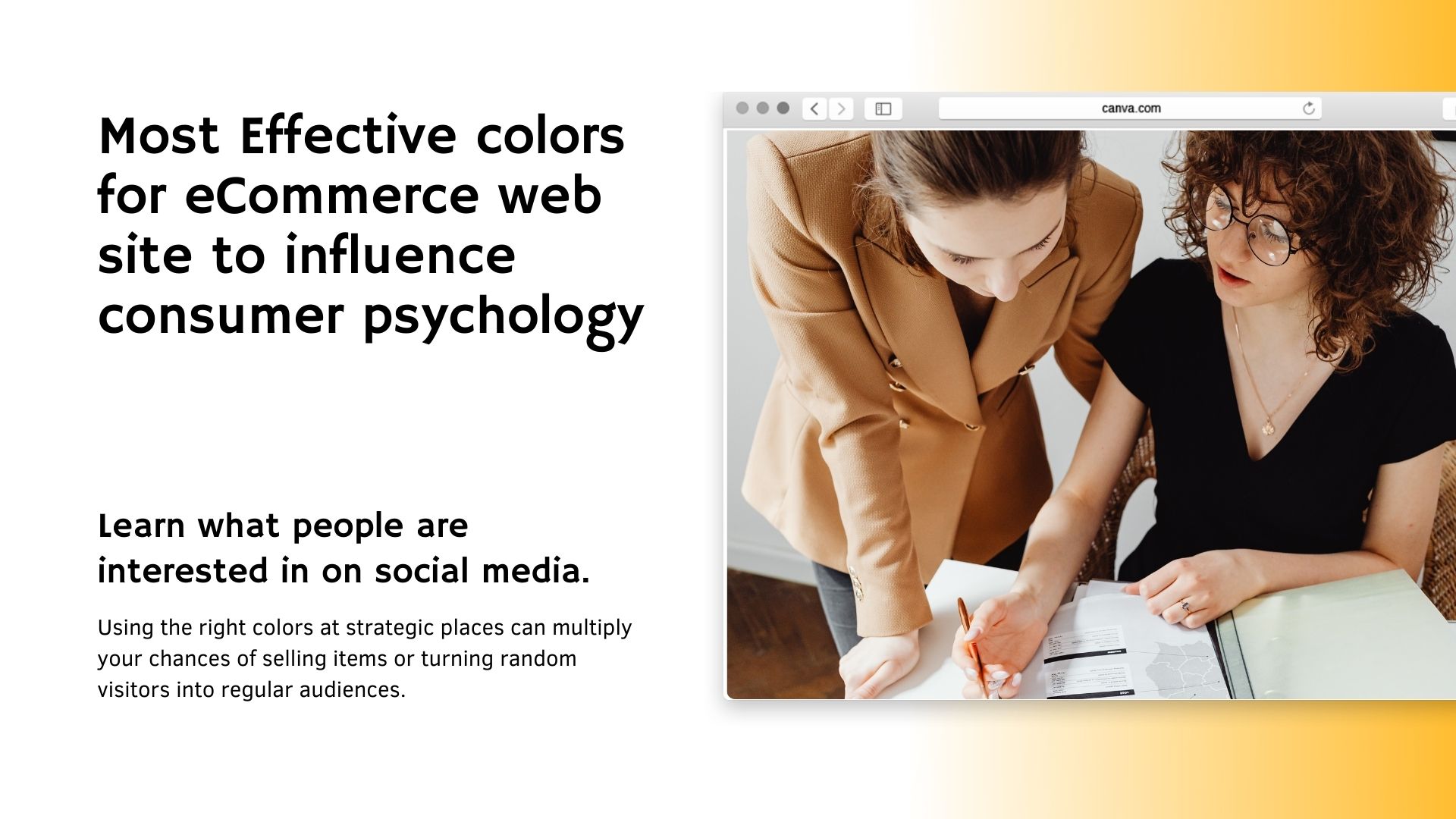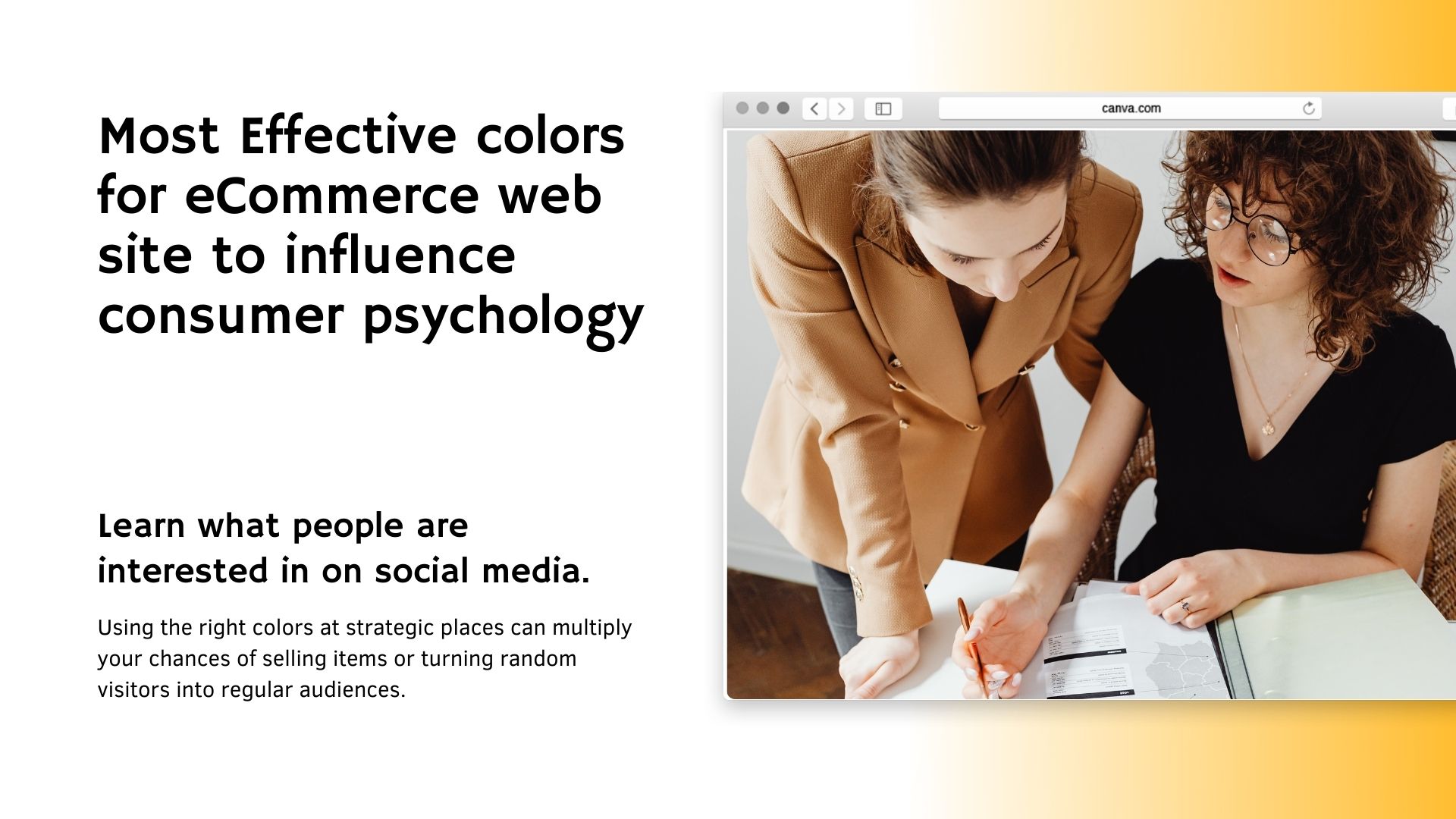 Effective colors for ecommerce site to influence consumer psychology
Looking for the best color schemes for eCommerce websites?
In this post, we will look at effective colors for eCommerce sites to influence consumer psychology.
Most of us know that the layout plays an important role in determining the business potential of an e-commerce site. But did you know that colors can directly influence the visitors; psychology and can make a difference between hits and misses?
Using the right colors at strategic places can multiply your chances of selling items or turning random visitors into regular audiences.
Different colors have different effects on human psychology. So, we decided to crack the equation between different colors and specific human emotions to help you optimize your site for maximum conversions.
Here is a curated list of key colors that you can include in your eCommerce site to enhance your brand impact and close more deals: 
Orange
Orange represents optimism and is also related to happiness and fun. This is probably the reason why Orange is among the major colors used in cosmetics and accessories. Adding orange to your eCommerce design makes it look more appealing and also keeps the people engaged for long enough to convert them into shoppers or at least convince them to join your subscription program.
Suitable for: websites related to childcare, food,  entertainment, automotive, technology, and e-commerce. 
You can also use it to attract quick attention like on CTA elements meant for buying, signing up, or subscribing. 
Also use it for portions related to clearing, discount, promo, and festive sales. In short, you should use it in the portions that you want people to notice and react to. >>
Good to know: Too much orange seems overpowering and can strain the eyes. So use it only to highlight the elements but not as the full-fledged background color.  
Yellow
Yellow is the color of the sun at its best. It induces positivity and symbolizes joy. We naturally feel happy and cheered up when looking at the yellow colour. It keeps the spirits high and won't let the visitors feel bored when surfing through your eCommerce sites. Especially the industries like the service sector, the yellow color is among the ideal colors to be used on the websites.
Good to know
Modest use of bright yellow energizes the visitor and makes them feel joyous. Softer shades of yellow calm down the people
Too much use of yellow color is associated with spam or something fishy and it is best to avoid using it as standalone color
Suitable for: In website design you can sparingly use yellow color to highlight specific design portions. It can be used for CTA elements.
Green
Have you ever noticed how quickly you feel refreshed or renewed when you enter a park with greenery all around? Along with other factors, the green color also plays an important role here. It is the color associated with health and nature. With a soothing effect on the eyes, it instantly calms us and makes us feel fully satisfied. It is the color that is also related to health. So if you are dealing in health products, herbal alternatives, or nature-friendly/nature-oriented items then green is the ideal predominant color to use for your website.
Suitable for: websites related to tourism, wealth products, science and medicine, environment and sustainability, and career or human resources, 
Good to know
Green color soothes the eyes and has a calming effect. It is the color of renewal, abundance, and innovation. 
It is not the right for websites that are related to technology, luxury goods, or material related to teenage/millenials girls 
Blue
Blue is related to confidence, trust, and faith, it is also the color of corporate. The versatility of Blue makes it the go-to color for different websites. Especially if you are selling financial products, running corporate services, or offering transportations, investment advice, or B2B services then blue is the right color for your website.
Suitable for: Health/dental care, high end technology , science and medicine, legal, government, utilities and corporate websites.
Good to know
Blue color represents dependability and is used to characterize non-invasiveness. It is also a soothing and mature color
Overusing blue may establish your website's identity as cold, uncaring, and indifferent to the visitors. The blue color also reduces appetite and that is why it isn't the right color for food-related sites. 
Purple
Purple seems so unique and it seems to redefine the definition of creativity. It is also the color used to highlight wisdom and fresh unorthodox ideas. Besides, the millennial population has a special inclination towards purple as they look at it as a unique form of expression- something that breaks the boundaries and acts as a trendsetter. So, using blue color in your website scheme can be a great idea if you are offering a unique product or service that breaks the conventional hierarchy or pushes the traditional limits to the extreme. Purpose also helps you to stand out from the crowd and look uniquely creative.
Suitable for: Websites related to astrology, beauty and feminine products, age-reversing creams, yoga and massage, spiritual healing and content related.
Good to know
Dark purple is associated with wealth and luxury when used in intense shades, the lighter shade soft this color is associated with romance and spring. 
Just like blue, overusing purple can make your site look distant and somehow hostile to others' feelings. Avoid using it on the portions that you want to draw attention to lie CTAs
Pink
After being almost exclusively used for the feminine gender the Pink color has more recently been accepted by men as well. However, more men are using it as a way to highlight their soft part. Pink is the color of exuberance and liveliness. It perfectly combines the cheerfulness of red but at the same time, it reflects the peace element of white color. So, if you want to present your brand as a fine combination between wisdom and charm then pink is the right color for you. Moreover, if you are dealing in feminine products then Pin is the go-to color that will help you establish a quicker, better bond with the global female audiences.
Suitable for: Websites related to feminine material or products. Using pin on websites focus exclusively on females can help you attract maximum targeted audiences to the site
Good to know
Too much pink on sites related to practical topics like investment, B2B materials, or law can dampen the seriousness 
It is a color associated with sentiments and thus be best avoided- as far as possible for the sites related to practical issues. 
Brown
Brown is the color of our skin and it is also the color of our soil. That is why the brown color is always considered a down to earn shade that is more near to the natural than artificial. It also represents integrity, satisfaction, and natural warmth. It is neither too loud nor too dull and that is why brown color helps in establishing a balanced overview. If you deal in products like sustainable sourced inexpensive handicrafts, daily use artifacts, and skin products then you can use a brown color that relates better with your business.
Suitable for: Websites related to animals, real estate, veterinary, and finance-related products and services. >>
Good to know
Brown is the color of appetite and you can easily associate it with the chocolate, coffee biscuits, and milk food commercials. Being a subtle color it is best to be used as background. 
Too much use of brown can give an over conventional appeal to your site. 
It is not suitable for sites related to teenagers, children, or brands related to beauty products. 
Black
Black is that color that looks sleek, intense, and modern. The best thing about this color is that it can seamlessly match with any color. Moreover, it also highlights luxury. The black color is also used as the welcome contrast to the normal shades to look unique. Moreover, the black color can be used in different ways. You can either use it to keep the natural looks or add unique visual characters. Whether you are dealing with everyday products or selling luxurious goods you can use Black color strategically to highlight your UVP.
Suitable for: Sites related to fashion, luxury goods, cosmetics and marketing.
Good to know
Depending upon context, background, and proportion the black can represent different things. When it can represent tradition, boundaries, and trust or even be used to express edginess, unorthodoxy, and edginess. Along with corporate sites, you can find black being used abundantly and often in the unconventional maker in the sites focusing on millennial
Black when used in large proportions can stress the eyes or even scare people or look evil.  
White
White color is the color of minimalism. It also reflects peace, trust, and transparency. It is also associated with subtlety. That is why several deluxe brands that focus on subtlety rather than loudness, add a white color to thief r package sing to attract the right type of audience. If you want to focus on the high society people who prefer modest appeal over loud appearance then white is the color you should go for. However, being a neutral color it will look fairly good on a variety of other sites..
White can easily go well with any color and is a soothing color it instantly makes one feel relaxed and de-stressed. It also encourages one to explore further by creating the feeling of spaciousness. 
Suitable for: Sites related to luxury items, products or services associated with calm and relaxation and corporate or educational sites
Good to know
Being an accommodating color you can use white for a variety of websites provided that you use it in the right context.  
Gray
Besides, blue, gray is another color that is widely used in the corporate world as it is associated with maturity and maturity. It is a color that is more on the serious side. Besides purple also associated gray colon with business or knowledge. BY using Gray color strategically on your site you can visually tell people that you mean what you say! It helps you to enjoy an authoritative identity among the audiences.
Suitable for: Sites related to luxury goods,  professional websites, or the ones focused on delivering a calming and balanced effect 
Good to know
Grey color has a calming and soothing effect. It also repellents balances perspective and subtlety
Too much grey looks dull and indifferent. It isn't the color to be used for grabbing people attention>>
Conclusion
Along with functionality and utility value, the design layout and color palette of an eCommerce site also play a key role in determining the overall sales and branding potential of any digital business.
With the strategic use of colors, the businesses can stimulate the desired emotions and feelings among the visitors to keep them engaged for longer, build trust and convince them to buy.
In this post, we mentioned some of the key colors that can help eCommerce businesses to leave the right impression on audiences and increase sales.