How to Make a Blog Page on WordPress
How to Make a Blog Page on WordPress In a few easy steps. Have all your posts appear on the page as soon as you post them.
Why its Important to have a Blog Page
To attract more people to your blog/site you want to be creating interesting blogs full of key words, engaging content and trending terms. We will have another video showing exactly how to rank your blog well with google to give it a much better chance of been shared. How ever to do this we first need a blog/post page to post our exiting blogs too.
How to Make a Blog Page on WordPress
Get Started on Making Your WordPress Blog Page
Once logged into your WordPress dashboard, you will need to either create the page you want to use for your blogs. To do this either select the Plus sign on the top of your page and go down to Page, or head to the left hand side of your dashboard and select Pages then click on Add New.
Name the page Blog or Post or the name you prefer and publish it.
Adding to the Menu
Now you have your page you can add it to the site menu so people can easily select it whilst viewing your site on any page. Head to the left hand side of your dashboard and hover over Appearance and then go down to Menus. Now select the page/pages you want to add to the menu by ticking them and tapping add to menu. You can now arrange in what order or sub category your want them in.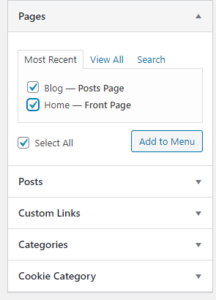 Link Your Blog Page on WordPress
Now your post page is live and accessible form your site, go to the Settings option on the left of your Dashboard and go down and select Reading.
You can now select what page you want to use as your post page (providing your are using a static homepage)
To do this just select the Posts Page: drop down menu and select the page you just created, or the page you want to use for your post page if you already created one.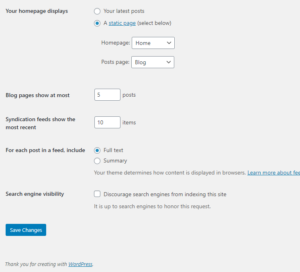 Now save changes on the bottom left and your have a page that people can check which will display all your posts, arranged by newest first unless you change the settings.
Helpful Video Links Links: Homepage – GDPR – Theme – Plugins – Logging in
SeekaHost Hosting
For for tutorials like this head to SeekaHost for Domains and their new SeekaHost App site to get you online even easier that before.