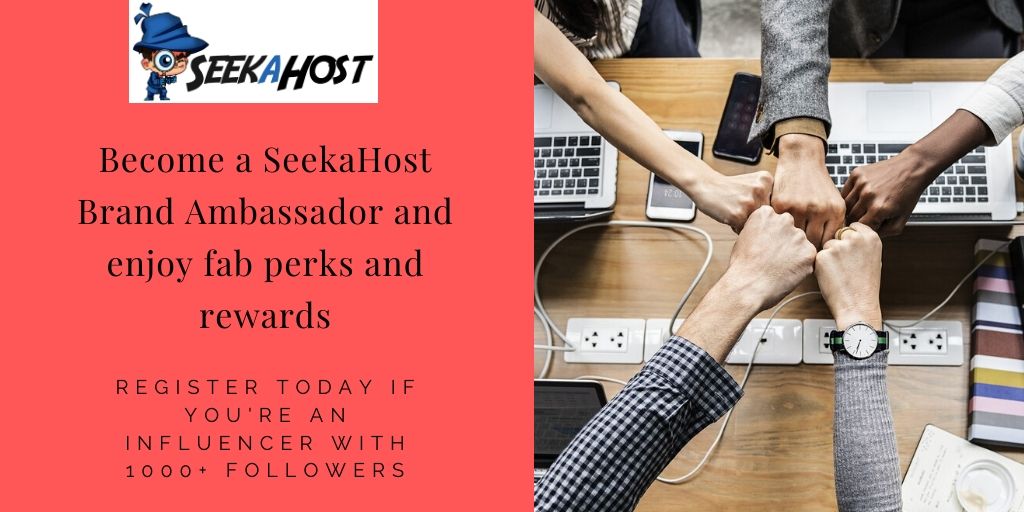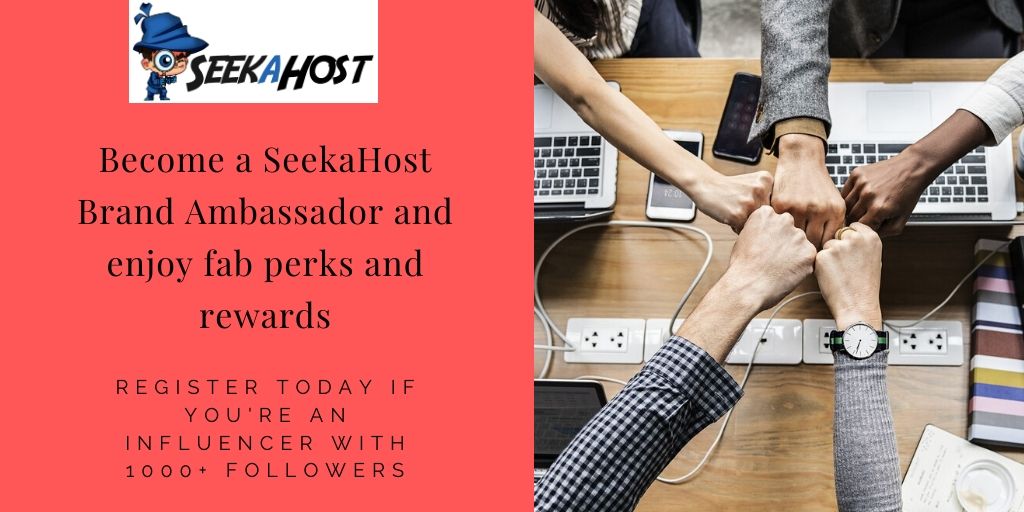 Are you an influencer? Here's how to join the SeekaHost Brand Ambassador Program
Let us introduce ourselves: we are SeekaHost – a premium web hosting services provider, but at the same time, we are much more than that!
SeekaHost offer affordable and versatile web hosting packages for every need and we're on a mission to get every person on this planet online, no joke!
We know this is ambitious and that's why we're looking for driven and enthusiastic people like you, who love to share cool news with the world and spread the word about things they support.
So why work with SeekaHost?
Besides offering premium web hosting, domain registration and lots of tips and tricks on how to get started online, SeekaHost have recently also launched their online university, providing people with valuable insights and knowledge about everything they need to know from A-Z about building and managing a web presence. Various online courses in the field of digital marketing, SEO and blogging support SeekaHost customers on their journey from registering their own website to making it a success.
Because we truly care about equipping everyone out there with vital digital skills to become successful online and ideally earn a living from it, we are looking for inspirational people like you, who have made it in the online world and who are successful web entrepreneurs.
Apart from obviously featuring your awesomeness as an influencer, we'd additionally offer the following
Based on your data (niche, follower count and reach, content quality, credibility and engagement rate), we can offer our SeekaHost Brand Ambassadors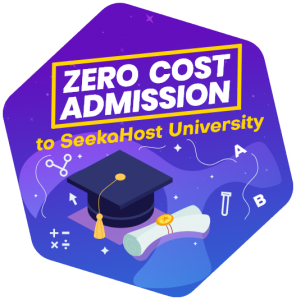 free domain registration for one website (create your unique online presence/marketing profile/blog)
free web hosting for one website for the first 6 months (get your website up and running to promote yourself)
free exclusive access to the courses on the SeekaHost university (learn how to build a successful web presence and extend your reach)
free guest posting opportunities on our vast premium blog network (to promote yourself and your work/build backlinks for better SEO)
free directory listing on our SeekaHost Directory (build a business/freelancer profile to be found easily by more)
to compensate for your hard work to promote our brand, with the 25% TOP influencers also getting paid some extra.
In addition to all of these perks our SeekaHost Brand Ambassadors get:
A personalized promo-code to share with their followers;
Branded individualised merchandise like fashion items, digital accessories that are relevant for your brand/that you love;
Feature videos/interviews starring you and the founder of SeekaHost while visiting our SeekaHost headquarters in London.
How to become a SeekaHost Brand Ambassador?
You might now be thinking, damn what do I have to do? What kind of influencers are we working with? And the good news is:
All sorts!
No matter what you do as an influencer, we're ideally looking for engaging content, a loyal following of at least 1000 people on Facebook, Instagram, YouTube, Twitter, and a passion for web hosting, digital marketing and of course an interest in SeekaHost. Simple, isn't it?
How does the SeekaHost Brand Ambassador Program work?
Once we've agreed to work together, you let your creativity flow and share awesome SeekaHost related content for your Instagram, Facebook, YouTube or Twitter account and we give you the free perks and/or reward in exchange.
Now the crucial thing to consider is awesome content!
This can be very subjective and we want to make sure there are no misunderstandings. You'll definitely have a lot of freedom to create content that represents you and what you stand for, so let your creative juices flow. But ideally you should consider the following
MAIN OBJECTIVES
Encourage your followers to register or host a website with SeekaHost — you can share how you do it or how you are thinking about setting up a cool website.
Create quality content about everything that SeekaHost offers — check our SeekaHost website for web hosting packages, domain registration, cyber skills courses etc.
Spread the word about our mission to get every person online — share how you've built a successful online business and how anyone can by simply building a web presence that people love at affordable prices.
MENTIONS
Mention your promo code at least twice a month in a post — your audience should want to redeem their exclusive discount on our SeekaHost website
Take photos/videos with our SeekaHost merchandise we've provided – post them to encourage your followers to purchase a web hosting plan/register a domain/set up a blog etc.
CONTENT
Make your content unique and share your ideas — boring lines like "use my code XXX for a discount" won't be good enough. Create something useful and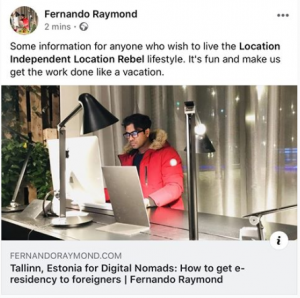 inspirational like you setting up your website. For ideas check out digital nomad lifestylers like Fernando on Facebook or Instagram.
Mention our key mission in your content — make your followers feel like they can easily get online and earn a living on the web. Promote the freedom of a remote worker, living the digital nomad lifestyle, traveling, experiencing new things.
Avoid anything unrelated including alcohol, nudity, weapons, drugs and discrimination in your content and do not mention the SeekaHost brand with any other brands and/or sponsored content.
We trust your instincts as an influencer and you wouldn't have gained the followers, if your content wasn't exciting and enticing. However, we want to ensure that nobody encounters any issues along the way, so let's play fair.
Ready to become a SeekaHost Brand Ambassador?
If you think you got what it takes, then join us. We can't wait to work with you and spread the word about what you do and we do. Collaboration is the way forward in the online world so let's help people out there to get online and build an online brand.
To join our SeekaHost Brand Ambassador Program simply register here and go through our online application, which is easy and quick. You'll hear from us shortly so stay tuned!