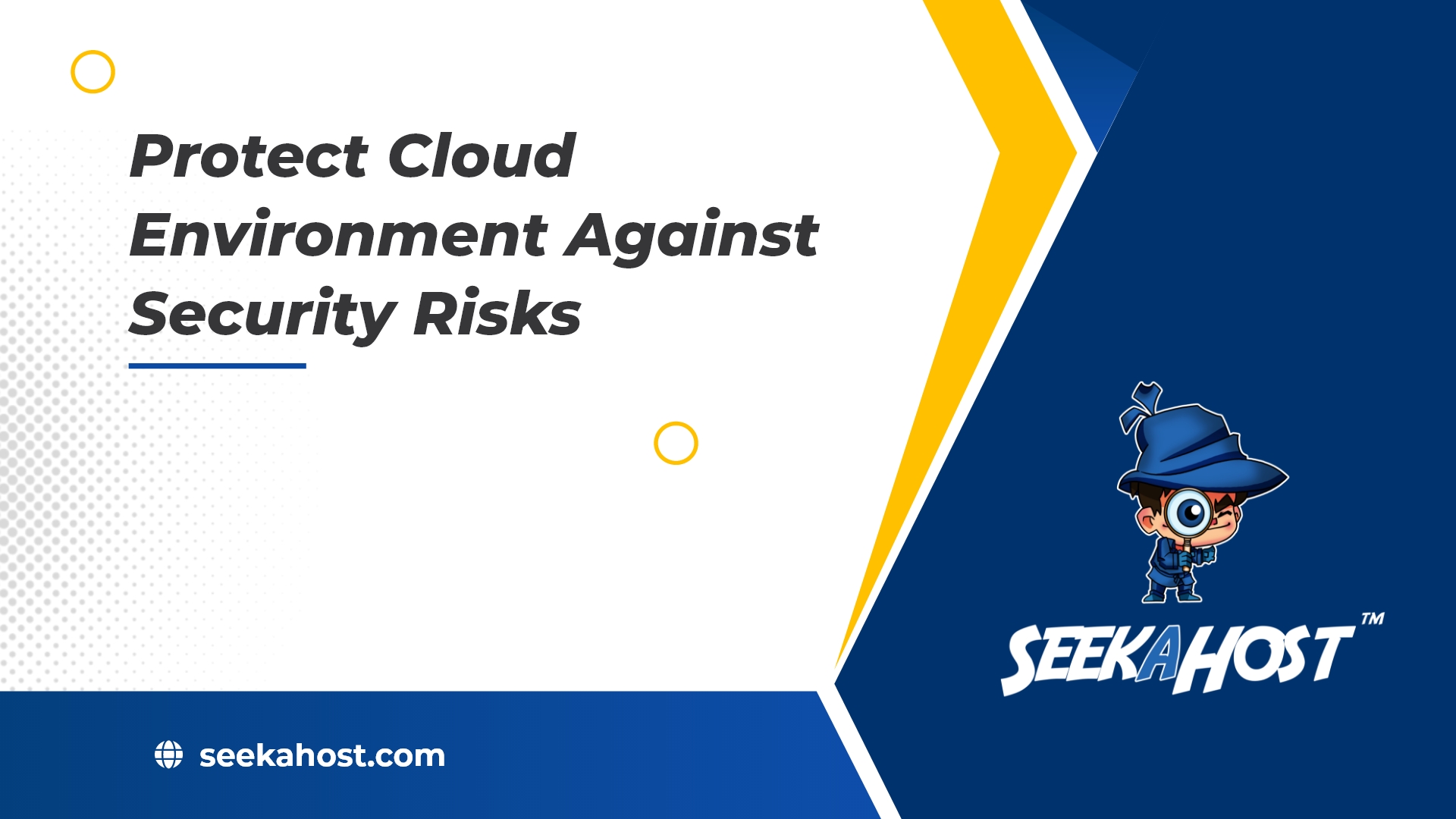 Cloud Security Tips: How to protect your cloud environment against security risks?
With increasing popularity of cloud technologies the associated threats have also multiplied. So, if you want to enjoy the benefits of cloud, make sure you are fully prepared to fight the security risks.
Many enterprises make this risk of diving straight into cloud ecosystem without equipping themselves adequately with the right security capabilities. 
In this post we will mention some of the ideal cloud security tips that will help you to efficiently protect your cloud ecosystem against cyber threats: 
Shared responsibility model? Carefully understand the risks
Security and responsibility go hand in hand and, unlike private datacenter, the crucial responsibility load of the public cloud is borne by the client.
Shared Responsibility Model sounds somewhat assuring but it also implies- though largely ignored by customers, that if your cloud application data is stolen or misused, you can't hold the cloud provider responsible outright. First, you would need to check exactly which side of the fence the fault happened- yours or theirs. That troublesome task would be the last thing you would like to occupy yourself with when your mission-critical data lies in the hands of threat actors. So, don't take shared responsibility as "low responsibility" on your side, but "potential risk" that you must carefully calculate.
 So, make sure that you carefully read the detailed documentation that mentions the responsibility divide between the vendor and you. A clear understanding of your responsibilities will help you prepare the appropriate security strategy accordingly to foil such instances. For instance, SaaS responsibility might lie with the vendor and IaaS deployment responsibility would be borne by clients, while PaaS responsibility may be shared between the two. In such cases, you need to take the best in-house measures to secure your IaaS deployment and understand the specific PaaS responsibilities that you have to bear. 
Go for a keen review of any cloud vendor's shared security policies before investing in it. Make sure that you are fully aware of the specific security aspects that lie with you and the ones to be borne by the vendor. It brings transparency. With a proper understanding of your rights as a customer, you would be in a better position to claim if a security compromise happens due to the fault on the vendor's side. 
Interview cloud providers to assess their capabilities
 There is no standard, singular way to secure the public cloud.
Procedures, measures, and in-house policies vary from vendor to vendor. So, it is also imperative to ask detailed questions regarding specific security procedures that your vendor follows.
If framing the right questions seems a daunting task to you, then here are a few factors that directly or indirectly impacts security. It should give you the clear hint on preparing the questions that matter:
       

Security protocols in place

       

Geographic locations and number of servers

       

Access components securities

       

Disaster recovery plan

       

Technical support provided (quality and round the clock availability)

       

Data encryption

       

Penetration tests by providers and their respective outcomes

       

Compliance requirements support

       

Roles with an access the cloud data

       

Specific Authentication methods

 
Conduct regular training sessions for staff
It is equally if not more important to provide a comprehensive staff training session on identifying possible security threats and the best ways to tackle them smartly. Along with healthy password creation practices and detecting social engineering attacks, it is also imperative to equip the staff with more sophisticated knowledge like risk management techniques.
 To provide failsafe security the IT team needs to have vertical and horizontal visibility of all systems- in-house and external, that interacts with vital enterprise data. One of the key challenges for businesses here- and increasing WFH has only made it worse is the staff using their favourite tools outside of the knowledge of the IT department. Just communicating the risk to the staff isn't enough; you should come up with strict policies for defaulters to discourage this irresponsible practice.
Educating staff about security threats and best practices isn't a one-off activity. With every passing day, the threat actors are exploring and inventing new ways to steal and misuse your data. Holding periodical training sessions on IT security will constantly upgrade your employee's capabilities to understand and respond to cyber threats.
Go for a reliable identity and access management solution
 Unauthorized access by threat actors is among the top 5 reasons for security compromise incidents. With time the hackers have highly upgraded their con methods of gaining unauthorized access. So, you might be in a danger zone if you still rely on conventional security measures. Make sure that you have sophisticated IAM (Identity) provisions that are capable of securing you against the latest unauthorized access threats.
 Avoid IAM solution that permits unreasonable privilege access. An ideal IAM solution should allow you to determine and enforce access guidelines with minimum privilege access. To fortify the security you need to be a step ahead of the threat actors; brainstorming on what-ifs can help you in that. For instance, think about what-if the hackers successfully steal your login credentials despite all the security? To overcome this concern, secure the other end of the access funnel by adopting Multi-factor Authentication which will prevent such intruders from accessing mission-critical data even if they successfully break into your account.
 IAM solutions with a hybrid ecosystem strategically divide digital assets and workflows between cloud deployment and private data centers, thus affording you better control over the additional security for mission-critical assets. Along with uncomplicating user authentication, it also helps in practicing consistent security policies across multiple ecosystems.
Secure your endpoints
Make sure that your endpoint protection strategies adequately satisfy the latest security needs of cloud computing. Hacking techniques are continuously evolving. So, constantly review and upgrade your endpoint security making it capable enough to defend you against the latest threats.
Understand and strategically deploy the comprehensive inventory of ideal practices and tools to secure your endpoints. Things like anti-malware, firewalls, and access control tools are a must. Manual monitoring of endpoint security is a tedious task that involves guesswork and is prone to human errors. The ideal practice is to adopt digital tools that automate this process like endpoint protection platforms or endpoint detection and response tools.
EDR/EPP solutions not only adequate time endpoint security with the aforementioned capabilities but also continuously monitor your endpoint security and automatically respond to any suspicious discovery.
EDR and EPP work the same way as an expert security professional but with an additional advantage of speed, accuracy, and uninterrupted consistency. Some of the key capabilities of these tools encrypting endpoints, managing patch security against insider threats, and VPNs. 
Design and implement specific security guidelines
 Laying out specific cloud usage guidelines makes it easier for companies to prepare consistent security strategies. Try to include as many particulars as possible like determining users, sage methods, type of data for cloud storage, permitted security technologies, etc., etc.
 An automated mechanism makes monitoring easier for security staff. For that, you can use the policy enforcement feature included in your cloud package. If it isn't included then you can buy third-party policy enforcement solutions like CASB.
 To further strengthen your control over the security landscape you can go for Zero Trust Tools. These smart tools strategically collaborate with other related systems to decide the reasonable access level for each user, ideal rights and restrictions, and its impact on your organization in a wider context. 
Assess your compliance needs
Legal compliances and Regulations regarding privacy and data security of customers are especially stricter when it comes to healthcare, financial or retail businesses. Not satisfying these compliances exposes you to the risks of corresponding penalties- which can be significantly high, as well as reputation damage and losing customer trust. 
The regulations and compliances differ from region to region. So make sure that you fully understand the industry-specific compliances of your region and select the cloud services that are in line with the same.
Adopt data encryption
Data in transit attacks are among common preferred methods to steal vital information like social security numbers, payment card details, and other high-sensitive information. So, lacking adequate security for data in transit can be a costly mistake, and especially with a public cloud ecosystem, the risks are even greater. With encryption, you can efficiently discourage the threat actors from stealing or misusing such data.
 You can either check with your cloud vendor about encryption/key management packages or look for reliable third-party companies. In any case, ensure that the encryption solutions should seamlessly sync with your current work processes and conform to your in-house security protocols without requiring any additional actions on your part.
Adopt automated technologies for detecting and preventing intrusion
 IDPS are sophisticated tools for detecting and preventing intrusion while also alerting you about the attempts. These tools constantly monitor the network traffic of on-premise and public cloud ecosystems. Equipped with a solid mechanism, they can carefully analyze the traffic and promptly respond to and blocks any signature-, protocol- or anomaly-based threat.  It also alerts you and registers such attempts in the log for your perusal. Until you take any action, the threat attempts are blocked thus preventing you from any/further damage.
In that capacity these tools empower you to take adequate care of your network traffic security.
Audits/penetration testing
As the name suggests Log system keeps a record of all the activities in the specific digital ecosystem. In that capability, it plays a key role in tracking unauthorized access or suspicious activities in your public cloud environment. Also, it can highlight every activity by successful intruders making it easier to fully assess the security compromises and take necessary preventive/reformative measures.
 Logging system also detects and highlights vulnerabilities and matches them against relevant configuration gaps so that you can quickly patch those vulnerabilities, thus preventing immediate as well as future risks. You can also use log system information to check if any specific user has more permissions than s/he requires. It helps you to reasonably restrict unnecessary permissions for better r security of your cloud.
Cloud Security Solution
Not every company can have the in-house capabilities or manpower expertise to manage cloud security requirements. If you also find yourself among them then consider hiring third-party solution providers or using purpose-built tools.
Equipped with sophisticated capabilities, advanced mechanisms, and automated actions, these tools facilitate company-wide enforcement of cloud security policies with the least manual intervention. These tools are also capable of detecting unauthorized apps/access to steal sensitive data.
Conclusion
Cloud technologies are playing a vital role in helping businesses to achieve higher capabilities, using sophisticate applications and enjoying seamless coordination with workers, partners and clients. However, the increasing use of cloud also demands sophisticated security mechanisms in place to discourage any vulnerabilities or threats.