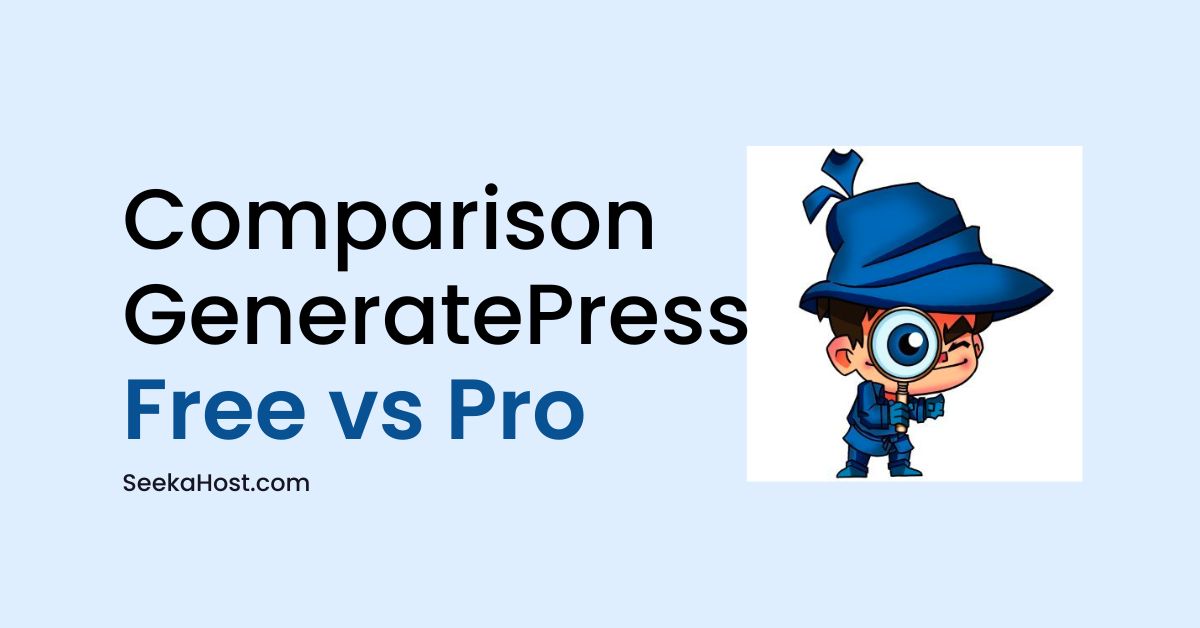 Generatepress Premium vs. Generatepress Free Plugin – Detailed Comparison
Building a WordPress site does not need brainstorming because of popular themes like GeneratePress. You can kick-start building your WordPress site with GeneratePress free. But for more power and control, you need the GeneratePress premium. 
GeneratePress combines pre-made theme templates and a plugin. The plugin is lightweight and incredibly powerful allowing you to customize your site ferociously. 
You can use GeneratePress to create any kind of website. This could be affiliate marketing, cryptocurrency, foodie, and many other niches.
The GeneratePress free can be installed and used for a lifetime free. For advanced features, you need to purchase GeneratePress premium.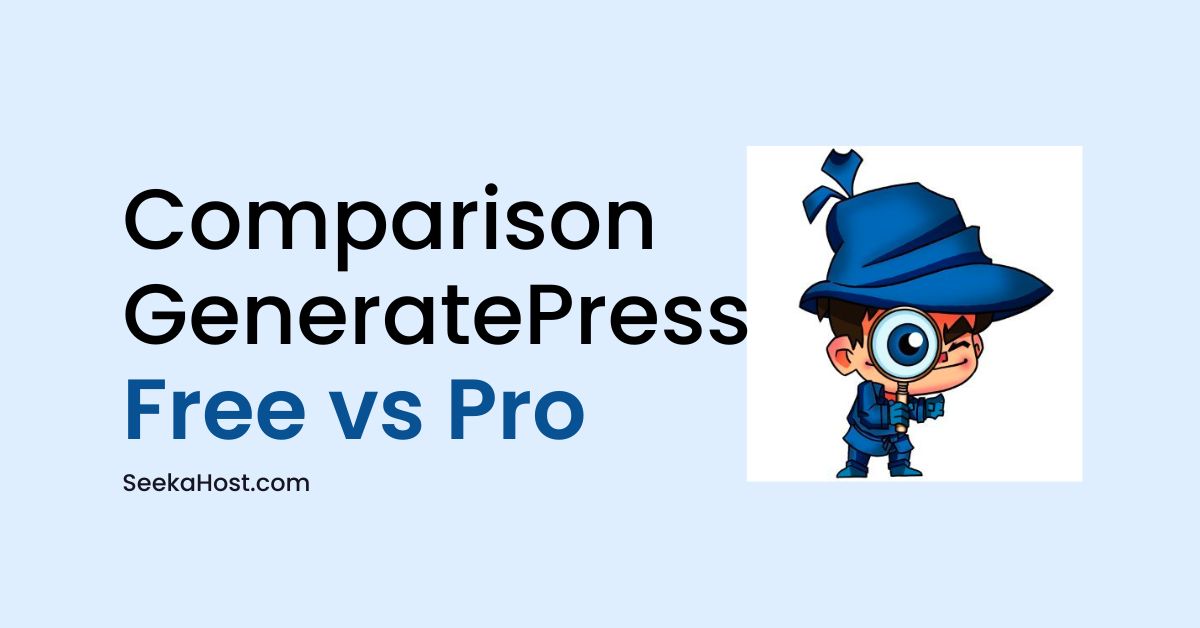 The premium version is a plugin that needs to be installed & activated along with the GeneratePress free theme.
Here, I have compared GeneratePress free vs Premium.
GeneratePress Free vs GeneratePress premium
The free version of GeneratePress has lots of features, but GP premium adds more capabilities. Although you have lots of functionalities in GeneratePress free, you would still need a GP premium. If you cannot decide between GeneratePress free and premium, then here's a detailed comparison.
GeneratePress Free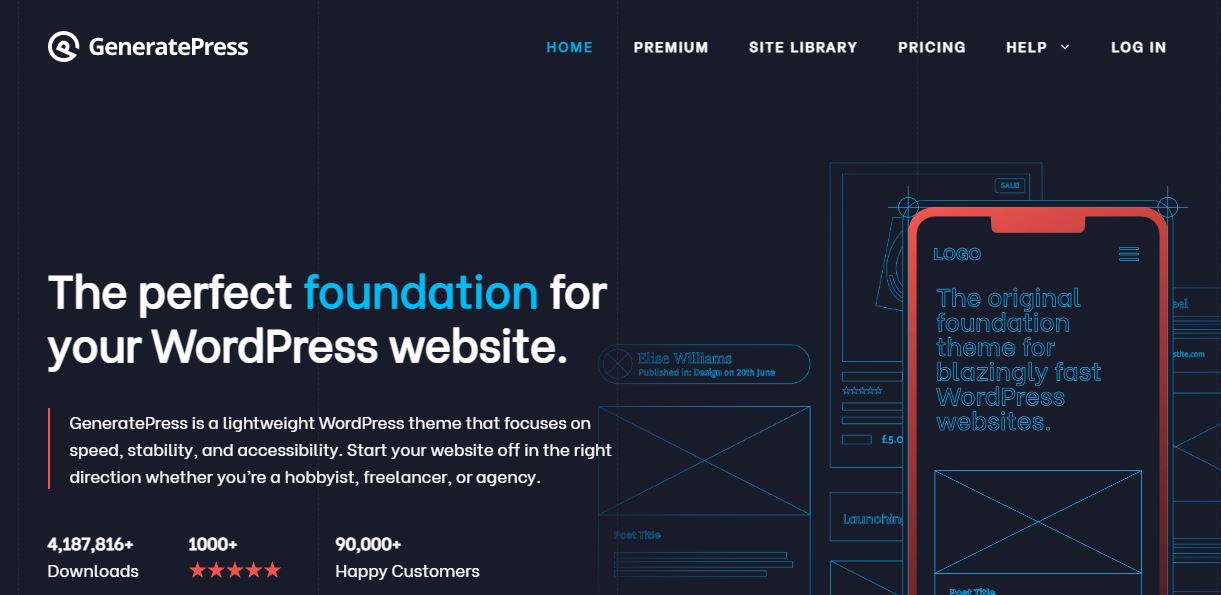 The free version is open-source and can be used to create any website in any niche. Even with the free version, you get speed and reliability to achieve high performance. Your visitors and search engine will be stunned by your website performance. 
The page size of the free theme is only 7.5 KB, which is way too less. With such lightweight code, you are ought to achieve 100% PageSpeed scores. 
You can integrate any page builder plugin to customize the GeneratePress theme. The coding standards are fully compatible to work seamlessly with top-rated plugins. 
The theme follows WCAG 2.0 standard and supports over 20 languages including RTL and LTR languages. This helps you grab site visitors from every corner of the world with no barrier.
The free GenerateBlocks plugin helps you to build your website visually without writing a line of code. 
You can customize the site header & footer, post meta, author boxes, single post templates, and endless customizations. 
The GeneratePress library comprises professionally designed website templates. You can kick-start your site by saving tons of hours on development.
Features:
The free version when installed comes in a plain format just like other WordPress themes. You can start from scratch or choose a template from an extensive library of pre-made templates. When installed and activated, GeneratePress free offers the following features:
Top bar menu

: Unlike the menu bar which holds information of pages or categories, the top bar can be used smartly. With the top bar menu, you can insert your contact information like phone number, email address, etc.

Main logo or text

: You can choose to add a logo on your homepage and every page of your site. If not the logo, you can choose a text title. The logo can be aligned left, right, or center.

Layout

: You can choose between a full-width or contained layout of the GeneratePress theme. You can increase or decrease the container width in the theme customization section.

Footer Bar & Widgets

: The footer bar in GeneratePress is separate from footer widgets. In the footer bar, you can display a CTA or subscription form. Whereas, there are five-footer widgets that could be used for displaying other information like popular posts, categories, a short intro, etc.

Nav bar

: The navigation bar displays menu items that can be displayed below, above, or inside the header area beside the logo. GeneratePress navigation comes with an in-built search option, and upon click shows the search box. With the navigation bar, users can easily navigate on mobile phones or tablets.

Featured Image

: For every single post, you can add a featured image. This image is shown in the posts section.

Back To Top

: By activating the back-to-top button, users can easily go to the top section of your site with one click.
For every post you publish using GeneratePress, you can select the sidebar layout and footer widgets.
The free theme allows you to disable only one element i.e. post titles. Using the GenerateBlocks or any other page builder plugin, you can customize the layout as full-width or contained. 
GeneratePress Premium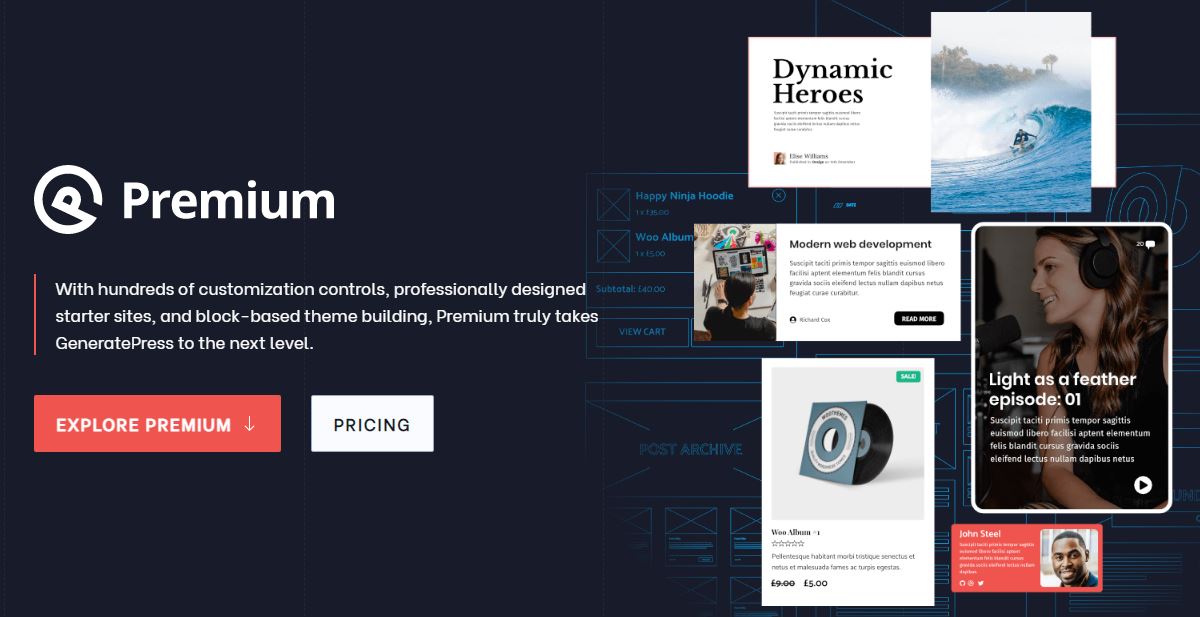 With the GeneratePress premium plugin, you get professionally-designed site templates and block-based theme building. 
The paid plugin runs alongside the GeneratePress theme. Without the GeneratePress theme installed, the GP premium plugin won't work. When installed and activated, the GP premium plugin gives access to the customizer. The customizer comprises of a set of the following features: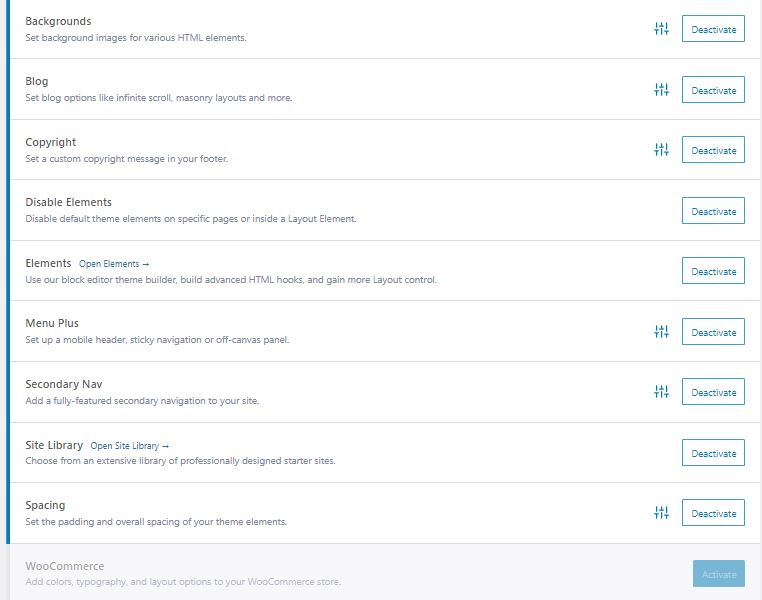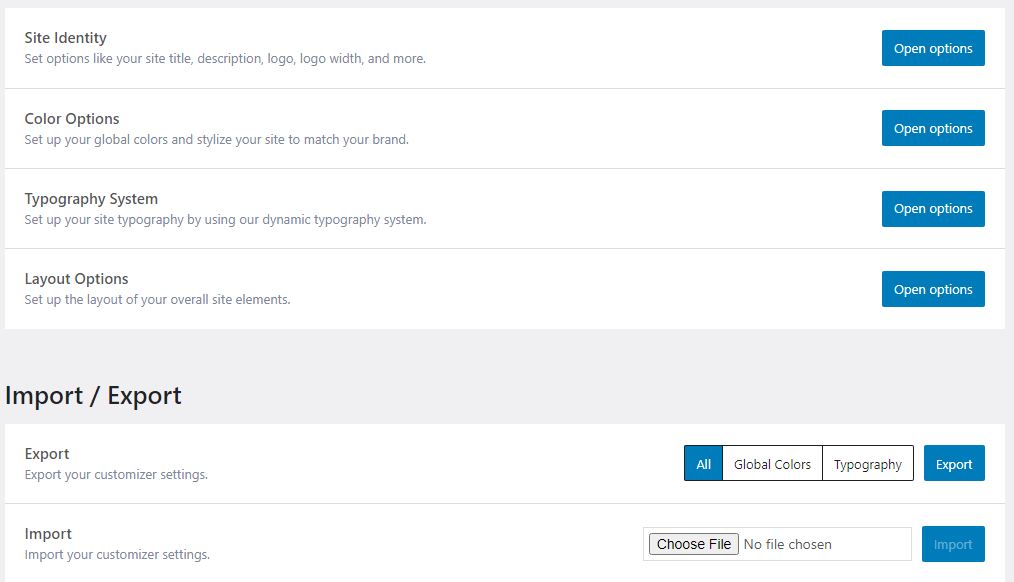 Background, Blog, Colors, Copyright, Disable Elements, Elements, Menu Plus, Secondary Nav, Sections, Sections, Site Library, Spacing, Typography, and WooCommerce.
Let's take a look at all the modules of GeneratePress premium. 
Background

: Using this module, you can add background images wherever you want by importing the images and setting their size.

Blog: The blog module is specifically for customizing the blog section consisting of posts. Using this feature, you can customize the author, archive, categories, tags, post data, and not to forget featured images.

Color

: The color module lets you edit the color of any section on your site including the header, footer, links, widgets, and backgrounds.

Typography

: Using the typography module, you can choose from over 70 different styles across your site.

Copyright

: When you install and activate the GeneratePress theme, it comes with a copyright footer but you can't edit it. To edit the copyright footer, you need a GP premium plugin. With this module, you can change the copyright text as you want. You can also insert your affiliate link like '

Built with GeneratePress

'.

Disable Elements

: With GeneratePress free, you cannot disable every element. But GP premium plugin allows you to enable or disable elements on pages or posts. 

Elements

: The most important and astounding module of GeneratePress premium is Elements. This module allows you to use premium plugins with advanced features. It has three sections including Header, Hook, and Layout. The elements module is used by developers to make changes to any part of the website.

Header:

With the header feature, you can customize the header with colors, texts, images, and style it just like you want. 

Hook:

With this feature, you can add content to the site hook. This way, there is no need for Child themes.  

Layout:

To customize the complete layout for your site, this module comes in handy. You can edit the site archives, categories, pages, or posts. 

Block:

Instead of HTML customizations, you can use the blog element for advanced customizations using the block editor. By combining with the GenerateBlocks plugin, you can create customized sidebars, headers, and footers.

Menu Plus

: Whether you want a sticky header, mobile headers that open up clean on a mobile phone, or off-canvas navigation, this module can do it all.

Secondary Nav

: Along with the primary navigation in the free version, you can add secondary navigation in the premium version. You have all the same options as primary and can change its color, layout, and typography.

Sections

: The sections module is pretty useful when you are using a classic editor. But, if you have page builder plugins like Elementor or Divi, then you don't need that. For Gutenberg, you need to use the GenerateBlocks plugin that is compatible with Gutenberg for full customization.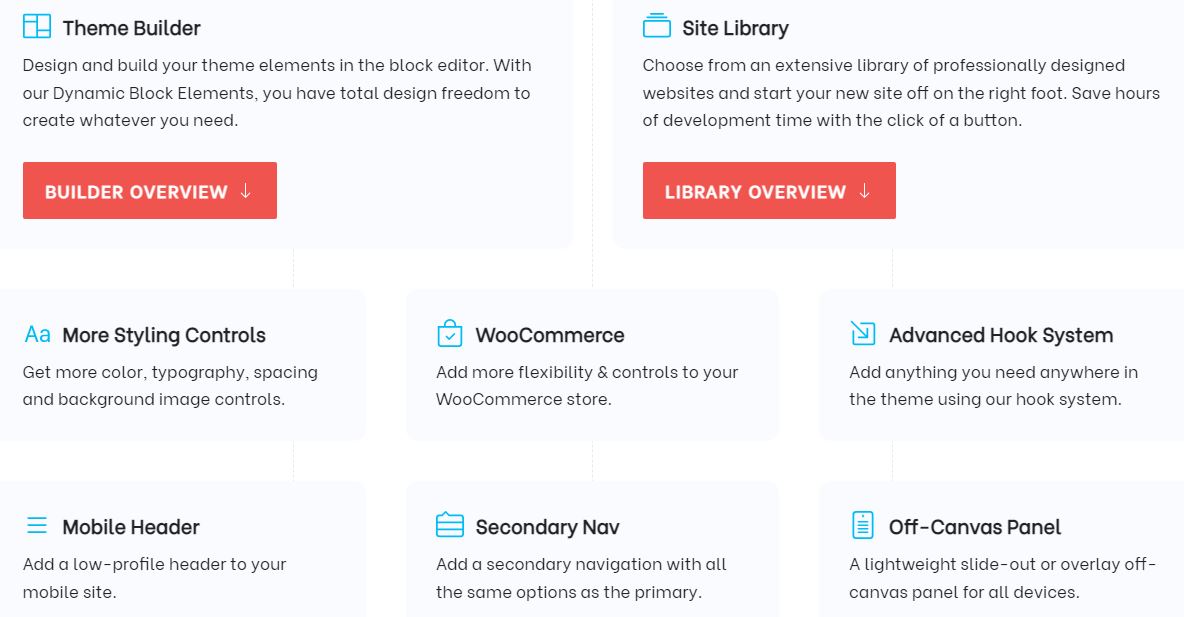 Site library

: To set up your site quickly and get up and running in no time, you can access the site library. It has pre-made professional templates to save hours of time on-site development. There are many templates compatible with Elementor and Beaver Builder. You simply need to import the template by activating the site library. 

Spacing

: To manage margin size and padding secondary menus, widgets, sidebars, and more, you can use the spacing feature.

WooCommerce

: First, you need to install the WooCommerce plugin. Once you have done that, using this feature, you can customize the checkout and product pages. You can change the typography, color, and layout.

Import/Export

: In a click, you can export or import theme settings.  
GeneratePress Premium Pricing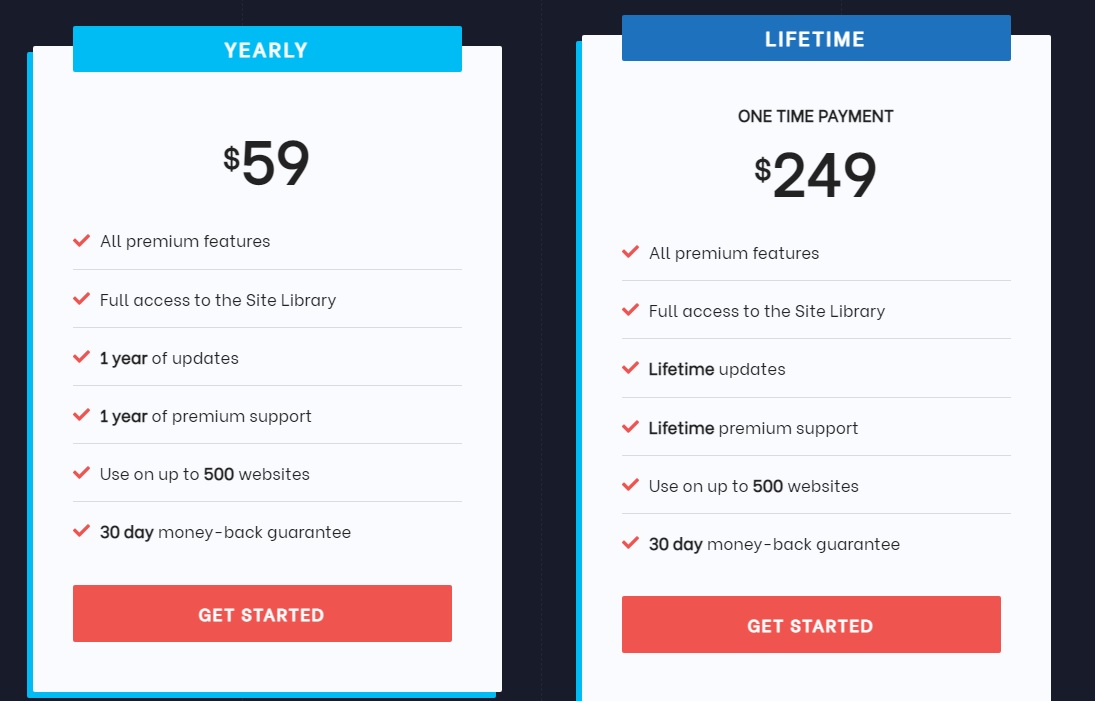 If you think with all these sparkling features, the GP premium plugin would be costly, then you are wrong. At a budget-friendly cost, you get access to the site-library and GenerateBlocks plugin. 
Moreover, you can use one single license at $59 per year for unlimited websites. 
The license covers one year of support and updates. You need to extend the license every year for full support and updates. 
Also, there's a 30-day money-back guarantee in case you are unsatisfied with the purchase.
If you like the GeneratePress premium a lot, then instead of renewing it every year, you can get it for a lifetime for a one-time payment of $249.
Conclusion
I hope the article highlighted the difference between GeneratePress free vs GeneratePress premium. 
Show us your love by following our blog and sharing it with others.