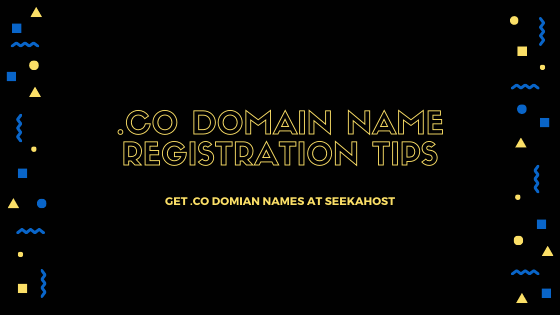 Got A Startup? Get a .CO domain name registered at SeekaHost
Dot co domain names are highly in demand by startups and new business startup entrepreneurs who can not find a .com domain name for their new business.

Is it worth getting a .CO domain name for your startup?
YES. If you missed the .com domain then your next best to build your business is on a .co domain name.
The .co is the top-level domain name that is most like .com and greatly becoming popular among startups.
In early days the .co domain name extension was the most used as the Internet country code top-level domain (ccTLD) that's assigned to Colombia. But now more and more people ate registering .co domains and starting global websites.
Is .co SEO friendly?
Yes, is' SEO friendly and with properly done SEO work any .co domain can be ranked. However, I still believe the .com domains hold the best chances to ranks worldwide on any Google country-level search engine.
But I must tell, that recently the clutch.co came up fast on search engines and ranks pretty much for all competitive terms in the UK agency niche. Which blew us away how they put up a .co domain and ranked for thousands of agency keywords.
For example, if you search for "seo services" you can their page Top SEO Services Companies in the United Kingdom – 2019 … https://clutch.co › seo-firms ranks on top of Google.co.uk
This is a super competitive keyword and cluch.co dropped this page not more than a year or so and now ranks #1 on Google.co.uk

Looking at such ranks I can confirm that the .co domain can outrank any country-level domain as well as .com when it comes search engine optimization.
Why has the .co domain name become so trendy?
The worldwide .com market is so overpopulated by now and most of the good names are gone for new startups, so their best option is to go get the .co domain names and start their business.
What to look at when buying .co domains?
If you are registering a .co domain name at SeekaHost, the first look is that .com version of your domain name is having a trademark registered for their brand name.
Also look at is the .com domain is well built on the web and you have a chance to rank.
I try to tell startup owners to get a unique name as possible as you can find.
Get a unique .co domain name and build your business and if you have the vision to build a great company like SeekaHost get the Trademark SeekaHost™
Read the The Popularity of .co (not .com) Domain Name Disputes
Is .co domain name good for SEO?
The .CO domains names are good and a website built on a .co domain name has the same level potential to rank well on search engines.
You saw the clutch.co example and with right SEO work and if it provides valuable content to the internet community, Google and any other search engine will rank a .co domain name higher up on search engines.