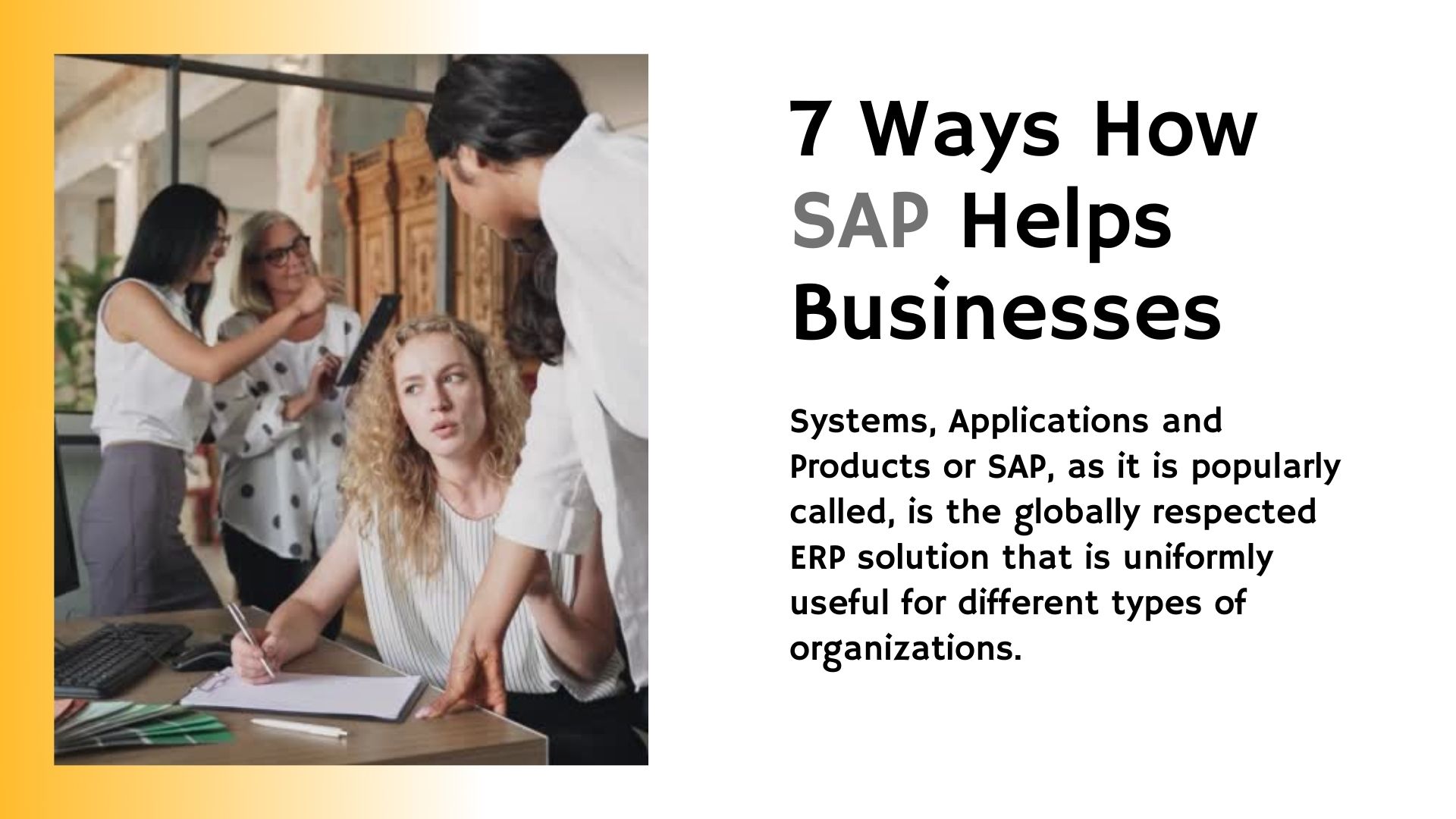 7 ways in which SAP helps businesses of all sizes to grow and thrive
Systems, Applications and Products or SAP, as it is popularly called, is the globally respected ERP solution that is uniformly useful for different types of organizations. 
As an industry leader, SAP offers a full-scale productivity suite for automating, improving, and streamlining the business while also standardizing the in-house processes for a smooth workflow. It goes a long way in capturing the maximum potential of different departments and employees while saving lots of time and effort. 
SAP includes multiple integrated modules to support all the key aspects of modern business management to significantly improve the business performance, compressing time to market, and eventually accelerate the revenue potential of your enterprise. Moreover, several globally distributed SAP consultants can customize the SAP solutions to meet your specific business needs and seamlessly fit into your daily work culture.
How is SAP solving challenges of conventional businesses?
There are different ways in which SAP empowers conventional businesses to extract the best out of their resources in a reasonably short time. It increases accuracy, automates tedious tasks, streamlines processes and facilitates smooth workflow. 
In the majority of conventional business the operational data for different departments is stored in individual databases which makes the data management quite challenging for employees of other departments. It limits the data transparency among different departments and makes it quite difficult for different teams to work in collaboration or access and utilize the required information vital for completing their present tasks. It also results in data errors and increased costs of storage due to data duplication across multiple departments of the company.
SAP software centralizes data management and provides multiple business functions with a single source of truth. This enables companies to manage complex business processes efficiently, allow easy access to employees of different departments, and gain real-time insights across the organization. It helps businesses improve operational efficiency, increase productivity, boost customer experience, and eventually increase profits.

1. Ensures data accuracy
SAP streamlines accurate data management by centralizing it and offering a singular source of data with different business functions. It takes the complexity out of business process management while providing real-time information insights across different departments. 
This centralized structure empowers the employees to instantly access the data of different departments to accomplish the task at hand. By utilizing the best potential of the SAP system an organization can accelerate its productivity, enhance operational efficiency, automate and streamline processes and improve customer experience. Collectively it helps in strengthening the reputation and revenue potential of an organization.
2. Save time and cost through centralized data
Data plays a vital role in different areas of your business but instant access to precise data isn't always possible due to disparate data sources. SAP acts as a uniform data source for catering to your diverse enterprise needs. 
By providing you instant access to the single latest copy of diverse data from a single repository the SAP system significantly reduces the costs, friction, stress, and complexity associated with data exploration. Due to the centralized architecture, it is also easy for your globally dispersed team of remote workers to access the SAP system and extract reliable information. It saves time and streamlines the processes regardless of the present location of your employees.
3. Deep and diverse experience 
Over years, SAP has achieved a certain level of excellence in translating productivity needs into technical solutions that suit the work culture and manpower strength of a specific organization. 
These purpose-built innovative productivity products offer full-scale solutions like identifying the performance needs, seamless implementation, and comprehensive testing to achieve real-life excellence. Today the global organizations from diverse sections and businesses have been actively using the SAP solutions to upgrade their productivity and achieve a competitive edge in the market.
4. Robust communication now possible
Communication modes play a vital role in both in-house and external communication. SAP ERP allows you to build high-efficiency communication modes to streamline the entire communication process. For instance, an enterprise can use this architecture to build a dynamic structure for reputation management and concentrate on RoI-friendly marketing plans to extract the most out of it in the shortest duration.
With the help of SAP you can also create a high quality content portfolio for gaining better traction through amazing content using digital catalogues and appealing flipbooks that offers a tasteful appeal to your business. Using purpose specific features of SAP you can obtain excellence in utilizing the different content formats for creating a professional portfolio or a compelling presentation for the business.
5. Enhanced data competency for better performance
While data is considered as the new gold due to its diverse potential, a large number of organizations worldwide struggle with the issues of systematics and agile data collection, segregation, creating databases, and processing. Here SAP fits perfectly into the picture. 
Loaded with a variety of features and capabilities, SAP significantly reduces the guesswork, stress, and efforts while speeding up the process and thus minimizing time to market which is a crucial concern for any business that wants to succeed online. 
SAP can assimilate a massive amount of disparate data and accurately populates the databases to maintain a fine balance between speed and accuracy. It relieves the staff from struggling with mundane tasks and dedicates their time and efforts towards achieving mission-critical goals.
SAP IRPA for instance is a next-generation solution that offers a comprehensive suite of automation tools designed to speed up your workflows by compressing the time-consuming tedious into quick automated processes. By completing hours' work in a matter of minutes with zero stress, it encourages your staff to explore new ideas and experiment with innovative concepts. It helps your organization to further your progress journey as a brand and business.
6. All-weather solution for seamless market adaptability
In today's scenario, market dynamics are changing at a very fast rate. Seamless adaptability to this changing market determines your expansion potential.
 An ever-increasing list of products/services available in the market has made modern customers more demanding than ever. Not achieving sufficient flexibility to cater to their changing needs can reduce your relevance and cost you a large chunk of your customers while also compressing your serviceable market size. 
With its sophisticated inbuilt flexibility, the SAP helps you to enjoy the best out of fluctuating market dynamics by supporting seamless adaptability. This adaptable structure is even more relevant for small businesses that hope to add more products and enter new markets in the future.   
7. Achieve best compliance with standard policies
A major challenge for the growing business with multiple branches is to ensure compliance with company regulations across different locations and departments. To relieve you from this challenge the SAP ERP comes with company regulations tracking – a unique feature to ensure that all your departments and branches abide by your company policies as well as the standard regional regulations.  Upon noticing any exceptions the SAP system will either automatically reject the same or send you an instant notification to alert you.
It helps in establishing cooperation across disparate departments, employees, and branches of your company to make sure that as an organization you work as a single body to achieve your bigger goals while also helping you to adhere to the regional rules and regulations of different regions.
Conclusion
SAP is a widely recognized and respected productivity system that helps enterprises to achieve maximum out of their business data and streamline various tasks that influence the overall revenue potential and market capabilities of an enterprise. It comes with a wide variety of customizable solutions with inbuilt scalability, flexibility, and automation capabilities. Moreover, the global availability of SAP professionals across different countries also makes it possible for enterprises to customize the solutions and establish seamless integration with their existing in-house technologies to multiply the core capabilities.