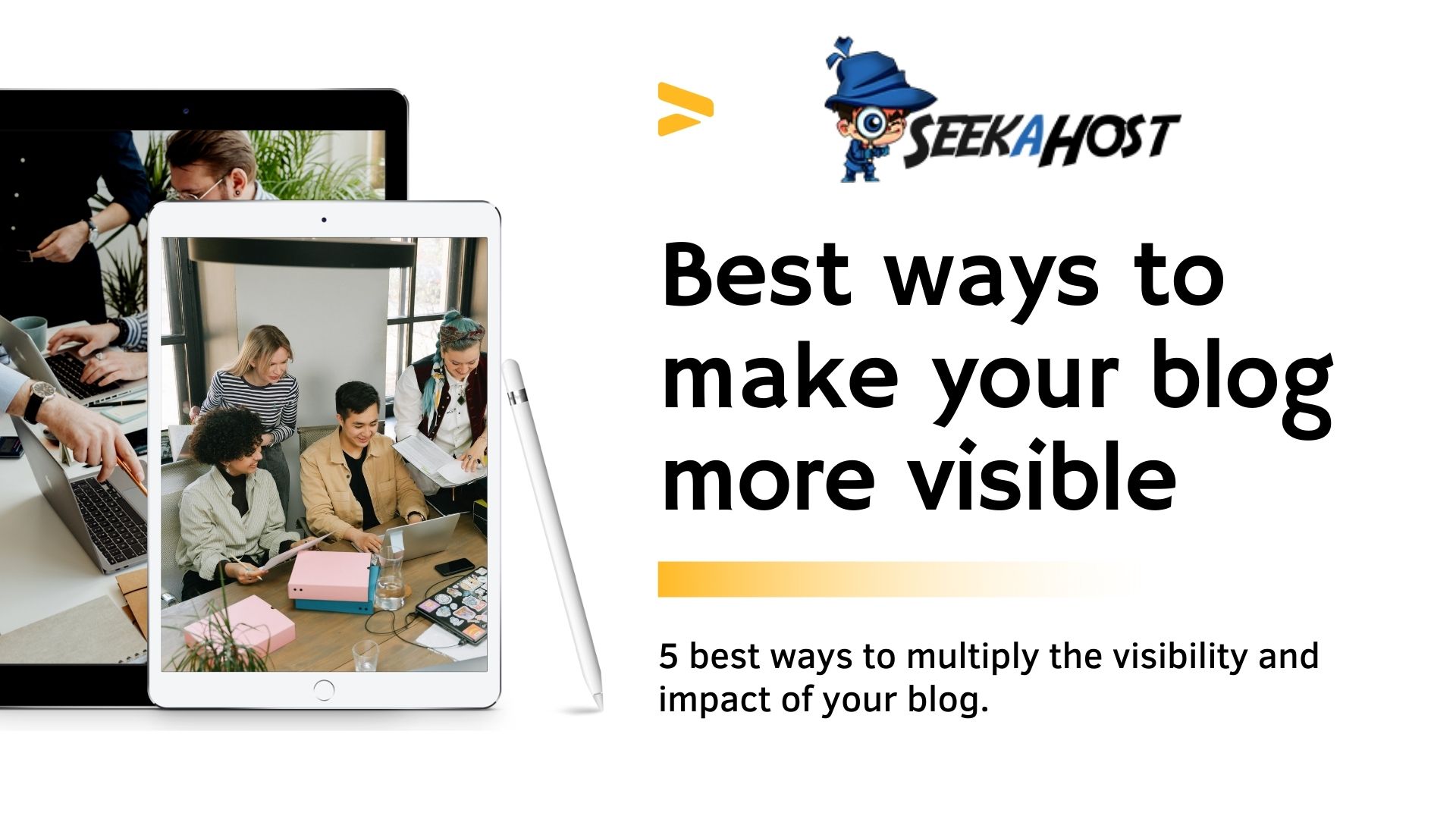 5 best ways to multiply the visibility and impact of your blog
Looking for ways on how to make your blog more visible?
In this post, I will share with you the 5 best ways to multiply the visibility and impact of your blog.
Who wants to grow the traffic and multiply the subscribers? Well, everyone! And we are sure that if you are a blogger and landed on this page, it means you are also among those millions of bloggers who want to make their blogs super hit in the digital world.
While it isn't rocket science, you do need to understand how the different things work and then create a cogent equation between different components to enjoy sustainable success and earn name, fame…and of course more dollars as a blogger.
Here are a few tips that will help you multiply the success potential of your blog:
Don't complicate the visual layout
Create an uncomplicated visual layout that invites the eyeballs and helps people understand the things within moments. It removes the very first barrier- understanding what your site is all about and how it works. When visitors don't have to struggle to wrap their heads around the basic functions/overview of the site, it sets up the mood to engage better with your site. The engagement builds familiarity which establishes trust. Eventually, it is the trust that matters the most when it comes to turning random visitors into committed readers, subscribers, and shoppers. 
Create a clear navigation bar that gels well with the overall visual outlook, typography, and branding elements. Make sure that everything creates a cohesive collective ecosystem. Do the colours match? Are shapes and designs present a visual harmony? Does the overall background and colours complement the typography or clash with it? Such questions will help you come up with a brilliant idea. That said, it is very important not to start with a blank canvas. Rather you can take an idea from the existing websites in a similar niche. 
Position a visible search box at the eye-friendly position to help first-time visitors instantly find and land at their desired page, read their favourite topic, or shop their desired product. Moreover, for too many people, an empty search box invites attention and encourages them to explore further. It helps in increasing CTR. 
The mobile use instances account for over 50% of the total digital interaction that takes place. So, make sure that your layout is responsive. Not only is it a great way to expand your readership but mobile-friendliness has also been added as a major ranking factor by Google. 
Improve the loading speed of your website
 Slow-loading websites frustrate users and force them to jump to your competitors. That's not what you want. More importantly, Google also dislikes slow-loading sites. The question, however, is how to speed up your site. The best thing is to think about how much time your site will need to load on a slow pr average network and optimize its speed accordingly. 
Start by checking your site speed first. For that Google provides you 2 tools- PageSpeed Insights and Pingdom. The best thing is that it also offers you suggestions on how to reduce the latency so that you can act instantly.
Moreover, try to minimize the size and number of images/media files you have on your website. There are many tools that you can use for minimizing the size of your images without affecting the original size or visual quality. Along with media files, some other factors can add to the latency. Here are those factors and the solutions: 
 If everything you did prove to be futile and you don't find any major improvement in the loading speed then it may be the right time to see if you need to upgrade your hosting plan or switch to a new hosting provider. 
Wisely format your posts and pages to support skim-reading
 Write the posts and articles that can be scanned within moments. No one likes the overflowing paragraphs or text-heavy articles. So, format your articles wisely. Using headlines, bullet points and numbered lists can make it easier for the visitors to quickly understand the context and extract the information that they want to know about.
For instance, it doesn't make sense for them to read a 1000+ words article on start-ups if all they are interested in is to know about some free digital tools for marketing their start-up online. With the right format, they can easily scan and pick the relevant portion/headline that contains these tools in a bulleted format with a short description of each. It increases engagement and stays duration while also creating more chances to transform visitors into regular readers/subscribers.
Use short and uninterrupted paragraphs without too many commas, semicolons, or other punctuation marks. 

Add subheadings (H2, H3…) to helps people clearly understand how different sections relate to each other. It also highlights the depth of your articles which adds to their authority value.

Lists- both bulleted and numbered- make it easier for eyes to separate the different elements and look more appealing. Most importantly it is great for the quick readers who only want to concentrate on important pointers like pros/cons, features, etc.

Use relevant images to support your article. You may also want to use infographics to add more appeal

Highlight the major points with the help of special fonts, quotes different colors, or a unique alignment. It helps readers to effortlessly pick the important parts

Make sure that you use common and legible fonts. Simplicity is the key to success when it comes to the reading experience
 Optimize your website material for search engines
While SEO shouldn't be the only guiding factor behind your article or posting strategy, it is always best to optimize it for search engines. Keep in mind that the position of your site/blog determines whether or not (or how many) visitors you will get. With some easy steps, you can make it easier for the search engine bots to find your site, checks its relevance to a specific search query, and accordingly determines the rank it deserves.
Use the primary keywords in your Meta title and Meta description. The ideal length for a meta title is 70 characters maximum while for meta description you should avoid exceeding 160 characters, Some plugins like Yoast SEO and AllinOne SEO can reduce some technical complexities related to keyword insertions but still, you need good keyword research skills.
 Add keywords to the important portions like title, headings, and subheadings. It is equally important to place it in the first half of the title or meta description. The specific description also helps in SEO profile while also attracting the readers.
 One of the smart strategies to improve your SEO profile is to interlink the new posts to the posts/pages that are performing better. For that, you can open Google analytics. Now click Acquisition  All Traffic channels Organic Search  Landing Page.
 Credibility matters a lot when it comes to the SEO profile or ranking. Wherever possible link your site to credible sources like Wikipedia or reputed news sites. Just make sure that it should be natural and contextual. Along with improving the overall SEO profile it also helps in building valuable relations with the authority sites by inviting their attention.
 Don't just stuff the images as they are. Instead, use the relevant Alt Tags. Using keyword-friendly Alt Tags will help you to improve rank in the SERPs.
 Avid using long and numerical permalinks. Instead, replace these default permalinks with something specific and short. For instance, by default, the permalink looks this way – www. your site/32456 which doesn't make any sense to human eyes. But if you change it to www. your site/best-SEO-advice then it will certainly invite curiosity and attract people to click.
 Exact keywords are generally competitive and ranking to them is tough as top players are already working to get top positions on them. So it is wise to support your keyword strategy with long-tail keywords as well. The competition is relatively lower on these long-tail keywords. So, it will make it less difficult for you to gain a decent rank within reasonable time and effort.
 Avoid writing super short 300-word articles or spun articles rephrased from 1-2 sources without adding any real value. Google doesn't love such articles and pushes such sites to the lower rungs. Be ready to invest the required energy, attention, and time in writing the on-form article or at least the ones that are 800+ words. Also, make sure that you don't just rephrase what's already available on the internet but adds more value to it. For that, you need to find the information gaps and fill them with the required information to deliver better value to the readers.
Increase the number of subscribers
 It is important to convert your visitors into subscribers if you want to enjoy sustainable success in the field. Whether you are running a blog or an eCommerce store you would need to build relations and an easier way to do this is to continue the communication with your audiences, By converting them into regular subscribers you can start a conversation thread that helps you to create a personal bonding with the targeted sector and there are many ways you can use email subscription to understand the needs of the community. Email marketing also helps eCommerce businesses to pitch the most relevant products and offers to the audiences which increases the sales probabilities. 
Use an appealing opt-in form at the strategic places of your site to make it most visible. You can also use intent-based pop-ups to draw the attention of visitors who are about to close the site or move away from it.

The next thing is to go for a good platform that acts as a place to store subscribers; addresses and send them emails. 

Create appealing opt-in forms and tie them with tangible benefits like discounts, exclusive groups, free courses, offers, and schemes. It will act as an irresistible value that the visitors will get upon sharing their email address through the opt-in form.

Be specific but short when creating an opt-in headline. You aim to build trust and show the exact offer. "Over 1,000 T-shirts distributed! Fill in to get yours!" or "Read my secret strategies that transformed my 4-figure business into 7-figure Empire".

Don't just put the opt-in form to your site at also distribute it on other channels like Instagram, Facebook, and …yes your YouTube channel as well!
 ……Bonus strategies
Along with the above, there are some other strategies that will help you gain a better position in the SERPs results:
Be active on social media sites: Share the latest posts, connect with your audiences, create quizzes and polls to actively interact with your targeted audiences

Network with other bloggers in a similar niche through collaboration posts, inviting them to publish guest post on your blog or appreciate (on social media) their posts that appeal to you the most

Publish Guest posts on high-quality authority sites

Create a dedicated Facebook group for your blog

Organize online and offline events for your fans and publicize the same on the right channels

Showcase your best work on top content curation websites to build a strong portfolio. Some such sites include, inbound, blokube, kingged and Scoop.it
Conclusion
Every blogger has a dream of making his blog a super success but only a few of them can achieve that. Many factors contribute to and determine the success of any blog. While there doesn't exist any single guaranteed way to get success in a short time, some tips can make things easier. In this blog, we mentioned some selected tips that allow bloggers to concentrate their effort in the right areas to enjoy the best returns in a reasonable time.