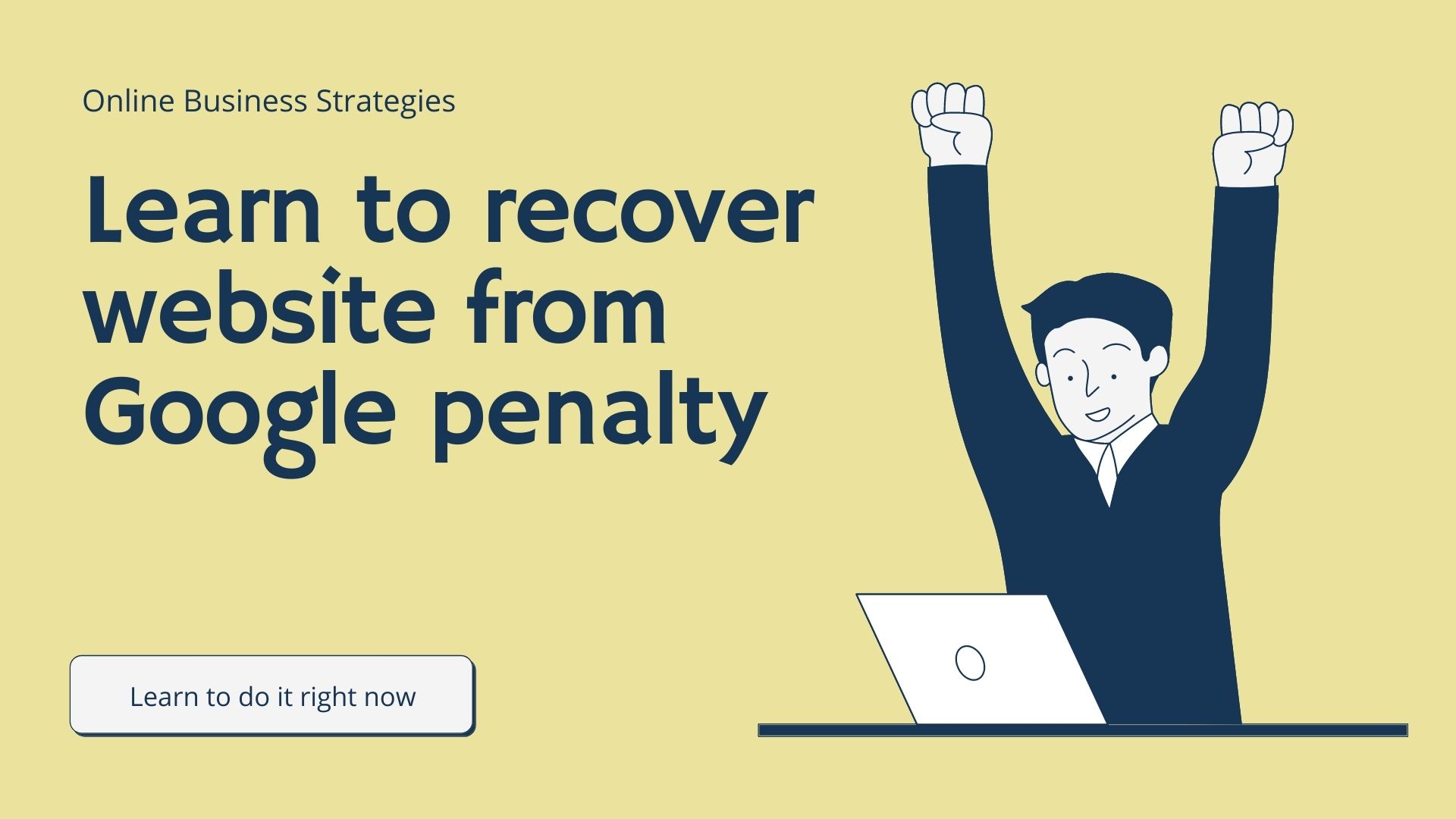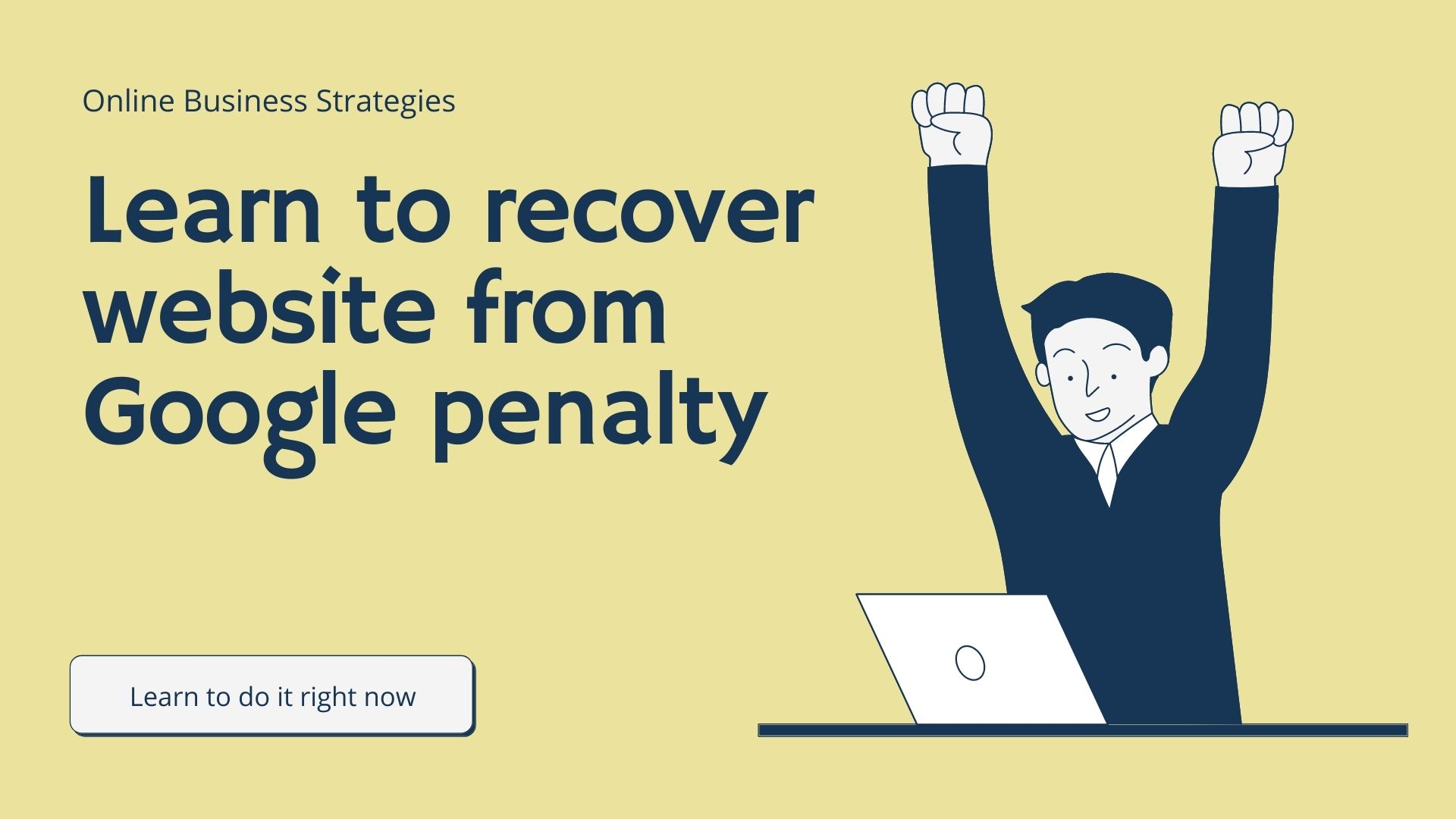 Struggling with Google Penalty? This is how to recover website!
Google is the leading go-to source for millions of people to find information and relevant websites on the internet. So, it has created a set of strict guidelines to thoroughly scan the websites, offer merit-based ranking and also reward or penalize the sites depending upon the overall value they deliver to the users.
Google penalty helps in discouraging sites from using manipulative tactics or black hat SEO to trick the algorithms. If your site has also been penalized by Google, then this post may help you recover.
Here, we will mention how to identify the reason behind Google penalties and how to recover from them. 
What is the Google penalty?
Google gets alerted if any website violates its guidelines- especially trying to manipulate the search rankings to gain a superior position through unethical means. Such sites are disciplined by lowering their visibility. It is known as the Google penalty.
How does Google penalty affect a website?
Google penalty can either (and in most general cases) pushes your site down several ranks or in more extreme cases it may even de-list your site. In the latter case, your site won't be displayed in SERPs results even for the most relevant keywords. Lower visibility directly reduces visitors, business opportunities, and the revenue potential of your site.
How does Google determine the penalty?   
Google uses two different ways to determine if a site needs to be penalized or not. 
The first method is using algorithms which are a complex set of different metrics on which your site is reviewed. It is powered by sophisticated AI and a strong logical backend. However, changing such algorithms can cause penalties even if you aren't engaged in manipulative methods or black hat SEO. It happens because your site may not tick all the checkboxes for determining overall quality as per the new/updated metrics.
Besides, it also has a brilliant team of human reviewers who carefully inspect your website for any quality inconsistencies, black hat SEO, or other manipulative strategies to trick the search engine. 
How to check for a Google penalty?
You can check the manual penalties by clicking Security and Manual Actions and checking if the No issue detected option is a checkmark in green. If yes, then you are on the safe side! 
It is also possible to experience a penalty due to errors made during manual entry. 
Note: A dip in traffic may be a cause of Google's penalty but that's not always the case. For instance, businesses dealing in festive items commonly get fewer searches in January when compared to December- the month of Christmas. Likewise, the entry of a global brand in your regional industry can also push your URL several positions down. Perhaps, you might be having some exclusive privileges in your industry 
 So, it is always best to properly consider different possible factors behind the dip in your rankings. That said, it is always advisable to periodically audit and optimizes your content. Google is committed to prioritizing high-quality, reader-friendly material over thin content that just occupies volume without creating any value. 
Content auditing
Audit your content routinely, check for inconsistencies and information gaps, and edit it accordingly. Also, see how your content matches the latest updates. Technology changes fast and your post that performed best the last year might need some serious review and editing. 
Is there any new trend in the market that needs to be added to your existing post? Do any tools you mentioned, are still available? Have they maintained the same quality standards? Are there any new players in the market offering better value? 
Answers to such questions will help you appropriately update your posts. 
Pro tip: Also take this opportunity to see how your content performance stacks against your competitors- especially for your top-ranking pages. Perhaps they stole your original position by creating material with higher value. Be inspired and see how you can regain your previous position. 
How long does recovery from the Google penalty take?
Generally, it takes around one month for any site to recover from the Google penalty. However, recovery and time of recovery depend upon several factors. It involves properly fixing the issue(s), and requesting reconsideration through a standard formal process. Ultimately, Google also needs to review and accept your application if it seems appropriate.
 That said, the recovery period can stretch further especially if the penalty is triggered by algorithmic updates. It isn't uncommon to wait for 20-24 months before your site recovers. However, when done the right way and properly follow up the recovery time on average should not exceed 6 months.
Recovery from Google penalty: Best tips to follow
 While not very often, sometimes the errors by Google may also be the cause of penalties. In such instances, you can communicate with the team requesting them to review and fix the issue.
Tools to consider
Website Penalty Indicator is an efficient tool that identifies and locates the exact cause of penalty so that you can focus your recovery strategy in the right direction. 
Tip: However, you would also like to use this opportunity for reducing the probabilities of any potential penalties in the future. Ubersuggest is one tool that suggests you duplicate content, algorithm updates, unhealthy backlinks, and any discrepancy or issues with indexing. All such factors may not immediately affect you but they pave the way for future penalties. With the help of Ubersuggest, you can nip the issue in the bud before it develops into a bigger problem.
Check for any recent updates in Google algorithms
 For checking the algorithmic causes behind the penalty check traffic drops in your Google analytic dashboard and see how they correspond to various changes in Google algorithms.
 Generally, if the time of traffic dips a match with the algorithmic updates it is most likely that a specific update is a cause behind the penalty.
However to further confirm the doubt:
Check the traffic source by clicking acquisition all traffic and selecting source/medium. 

Now click Google/organic to see the detailed report of the visitor on your site coming from Google search. 

In the top right click reporting period and then check the last year. See how the major traffic dips match with the dates of Google algorithm updates. 
 It will help you identify the specific update behind upsetting your position. Now dive deep into the update and see how you can fix the problem and start the recovery process.
Examples/effects of algorithmic updates 
The Penguin update penalizes sites with low quality, spammy or irrelevant backlinks, or imbalanced distribution of anchor text. 

Likewise, the Panda update penalizes the site due to the low quality of content.
Thorough SEO auditing
SEO audits serve a dual purpose. Firstly, they help you stay at top of your game or at least save you from being much behind your competitors. Secondly, it also helps you to understand if your site may get penalized by Google due to SEO errors.
Some of the key components of SEO auditing are:
Technical SEO auditing

Backend hosting

Indexing

Metadata, content, keywords, and other front-end issues

Quality of links

External references
SEO auditing checklist 
SEO auditing becomes easier when you use the right tools. For instance, backlink checkers can easily and quickly scan and uncover spammy links.
 Here are a few major SEO audit checklist items you should keep in mind or the best output:
Here are a few key SEO errors:
spammy/low-quality backlinks

stuffing keywords

inconsistent or incorrect sitemap

high latency and slow loading speed

intrusive elements like pop-ups
Fixing SEO should help. If it doesn't then you may consider trying for other tips. 
Content auditing  
 Content issues can also be the cause behind the Google penalty. For that, you can go for a detailed content audit and fixing. The content that isn't updated regularly or optimized to suit the expectations of search engines or visitors alerts Google.
 If you need something quick and more accurate without breaking a sweat then you may like to check content inventory tools. There are lots of options but two brands seem credible- DynoMappe and Blaze. That said, there are many other options you can explore. Just make sure that they have the right capabilities, a user-friendly process, and a strong reputation.
During your content audit, look for:
Gaps in content quality

Content not updated for a long time

Issues with metadata

Issues with image tags

Word count doesn't meet the minimum criteria
Use right tools for content auditing
Ideal tools should not only point to the specific issues but also offer you actionable suggestions and recommendations to fix them. They should also help you wisely schedule your strategy by clearly grading the issues. For instance the tools like Ubesuggest grade different issues from low to high. By fixing high-grade issues first you can see tangible positive effects on your SERPs rankings within a reasonable time. 
Low quality and spammy backlinks
 Penguin is a strong Google algorithm programmed to discover and penalize sites with low quality or spammy backlinks. 
While you cannot stop your backlinking exercise, it is imperative to keep a close eye on the quality and relevance of the backlinks you are gaining. Automate the task by using specially designed tools. Some tools have more merit than others:
Google's Disavow Tool to remove all the spammy backlinks. Its to be used if the direct communication with the website owner fails to yield any results

Majestic SEO to check the specific region and way in which your backlinks work

Ahrefs backlink checker for a detailed tool for link analysis that is updated regularly

WebMeUp backline checker displays an eye-friendly pie chart model of your backlink profile 

Link Detox for automatically disavowing low-quality and spammy links. Be cautious while using is automated feature as mistakes may happen and you may end up losing healthy links as well.
Get rid of low-quality links
Based on the insights by backlink auditing tools create a list of low-performing sites and spammy sites.

Now open the contact page of those sites to get their email address.

Mail the webmasters requesting to remove the backlink.
Note: Use polite language and don't get personal. It suffices to say that it's not in line with the hyperlinking guidelines of your brand. 
Tips: In most cases, you can get email through this method. Alternatively, you can also check the whois information for getting the address. In case no action is taken then follow up and wait for a few days. You can also consider contacting them through their social media pages.
 As the last resort, you can remove the links with the help of the Google Disavow option.
 Generally, Google's guidelines and algorithmic capabilities are fine and considerate enough to decently differentiate between the bad links made by the external site without your knowledge and ones that you actively acquired using manipulative methods. So, generally, your site won't be under threat zone if your hands are clean. 
Conclusion
One of the trickiest situations arises if your site gets a Google penalty. Recovering from this penalty is an uphill task. In this post, we discussed some best ways to recover from the Google penalty. By carefully following these tips you can gradually start gaining your original position.