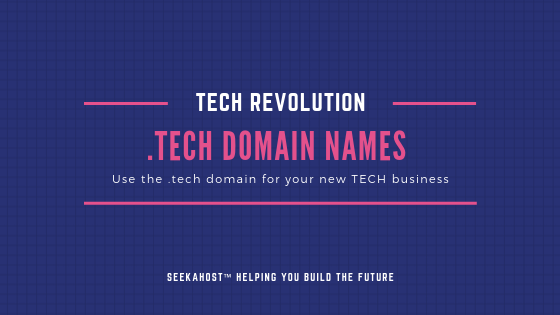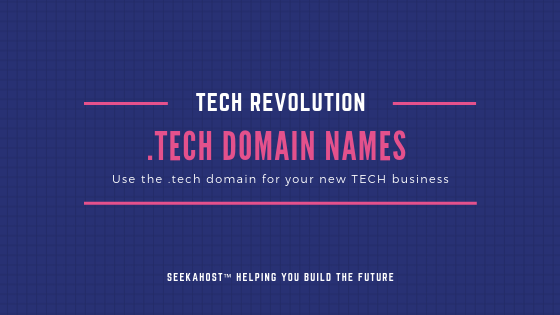 .Tech Domains: 5 ways to use the .tech domain for your new TECH business
These days the .tech domains are getting a lot of attention in the online business world.

What is a .tech domain?
The .tech domain names are domains names that end with .tech TLD domain extension. technology companies are using the .tech domains start their tech company websites and get online.  
Are .tech domains worth buying?
The emphases as it has been laid upon in choosing the most appropriate domain name as this is the first crucial thing your visitors will be interacting with.
Even if you don't get the desired domain name, there are many interesting top-level domains (TLD) released, other than the usual .com, .org or .info, which can frame a good domain name combination for your online business.
In the realm of technology, one such popular option is the .tech domain extension which is highly opted by many technology startups.
You can read the chatter about .tech domains and are they worth buying
Before you suffix the .tech domain name extension to your actual domain name, keep in mind the following checklist so that you get an effective result.
Do's and don'ts for a good tech domain name
Do keep it short, specific and clear
Do incorporate keyword
Don't use repeated letters, special characters and numbers
Do check if it's not already registered
Do associate it with your business or brand name
When you have decided upon the .tech domain name that is all ready to go online, you can make it more precise by going in for a .tech extension. Moreover, since there are hundreds of TLDs available to register today, the chances of getting your perfect domain for your online business is time-consuming and you may end up with the wrong domain name.
Now how to effectively use the .tech domain?
Through this post, will explore 5 different ways to implement .tech domain for your online business.
Make use of buzzwords
Keep a pace with the rapid moving technology industry by incorporating the buzzwords in your domain name. It not only raises your standard but no doubt attracts user's attention. Like for instance, Internetbuzz.tech or webpreneur.tech.
Call-to-action domain name
Make the users dive into your creative domain name. Involve them in exploring your services or online business through your visionary domain name. Now there can be an innovative variety to it. Consider an example codeusing.tech, this clearly invites the tech savvy users or beginners to start with their coding interest. Coinage of such words can make your domain stand out distinctive.
Industry-specific keyword
Incorporates words that are relevant to the industry and describes your business more prominently. Make use of SEO driven keywords for attracting good volume of traffic to your website. Domain names like medical.tech or Biotools.tech are explanatory enough to describe what your online business is all about.
Location oriented
Merging your business name with the location where it operates, is a good practice of framing effective domain name. In just two or three words you can create your online presence. Consider an example of Indiangadgets.tech. Those who are looking for Indian technical gadgets can search you in one go.
Associate with your brand
Most important of all, let your brand name get highlighted in your domain name for building its foundation in the online market. Moreover, the .tech domain can enhance and improvise your brands overall standard.
These are some effective measures which you can adopt for incorporating the .tech domain for leveraging your online startup.
Why are .tech domains so expensive
Due to the demand of .tech domains they are expensive and prices can go high as more and more tech companies are registering .tech domains for their business websites. 
Another reason for .tech domains to be expensive is the that's because the wholesaler charges a lot more for that domain name.
You can register .tech domains at www.seekahost.com
You can read how .tech domains are helping tech startups differentiate their brands so you know why you should invest in a .tech domains name for your technology startup business.