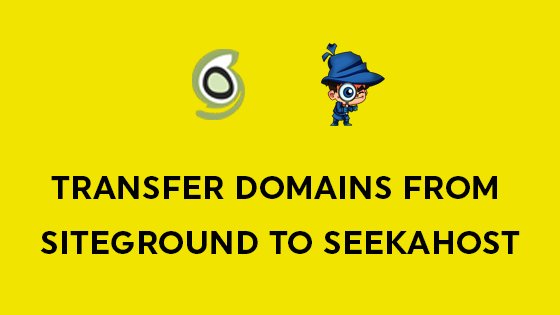 How to transfer your domains from SiteGround to SeekaHost?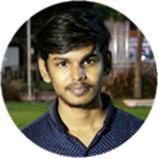 By Aslam Saah
Firstly, In your Old Domain Registrar, You have to request for "transfer domain", where they will send you EPP Code (Authentication Code), which is must for transferring domains.
How to Transfer Domains From SiteGround to SeekaHost?
Before following the steps to transfer the domains from SiteGround to SeekaHost, You have to Make Sure the Following Condition Applies,
The domain you have registered in SiteGround must be more than 60 days old, (It's common for any domain registrar)
Make sure the registered mail id is still active to receive the EPP Code.
SiteGround auto-renewal of domains will take place 15 days prior to expiration. Thus, domain to be transferred must not be too close to its expiration date.
Step 1 – Domain Service with SiteGround
Login to Your SiteGround Account. Click on "Manage" which is appropriate to the domain you would like to transfer.

Step 2 – Domain Status
Under "My Accounts", If your Domain Status is "Registrar-lock", change the status to "Active" and allow 24 hours for this change to propagate.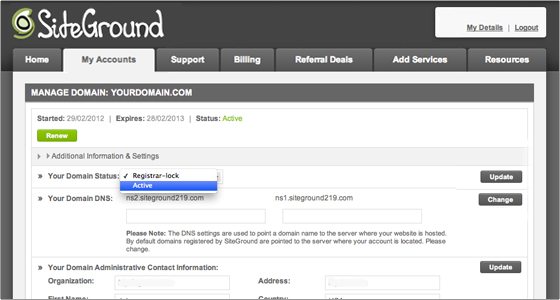 Step 3 – Disable ID Protect
To deactivate the ID Protect feature of the domain you would like to transfer, you have to contact SiteGround's support team and request for them to disable it for you.
Step 4 – Change Contact Information:
Under the Your Domain Administrative Contact Information area, update the necessary details and then click on the Update button.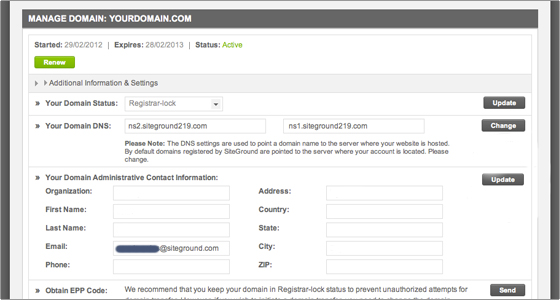 Step 5 – EPP Code
To Get EPP Code(Authentication Code), click on the "Send" button to receive the code to your email id.
As Mentioned in SiteGround:
(Upon Send EPP request the EPP key will be sent to the administrative email address for the domain. If that email address is currently set to [email protected]. It will automatically be changed to your contact email address, provided in the 'My Details' section of your User's Area)

Transfer your domains to SeekaHost:
You can transfer your domain at SeekaHost only after receiving the EPP Code (Authentication Code).
Step 1 – Register
You have to be a registered user in SeekaHost – Steps for Creating Account in SeekaHost
Step 2 – Transfer
Under Domains Drop-Down, Select "Transfer Domains to Us".
Step 3 – Available to Order
Fill the domain and check Availability.
If your domain is already registered with us it will show- the domain you entered is already registered with us – you will need to cancel it prior to placing a new order.
If your domain is not registered anywhere it will show – you cannot transfer a domain that isn't registered.
If the domain is available to transfer you can enter the EPP code and click on "Order Now".
Step 4 – Enter the EPP Code
Enter the EPP code you have received from your previous registrar and Update the cart.
You can select DNS Management and Email Forwarding as they are free, whereas ID protection is of your choice. Enabling ID Protection will restrict the 3rd party from seeing your personal details with WhoIs information.
Step 5 – Review & Checkout
If you have a promotion code fill and click on validate code, else click on Check Out and process the payment to place the order.
For the domain transfer to get completed, it might take from 5 to 7 days from the date you have processed the payments at SeekaHost (Destination Registrar).
[Tweet "How To Transfer Domains From SiteGround To SeekaHost?"]
If you are a registered user in SeekaHost and have any queries to be clarified or issues to be sorted, you can raise a ticket through client area dashboard or email to [email protected]. For immediate interaction or guidelines, contact our support team available in LiveChat at the right bottom corner of the website.