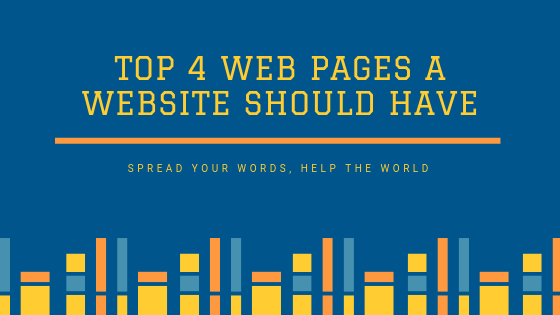 What Web Pages Every Website Should have?
When I design websites I always draw a picture in mind about what pages should a website have and the most important pages the website needs.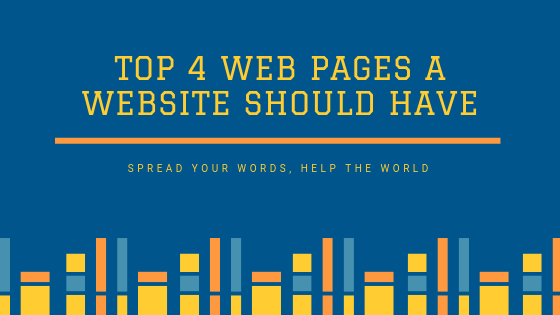 I check the business industry and requirements of the website owner and then decide what are the most important pages for a website.
What pages should a website have?
Technically, Website is composed of webpages. You are free to design and present it according to the business you are in.
Wait! Let's reframe it again. You must design and present it according to the customer's vision.
Based on the website market survey and top web designers piece of recommendation every website small or big must have four most important pages.
Consider it like more of website ethics.
The Four (most) important webpages include:
Home Page
About Page
Services
Contact Us
Just naming them is not sufficient enough. Let's explore what exactly these pages must hold.
We all must have definitely observed, the four pages mentioned above in almost every website. They give your audience a comprehensive and significant view of your entire organization or business. Since these pages are present in almost every site, it becomes a common practice for the online visitors to initially look and search for these pages, once any website uploads on their browser. All the more hard fact for a completely new website.
So let's start!
1. Home Page
It's like a welcome page for your visitor. So take utmost care what you are presenting in that 1024×768 screen. Precisely, your home is the foundation for all top-level pages of your site. For instance, the user must be able to easily navigate through the services, must be able to access the contact page or reach out your blog page. Moreover, do not clutter it with all the possible information and graphics. Keeping the F pattern (top – left) in consideration, display the most essential and key information.  This crucial page must not be like 'See and Depart' for the user.
2. About Page
Now finally it's all about you. Users will land up in this page because they actually want to know about your business or company, for how long it has been established, your success stories or key features. Be precise, clear cut and informative. No one has time and patience to dig out anyone's history at a deeper level. Make use of secondary pages and links for customized and brief details, in case your visitor is inquisitive to fetch more.
3. Services
Here comes the professional front of your profile. Irrespective of what profession you are running, the services page must clearly list down all the services offered by you with a detail description of each one. The services can be blend with sales, registration or booking, preferably on a separate page.
3. Contact Us
As the keyword symbolizes, this page is particularly for exhibiting the contact details. The Contact page is the one with most minimal and to the point content. It basically includes #Phone number, #Email Address, Location Address (with Google Map) and #Social networking account.
As we highlighted that these four webpages represent the most important ones for any website, but you can certainly append two or more for making your site more credible and interactive.
If you are waiting for, what more pages? Then there is the Blog Page and the FAQ's Page, which also doesn't miss out of the user's sight.
The blog page will build a bond with your new and existing users, keeping them well connected (only it requires a lot of hard effort to maintain it on a regular basis).
The FAQ (frequently asked questions) page is an essential aid for the users in doubt or having some queries. Of course, there are alternatives to it in the form of live Chat and Whatsapp.
Did we miss out on any crucial webpage? Pour in your valuable comments and suggestions if you know what pages should a website have to succeed online.
[Tweet "Top 4 web pages every website should have to grow online."]