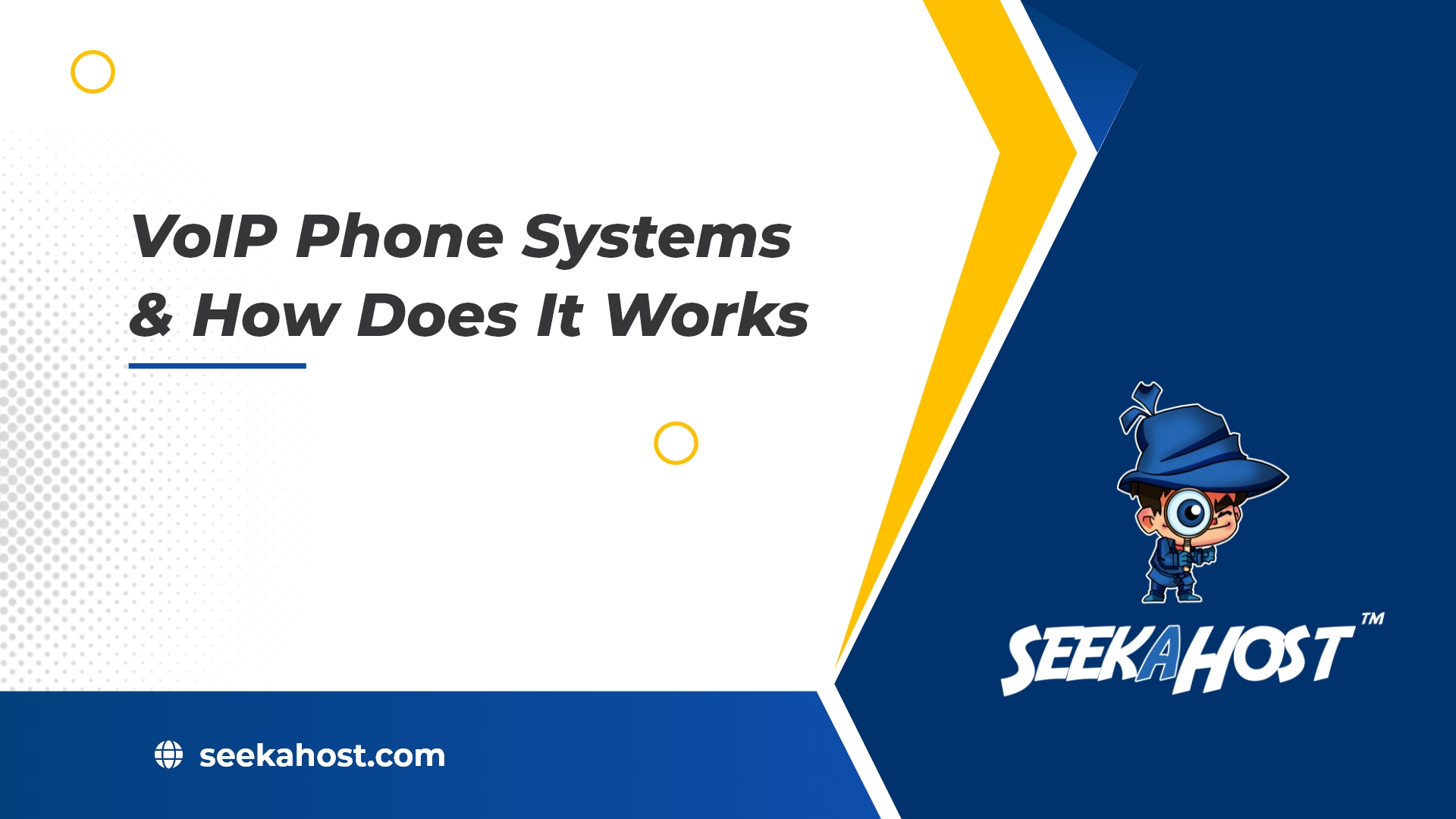 All You Need To Know About VoIP Phone Systems and How They Work
All VoIP phone systems aren't equal. There are two distinct types: special digital hardware and a computer/mobile software application.
The VoIP phone system has come a long way since its inception in 1995. Calls have become more stable and reliable since broadband became the norm.
Recently, it has become and remained the go-to solution for businesses looking to upgrade their phone system.

What is a VoIP phone?
Voice over Internet Protocol (VoIP) is the gold standard of modern communication.
A VoIP phone system uses Internet Protocol technology to transmit your phone calls instead of the traditional copper telephone cables. To make it simpler, it lets you make calls using the internet. 
VoIP Vs. Traditional Phone Systems
Legacy phone systems transmit your calls through analogue phone lines through a piece of specialized equipment called a Private Branch Exchange (PBX). A PBX connects the phone to the public telephone network. It transmits packets of data over a traditional circuit-switched network.
VoIP, on the other hand, converts your voice into digital signals and transmits them over the internet using your local area network. VoIP uses a real-time protocol (RTP) to ensure that the data is transmitted timely and reliably.
Also, VoIP phone systems connect to the internet using a high-speed Wi-Fi connection or an ethernet cable instead of a copper telephone line like traditional phone systems. 
How Does the VoIP Phone System Work?
In short, the system takes analogue signals, turns them into digital signals, and facilitates a phone call over the internet. Here's a list of steps in the background while you communicate using a VoIP phone system. 
SIP Protocol and SIP Trunking
SIP stands for Session Initiation Protocol. It allows your phone system to make voice calls over the public internet without installing dedicated hardware onsite or a dedicated facility to transmit the call.
SIP trunking is a replacement for the physical copper wires and telephone lines. It connects a traditional phone system to the internet using VoIP. A SIP provider essentially replaces a traditional landline service provider.  
Equipment You'll Need 
1. A VoIP PBX
A business telephone system lets you make phone calls over your company's LAN/WAN network instead of a circuit-switched network. You can opt for either of the two deployment options. They are on-premises and cloud-based.
Hardware is installed on-site and runs at your office with an on-premises voice solution. On the other hand, a cloud PBX system resides on the internet and is managed completely off-site. 
2. VoIP Or IP Phones
These are physical phones that you can use with a VoIP system. They look exactly like your traditional landline phone system. The key difference is that it is internet-enabled.
The visual similarity with the traditional telephone makes it easy for people to adjust to VoIP phones. The phones have individual IP addresses too. 
3. Smartphones, Computers, And Other Network-Ready Devices
You do not need an IP phone at all times to make a VoIP phone call. Your smartphone or laptop can achieve the same with the help of VoIP apps. All you need is an internet-connect device, and your business calls can happen anytime and anywhere without a single byte of loss. 
4. VoIP Gateways
These devices are a great way to reduce costs when transitioning to a VoIP phone system. The device converts voice calls into data packets transmitted over the internet. Its features include,
Voice and fax compression/decompression
Packetization and control signalling management
Call routing
External controller interfaces
The VoIP gateway allows you to hold on to your existing hardware while allowing you to reap the benefits of having a VoIP phone system. As a result, it keeps the cost of upgrading to a VoIP system low. The VoIP gateways also have a fallback mode that switches your phone system to the PSTN when the internet is down. 
Features of a VoIP Phone System
VoIP phone systems provide numerous features that a traditional phone system does not support. The below list contains features that can boost your communication efficiency.
Basic features
Call forwarding
Call routing
Caller ID
Call recording
Emergency number
Do Not Disturb (DND)
Speed dial
Custom prompt
Queue
Ring group
IVR
Music on hold
Advanced features
Voicemail to Email
Conference calls
Mobility extension
Unified communications
Auto-provisioning
Redundancy (Failover)
Time conditions
Blacklist & whitelist
Firewall
Things To Consider When Picking A VoIP Service 
1. Option for a phased transition to VoIP
If you're using the traditional PBX to keep costs down, make sure your choice of VoIP allows you to take a phased transition.
The VoIP phone system will have to be compatible with the system you have in place. You will have to connect them and ensure that the transition doesn't affect your business continuity. Also, make sure your service provider supports your equipment.
2. Unified Communication Capabilities
Learn about all your VoIP service provider's unified communication (UC) capabilities. These are communication systems that go beyond the traditional voice calls. Some common UC features include,
Unified messaging
Corporate directory
Team collaboration
IM (Instant messaging)
Video conferencing
These features can make day-to-day business easier and provide a better experience for your customers and clients. 
3. Integration With Other Systems
Staying agile is critical to all businesses in this ever-changing world. With new systems and software popping up daily, you will need a robust VoIP phone system that can adapt and integrate with other tech.
You should also be able to integrate your phone system with other business tools to make communication and collaboration easier. More VoIP service providers ensure that their service is compatible with popular tools and business solutions. Make sure you pick the right one for your needs.
Are you looking to transition to a VoIP phone system from a traditional PBX one? Or are you still weighing your options?
Learn more about VoIP phone systems or get in touch with an expert to help you pick the right choice for your business. Get in touch right now.