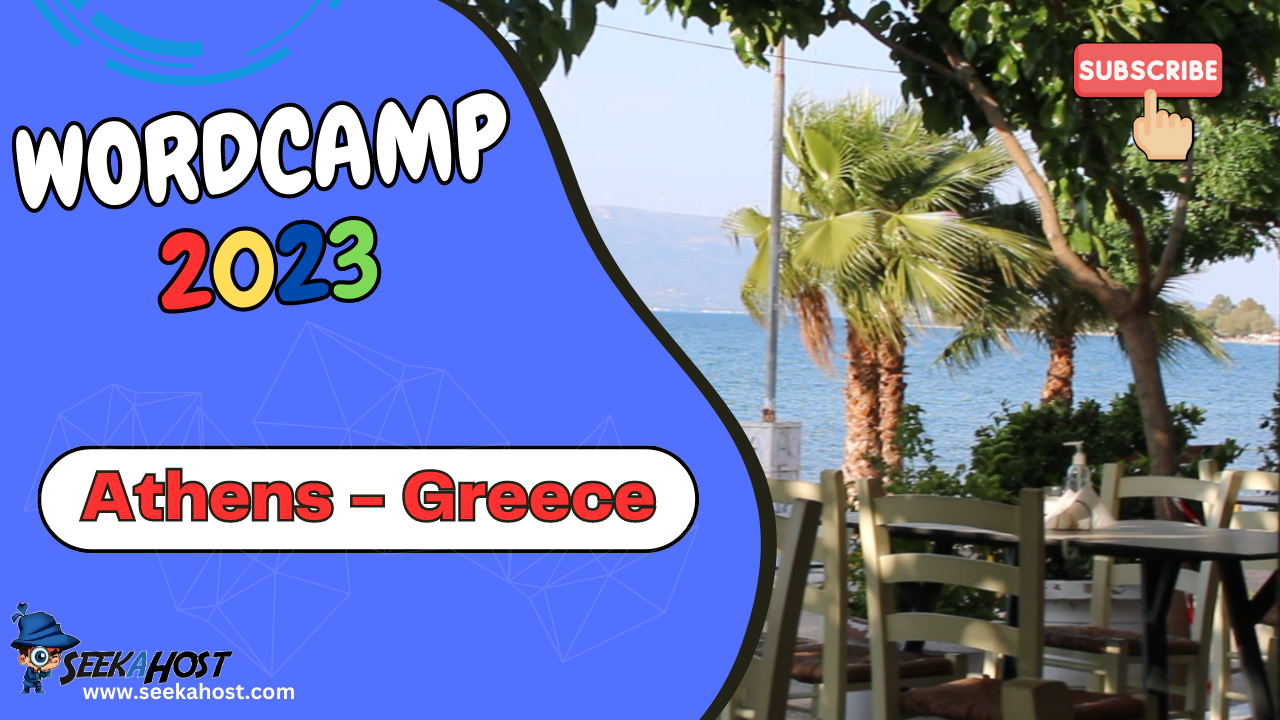 SeekaHost Travels To Athens For WordCamp 2023 Europe
Hey folks, its James here form SeekaHost and today we are visiting the WordCamp 2023 event in Athens. Here we find all the top names in WordPress, from developers of cPanel to plugins to translate your WordPress site. There is tones to see and do, so follow along on my journey!

What Happens at WordCamp?
This year's WordCamp was graced by the presence of the biggest names in the WordPress ecosystem, including cPanel, Plesk, WP Guardian, WP Toolkit, WP Squared, WooCommerce, Elementor, UpdraftPlus, and even PayPal. The breadth of sponsors and participants transformed the event into a veritable who's who of the WordPress community, promising a comprehensive exploration of everything WordPress-related.
Here you can find spoilers for the latest products, talk with the actual people responsible for the plugins or systems you use and network with many other like minded people in the safe field.
A Three-day WordPress Extravaganza
The event was carefully curated to span three days, meticulously planned to ensure attendees had enough time to attend workshops, engage in discussions, and forge new connections. The vibrant venue in Athens (Athens Music Hall) buzzed with excitement as the event unfolded, starting with a warm welcome speech and progressing through an array of insightful talks, interactive workshops, and enlightening Q&A sessions.
From discussions about the future of WordPress and its impact on the digital space to hands-on workshops on the latest tools and techniques, WordCamp 2023 was designed to cater to a diverse set of interests. It gave both novice bloggers and seasoned developers equal opportunity to learn, share, and network.
Travel Vlog of The Event
Day 1
On the first day it was only open for contributors until 2pm. To help setup, have talks and get ready for general admissions at 2pm. I used this time to travel around the location help at: Megaro Musicis in Athens. One of the biggest and most elaborate music halls I have ever visited!
With the Athens metro station only 250 yards from the venue, I jumped on the metro and headed toward Monastiraki in the centre of Athens. Here you will find most historic building in Greece such as:
The Parthenon
Acropolis
Ancient Agora (market) of Athens
Hadrians Library
Kaisariani Monastery
And of course the tourist flea market running down every road and alley within the area. Where you find anything from tourist fridge magnets to scare mazes and even decorative muskets. You can find almost anything!
So after some hours, frapes and souvlakis later, it was time to get the metro back over to the event ready for the 2pm general admissions entry. As i got there it was starting to fill up with everyone exited to see what's happening in this years WordCamp event in Europe.
At this time they also opened the downstairs eating hall which held a massive variety of Greek foods for everyone to help them self's too and fill up after a busy day of setting up and talks.
I spent this time taking pictures of the different booths and areas available in this conference so i was ready and prepared to the next day and the interviews we have planned.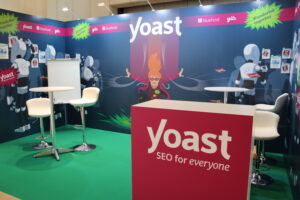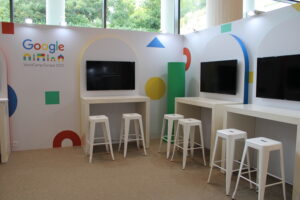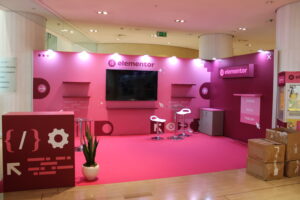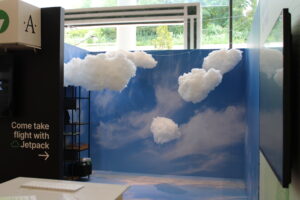 The stands were looking fantastic so I took some time to walk around the whole venue, and it was huge! But I acclimatised myself ready for the busyness of the next day!
Day 2
Today was another early start but with general admissions open from 8am I headed down for 9am. I was first met by Shoko from WebPros, they have a great article about the event you can also read here. Shoko then introduced me to Andrey and Jesse, product manager and chief experience officer of tools like wp toolkit, wp guardian, wp squared and cPanel. The interview was arranged for 11am so I carried on checking the very busy stands and talking to anyone I could.
I first spoke to the lovely people on the Elementor stand, which had a free grab machine game to win free elementor hat. Unfortunately I didn't do well, but i was entered into a change to win a bigger prize. So, fingers crossed!
Next I spoke to Gareth, heading up the WooCommerce stand, where they had a great preview of one of their online shops with a woocommerce credit card you could use to show how easy the purchasing is. And the best part about it is you get a free bottle of Greek olive oil from a woo commerce shop they have in Greece.
Interview With Gareth From WooCommerce
I then made my way over to the Google stand, where we discussed google site kit, an amazing plugins that simplifies monetization and ad's on your site. We shared our experiences and they even took a look over my person blog. Jdogofficial.com and asked for any customer feedback that could help them improve further, which i always find great to listen to customers on how to improve. Top marks for Google! Then I spoke to Matt from the search team. The background noise was a little louder here but watch below for what he has to say.
Interview With Matt From Google
Now it was time for the main 2 interviews of the day with the guys from WebPros.
The highlight of WordCamp 2023 was undeniably the opportunity for attendees to interact with industry leaders. We were fortunate enough to secure interviews with representatives from WebPros, the conglomerate representing Plesk, cPanel, and WHMCS.
In our discussion with the WebPros team, we delved into their roadmap for the future and got valuable insights into their vision for the WordPress ecosystem. We also explored how their tools have revolutionized website management and their plans to adapt to the changing demands of the digital world.
First, I interviewed Andrey, Product Owner for WP Toolkit in Plesk and cPanel & Lead for WP Guardian @ WebPros.
Interview With Andrey From WebPros
Secondly I spoke to Jesse the Chief Experience Officer @ WebPros & leading WP Squared dev work and working with cPanel.
Interview With Jesse From WebPros
These are definitely interview I suggest watching if you are interested in cPanel, WP toolkit, WP Guardian (new security software) and of course Wp Squared.
Now came time for lunch, and we were served well in the venue again, anything from fruit juices, coffees, fruits and many different meals. There wasn't an attendee going hungry.
I explored the smaller stands and other areas after lunch, I cant describe how many different plugins representatives where here. Anything from wp experts, updrafts plus, hosters and even PayPal were here and showing their latest features and plans.
I was lucky enough to bump into Thibaud from Weglot translation plugin, and we managed to get a small introduction to what Weglot is and how it can help your WordPress sites with translations with added SEO values.
Interview With Thibaud From Weglot
With all the main action over, it was time for some more sight seeing around Athens, for more on that watch our travel vlog video at the top of the article.
Day 3
This is the last day of the conference and unfortunately my last day too as I was leaving in the afternoon. So I visited in the morning to get some finished shots of the event and a final view of this awesome event. Then we headed off for a quick trip before getting ready to head back to the UK. How ever for the others staying another night they got to enjoy the WordCamp 2023 after party! No doubt a super fun event that would have left many worse for wear the next day.
The Impact of WordCamp
WordCamp 2023 was not just another event. It was a celebration of the WordPress community and a testament to the platform's influence on the digital landscape. The conference proved to be a unique platform for users and developers, allowing them to share their experiences, learn from the best in the industry, and get a sense of where the WordPress community is heading.
Whether it was networking with potential collaborators, learning about the latest tools and techniques, or getting exclusive insights from industry leaders, attendees of WordCamp 2023 left Athens with enriched knowledge and renewed excitement for the future of WordPress.
Wrapping Up
WordCamp 2023, Athens, was an engaging and enlightening experience. The event perfectly encapsulated the spirit of the WordPress community – one that fosters learning, collaboration, and innovation. As we reflect on the discussions, interviews, and interactions at this year's event, we are already eagerly anticipating WordCamp 2024.