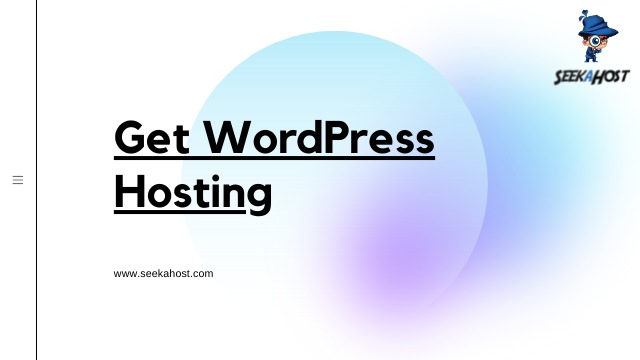 Complete Guide to Purchase SeekaHost WordPress Hosting

WordPress Web Hosting
WordPress Hosting is nothing but, is mainly optimized for WordPress to meet the best performance and security. You will get a one-click WordPress Installer, automatic updates on this hosting.  So you can easily install WordPress on your site.
In WordPress hosting, you will get a lot of tools and features particularly for WordPress Sites needed like, WordPress cloning and Staging Environment.
Why do you need WordPress Hosting?
In order to have the website online, you will need a domain and the Host must need that. Without these two, you can't develop your website over the internet.
So, If you having a WordPress Website, why do you need to choose WordPress Hosting?
Yes, WordPress Hosting is the best choice for the website which uses WordPress as a Content Management System(CMS).
Nowadays, WordPress is one of the famous free content management systems. You can easily create content for your website and manage it in WordPress. It has a lot of free plugins and themes to develop your website.
You don't need any coding knowledge to use WordPress. It is very to install and you can create a variety of websites using this.
Advantages of using WordPress Hosting:
Easy to Use: While purchasing the package itself, you will get pre-installed WordPress for your website. So you can easily develop your website without spending time on installation and configuration. And also, you don't have to worry about compatibility issues. Get a Package and develop a website instantly.
Daily backups:  Website backup is really an important one. Having the backup of your website will give you the strength. Unfortunately, if anything happens to your website, you can restore the latest backup to live your website smoothly.
Security:  When it comes to websites, security is most important. So we are providing WordPress Hosting with Enhanced security. We have Imunify Security for our servers. It will protect your websites from malware, spam or brute-force attack and make stable.
Optimized server for WordPress:  The server will be mainly configured for WordPress websites which will be optimized for speed and performance. When you are hosting the WordPress website under WordPress hosting package, that claims the best performance.
Special Features: In WordPress web hosting packages, you will get special features that won't be available on other web hosting packages. Also, in SeekaHost WordPress Hosting you get some exciting one-click features like Cloning, Staging, Backup, Upgrade Options, Caching, Theme management, Plugin Management, and so on. Get your WordPress hosting now and enjoy using these features.
How to get WordPress Hosting Package in SeekaHost?
#1 Choose the Web Hosting Package
Visit the WordPress Hosting page. You can see the WordPress Hosting package features and Pricing details there.
In WordPress Hosting 4 Types of packages are available. Each package has different types of features. You can choose a suitable package for you and click the "Get Started" button to start shopping.

#2 Choose a Domain for Hosting
Once you can select the package, it will redirect you to the "Choose a Domain" Page. There are three options are available for entering the domain name,
Register a new domain – If you are looking to purchase a new domain name for this package, then you can register a new domain by selecting this option.
Transfer your domain from another registrar – If you have registered the domain name already with some other provider, then using this option you can transfer it to us to manage it easily.
I will use my existing domain and update my name servers – You can use the existing domain name by selecting this option. If you choose this option, you have to update the name server given by us in your domain registrar to connect host and domain.
#3 Confirm your Billing Plan
Next, Choose the billing for your package and Press the "Continue" button.

#4 Review & Checkout
The final step is "Review and Checkout". Here you can check the selected package details. Next, you have to choose the "Billing Details".
If you have already registered with the Seekahost, Then click the "Existing Customer Login" option. You have to enter your registered email id in Seekahost and its password to log in to your account.
(Or) if you are a new user in Seekahost, then use "Create a New Account". Fill in the mentioned details to purchase as a new user
#5 Select Your Payment Method
Next, you have to choose the payment method as mentioned in the below image. You can choose either PayPal or Debit/credit card as a payment method.

After selecting the payment method, click "Checkout" to complete the purchase. You have been redirected to the payment process based on your selection.
Once the payment is completed, you have successfully ordered the WordPress package. You should have received your package details through the mail as in the name of "New Account Information". In that mail, you will get the Package details and Nameserver details for your domain.
As we have already said the WordPress is pre-installed for your domain. So you should have received the "New WordPress Information" in another mail.
Check your mail (If you haven't found the mail, Please check in the other folders like spam, junk) to get the details.
Next, you have to update the nameserver details which is mentioned in the mail to access your website.
Additionally, you can manage your WordPress in the SeekaHost Client Area itself without login into the WordPress Dashboard.
If you are a registered user in SeekaHost and have any queries to be clarified or issues to be sorted, you can raise a ticket through the client area dashboard or email to [email protected] For immediate interaction or guidelines, contact our support team available in Live Chat at the right bottom corner of the website.