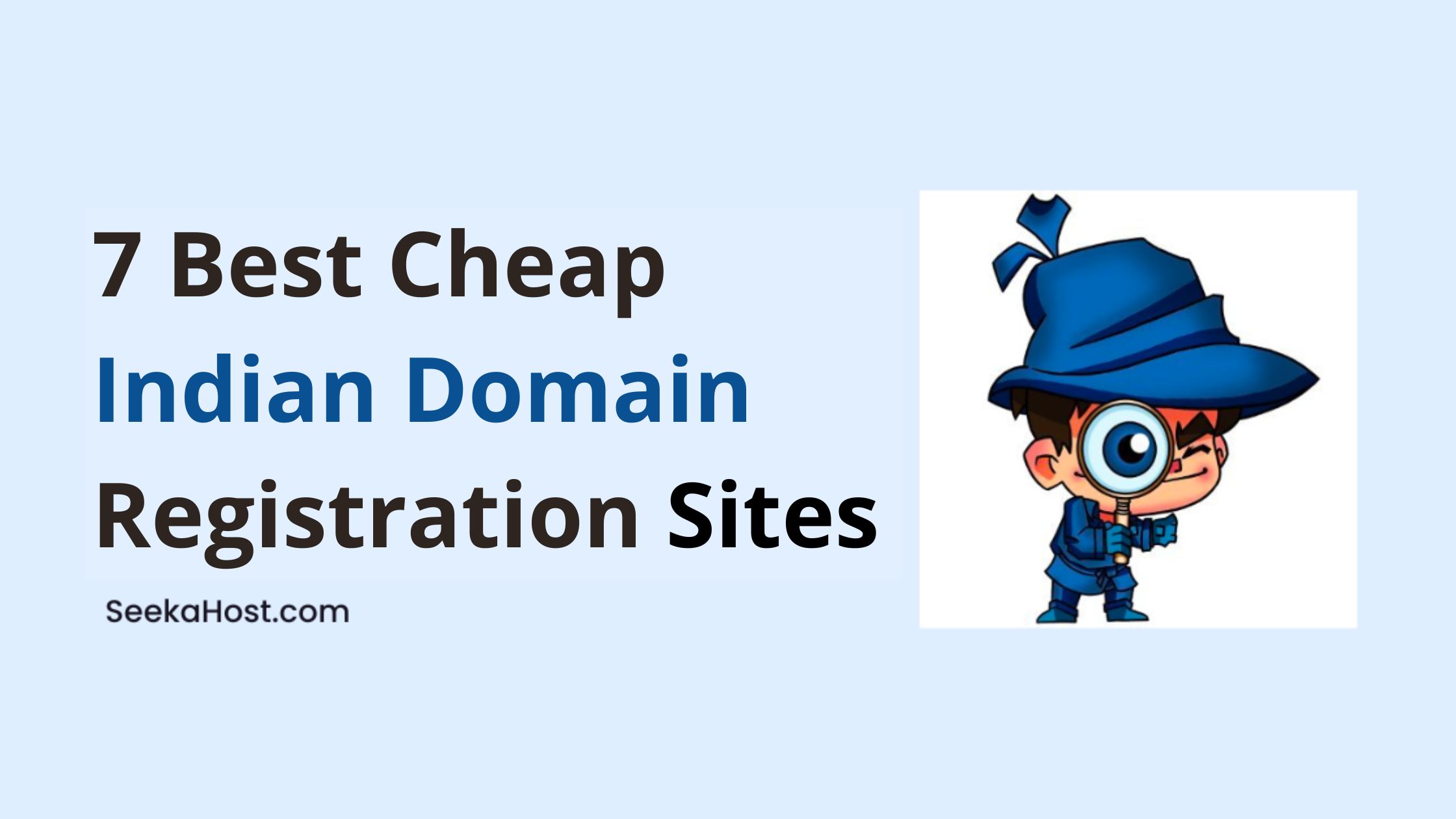 7 Best Cheap Indian Domain Registration Sites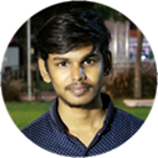 By Aslam Saah
Even when you can possibly have an online presence without a domain, why is Indian domain registration important for your local business? A domain name is central to building and controlling your online identity (as much as it is essential to boost your digital brand!) 
Why Do You Need A Domain Name?
Imagine you've put tons of effort into building a beautiful house. You've invited your friends for a housewarming party, but they don't know the address. Sounds ridiculous, right? 
A domain name works just as an address does. It makes your website credible and helps prospective customers identify and remember it. Every website requires a unique domain name, and a registrar helps you to get one. 
However, this is a commission-based service. The domain registrar will usually charge a certain amount for generating your unique web address with a domain name.
When talking about domains, a few points to choosing the right registrar are pricing, registration period, domain transfers, expiration policies, and add-on services. Keeping the criteria in mind, we've compiled a detailed explainer about domain names and some of the best Indian domain registration sites to go for. 
ALSO READ: How to Register A Domain Name?
Below are more details about the best Indian domain registration sites, with a quick overview of the pricing and features. 
7 Best Cheap Indian Domain Registration Sites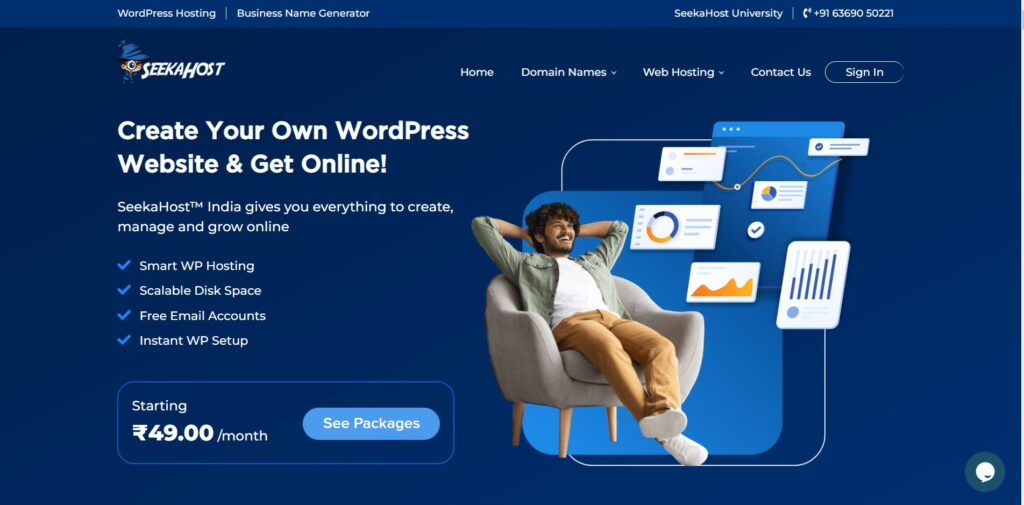 Seekahost is an all-in-one domain registrar that's incredibly easy to access and offers a slick user experience. We as a domain registration service extend a welcome wizard on the website which takes you through picking and buying a domain name. Apart from domain registration, we offer a host of other services that are crucial to building an online presence and authority for your website. 
Annual Pricing 
SeekaHost has one of the best domain name search tools in India. If someone is already registered with your preferred domain name, it will automatically suggest suitable alternatives.

Quick and easy domain transfer from another host.

We also provide web hosting services and everything you need to get started with your website. 

It comes with DDoS protection to protect your website from malware, hacking, and phishing attacks.

24×7 live customer service to help you with all your queries. 

GoDaddy is widely popular in India. It is a publicly traded American domain name. It already has a vast customer base that deals with Indian and global audiences and manages a huge number of domains. 
GoDaddy offers different domains, including country-specific domain name extensions and top-level domains (TLDs).
Annual Pricing
| | |
| --- | --- |
| Domain  | Pricing (INR) |
| .com | 499 |
| .net | 639 |
Why Should You Go For GoDaddy?
Their domain search board is extremely easy to use and offers other additional services. For instance, they have services like website building, SSL certificates, and likewise.

They are offering everything at a reasonable price.

Easy domain transfer, tools for bulk domain search, and domain auctions are other services offered. They even let you build a free website.

They are also known for their unparalleled support. 

A secured website experience. 

ZNetLive has been in the business since the early 2000s. They have been established as a reliable domain registrar and digital transformation solutions provider. If you are looking for a domain, and managed service provider, your search ends here. 
ZNetLive offers an array of digital services at unbelievable price points. The company is an ICANN-accredited registrar with a strong Indian and global customer base.
Annual Pricing
| | |
| --- | --- |
| Domain  | Pricing (INR) |
| .com | 619 |
| .net | 695 |
Why Should You Go For ZNetLive?
The company believes in putting its customers first. They have one of the cheapest registration and renewal charges to offer.

They even run sales on domains so you can choose the best one at a much lower price.

Their customers can avail themselves of domain privacy protection and domain locking service.

Bluehost has been running strong since 2003. Not only does it help you find the right domain name that helps people find you online and it also offers a range of credible domain names. The user-friendly interface is suitable for beginners as well as advanced business owners.
The prices offered by them are of industry standard. But the attractive deal is that you even get a free domain name for the first year. You can avail of this offer even with the cheapest package.
Annual Pricing
| | |
| --- | --- |
| Domain  | Pricing (INR) |
| .com | 749 |
| .net | 749 |
Why Should You Go For Bluehost?
They are known for their beginner-friendly interface and for not focusing too much on upsells. You can easily purchase your first domain on Bluehost. 

Get several free add-ons with every domain purchase.

Lifetime DNS service and Domain theft protection

You reach them anytime via live chat and phone. They provide undivided customer support.  

30-day money-back guarantee

Namecheap has earned a reputation for being one of the most trusted names with ICANN accreditation. They offer their customers a perfect balance of price and support.
They started their business in 2000 and are a popular name in the industry. The company has all TLDs to offer at an affordable rate. Additionally, they provide WhoisGuard privacy protection with every domain registration.
Annual Pricing
| | |
| --- | --- |
| Domain  | Pricing (INR) |
| .com | 680 |
| .net | 820 |
Why Should You Go For Namecheap?
Looking for the easiest way to buy a domain name? Namecheap is your best bet. The company has an outstanding search tool, and the website is user-friendly.

The checkout process is pretty simple, and they do not try to jam in upsells

They also offer free domain email forwarding. In terms of privacy protection, they provide VPN services.

Namecheap is known for its extraordinary customer support. They own a team of efficient personnel who are there to provide support through live chat or support tickets.

Daily backups.

DreamHost is a Los Angeles-based domain registration and cloud computing service provider. They provide domains and other website creation tools. It has also received ICANN accreditation and offers country-specific and generic TLDs.
Annual Pricing
| | |
| --- | --- |
| Domain  | Pricing (INR) |
| .com | 717 |
| .net | 877 |
| .org | 957 |
Why Should You Go For Dream Host?
A free trial of click-to-edit website builder on every domain purchase.

The package includes free domain privacy and free custom emails.

Flexible auto-renewals.

Once you host a domain with Dream Host, you can create as many subdomains as you want.

Apart from dedicated customer service, they also have discussion forums to answer FAQs. 

Google has been trying its luck in the domain registrar business since 2015. They are comparatively new in the industry, and their service is still in the Beta testing phase. It lets you manage your domain through a simplified dashboard. 
Google will allow us to have a better search and suggestion experience. All of these are possible through active DNS integration. 
Pricing
| | |
| --- | --- |
| Domain  | Pricing (INR) |
| .com | 860 |
| .net | 860 |
Why Should You Go For Google?
Get free of cost privacy protection.

It offers convenient domain management tools and allows customers to create up to 100 email aliases with its domain.

Google has a help center to handle all queries and provide customers with 24-hour support.
Which Is The Best Domain Registrar?
The perfect domain choice depends on your individual needs and unique preferences. However, there are specific tools and features that you must look for while purchasing a lifetime domain name for your business.
Ensure you have access to an excellent and efficient domain availability checker tool, DDoS protection, and smooth-running 24×7 customer support.

We hope that this list of 7 affordable Indian domains has helped you make the right and necessary choices. Also, note the prices are subject to change.