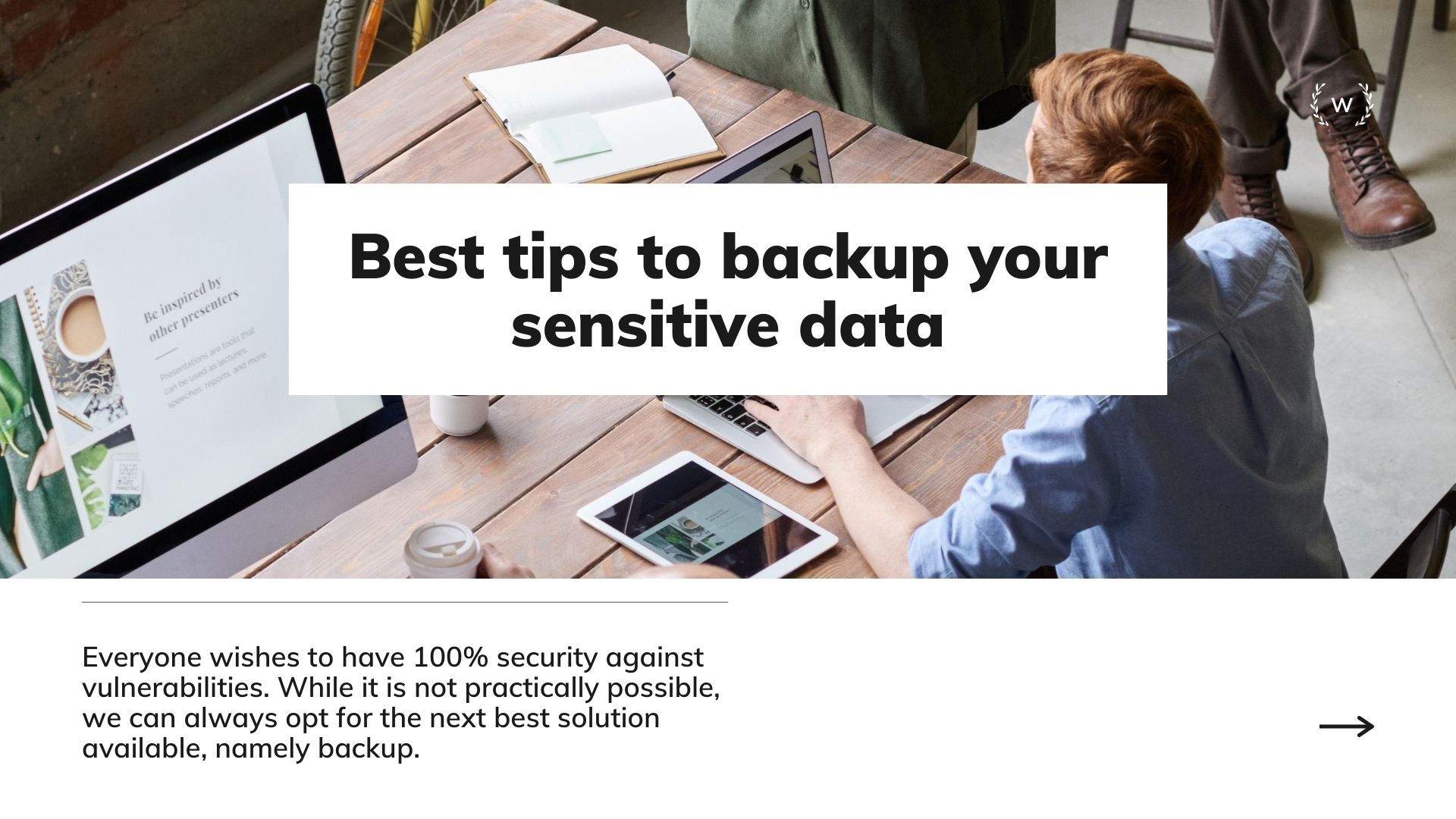 Best tips to backup your sensitive data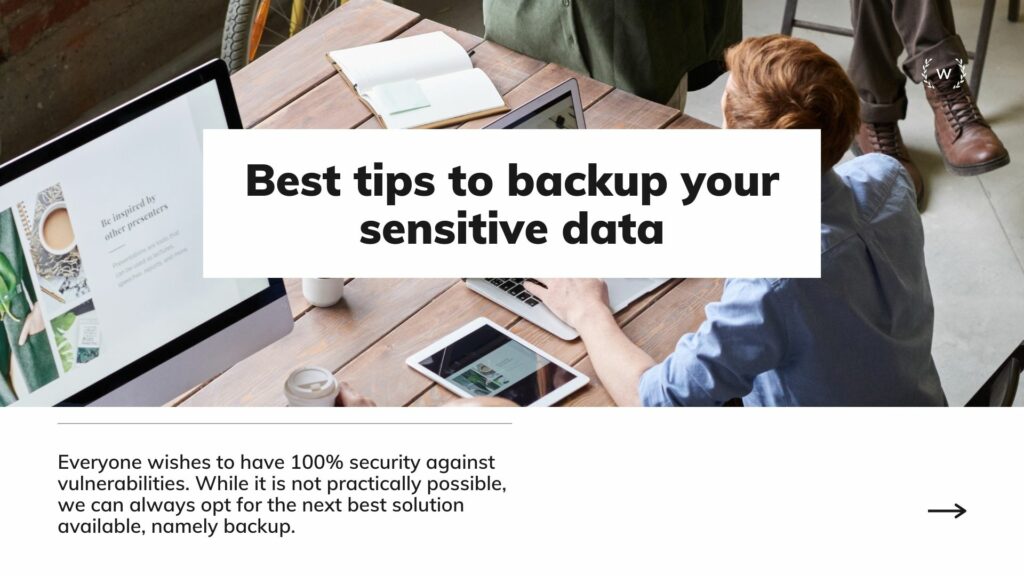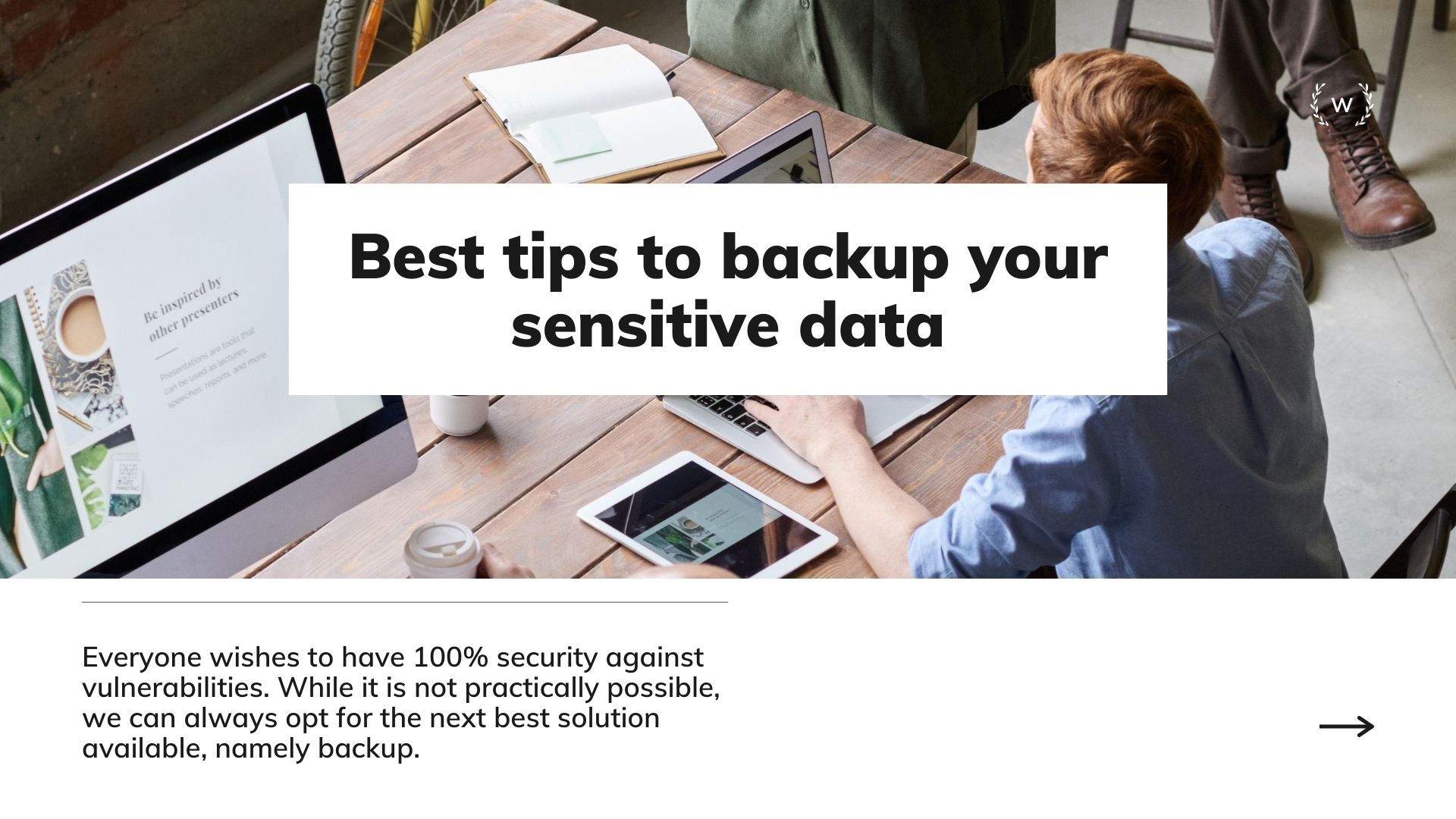 With the increased use of digital technology for different purposes, there has been a hike in hacking and security breach incidents. It is not uncommon to find people's sensitive data being misused by unauthorized entities for their vested interests.
Everyone wishes to have 100% security against vulnerabilities. While it is not practically possible, we can always opt for the next best solution available, namely backup.
Today there are many ways to backup your data. As we are all poised to celebrate world backup day at the end of this month, it would be interesting to talk about the best backup tips. In this post we will discuss some best strategies to back up your data in the most secure way and ensure smooth retrieval: 
Don't just rely on physical devices
 Many businesses still backup the data onto the hard drive, flash, or other physical device thinking it is the best way to copy their crucial information. If you are also among them, think again! All such physical devices are prone to damage or malfunction due to wear and tear over time. You can even misplace these devices. It puts you in a more disadvantageous position if some threat actor or corrupt employee locates it. 
So, make sure that along with physical devices the crucial data is also saved in the well-secured backup platforms in the cloud. 
Go for multiple backup platforms and devices
There can be multiple reasons causing damage to your backup platforms. Your physical backup devices are prone to be misplaced, stolen, or wear and tear. Likewise, the data backup with your hosting provider is vulnerable to hacking, or malware.
For reliable backup and smooth data recoverability, your objective is to strategically backup your data across different mediums. It ensures that you won't be in a disadvantageous position even if anyone or two backup systems get damaged.   
 It is always best to have at least 3 sources for data storage to ensure that regardless of the nature or reason of data loss, you can have at least one copy to your avail. Ideally, it is advised to have two copies stored on two different media assets and one copy saved in a safe off-site location. It assures data recovery even if any 2 storage platforms are damaged.  
Understand the key parameters to find relevant data storage platforms
Based on your needs, budget and other factors there are different storage media to choose from. Here are a few parameters to consider: 
The capacity of storage: If you want to store a limited number of small, light-sized files like text documents then a smaller drive with fairly moderate capacity would be fine for you. On the other hand, the media files like images, videos, or other interactive material occupy significantly more space and you'd need a bigger drive that can easily contain these heavy files without its performance being affected. 
Speed of transferring: The conventional HDD has a significantly slower data processing speed while its modern counterpart SSD is extremely fast with speed benefits of up to 300%! That said you need to pay a significantly higher price for an SSD. Carefully review your data volume, backup frequency, data transfer, and retrieval preference to make the right decisions. For instance, the SSD is a worthy investment if you frequently or daily transfer a big volume of data to and fro between different sources. On the other hand, if your backup and data transfer needs are modest, you can choose to buy an HDD that is much cheaper but sufficient for meeting your needs.
Compactness and resilience: When choosing an external physical drive the size, shape, and make the matter a lot. A small, lightweight drive easily fits into your pocket. A slim drive can also be kept in your wallet. Resilience is equally important. An HDD drive is more prone to wear and tear as its mechanism is based on movable parts that can get chafed or jarred over time. It also makes these sites vulnerable to damage when dropped on the floor. The SSD drives on the other hand work on the flash mechanism and its architecture doesn't have moving parts. It puts the latter in a much better position when it comes to physical resilience.
Security: While the backup allows you to save your data, it does not secure it against hackers. Some more sensitive and mission-critical information like payment card numbers, business bank accounts, or incorporation details needs special protection. For that, you can opt for encrypted backup solutions. These solutions keep all the stored data in an encrypted format to avoid any misuse even if the data is lost or stolen. In short, encryption technology converts plain English data into symbols and signs that are humanely unreadable and can't be cracked by unauthorized systems. It makes the data immune to being misused.  
Regarding off-site locations for data backup
 Cloud solutions offer an apt way to digitally secure your data without physical devices. Eliminating physical devices from the equation reduces dependencies and stealing probabilities.
 When choosing the cloud backup solution make sure it ticks all the checkboxes for an ideal service provider. Scalability is very important. Does it offer flexibility to choose from multiple tiers? Does it have a free basic plan to evaluate its real-life performance? Has it got different plans to fit the needs and budget of different businesses? It is also important to ensure that there is a right balance between costs and capabilities so that you can get reliable services at reasonable prices. Thinking on all these things while selecting the cloud solution provider allows you to make informed decisions.
 Off-site data backup is imperative for businesses storing a heavy volume of sensitive data. It offers you maximum security against data loss and also protects the involved parties from unauthorized access to their data. 
Keeping data in a safe place
 Several businesses have a provision for securing data in a safe which is a pretty good habit. However, it has several limitations that can't be ignored like data access restricted by the working hours of the place. Secondly, sometimes the keys may be shared with unauthorized people who can weaken the security ecosystem and affect answerability. 
The most secured option- Cloud storage
To enjoy the best benefits of storage make sure to use updated solutions with sophisticated capabilities that assure you a fast, stress-free way to backup your data. An ideal backup solution provider also seamlessly syncs the disparate data to a common, anytime, anywhere accessible account. Other features include quick sharing, team coordination, and a frictionless retrieval system. 
Conclusion
With the rising incidents of cyberattacks around the world, it has become imperative to back up your mission-critical data. It is important to follow best practices while backing up the data to ensure maximum safety and smooth recovery. In this blog post, we presented some of the best ways and ideal practices to follow for secured data backup.