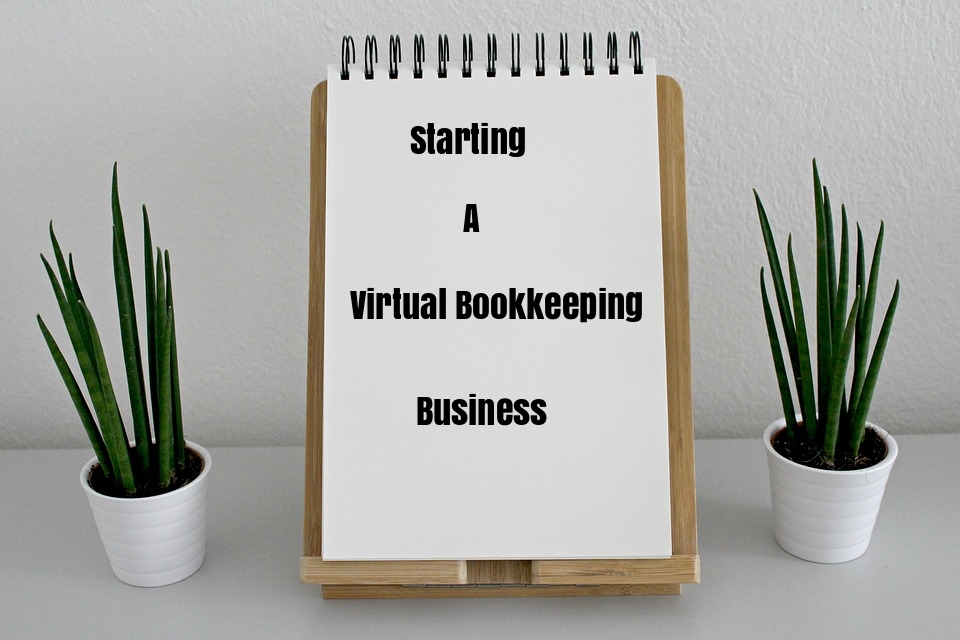 Learn How How Start A Virtual Bookkeeping Business From Home: Everything You Need to Know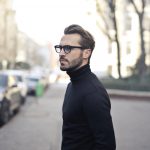 By Ryan Bradman
This is how to start a virtual bookkeeping business in 2020
As every business keep the books, bookkeeping jobs are high in demand; even if you're not a professional accountant, but enjoys the freedom of working from home (freelancing), virtual bookkeeping business should interest you!
Are bookkeepers in demand?
There is high demand and Fernando mentioned that hiring multiple bookkeepers for his companies have saved him so much time and some of them work remotely from home.
Now let's look at the data on Ahrefs tool for the monthly searches for the keyword Bookkeerps: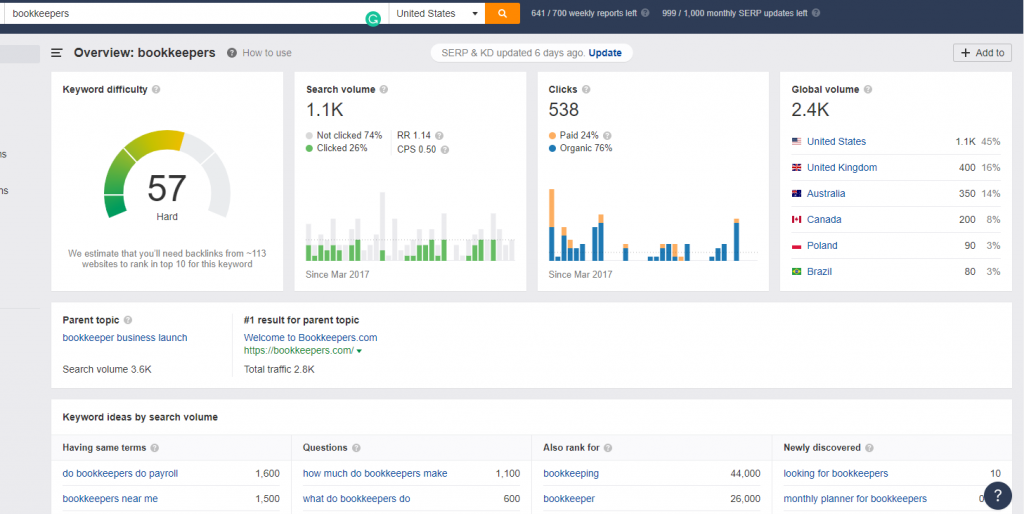 You can see over 2.4K worldwide and the best way to tap in that is by going online and starting your own bookkeeper services business.
Now if you are in the United States you have a greater advantage with demand wise, however, what you will learn as to how to get a start and scale your business internationally. But the country-wise accounting knowledge is important unless you know how to find the best freelance bookkeepers providers and build your business in a manner to cater to all the main countries.
Many business people look for bookkeepers near them to find them, however, if you know how to set up your business profile on Google, it's possible to show up even if you are based out of their city/country. And that you can learn at SeekaHOst University SEO training course.

Now let's look at are bookkeepers in demand:
And if you read this outdated article you will see they call out as the market is striking but that's for traditional bookkeepers. And that's why you should be going online and finding small business clients.
There are over 29 million small businesses in the United States and the UK has over 5.6 million. Canada has 1 million small businesses and each needs bookkeeping done for them. 
So you see the demand!
You can build a great business virtually and finding clients is what's going to help you succeed after you read these steps.
I have dome vast research about how to start and what steps have been used by the successful bookkeepers in the world.
How much do virtual bookkeepers make?
If you want to know how much you can make as a virtual bookkeeper, the answer is it depends. But on average online bookkeepers make from $40 to $60 per hour. And annually if at a salaried job people makes around $50,000 but with more qualification, you can earn more.
When starting your own business don't worry about how much do bookkeepers make but believe in your skills and know that there are millions of small business owners who need bookkeeping services to run their business.
By becoming a self-employed bookkeeper your earning potential is much high and you will learn how to market your business with time.
Some of the business owners look for bookkeepers who also can do payroll and other accounting work. So if you can learn how to do Payroll then you can earn more.
Want to start a Bookkeeping business online?
Firstly, let's look at the basics of this business that you can easily start if you have the skills for bookkeeping.
While many people erroneously think that it requires a degree and highly technical skills to land a virtual bookkeeping job; despite the fact that its closely related to accounting, bookkeeping is often considered an entry-level job.
And bookkeeping jobs are in high demand because many small business owners don't have the resources or time to employ an in-house bookkeeping team. So, that leaves several of such businesses to rely on virtual bookkeeping services for their day-to-day bookkeeping needs.
If this sounds interesting to you, then read on to learn how to start a virtual bookkeeping business!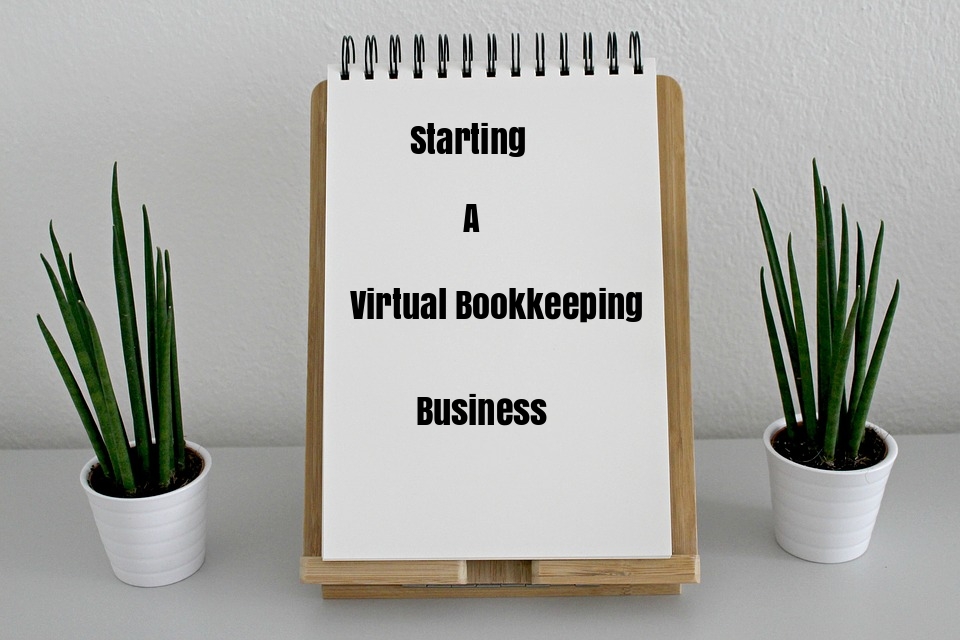 What is Virtual Bookkeeping?
Virtual bookkeeping is the provision of bookkeeping services remotely for a client. The arrangement is beneficial for both the bookkeeper and business owner in terms of cost and flexibility, as telecommuting is now common as businesses seek ways to balance staffing arrangements and workloads.
There is not much difference between the regular bookkeeping and a virtual bookkeeping arrangement, only that it allows bookkeepers to telecommute instead of working physically at a business office.
While the bookkeeper uses computer software to post the financial transactions, and update statements and reconcile accounts without the need of been present in the office.
Steps to Start a Virtual Bookkeeping
Though the job description might lead you to think you'll be caught up with dusty ledgers on your computer, only the basic real-world computer skills are essential. Since you'll be dealing with different clients on a day-to-day basis, having great communication skills are also necessary.
1. Start By Getting A Certification in Bookkeeping
As bookkeepers are required to handle confidential business information and financial data, clients will want to make sure they choose a professional that is reliable, knowledgeable, and trustworthy.
While a bookkeeper does not have to be licensed or certified but having a certification before your name can help to instil customer trust and more confidence in your skills and abilities.
Some of the certifications that can add to your credibility and possibly become a competitive edge include Accounting software certification via online providers like Zoho Books Advisor, QuickBooks ProAdvisor, or Xero Advisor.
2. Decide on the Particular Bookkeeping Services to Offer
Even though we are now in a world where "one size fits all" solution is no longer an option, still, businesses don't have to hire ten bookkeepers to manage pretty low volume sales. Neither should a big volume company rely on just two accountants for the day-to-day bookkeeping needs.
These major different types of bookkeeping specialities will help to position you as an expert, which bookkeeping services include:
Payroll Services
Accounts Payable & Receivable Management
Tracking of long-term assets (e.g. machinery)
Financial Statements (including balance sheet, cash flow & income statements)
Invoice preparations
3. Register Your Business Name and Website
Getting your business name registered should be a top priority, more so when you' are responsible for a company's financial records. You need to register your business with your state of residence, either as a business entity type such as Limited Liability Company or a DBA ("Doing Business As").
In the same vein, you must get a business website set up and running to display your portfolios, which will also serve as a landing page for your online campaigns.
And your business website must include a list of all your services, about your expertise and skills, and the means to contact you, at a minimum.
It is absolutely necessary to register your business, and you may choose to handle your virtual bookkeeping business as a sole proprietorship; becoming an LLC will help to keep you from being personally liable should your business be sued by any client.
4. Instil confidence In Your Clients
Even though you are a virtual bookkeeper, you'll still need to instil some confidence in your clients to assure them that their private and personal data is handled with the utmost confidentiality.
If you're remote working from home, you need to reassure your clients that you have taken steps to actively and passively secure their data. You can do this by having a home office with a secure lock (controlled access), which is best to ensure no unauthorized access to documents or files. Also, you need to have a desk with lockers where the physical paperwork can be kept safely.
Additionally, you should ensure your computer system is password-protected, and that it is running the latest software, with no one but only you having access to it.
5. Marketing & Advertising Requirements
If you want your virtual bookkeeping business to grow, you'll definitely need to advertise the business. And you don't have to restrict it to a traditional medium, even if you are going from door to door to meet clients, and handing out your business cards wherever you go to events or conventions.
You'll save a lot of costs and even reach more clients using the online marketing channels, especially if you're offering virtual bookkeeping services, you should make use of targeted ads to get more results. Such as, using Facebook to run ad services that allow you to target specific demographics and effectively use your advertising budget.
You can also explore other opportunities online, like PPC Google AdWords campaigns and purchasing ad space on various niche blogs.
Conclusion
It is highly recommended that you should continue to improve your knowledge and skills by learning to use some new accounting or bookkeeping software as they are made available and to become proficient with bookkeeping and accounting basics such as general ledger preparation, double-entry accounting, and classification and recording of financial transactions.
Getting the required experience and skills will help you to get better to deliver credible virtual bookkeeping services that will attract more clients and ensure that your clients are satisfied at all times. Also, look out for opportunities for online skills acquisition, with several such eLearning platforms like SeekaHost University that offer continuing professional courses in bookkeeping.
Now you know how to start a virtual bookkeeping business from home and do it remotely.
For more tips read below guides:
Wish you all the best for virtual bookkeeping business and for any help and advice reach out the SeekaHost team online.