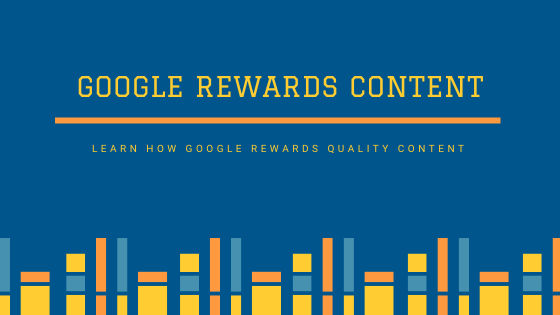 HOW GOOGLE RECOGNIZES & REWARDS QUALITY CONTENT
What according to Google is high-quality content?
The Panda Filter Algorithm of Google checks the Google-Index and keeps a track of low-quality content and penalizes those websites having bad content. there are many signals that are looked into by the Panda filter to identify the content as good or bad.
In the indexing phase, Google runs this quality evaluation for new content, as the Panda Filter has been integrated into the Everflux.

Why is Quality Content Important to a Business?
The simple explanation for having quality content on the website is:
Quality content = increase in search rankings = increase in organic traffic
The prospective customers of a business depend on search engines when they need certain products or services.
People are busy and it is wrong to expect them to scroll to the next pages to look for products. Most of the time, many people stick on to the results that appear on the first page of search results.
Very few ventures onto the next pages. In case your website has a weak search ranking, the possibility is that your business can lose out on some customers. A good ranking means extra web traffic and more opportunities to sell your products and services to a huge market.  
Does Quality content improve the image of your brand?
Web searchers think that pages that get a higher ranking on Google must have good quality and relevant content. Google itself states that they focus on giving the best user experience. They take a lot of care to make sure that the customers are served well. The philosophy of Google is quite simple – one needs to concentrate on the user and the rest will fall in place.
Google updates the search algorithms regularly for the purpose of quality assurance, the goal being to meet the requirements of the searchers in the best way possible.  Searchers tend to have a positive feeling about the brands that have good rankings.
According to Google, Quality Content is " You are what you EAT"; where E represents Expertise, A represents Authority and T represents Trustworthiness
1. Expertise 
To get a good ranking, you must be an expert in your respective field. The skills have to be demonstrated and presented well along with a back up by way of content and credentials. Signs of expertise consist of on-page indicators too such as the bounce rate, the number of shares, and the time spent on the page.
2. Authority
In order to indicate the authoritativeness, a business must have indicators of authority that include awards, backlinks from reputed and popular sources, affiliations or reviews. The content has to be well-written too. Check out for example how I wrote the Helium 10 Review, the review has pro & cons about the tools. 
3. Trustworthiness
The business must be able to prove that its users can trust them. Trustworthiness can be measured by way of recent reviews, footprints, and website security. 
If you follow the below-mentioned principles that have been listed in the quality guidelines of Google's webmaster, your business will do well:
Pages have to be created for the users and not for the search engines.

Do not fool your users

Tricks to Enhance the rankings on search engine pages must be avoided.

You must pay attention to what is it that makes your website engaging, valuable and unique. 
 Low-Quality Content – What is it?
 Low-quality content refers to spam or content that is loaded with the wrong information. Such content does not even meet the requirements of the users at the end of the day. Viewers and users expect good quality content online these days.
How can a business create Quality Content?
Quality content writing does not seem to be as challenging as it has been made to be. It might need some extra efforts, but the rewards you can reap in the future make it worth every bit.
Firstly, one needs to understand the requirements of the user. What exactly does your user need and what are they looking for? 
Be it an answer or an item, if they do not find it on your page, you have just lost an opportunity to convert!
When you create content, make sure you keep in mind the user intent. You could make use of tools such as the Google Search Console that helps you find out what queries are made by people to locate your website.
Secondly, keep a tab on various factors like reading time, loading time, working links, etc., that enhance the user experience. 
Thirdly, you can engage more users by making use of some dynamic titles as well as meta descriptions. This will help you improve the click rate and sharing rate. It also helps when other websites link your website as a source as it increases the authority of your website.
At the End.
High-quality content is very important to ensure that your rankings are last.
Your website loses its value when there is no quality content. Along with SEO, quality content is an essential factor in the success of your website.
All you need to create content that is valuable and relevant and have a strong SEO strategy and you will find your webpage in the top list of SERPs or Search Engine Result Pages.