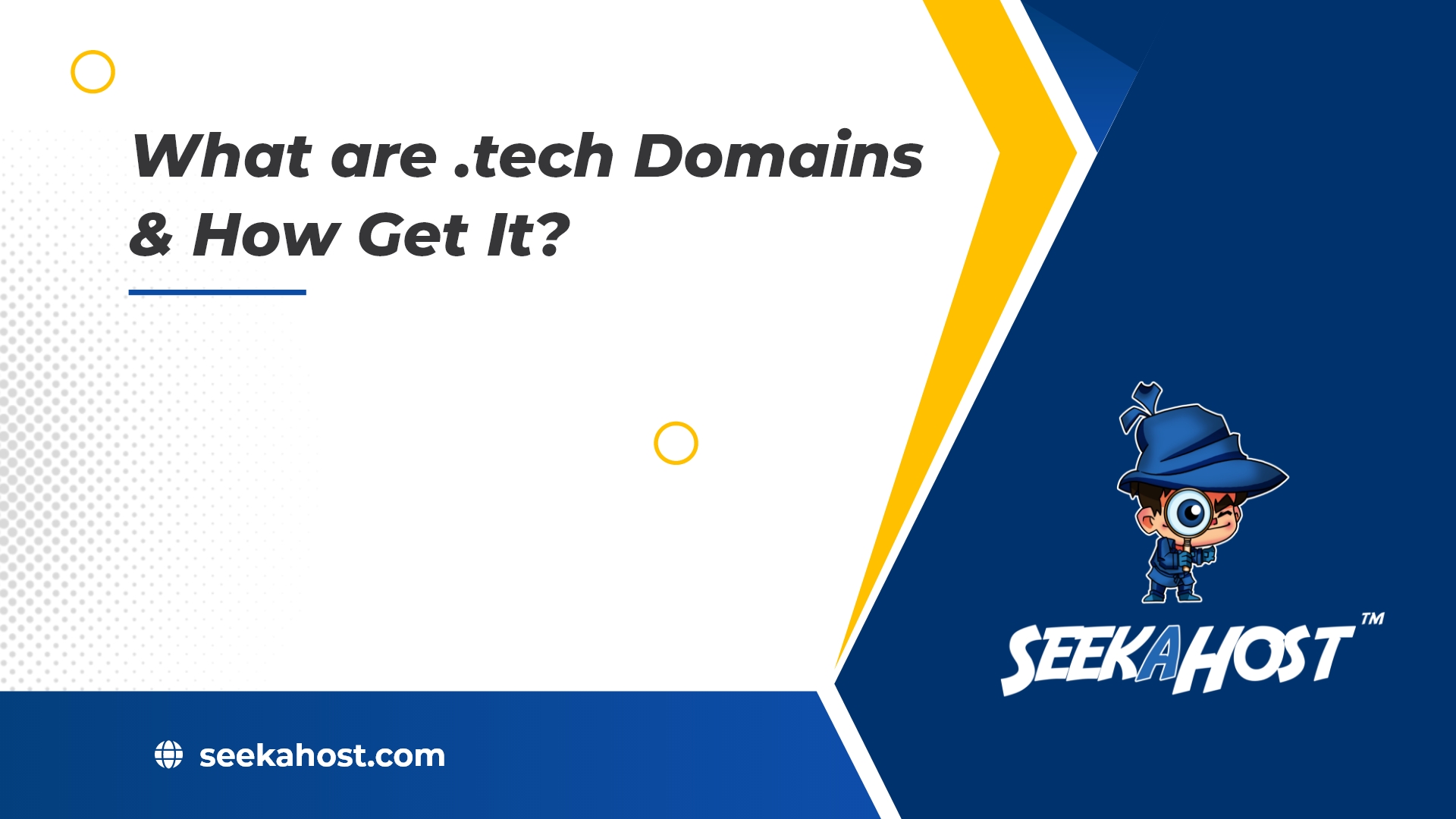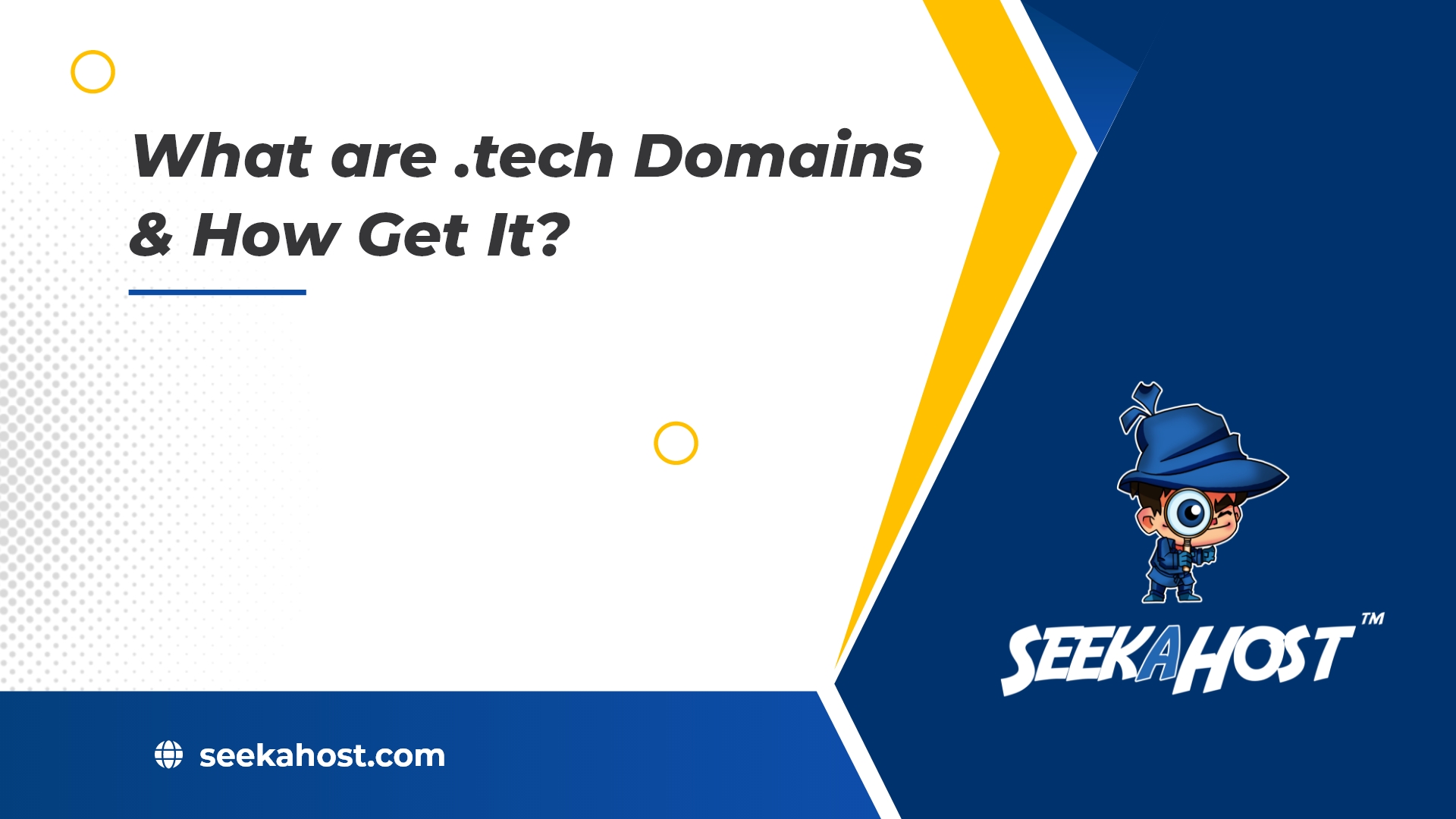 What are .tech domains and how to buy them for the lowest prices via SeekaHost?
In this guide you will learn what are dot tech domains and how to get .tech domain name registration done easily with SeekaHost.
Quickly think of a website address.
Chances are it ends with .com.
How can I be so sure?
Well, according to the Domain Name Industry Brief, as of March 2020, over 145 million .com domain names had been registered.
That means two things:
.com is the most common top-level domain (TLD). And that's why I could easily assume that you'd have chosen a website with a .com domain.
And given that there are so many .com domains already registered, it is tough to find a suitable .com domain now.
Does that mean you'd now have to compromise while registering a domain name for your business? Absolutely not.
Instead of using the same old .com domains, you can use the new and modern .tech domain.
But is .tech a legit domain name?
Will it help you or have an adverse effect?
Where can you buy a .tech domain name?
Is it safe to get a .tech domain?
Are .tech domains expensive?
Should you take care of some things while buying a .tech domain?
This article will walk you through answers to all these questions. Plus, everything else that you need to know about .tech domains.
Feel free to jump through the sections.
What is a .tech domain?
.tech vs. .com domain – What's better?
Who can benefit from a .tech domain?
5 tips for buying a .tech domain
How much do .tech domains cost?
How to use SeekaHost to buy the cheapest .tech domains
What is a .tech domain?
After the dot-com bubble, when the number of .com domains increased exponentially, demand for newer top-level domains rose. People were simply not getting their desired domain names with a .com extension.
Thus, in 2012, ICANN (the OG of Internet namespaces) decided to launch more TLD options. ".tech" was among the widely requested TLDs and in March 2015, it was launched as a generic top-level domain (gTLD).
The name is short for technology and it goes without saying that if you have a tech-related website, a .tech domain is right for you.
If you are concerned about the legitimacy and usability of a .tech domain name, let me tell you a few quick facts:
Google, Uniregistry, STRAAT Investments, and 3 other companies filed applications for the .tech TLD in ICANN's one of the first public auctions for the new gTLD application. So the industry biggies are behind it and backing it.
Tech giants like Cisco and Intel have launched sites with the .tech extensions. Other notable organizations using the domain extension are e Consumer Electronics Show (CES)[12] and Viacom. If it was unsafe or unworthy, they wouldn't have used the domain, right?
Just within 4 years of its launch (by August 2019) startups using the .tech domain had raised venture capital funding of more than $2 billion. While of course, the domain wasn't the only reason for them getting the VC funding, the data is proof that the domain didn't cause any hindrance either. 
[Source]
.tech vs. .com domain – What's better?
Okay, I believe you. Dot tech domains are great. But can they match the .com domain?
That's what one of my friends asked me when I suggested that he go for a .tech domain for his website. And here's what I told him.
.com and .tech domains don't have to compete against one another.
Which one you choose should depend on your personal needs and not some arbitrary comparison.
.com domains are more popular for sure. But if you give it an objective thought, .tech domains do have an edge.
The key advantages of using a .tech domain name include
SEO-friendly – If you have a tech business or a technology-oriented website, having .tech in the domain itself can help you rank higher for tech keywords. And then get qualified organic traffic.
Attract the tech community – Having tech in your domain name signals to the technology community how passionate you are about technology. Thus, it becomes simpler for you to attract them and be in their good books.
Better brand positioning – By using tech in your website's address, you tell your audience that you are all about technology. That directly helps you build your brand.
Higher availability – As .tech TLD was launched in 2015 only, (and .com has been around since the 80s), you are more likely to find a .tech domain of your choice.
Who can benefit from a .tech domain?
Okay, I'll be honest here. If you have an eCommerce store where you offer cute tank tops or an online book club, a .tech domain won't make sense.
Here are 5 types of websites that will gain the most benefit from a .tech domain –
Tech businesses – If you already have a business website with a .com or other country-specific domain, it would still be worth investing in a .tech domain. You can use it to start your technology community or to disseminate technical information. Giants like Cisco and Viacom have done that. Despite having websites with .com domain, they invested in .tech domain names.
Tech startups – If you are just starting out in the world of technology, it would make sense to get a .tech domain given the many advantages that it offers.
Tech community platforms – Whether you want a website that brings together technology lovers or helps them capitalise on their tech talent or something else, a tech-based community would greatly benefit from having a .tech domain.
Personal websites for tech enthusiasts – Want to create a cool portfolio of your development project? Consider a .tech domain as it will help you showcase your inclination towards technology.
Other technology-related sites – Whether you are selling technology services or courses for technical skills, or even technology products and equipment, or if you are anyway related to technology, a .tech domain names sense.
Tips for buying a .tech domain
While buying a .tech domain, there are some things to keep in mind to ensure maximum benefits.
You can learn more about investing in the right .tech domains in this guide that I wrote earlier.
How much do .tech domains cost?
The cost of buying a domain name varies, primarily depending on what TLD you are choosing. For .tech domains, you might have to spend upwards of $60.
Why? There are two reasons why .tech domains can be so expensive.
As .tech domains are widely popular among tech startups, demand is high and so are the rates.
Some domain name brokers charge exorbitant commissions for .tech domains, which drives the price upwards.
But you don't have to worry. You can buy the cheapest .tech domains from SeekaHost. How? The simple process has been illustrated below.
How to use SeekaHost to buy the cheapest .tech domains
Begin by visiting SeekaHost.

When you see the above screen, all you have to do is enter the domain name you want in the search bar.
Once you find the right domain name, you can buy it with a .tech extension for the lowest rates. SeekaHost's rates for .tech domain registration and renewal are: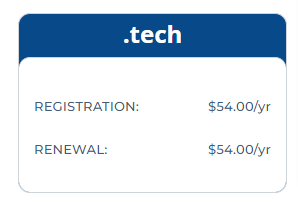 You can also buy a .tech domain name using SeekaPanel. The process is explained as follows: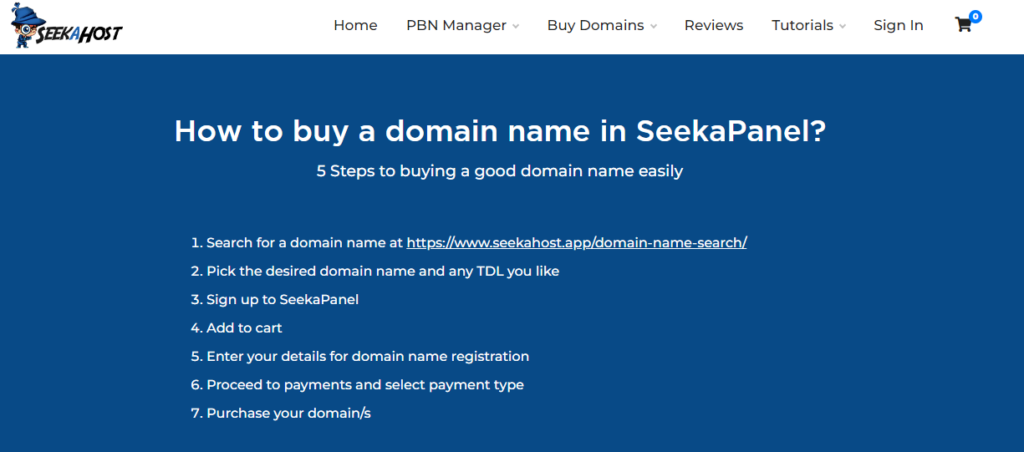 So what are you waiting for now? Get your .tech domain before someone else grabs it at the lowest prices from SeekaHost.