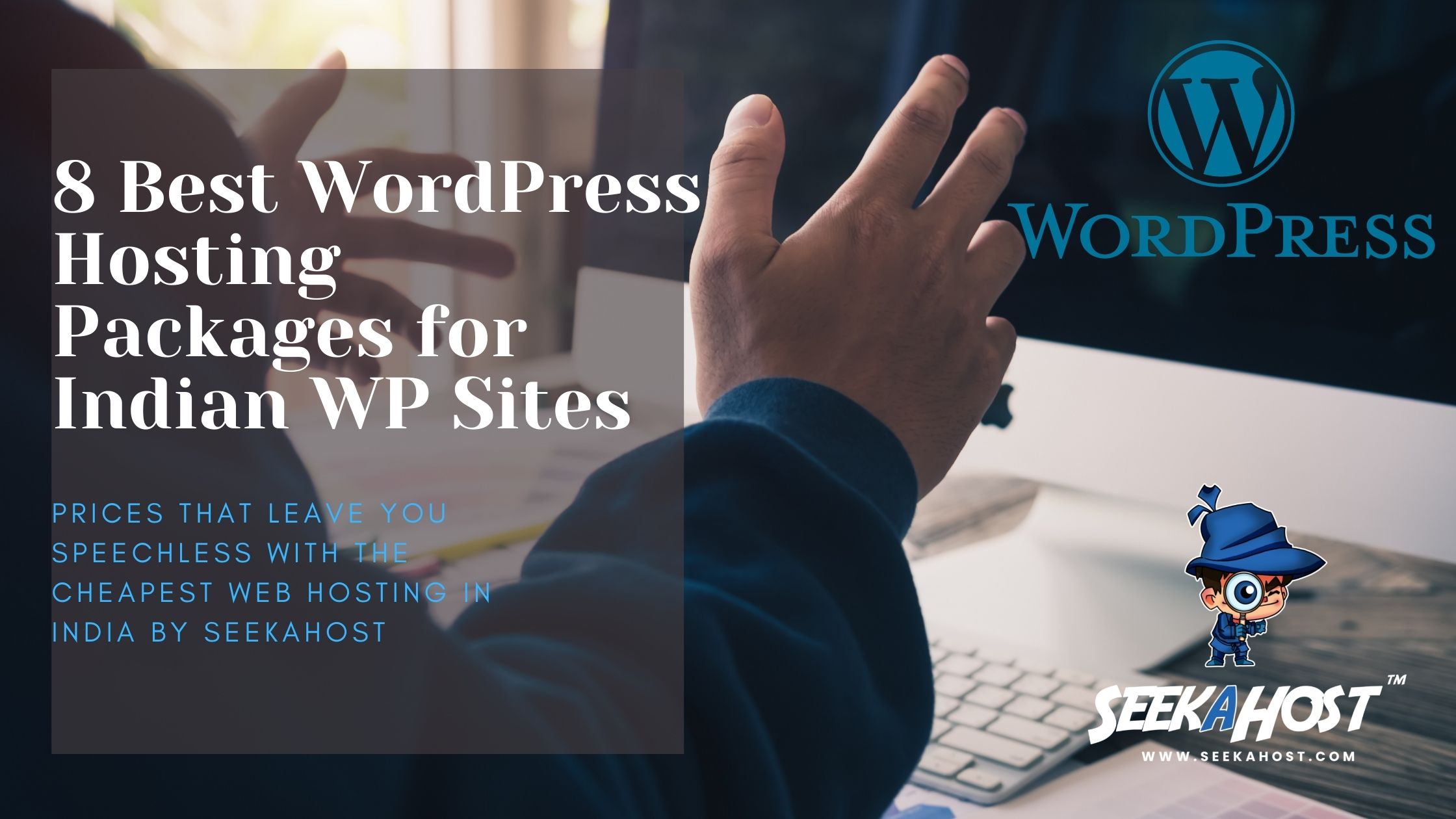 Best WordPress Hosting in India: 8 Cheap WP Hosting Plans via SeekaHost.app & cPanel
If you are looking for the best WordPress hosting in India, SeekaHost has the cheapest plans with easy WP hosting via the SeekaHost.app or for cPanel fans with WordPress Hosting India.
You will find many articles about the best hosting providers in India, listing mostly international companies that do not offer hosting servers in India. Most of these are written by affiliates that are purely trying to promote a web hosting company they do not even use to host their own websites in India.
Why get a WordPress Website with Hosting in India?
The number of Internet users in India has grown to 624 million, which is roughly 45% of the total population of India according to Global Statistics. The average broadband internet speed is 53.90 Mbps, which is a 28% increase when compared with previous year.
India is clearly on a course to become the third largest online shopper base after China and the US with 140 million online shoppers in 2020 according to IBEF. The rise in smartphone penetration and the growing coverage of the 4G network in the country in combination with increasing consumer wealth, leads to the Indian E-commerce market being expected to grow to US$ 200 billion by 2026 from US$ 38.5 billion in 2017 as IBEF notes.
IBEF further suggests that by 2021, total e-commerce sales are expected to reach US$ 67-84 billion from the US$ 52.57 billion recorded in 2020.
If that is not enough convincing enough to start a website in India, then what is?
SeekaHost understands that many more Indians will require solid and affordable WordPress hosting in order to enter into the thriving online market in India. This is why the team have developed a WordPress hosting manager tool and that can help anyone in India easily with hosting a WP site in under 60 seconds.
With the SeekaHost.app you can get started with a 7-day free trial and decide for yourself if SeekaHost is the best choice to host your own self hosted WordPress sites and blogs.
Besides offering 24/7 support from SeekaHosters, the WordPress hosting plans are extremely competitive in pricing, which you will see in this article. Because SeekaHost aims to get 100 million people online with the best and cheapest web hosting in the market.
4 Best WordPress Hosting Plans for Indians with SeekaHost.app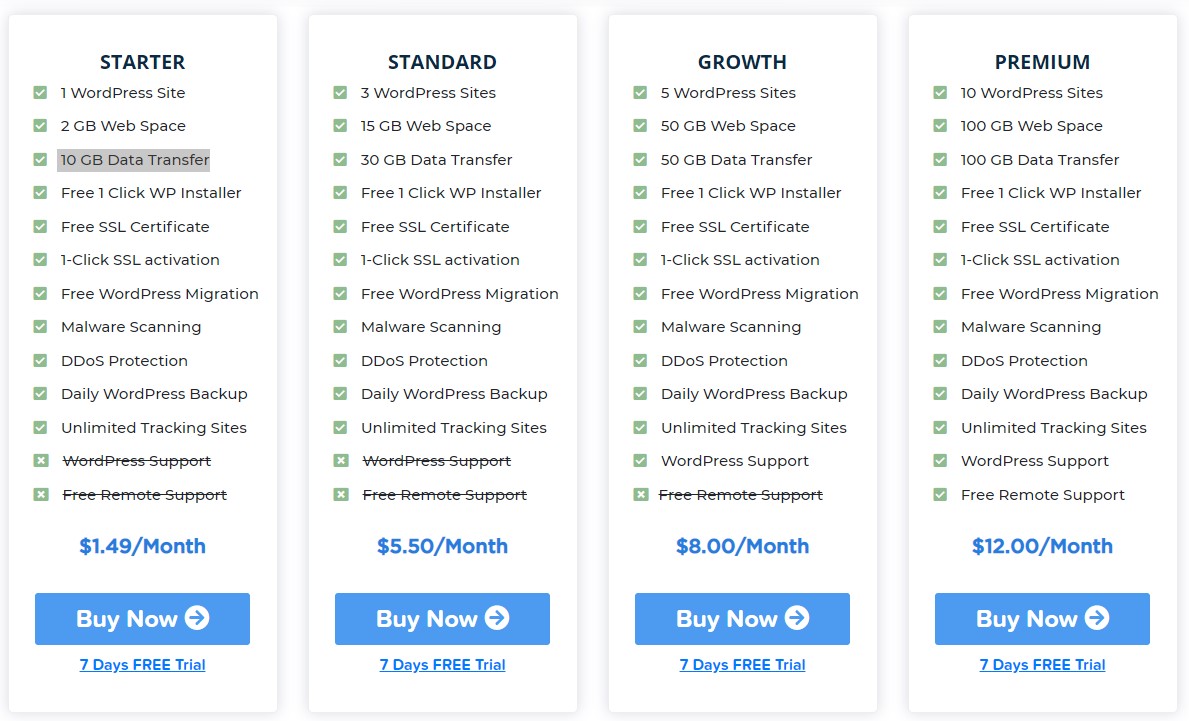 1.    Starter WordPress Hosting Plan
Starting with a price of $1.49 per month you can host a domain with WordPress CMS. The starter plan allows you to host one website and provides you with a free email account as well to use with your domain.
The plan includes hosting for 1 WordPress website with 2 GB Web Space, 10 GB Data Transfer, Free 1 Click WP Installer, Free SSL Certificate, 1-Click SSL activation, Free WordPress Migration, Malware Scanning, DDoS Protection, Daily WordPress Backup, Unlimited Tracking Sites.
A similar WP hosting plan in India with Miles Web India called "Solo" costs $2.60 per month, but only with 1GB disk space compared to double the disk space with SeekaHost for $1.49 per month, saving you over $1 per month.
The starter plan is a better choice for newbies and starter bloggers in India. If you found SeekaHost through one of the how to create a blog on WordPress guides, this is the go-to plan as it's also flexible with no lock-in contract. Thousands of people have read the guide and got started with the starter plan to then gradually move to the next plans as their blogs grew, requiring more capacity and hosting features.
2.    Standard WordPress Hosting Plan
With the standard plan Indians can host up to 3 WordPress Sites with the 15 GB Web Space, 30 GB Data Transfer, Free 1 Click WP Installer, Free SSL Certificate, 1-Click SSL activation, Free WordPress Migration, Malware Scanning, DDoS Protection, Daily WordPress Backup.
A similar WP hosting plan in India with Miles Web India called "Prime" costs $8.50 per month with unlimited disk space but for only one website compared to 3 websites with SeekaHost for $5.50 per month, saving you $3 per month for one site and $20 for 3 sites!
This is an ideal plan for business start-ups, and anyone who needs to host multiple WordPress sites with increased disk space. Having 5GB space for one domain is sufficient for larger scaler sites with dynamic blog publishing.
3.    Growth WordPress Hosting Plan
With the growth plan Indians can host up to 5 WordPress Sites with 50 GB Web Space, 50 GB Data Transfer, Free 1 Click WP Installer, Free SSL Certificate, 1-Click SSL activation, Free WordPress Migration, Malware Scanning, DDoS Protection, Daily WordPress Backup, Unlimited Tracking Sites. It includes free WP support, but not free remote support.
A similar WP hosting plan in India with Miles Web India called "Multi" costs $11 per month with unlimited disk space and websites compared to 5 websites with SeekaHost for $8 per month, saving you $3 per month, if you're only considering hosting 5 sites.
The GROWTH plan is ideal for start-up businesses or agencies that need to host multiple websites and blogs and some client sites. The package can be scaled with more email accounts and disk space as your hosting requirements and business needs expand.
4.    Premium WordPress Hosting Plan
With the premium plan Indians can host up to 10 WordPress Sites with 100 GB Web Space, 100 GB Data Transfer, Free 1 Click WP Installer, Free SSL Certificate, 1-Click SSL activation, Free WordPress Migration, Malware Scanning, DDoS Protection, Daily WordPress Backup, Unlimited Tracking Sites and WP and remote free support.
Compared with the Multi plan of Miles Web India, this plan costs $1 more per month with SeekaHost and includes unlimited tracking sites and free WP and remote support, however it does not include a free domain like Mile Web India's plan.
The WordPress hosting Premium plan is best for Indians looking to enter the e-commerce business as you will have access to free remote support around the clock via live chat, phone, or email. This is the ideal plan for anyone who wishes to host large and complex WordPress business sites or blogs to have the flexibility to scale and grow them.
With the Premium package, you get 100GB of disk space for each WordPress site, enabling you to create a WordPress site containing various types of media, content, and features such as high-spec images and longer videos and even operating as an online shop.
For Indians looking for unlimited websites and disk space like with Miles Web India's Multi plan, you should compare it with SeekaHost India's Extreme plan, also offering unlimited sites, disk space, email accounts and a free domain for $25 per month with the cPanel.
4 best managed WordPress Hosting Plans for Indians with SeekaHost.app
You may ask yourself what the difference is between normal WordPress hosting as outlined in the previous chapter and managed WordPress hosting.
Managed WordPress Hosting is a tailor-made and optimized type of web hosting that is specifically designed to support WordPress sites and webmasters. Included are specific features catering to a WordPress site's unique requirements as you will see in the plans below.
The web hosting solutions SeekaHost offers allows for managing web hosting in-house. WordPress managed websites have unique security concerns and to support them effectively requires WordPress expertise that a managed WordPress Hosting plan delivers. But see for yourself what to expect from SeekaHost's managed WP hosting plans.
Startup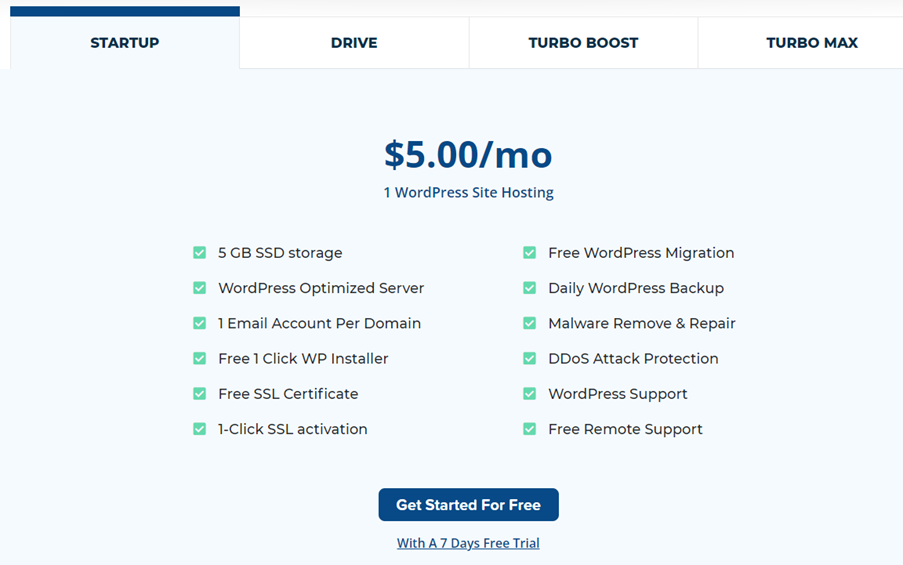 If you compare the Startup plan with the earlier listed Standard plan, you will notice that with managed WP hosting you get more, hence why you pay a bit more (yes, more than you would with some Indian hosts, but you get a lot more disk space plus other additional benefits).
You get 5GB storage and all the other benefits PLUS free WordPress Support and remote support, which is vital with managed WP hosting. It enables you to fully focus on your business operations in India while the SeekaHost team ensure that your website runs smoothly at all times.
Drive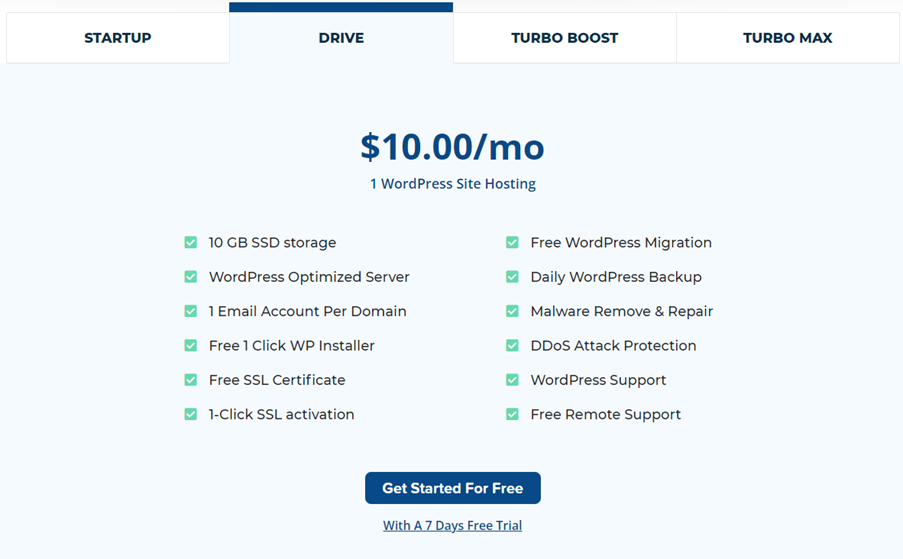 As you can see, the Drive plan offers you double the storage compared to the Startup plan. What's the difference? It's all about the speed. Have you come across websites that take ages to load? Annoying right? Well, with the Drive plan, you can ensure that your WordPress website loads as fast as lightning.
Why does it matter? You see when your website grows and contains more complex elements, it requires more storage space. Your host must provide you with more capacity on the server and that costs more.
However, in return you get super-fast loading speeds, which are rewarded by search engines. The so-called bounce rate is used by search engines like Google as a quality criterion for websites. According to Google research this bounce rate goes up by 32 percent when loading times increase from just one to three seconds. If loading times increase from one to five seconds, the bounce rate increases by 90 percent. This clearly shows what a big difference just a few seconds of slower page speeds and loading times make.
Turbo Boost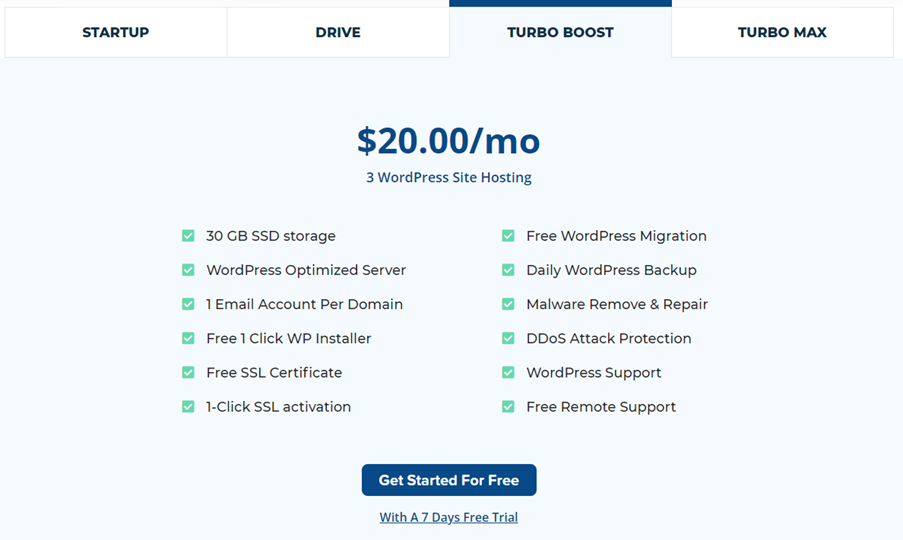 This plan is ideal for Indian webmasters that are expanding their network to up to three WordPress websites. For only $20 per month, you get fully managed hosting with remote support, so you don't have to worry about any of your websites being down or not loading properly. The automated regular updates and backups will ensure your site is safe and runs smoothly.
Included is also a business email account for each site so that you can communicate with your clients with a branded email address for a more professional and organised operation.
Turbo Max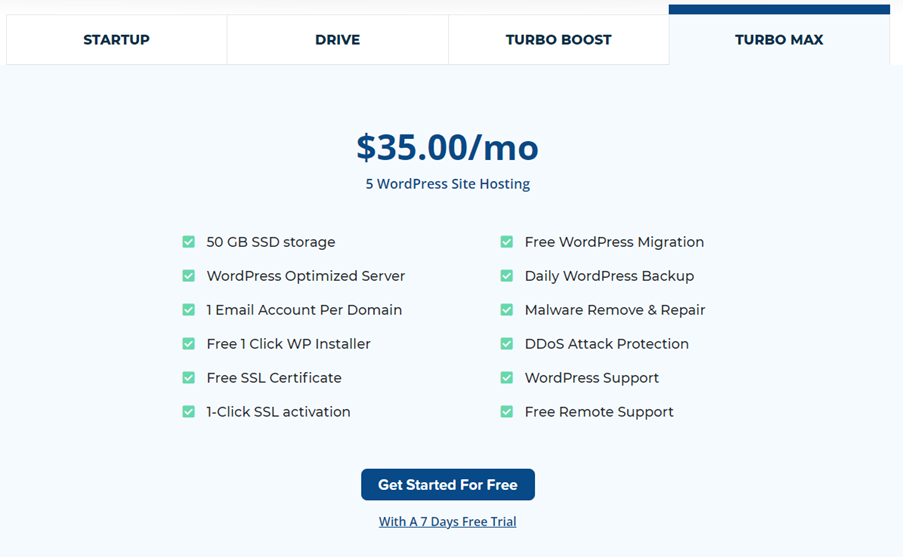 If you're planning to go big in India, then this plan is right for you, especially because some Indian web hosts do not offer such an extensive plan in combination with a control panel that allows you to easily and quickly set up 5 WordPress websites by registering each domain in under 1 minute and hosting it in under 4 minutes. You will have all your 5 websites in your SeekaPanel dashboard where you can comfortably manage your subscriptions, your domains and even monitor their live performance via the tracking sites feature. You can find out more here.
Choose a suitable Hosting Plan for your WordPress Websites in India
Test any of the above-mentioned plans for free for the first 7 days to fully grasp what they include and deliver for your WordPress websites. See for yourself that everything promised is provided and compare the performance to another host or your current provider. The SeekaHost team can support you with moving your existing sites to SeekaHost with the free migration service for new customers.
SeekaHost is a market leader when it comes to WordPress Hosting with its unique Hosting Control Panel and offers very competitive options as you've seen in this article. To fully discover all the benefits such as easy navigation, tracking data access, flexible plan management, quick customer ticket support, access to the knowledgebase/tutorials and much more you should take advantage of the free trial.
You can also check out this brief clip giving you an idea of its awesome features:
Don't miss out on those advantages especially when Indian web hosts don't offer the flexibility and features that SeekaHost offers. Once you have used the SeekaPanel, you will never go back to any other control panel and web host.