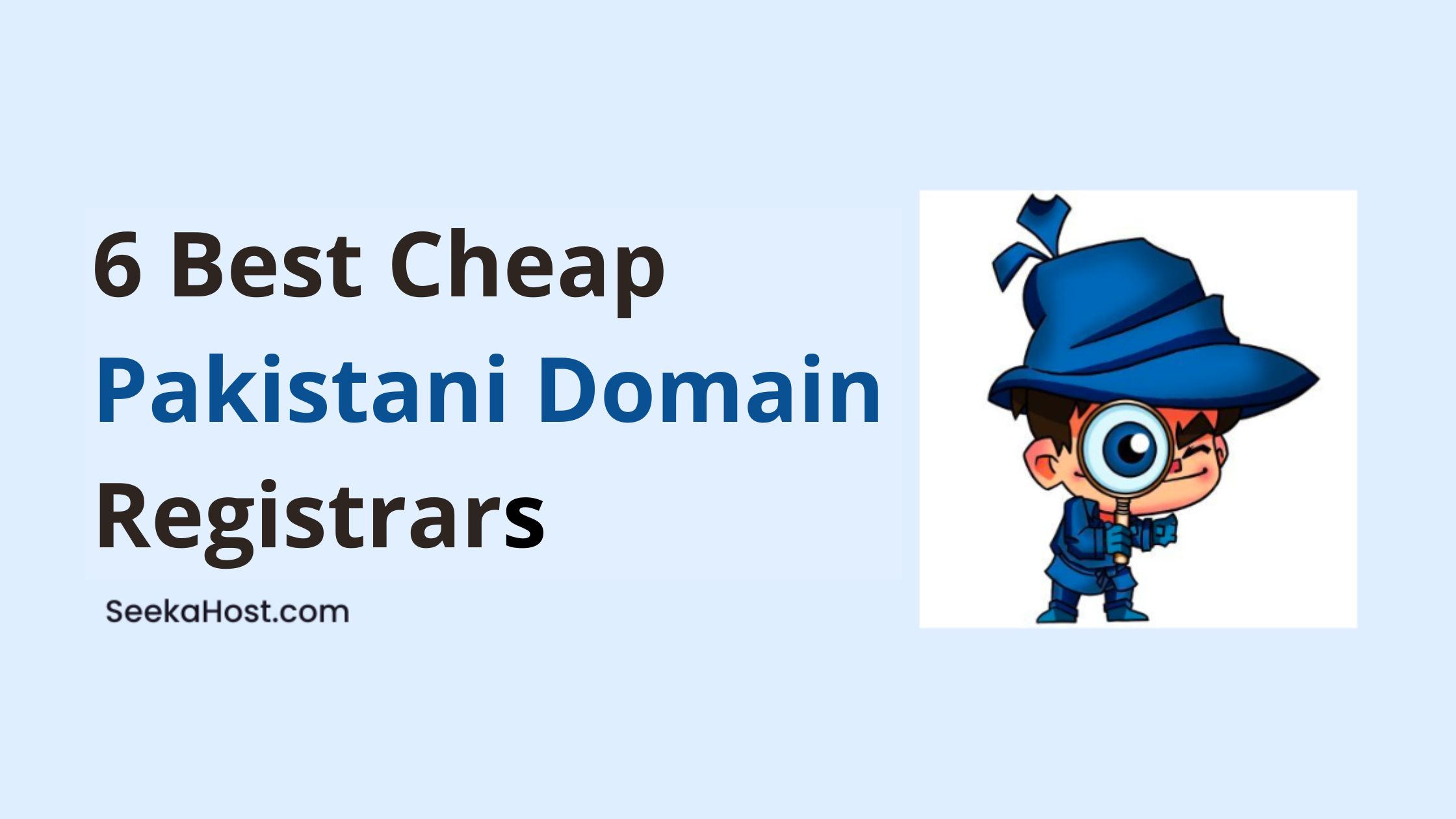 6 Best Cheap Pakistani Domain Registration Services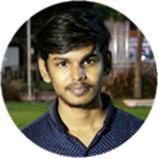 By Aslam Saah
Choosing the right Pakistani domain registrar for the business is way more important than you might have imagined. Not all domain registrars have the authority or license to sell all types of domain extensions.
While some registrars may only offer country-specific extensions, others like Seekahost offers a range of domain extensions along with other services. 
Before we take you through the best and cheap Pakistani domain registration sites, let's give you a quick overview of how it works. 
Why Do You Need A Domain for Your Business?
Let's start with what's a domain name. A domain name is the website address that users will type on the search bar to find and visit your website. Now, to clear the air for beginners, a domain is very different from a website or web hosting. 
A domain name is searchable and unique. While you can always promote your products/services on social media sites and online marketplaces, they do not offer a professional or business identity to your business. So, if you want to build an online presence and create authority around your brand, getting your own domain name is the best bet. 
ALSO READ: Top 10 Pakistani bloggers and how they earn money blogging
When you have your own domain name, you reserve the name exclusively for your website, as long as you keep renewing the subscription. There are various domain names available in many extensions, one of the most popular being .com. But you can also go for the other options including, .net, .org, .io, .info, etc. 
Before we dive into more details about the six best cheap Pakistani domain registration sites, here's a quick comparison table of the features and pricing. 
Comparison Table
Registrar
WHOIS privacy protection
Extra Features
SeekaHost.com

Yes

Value for money domains
Custom domain name registration support
Domain forwarding

SilkHost.pk

No

Affordable pricing
Round-the-clock support

HostBreak.com

No

Budget pricing
30-day money-back guarantee for hosting

Bluehost

Yes

A quick search with domain privacy
Auto-renewal of your web domain

GoDaddy.pk

Yes

Easy-to-use tools for domain setup
Award-winning support system

Hostinger

Yes

Range of different domain extensions
24×7 Customer Support
6 Best Cheap Pakistani Domain Registration Sites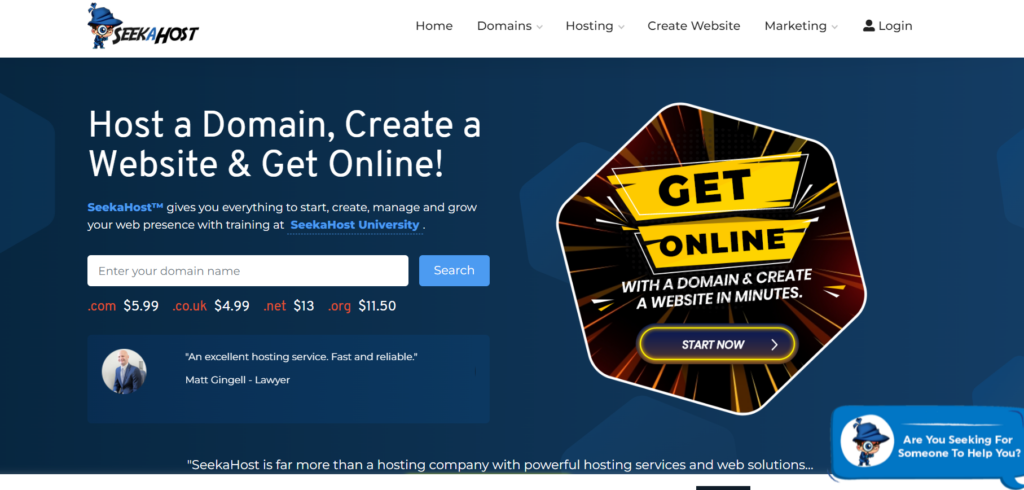 We are an all-in-one web hosting and domain registration provider. We offer all services that are crucial for your website and to create an online presence. We also provide safe web hosting services to help you personalize your websites and set up a new business.
You may be thinking why have we put ourselves at the top of the list, right? Well, that's because we have our users rooting for us. From server management to security configuration to backup management and web designing, SeekaHost has everything you need to get started.
Annual Pricing
Domain 
Pricing (PKR)

.

com
1435.95

.net

3116.43

.org

2756.84
*Prices shown as per conversion rate: 1 USD= 239.73 PKR
Why Should You Go for SeekaHost?
SeekaHost's domain name search tool is perfect for finding a suitable domain name for your business. It automatically provides  
Alternatives are when someone is previously registered with your domain name.

Quick and easy domain transfer from another host.

Seekahost also provides one of the best web hosting services in Pakistan; it offers everything you need to create, manage and grow online. 

The website offers efficient DDoS protection to prevent unwanted malware, hacking, and phishing attacks.

24×7 live customer service to help you with all your queries.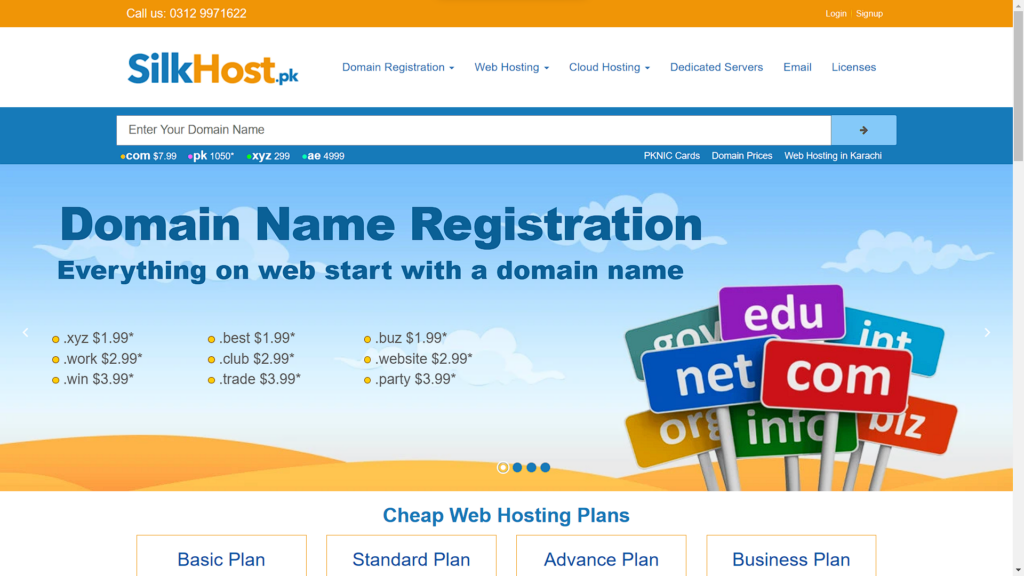 SilkHost is one of Pakistan's leading domain registration sites, offering 1000 different TLDs. You can avail of free assistance with them in selecting the best-suited name at the most affordable rates. 
Whether you are a newbie or an established entrepreneur, at SilkHost, you will find a plan to match all your needs.
Annual Pricing
Domain 
Pricing (PKR)

.

com
1915.40

.net

3066.08

.org

2874.30

.pk

3226.70
*Prices shown as per conversion rate: 1 USD= 239.73 PKR
Why Should You Go For SilkHost?
At SilkHost, they offer not only domain registration that will help build an online presence.  

Protect your office and home network system with the latest antivirus solutions. Their online security services come with SSL certification. 

With 24/7 customer support, you are sure to appreciate your decision to get your website registered with SilkHost.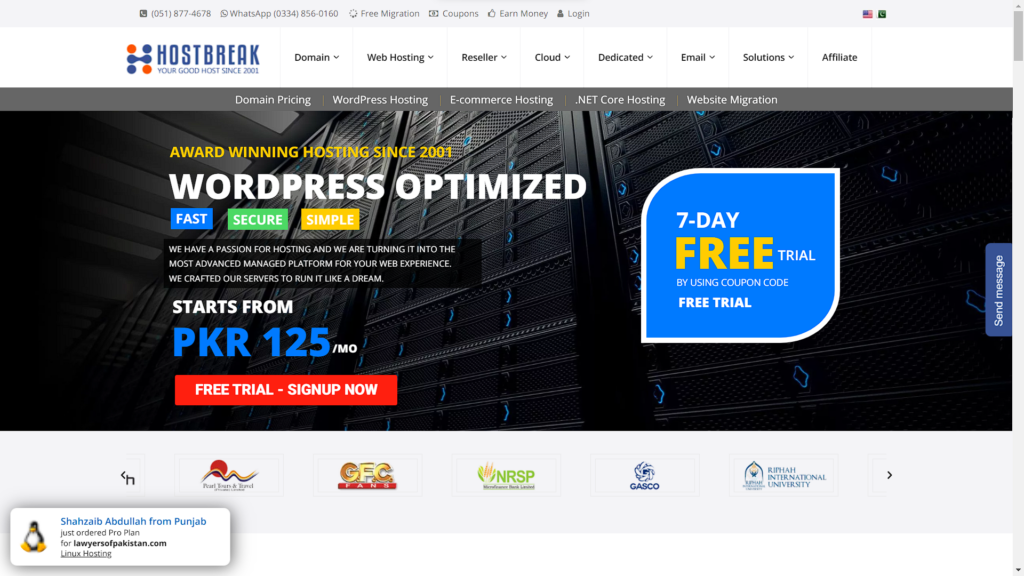 We recommend this domain registration company to anyone looking for localized support. HostBreak has been a leading name in the industry since 2001. The company has been serving several businesses in Pakistan from the beginning of its journey. Therefore, attracting prospective Pakistani audiences will be a lot easier for them. 
Annual Pricing
| | |
| --- | --- |
| Domain  | Pricing (PKR) |
|   .com.pk | 1250 |
| .net | 2800 |
| .org | 2800 |
| .com | 2200 |
Why Should You Go For HostBreak?
HostBreak offers industry-specific domain names that are great for making a recognizable name for your website. 

You can rest assured with them as they will provide you with impeccable security coverage. 

It also has the added benefit of automatic daily backups and full website repair. 

Regular updates and data protection will keep away viruses and malware. 

They have a hassle-free registration process and a round-the-clock support system to help you with your queries.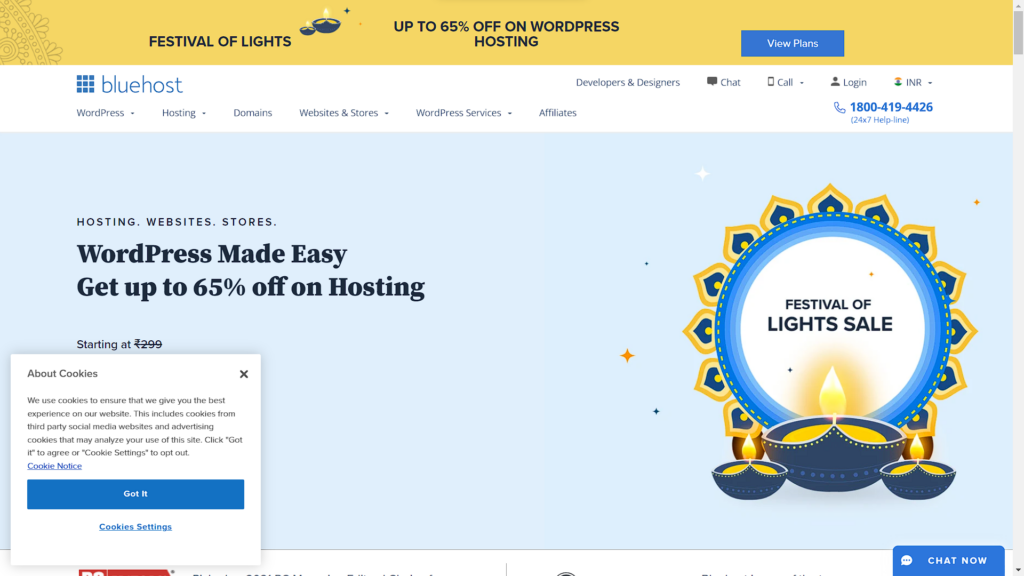 Your search for the best domain registration platforms at an affordable rate should end with Bluehost. They are one of the oldest and most trusted domain providers with premium quality of service.
With an average speed of 153 milliseconds, you will experience faster loading and response time.
Annual Pricing
| | |
| --- | --- |
| Domain  | Pricing (PKR) |
| .net | 4552.38 |
| .org | 2394.85 |
| .com | 3114.03 |
*Prices shown as per conversion rate: 1 USD= 239.73 PKR
What Should You Go For BlueHost?
They are known for their beginner-friendly interface and for not focusing too much on upsells.

They come with a 30-day money-back guarantee along with multiple attractive offers.

Get several free add-ons with every domain purchase.

Lifetime DNS service and Domain theft protection

You can reach them anytime via live chat and phone. They emphasize providing undivided customer support.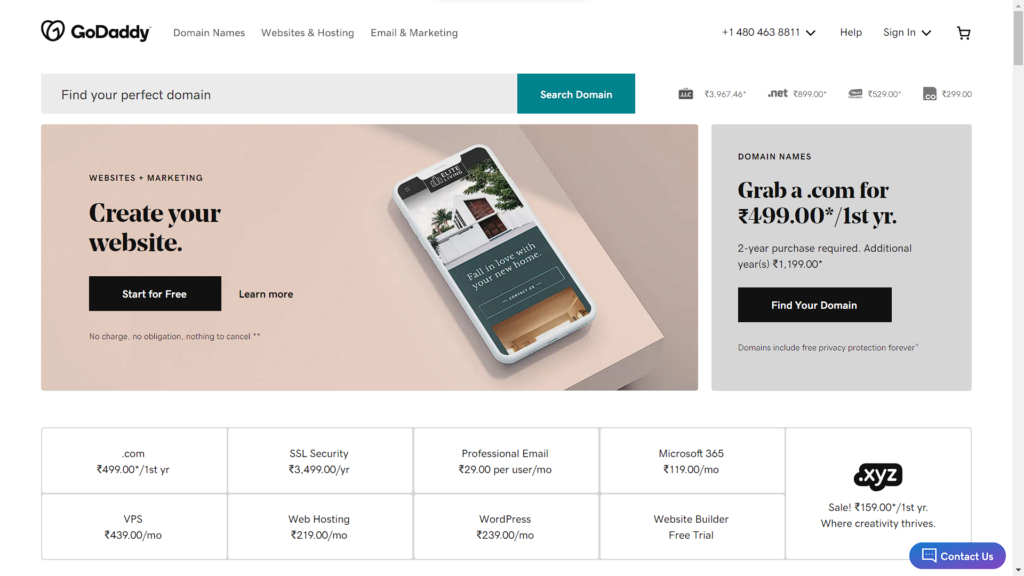 GoDaddy has earned a credible name for providing efficient domain registration services at budget-friendly rates. They have been on the list of the most popular domain registrars for the longest time.
GoDaddy has numerous data centers spread around the world. This results in an outstanding speed of 172 milliseconds. With such an amazing speed, you will enjoy the service with the least loading and response time.
Annual Pricing 
| | |
| --- | --- |
| Domain  | Pricing (PKR) |
| .net | 2676.11 |
| .com | 1485.41 |
*Prices shown as per conversion rate: 1 USD= 239.73 PKR
What Should You Go For GoDaddy?
Their domain search board is extremely user-friendly and offers several other additional services. For instance, they have services like website building and domain registration.
A secured website experience with GoDaddy. 

The security system also comes with SSL certification.

Free website and extremely competitive prices.

Easy domain transfer, tools for bulk domain search, and domain auctions are other services offered. 

24/7 customer support. You can easily reach them through phone calls or live chats at any time of the day.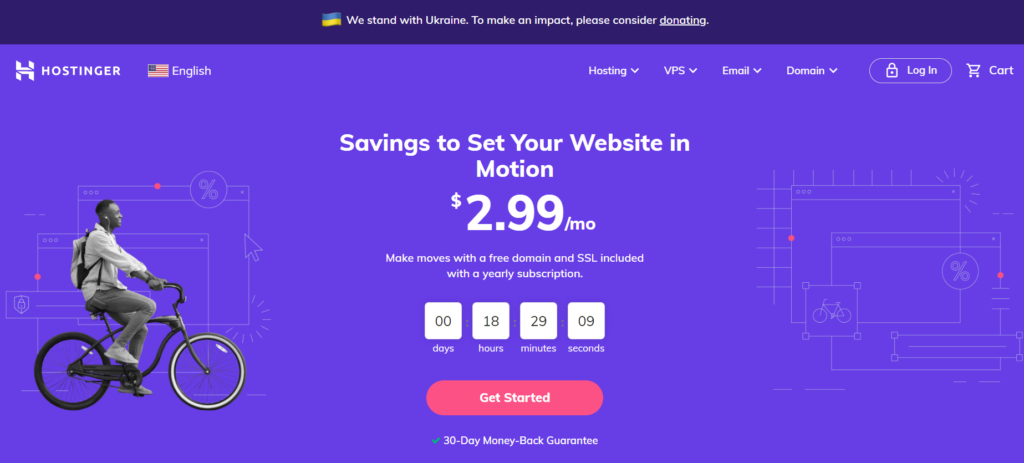 Hostinger offers all the right tools to help you develop a credible business domain. It has a cheap and limited basic plan, perfect for first-timers. 
Although the starter pack only consists of a few must-have tools, you can always get a renewal for advanced features.
Annual Pricing
| | |
| --- | --- |
| Domain  | Pricing (PKR) |
| .online | 237.33 |
| .com | 2394.85 |
*Prices shown as per conversion rate: 1 USD= 239.73 PKR
Why Should You Go For Hostinger?
The website has efficient, 24*7 customer service.

It offers credible domain names at competitive prices. 

It has a great onboarding process. 

Optimized 1-click WordPress Installations.

It offers unlimited websites and My SQL databases.
You can never choose a perfect domain without first understanding your unique needs and preferences. We hope our list of the best Pakistani domain registration services for you helps you kickstart your online business today.
Which Is The Best Cheap Pakistani Domain Registration Service?
When comparing all the notable features of a domain registration service, we think Seekahost offerings make the process much easier to manage. 
We pick ourselves as the best in this service because it's a whiff to find and register a domain with Seekahost. Moreover, you also get additional services like domain forwarding, DNS management, domain renewal, privacy protection, and domain theft protection with us.