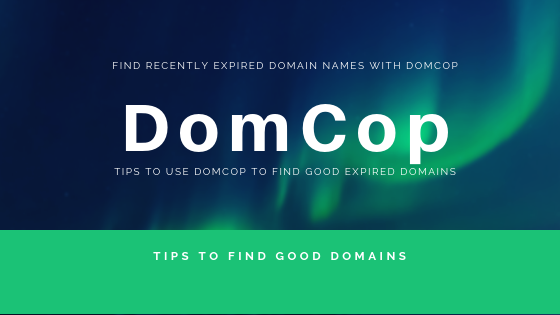 DomCop Review: How to find recently Expired Domain Names with DomCop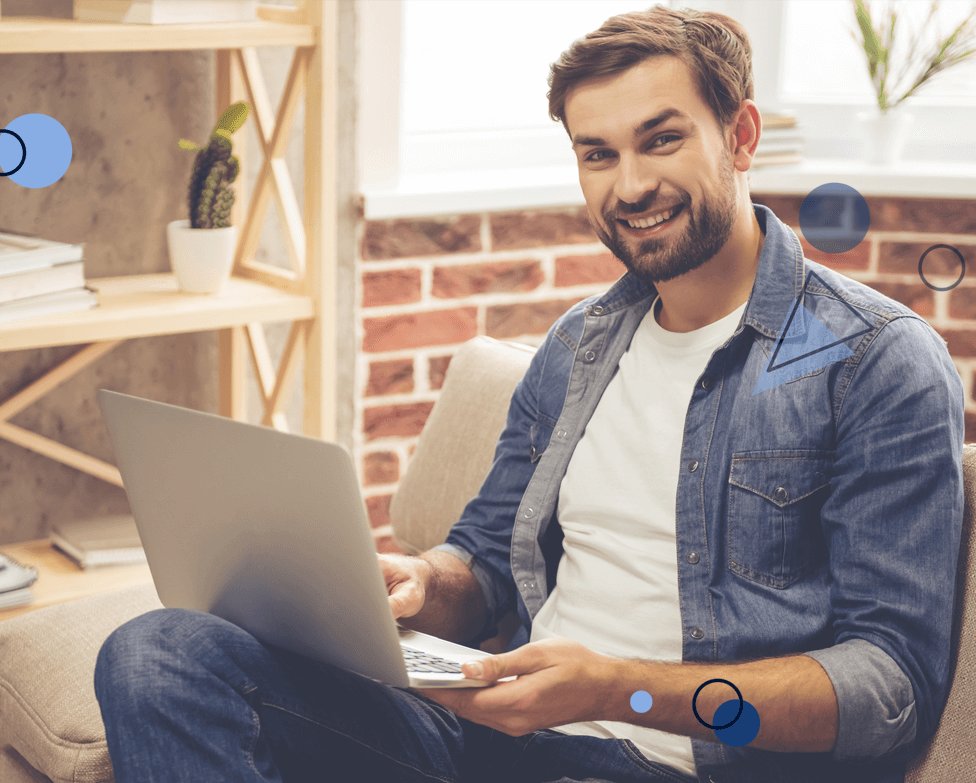 By John
Looking for the DomCop Review and want to know to use the tool to find expired domains to build private blog networks? – Then this is your latest guide with all the tips and analysis on how to use the tool and find the old dropped aged domains and host them using the best PBN hosting.
Every SEO expert and blogger knows the importance of expired domains, especially in driving organic traffic to grow their money site.
I see many people try to learn how to find expired domains online.
The expired domain search market is huge and more and more business owners have started to buy expired domains to set up private blog networks and affiliate marketing websites these days.
Buying Expired domains have huge demand, so in this article, I want to show how to use DomCop expired domains finder to find recently dropped expired domain names.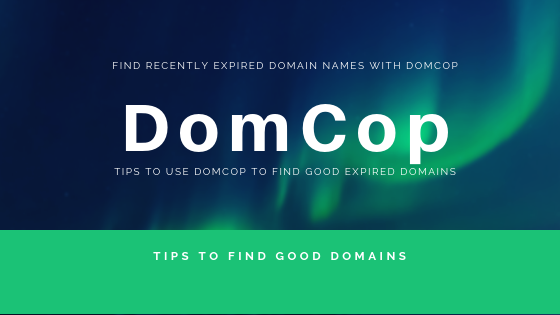 [Tweet "Every SEO blogger knows the importance of expired domains, especially in driving organic traffic to grow their money site."]
In fact, there are so many benefits from buying expired domain names, that even domain name investors have now fully embraced the game.
While the building of a site on an aged expired domain will help to cut-short the supposed sandbox duration that search engines usually subject new sites, which guarantees good leverage for the new web property.
If you're still wondering just how easy it is to find expired domains, grab a cup of coffee, and read on! As I will be showing you how to use a tool called, DomCop in finding quality expired domains.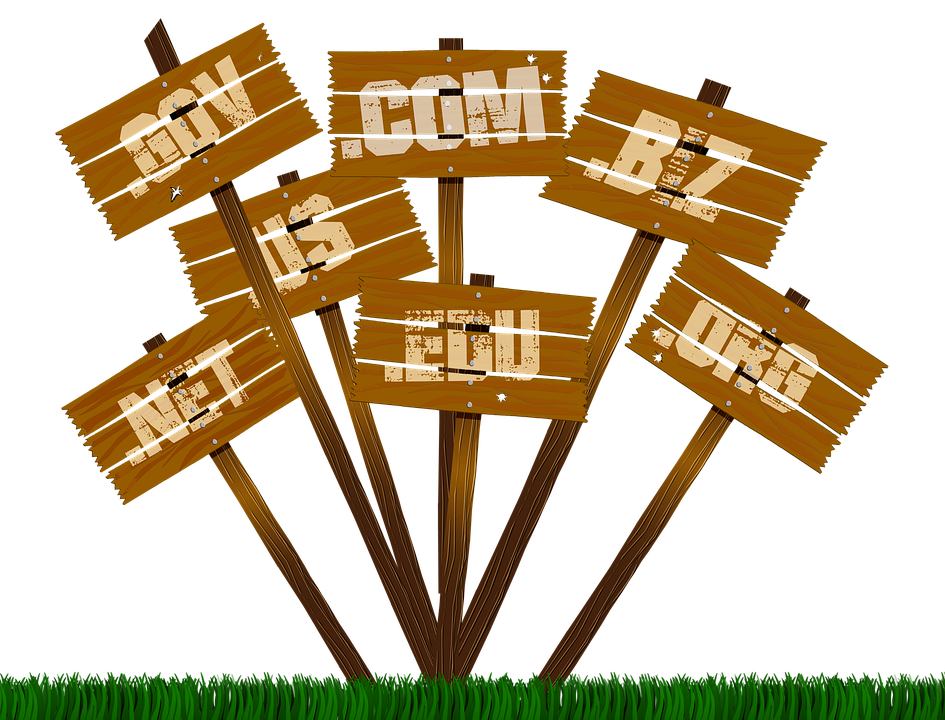 How to use DomCop to find Expired Domains?
DomCop software allows you to easily find expired or expiring domains and archive the domains. The reason this tool is highly recommended is that it has the capability of filtering all the expired domains based on any particular criteria, which can be set by the researcher.
Step 1.
After you must have subscribed for the DomCop Power Plan starting at $98 /month, let's assume you want to find all expired domains with a minimum PageRank of 2, Domain Authority (DA) of 29 and not listed as "Counter Offer" auctions.
Step 2.
Set the desired parameters as seen in the picture below, as that is the only way to ensure minimal spammy listings while noting that it is pretty hard to figure out high quality domains from low quality ones.

Step 3.
Using the page Rank Slider, you can find domains ranging from PR2 to PR10, which you can also set to show all domains with DA 29 to 100. Additionally, make sure to check the "Hide Fake PR" checkbox to ensure no fake PR domains are shown and also, uncheck the "Offer/Counter Offer" Auction type.
The unchecking of the "Offer/Counter Offer" Auction type will ensure that only the domains that will be sold when bidded upon are displayed.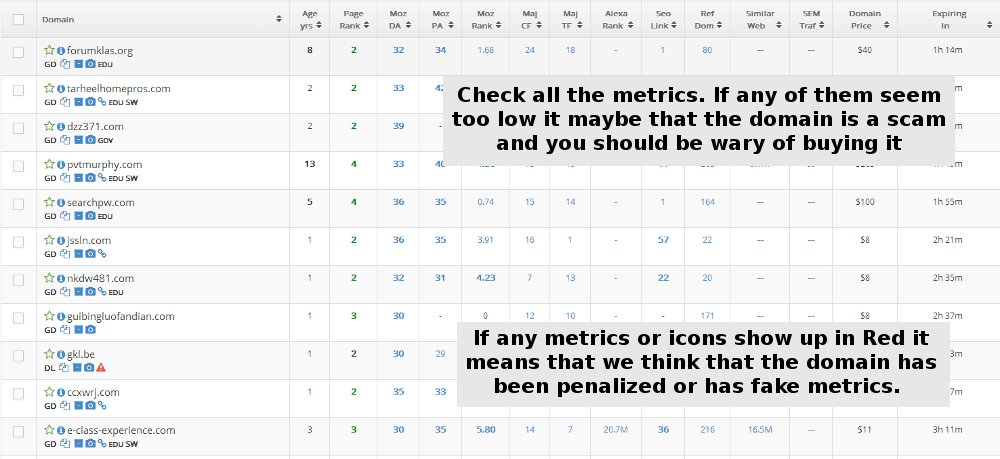 Step 4.
You can use additional filters in narrowing down the list. For instance, Majestic Trust Flow or Moz Domain Authority are good metrics to use in discovering quality expired domains.
Now, you need to set the price to certain value, and if you find a domain that interests you, just click the star icon in front of the domain to add to your watchlist or click on the domain name, to be directly taken to the right place to buy the domain.
It is highly recommended, nonetheless that you check for the values of the Domain Authority & Trust Flow, as low DA may mean that the domain is less profitable, and do a manual check for the backlinks to verify if the rating is valid or even why the metrics are low in the first place.
And that's all if you follow the steps on how to find recently Expired Domain Names with DomCop you must have arrived at a valuable addition to your domain name search and find a good domain for your archives.
See the video tutorial below for further illustrations on how to use this tool, and also how to validate the quality of expired domains that you find.
Finally, if you discover a great expired domain name and successfully acquire it, either you can resell it at a premium price to other SEO bloggers, that is if you chose not to use the domain.
The most important thing is to make sure you register expired domains as quickly as possible before someone else grabs it! Or else you quickly sell the domain to an SEO services provider or business owner who is after good domains.
You can take expired domains on PBN Deymistified Facebook group
Read the 7 Ways to find Expired Domains with Domain Hunter Gatherer