How to create a Blog on a WordPress Website?
Whether you already have experience with building a website on WordPress or someone did it for you, it is useful to learn and know how to create a blog on a WordPress website easily.
I have set up many websites with blogs and it's a very easy thing to do if you are using the popular WordPress blogging platform.
Starting a WordPress blog is one of the best things you can do to get online, and it is recommended to build with an independent domain/website that you host in your name with a web host.
There are many guides we have created at SeekaHost on how to create a WordPress website with a blog. However, in this guide, I will go through the steps with the easiest and fastest way to create a WordPress blog on a self-hosted WordPress site that uses the WordPress hosting control panel.
5 Easy Steps to create a Blog with a WordPress Website
Log in to your WordPress site dashboard (assuming you have it or else read https://www.seekahost.com/how-to-create-a-wordpress-website/ and create a WordPress website first)
Check if the currently installed theme has a blog page creation option or else there are two things you can do:
First create a name page on your domain > www.yoursite.com/blog/ and then choose the presentation mode as a blog page.
Most themes have it but if not, you can do this > Go to settings and select the home page or the desired page to present the latest posts.
You can see how to create a blog page in this video tutorial:
5. There are a few things to keep in mind if you are creating a blog on a WordPress site that does not come with a blog page via the theme. In that case, you must decide how you want the blogs to appear on your site. Do you wish to show the blogs as articles that are listed on a particular page like > www.yoursite.com/blog/ or would you be fine to custom create a blog page that shows the links to the posts?
6. Check my site > https://www.manuelawillbold.com/ and I have created a blog page on https://www.manuelawillbold.com/blog/ that presents the blog posts, so anyone can easily find and read them.
7. I have also added a section to my home page where my latest blog posts are presented. I am using the Divi Theme, which is great for individualisation.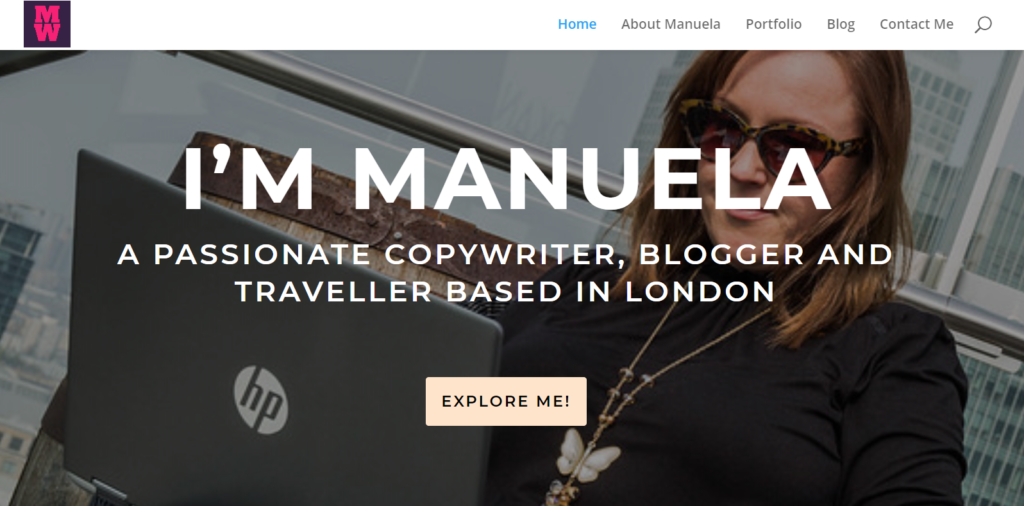 The beauty of WordPress is that everyone can create and design their website and blog very individually. Just have a look at some other WordPress sites with blogs and how they are set up: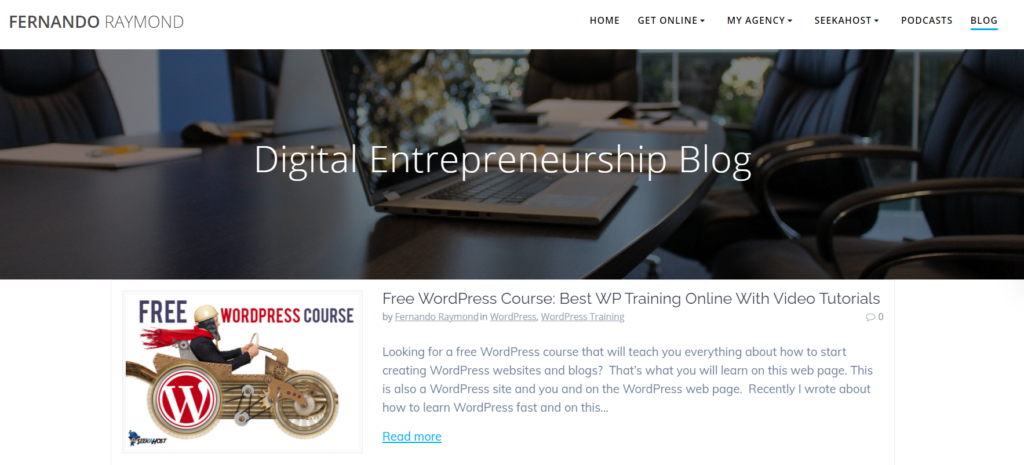 Fernando is using the Highlight Theme and he has also created a separate blog page to list all his posts on this page. He decided to not add his latest blog posts on his home page as he wants to focus on his entrepreneurial story. If you look at Fernando's main menu, you can see that he has created several other pages with topics that are relevant to him and the work he does, and you can see in the video tutorial below how to create and add a page to your WordPress website: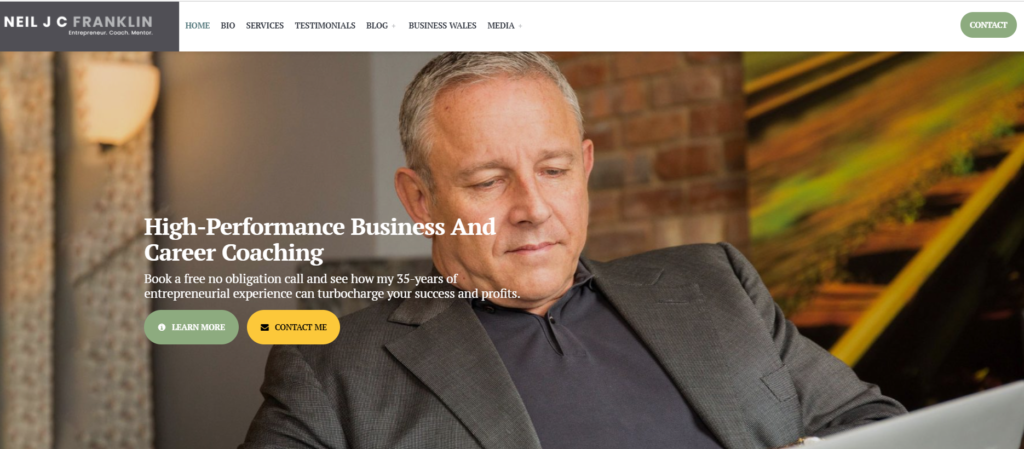 Neil has set up his blog page with several widgets in the side bar, helping readers navigate through his blog posts by filtering them into categories or recent posts listed. He has also added a widget about himself and a subscriber form. Depending on the WP Theme you are using, you will have a selection of widgets available to add to your blog page and you can see in this video tutorial how to do so: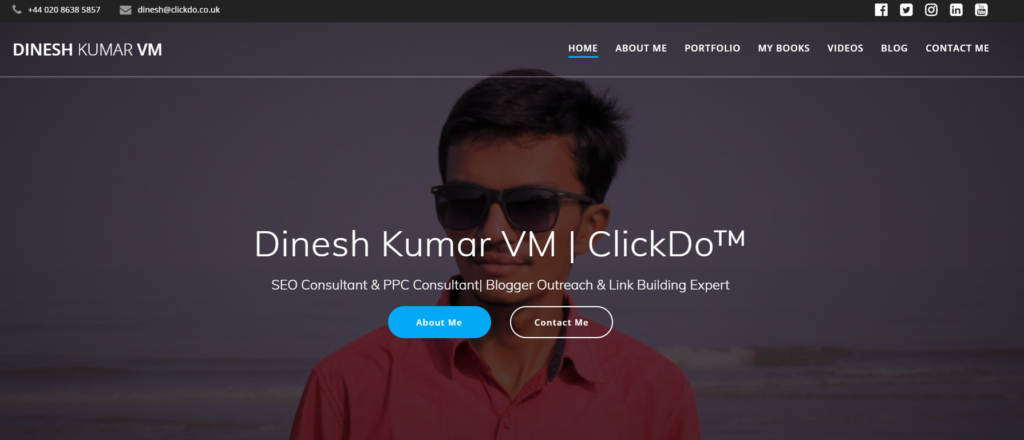 Dinesh has used a tiling format for his blog posts and uses widgets in the side bar to help his readers navigate through his content by using a recent posts and archive widget. Dinesh has added a section on his home page to display his latest blog posts just like I do on my blog. This helps bring readers to check out all your blog posts.
All these WordPress sites are using a theme that comes with configured options to set up a blog page. I would recommend you use the configurations and customize certain functions the theme does not offer with additional plugins. Watch this tutorial to learn more about WP theme customization:
For more information about WP Plugins and how to install and use them, check out this article: https://www.seekahost.com/top-3-wordpress-plugins-for-seo/.
Before you set up all the pages and content on your WordPress site, make sure you have considered the following 5 Tips to ensure you are on the right track: https://www.seekahost.com/starting-a-wordpress-site/.
To make your Blog page and Blog articles a success you will need to know how to compose, design and publish a blog post nicely so that it engages your readers.
How to Create Engaging Blog Posts on WordPress?
Watch this tutorial to learn what matters when curating and outlining your blog post content and structure:
I have also written a guide on how to create blog posts that Google will bring readers to: https://www.manuelawillbold.com/create-readers-friendly-blog-post/
And this article highlights the importance of content overall for any web presence: https://www.idobusiness.co.uk/why-content-is-still-king/.
If you need more guidance on structuring your blog post better, also for SEO optimization, then continue with this video tutorial:
How to Structure Your Blog Post In 5 Easy Steps
To make your blog posts more appealing and engaging you should add different media such as video, images or even audio and of course relevant links to further reading.
Go through the following guides too, to ensure you know how to design your blog posts very well with diversified elements:
Embed a video in WordPress: https://www.seekahost.com/how-to-embed-video-wordpress/.
Add and compress images in WordPress: https://www.seekahost.com/compress-images-for-wordpress/.
Add a link in WordPress: https://www.seekahost.com/how-to-add-a-link-in-wordpress/.
By now you should be well equipped to create a Blog on a WordPress site.
But if you need any further support with WordPress or web hosting then you can:
Ask any questions in the SeekaHost live chat support to assist you.
Get a SeekaHost WordPress expert to help you create you personalised WordPress blog on your site.
Take a Blogging Course at the SeekaHost University to learn it all and become an expert like I did.
Hopefully, this helps and if you have any questions, please email me and I will help you create a customized WordPress blog on your site with my tips.