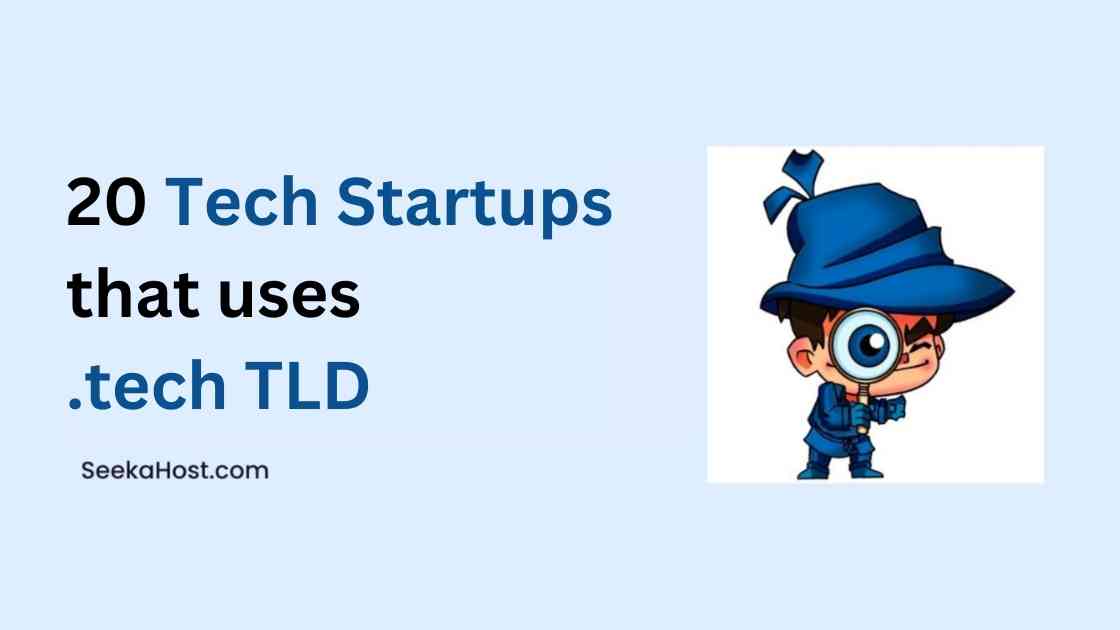 20 Tech Startups that uses .tech TLD for their business websites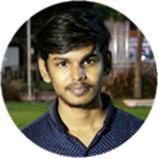 By Aslam Saah
With technology taking over the world in all avenues ranging from healthcare to banking and everything in between, people have moved to apps and websites as their go-to option for any service they wish to avail of. While most people see this as means of convenience and ease of life, a few have seen it as an opportunity to build a fortune.
While a large number of people look up apps and websites daily to get through their day from ordering food, travelling, shopping and more, a few people take a leap of faith to stand on the other side of the spectrum of technology and provide the consumers with their demands and in the process build a brand, fortune and often, a legacy for themselves.
There is no point in guessing; we are talking about entrepreneurs and their startups. Startups are newly established businesses, but the definition fails to encapsulate everything that goes behind making one. From innovative ideas to unsolved problems of the world based locally or globally, a team of risk-takers who brave to shift from paths of stereotype and monotonous career paths, an unshakable attitude and more.
ALSO READ: 10 Essential Tech Tools to Grow your E-commerce Business
Startups are aimed to solve daily problems or provide convenient ways to deal with them. The last decade or so has seen a surge in startups. Students come in with ideas and innovation simply because they wish to be their bosses at work and escape the Kafkaesque corporate lifestyle. There may be various reasons behind the establishment of a startup, and all of it has led to a newer mentality and work culture of startups. Although fresh graduates and youth make up most of these start-ups' founders, there have been plenty of experienced professionals who have quit lucrative jobs and posts to pursue their ideas and business plans.
Startups could be in innumerable avenues, including transportation, healthcare, finance and more. The most notable and in-demand ones are Tech. Startups that serve technical issues and requirements through their products and services. They work on new products or improve existing ones to provide their customers services in more contemporary ways every day.

20 Exciting Tech Startups that use .tech TLD:
A startup aimed at providing rooted finance through an enterprise-grade platform. Helps connect your banking services to brands you love to create a robust financial solution to ease your access to your money. A Backend-as-a-Service provider. The startup is a cloud service model where developers could track customers' credit and debits while transacting at their favourite outlets/websites.
A startup with a vision to provide businesses with AI software solutions for financial data analysis and credit evaluations for an easier and smoother experience running an independent company.
A fintech company that provides software developments for financial and trading services. Finery eFx, their flagship product, is a non-custodial platform allowing the financial organization, companies and businesses access to deep aggregated digital assets and crypto liquidities through an easy and smooth UI experience.
A UT-based Fintech company aimed at leveraging Blockchain, AI and machine learning to help transform how capital is accessed worldwide. ApiO is a Daffinity Technologies venture portfolio brand leveraging and facilitating its SecureStnc data integration technology.
A digital banking platform for the community banking market provides a modern, cloud-based banking platform to credit unions and public banking sectors. Saar's technology and ideology aim to make organizations desirable through a white-labelled mobile banking platform that automates banking transactions and options such as applying for loans and making access to the services easier and affordable to a broader spectrum of consumers.
Mosaic enables companies of all magnitudes and strengths to run their businesses in a more strategic and calculated manner. A rapidly deployable software platform integrates data and allows the team with data to help make better decisions.
A website aimed at providing interactive tools to simplify daily tasks of running a business to make life and work easier for owners and employees alike, with a goal to empower and help hard-working and upcoming companies to focus on the things that really matter to their businesses.
A middleware end-to-end fintech startup aimed at connecting merchant buyers and vendor suppliers across the entire community of fintech organizations. The brand has evolved into the world of eCommerce by consolidating the payments world onto one common platform. Enabling banks, Merchants. MSPs and ISOs can access any payment type, and solution provider for the same, anywhere across the globe.
A platform provides holistic financial planning software. A Comprehensive Financial Planning Platform combines a modelling engine for Tax, Income, Expenditure, liabilities and much more. All in one place.
a55 is another fintech startup underwriting SMEs in Brazil and Mexico through a tech platform connecting bank accounts, escrow solutions, billing and payment, credit intelligence and revenue insights and data.
A startup that serves as a gateway to cryptocurrency payments and with a mission to make any blockchain asset usable as a mode of payment anywhere in the world. The company is known in the crypto world for its ambitious and innovative promises to deliver its services like TenX cards, which serve as a debit card linked to a mobile wallet.
Aurora, based in America, is a startup that aims to build self-driving technology for vehicles through a computer system that can be integrated into any vehicle to provide autonomous driving services. The company was founded by Chris Urmson, the former Chief technology officer of Google/Alphabet Inc.'s self-driving team, later named Waymo and Sterling Anderson. The former head of Tesla Autopilot. Alongside Drew Bagnell. The former head of Uber's autonomy and perception team.
Innoviz Technologies | (innoviz.tech)
The company provides high-performance, solid-state LiDar sensors and perception software to bring vision, transparency and efficiency to automotive, drone, logistics, and sidewalk delivery, among other industries. Highly acclaimed and on the rise, with deals bagged in from BMW and awards and affiliations from elsewhere. The company is spearheading the future of Tech.
A gaming and creation tech startup of the new age. Shadow. Tech allows you to access a powerful gaming/working system running on Windows 10 from any PC, Mac or Android device remotely. Play games, create projects and work on the device of your choice virtually. All you need is an internet connection. Currently, the service is under a single somewhat expensive subscription, and potential customers/users cannot sign up for the services until next year.
Navya, too, similar to Aurora, provides self-driving solutions, albeit for passengers and goods transport. The company aims to empower businesses and communities to reshape the future with safe, portable and efficient mobility. Navya offers a range of autonomous, driverless and electric vehicles. The French company also provides autonomous shuttle services and guarantees autonomous transport performances paired with comfort through its gentle navigation systems and is capable of driving up to 15 people.
The startup aims at providing marketing and business services through mobile. With their products and services, they are on a mission to bridge gaps between customers, businesses, consumers and events/locations. Built by a team of skilled veterans in the marketing field alongside innovative young minds, the company provides off-the-shelf minimal marketing tools triggered through mobile phones to companies and businesses. Through its simple tools, Bubble is on a mission to build genuine and trustworthy relationships between consumers and companies.
This startup goes against the trend and provides a somewhat offbeat service/product. The founder, as his website name suggests, broke into Tech unknowingly as a teacher and his rise to success and liking of the sphere. He wishes to guide people from non-tech backgrounds to keep up with the world and learn tricks and skills of the tech club(s) and provide them with an opportunity to 'break into tech' as a hobby, life skill or even career option.
The company serves the automotive industry by providing transparency and ease of access to real-time data through a cloud-based, Omni-channel. With services being provided to multiple brands across the world. The company aims to connect importers with dealers and customers in a seamless and easy way.
Similar to 'Break into tech', but with far more features and options, Stronger gives you access to an array of technical and security-based courses to keep up with the career opportunities and openings in the current tech world. Starting as an IT training outlet, the company has grown in strength and reputation and aims to provide customized, high-quality tech training and learning services to companies, clients and institutes worldwide.
A smart home systems brand, starting in 2016. The company has gained momentum, funding and positive reviews with an aim to provide a more straightforward way to manage smart homes instead of the clutter and chaos that has been created with multiple apps and brands. The company promotes accelerating the adoption of smart home living through affordable prices and a user-friendly experience and provides homeowners with a pleasing unified tech experience in their homes.
To make positive socio-economic transformations, the concept of sustainable development was proposed, and it can be implemented through innovation. And startups are among the modern innovation drivers that fit the bracket of just that. So, this article aims to identify the critical startup success factors through examples and to develop an instrument for startup success evaluation to minimize the loss of time and resources. Alongside partly overcoming the high uncertainty rates specific to the startup industry, using a multidisciplinary approach and, in turn, contribute to sustainable development implementation. It was found that there are three main constituents which influence the startup success – an external environment, startup activity and an internal startup environment. The determining success factors were analysed according to the groups and parties corresponding to these constituents. The mathematical model in the form of the Bayesian network for evaluation and prediction of the startup success was developed. It was found that the modelled startup success probability is most likely to be of a low or average level. The conditional probabilities distribution for the startup success was also analysed. The developed model can be used for the startup's success level determination in a particular country, specific market, etc.
With the increasing proliferation of mobile devices among other technologies and access to cheaper Internet bandwidth, Developments in the tech-startup sector represent the core of entrepreneurial revival expected to facilitate growth and development towards the assurance of economic security in countries across the globe.
ALSO READ: Top 40 Tech News Websites List To Follow in 2023
This article explores the entrepreneurial revival manifesting in tech startups and the extent to which it engenders economic security. In terms of job opportunities, manufacturing units, a retail system from sellers to consumers and many more. It presents the contribution of tech startups to economic well-being and a country's success. It rises in the world economy regarding the brand presence and value while highlighting some constraints. It mainly focuses on the extent to which the solutions of technology startups are driving the world's quest to develop in a broad spectrum of sectors.
While day jobs, services and other fields of work are equally essential and instrumental for the world to keep moving forward. It only serves the purpose of maintaining momentum and providing a Kafkaesque motion to the daily scheme of things. And tech startups, among other likewise startups, break through the stereotypes to make a place of their own and provide the commoner ease and utility in various spheres of life.