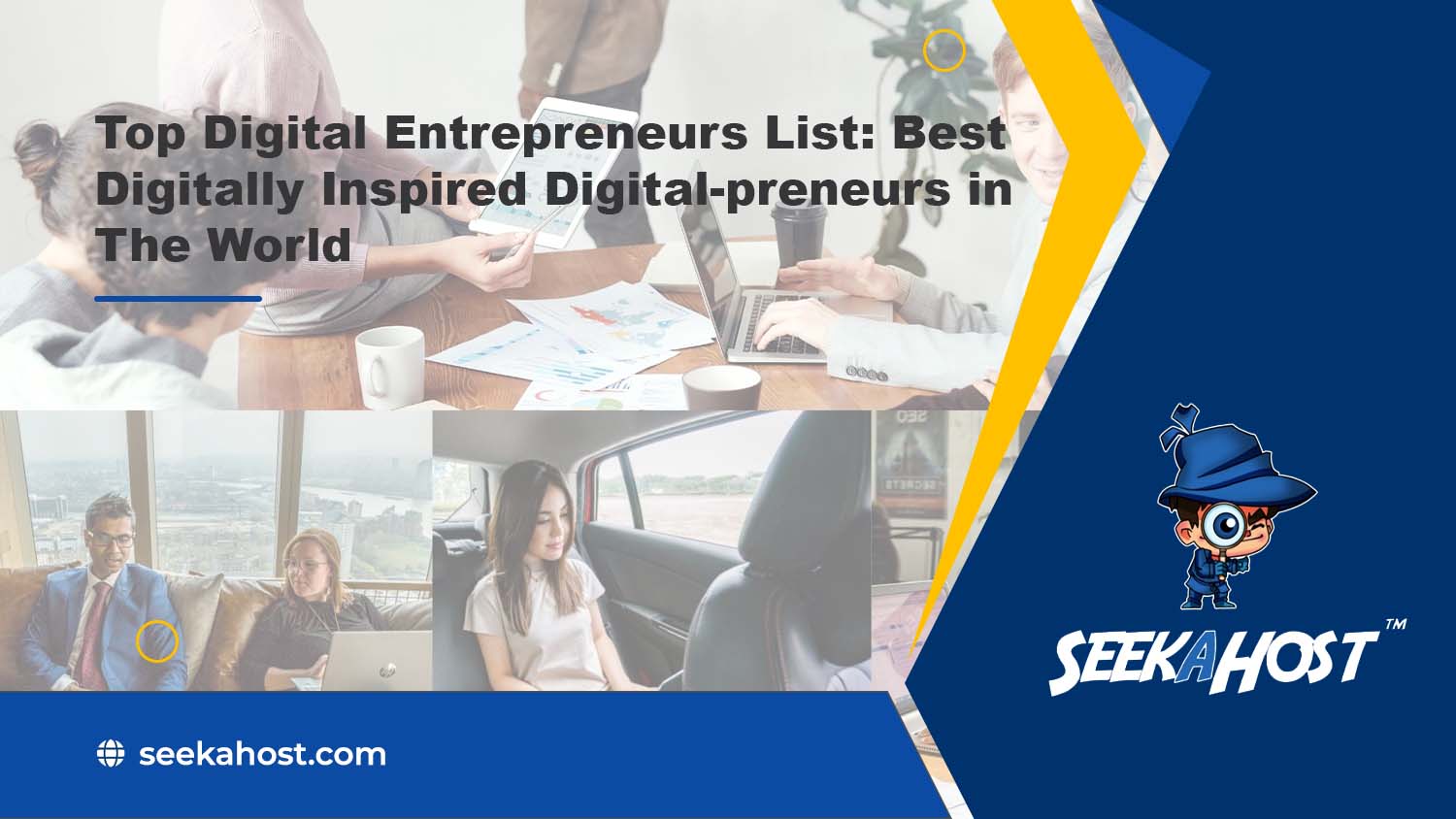 Top 15 Digital Entrepreneurs List: Best Digitally Inspired Digital-preneurs in the World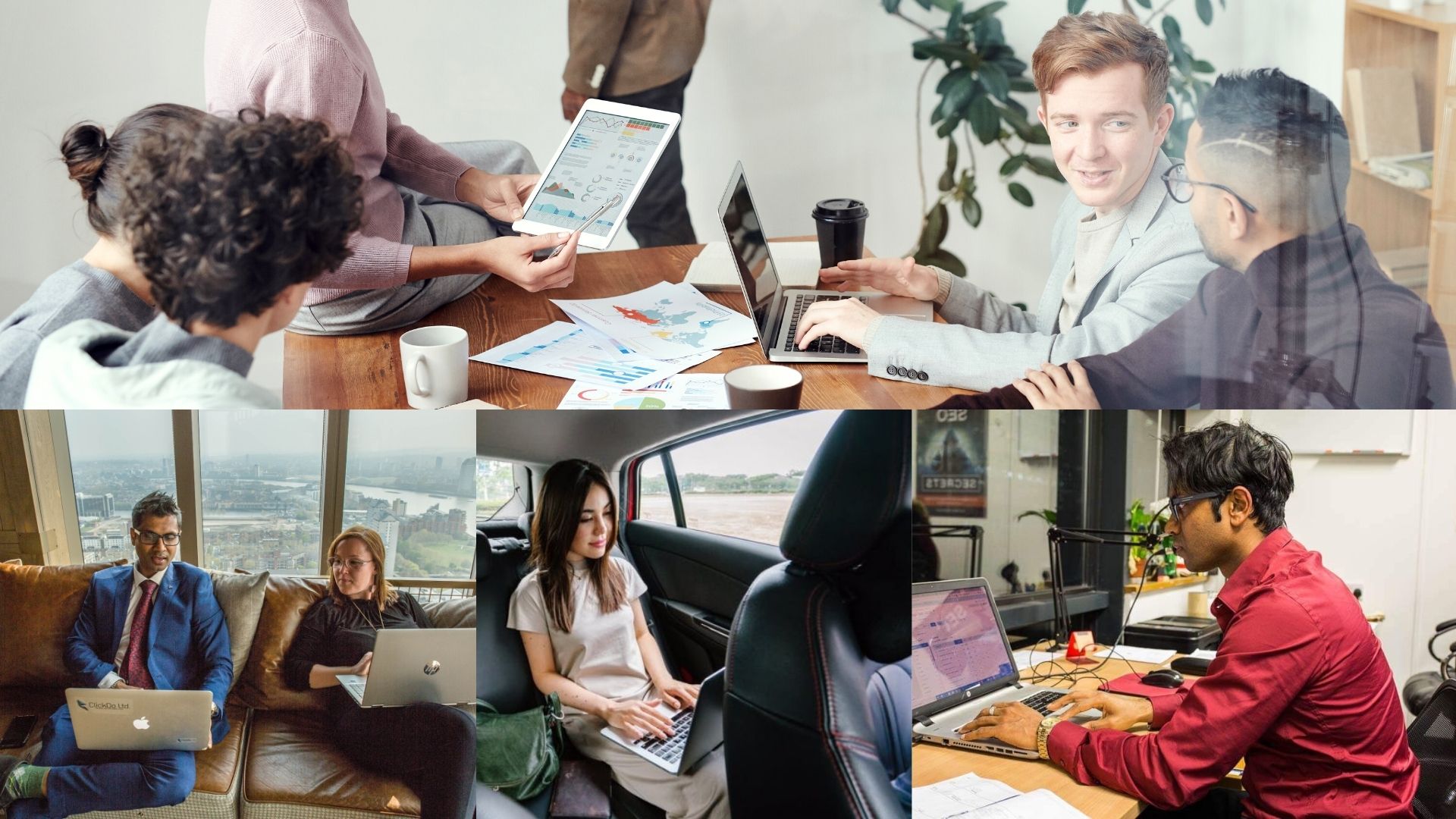 The world is going digital.

Now, there is no need to give evidence or proof for this or try to second the statement with statistics. You are reading this content right here in digital print form, which is enough to prove that digitization is on its way.

And just like digital media is taking over traditional media, online stores are replacing brick-and-mortar outlets, digitalpreneurs are mushrooming and taking over the entire startup scene.

While most businesses are going digital, few people have made 'digital' their business. And these listed entrepreneurs, aptly named digitalpreneurs, are here to stay.

Once you are thorough with the idea of what exactly is digital entrepreneurship, you will understand the immense potential it holds.

But, hey, before you start up your startup, won't it be great if you could learn a thing or two from the experts?
Top Digital Entrepreneurs – Why we feature them
Innovation: Entrepreneurs who introduced fresh and groundbreaking ideas in their fields.
Awards and Recognition: Those acknowledged by renowned organizations for their work and contributions.
Personal Journeys: Individuals who faced and overcame significant challenges to achieve success.
Community Engagement: Those who actively connect with others, sharing knowledge through platforms like podcasts or public speaking.
Diverse Backgrounds: We ensured our list includes both women and individuals from Black, Asian, and Minority Ethnic (BAME) backgrounds, valuing the richness of diverse experiences and insights.
Disclaimer: The information provided was correct at the time of publication but may be subject to change. The entrepreneurs are listed in no particular order.  
1. Fernando Raymond
Fernando Raymond is a visionary digital entrepreneur. He is on a mission to empower 100 million people worldwide with online opportunities. Through his companies, he champions several causes.

These include digital entrepreneurship, fostering remote work, and advocating for online education. All his endeavors are aimed at redefining success, not just for himself, but for all.

Company: ClickDo™ & SeekaHost™

Journey as a Digital Entrepreneur:
Fernando Raymond set sail in the digital realm, establishing ClickDo™. It is now a pioneering London-based digital agency.
He then ventured into the web hosting realm, birthing SeekaHost™. It is now a prominent player in the UK's digital hosting landscape.
Building a hub of knowledge, he also nurtured SeekaHost University. SeekaHost University is a free platform for honing digital skills.
He combined SEO, digital marketing, and business to create a successful digital symphony.
Beyond business, he guides budding entrepreneurs in the digital world.
Connect with Fernando via LinkedIn.
2. Syed Balkhi
Syed Balkhi, a dynamic force in entrepreneurship and marketing, is revolutionizing small businesses. With his visionary leadership and tools, he empowers millions to achieve online success. How? Simply by sharing expertise that sparks growth and transformation.
Company: Founder and CEO of Awesome Motive
Awards and Achievements:
Recognized as a top 100 entrepreneur under the age of 30 by the United Nations.
Featured in Inc, Forbes, Entrepreneur Magazine, Fortune Magazine, etc.
Received Safeer E Pakistan technology award.
Journey as a Digital Entrepreneur:
Began entrepreneurial journey at age 7. He used to sell holiday greeting cards for Eid – the Muslim holiday.
Founder of several well-known online companies like WPBeginner, OptinMonster, WPForms, MonsterInsights, and more.
Entrepreneurial focus on leveling the playing field for small businesses. He provides software solutions to millions of websites.
Investments made through the Growth Accelerator Fund in various online companies.
He is known for speaking engagements and sharing insights. And always seen providing actionable advice to inspire growth in businesses.
Connect with Syed via LinkedIn.
3. Manish Singh
Manish Singh is a trailblazing Digital Entrepreneur from India. At just 18, he launched ZZED Media. That was just the beginning of a journey that now encompasses 4 impactful ventures. A visionary, investor, and business developer, he's driving Digital India's ascent. All with relentless passion and innovation.
Company: ZZED Media and Technologies Pvt. Ltd., ZZED Group Of Companies
Awards and Achievements: Youngest Digital Entrepreneur and Youngest Millionaire in India
Journey as a Digital Entrepreneur:
Initiated entrepreneurial journey at 18 with ZZED Media and Technologies Pvt. Ltd.
Expanded business empire to include four companies under ZZED Group Of Companies.
Achieved recognition as India's youngest digital entrepreneur and millionaire.
Manish has honed his expertise in personal branding, digital marketing, and content innovation. He also excels at software development and social media strategy.
He also advocates for transformative education. His aim is to establish a Digital University and redefine traditional learning paradigms.
Connect with Manish via LinkedIn.
4. Iman Gadzhi
Iman Gadzhi is the epitome of transformation and empowerment. A high school dropout, he is now the founder of an education company, GrowYourAgency.com. His remarkable journey defies the odds while nurturing businesses and minds. The global impact he makes is immeasurable.
Company: IAG Media
Journey as a Digital Entrepreneur:
Founded IAG Media, a digital marketing agency. The agency specializes in Facebook and Google advertising for e-commerce businesses.
Achieved impressive results, generating over $17.3 million in total revenue. (With a total ad spend of $3.68 million.)
Scaled the agency by offering diverse services. These include multi-stage funnels, email marketing, PPC, and conversion rate optimization.
Continuously focused on refining advertising strategies, resulting in significant growth and business success.
Emphasizes the importance of education through online courses. Iman aims to revolutionize the education system and give back to schools in underdeveloped countries.
Connect with Iman via LinkedIn.
5. Kruze Hunter-Boyd
Kruze Hunter-Boyd is a genuine paradigm-shifter in the realm of remote closing. From YouTube ads to real-world impact, his journey unfolds with authenticity. While tragedy transformed his purpose, he now empowers others to reach success.
Company: Closer Institute and The Conscious Leaders Movement
Journey as a Digital Entrepreneur:
Founded Closer Institute and The Conscious Leaders Movement. And via these companies, has coached 1000+ individuals to achieve 6-figure incomes.
Developed the 90-day Freedom Plan™. It is a high-ticket closing system that generated over $2 million in sales.
Created multiple successful programs and products, with millions in sales across various categories.
Globetrotter, living across multiple countries and continents while building a thriving entrepreneurial network.
Emphasizes effective communication, mentorship, personal growth, and high-income skills for achieving financial freedom.
Connect with Kruze via LinkedIn.
6. Martins Lasmanis
Martins Lasmanis is a serial entrepreneur. His latest adventure was co-founding Supliful, a groundbreaking supplement dropshipping startup. He has previously built businesses like Grafomap, which showcases his knack for innovation. With a vision to empower fitness professionals, Martins is driving change at the cusp of health and entrepreneurship.
Company: Founder of Supliful
Journey as a Digital Entrepreneur:
Co-founded Grafomap, a business focused on brand management. The brand was successfully sold in 2020.
Mentored startups at Startup Wise Guys. There his focus was on product-market fit, fundraising, and team building.
Founded Supliful, a platform for launching and operating white-label consumer packaged goods brands.
Served as Investment Manager and Analyst at Imprimatur Capital Fund Management. (Specializing in high-technology startups.)
Engaged in consulting and management roles. Offering innovation, development, and investment project assessment services in that capacity.
Connect with Martins via LinkedIn.
7. Andrea Eldridge
Andrea Eldridge is a tech-savvy trailblazer with a passion for simplifying technology. She shares her wisdom through engaging columns and TV appearances. Andrea's journey, including a computer repair startup and book authorships, is inspirational. And it motivates others to embrace the digital world with confidence.
Company: Nerds On Call
Journey as a Digital Entrepreneur:
Founded Nerds On Call. It is an on-site computer repair company, offering remote and in-person computer services.
Started writing weekly technology columns, "Computer Nerds On Call" and "Nerd Chick Adventures". The columns provide tech tips and advice to readers.
Managed a team of technicians and staff. Oversaw various aspects of business operations, including customer support, marketing, and inventory.
Pioneered the concept of on-site computer repair for individual users. This addressed the gap in the market for personalized tech assistance.
Embraced the ever-evolving technology landscape. Adapted the business to the rise of handheld mobile gadgets. And integrated the latest developments in tech into service offerings.
Connect with Andrea via LinkedIn.
8. Mason Doerr
Mason Doerr is an accidental copywriting maestro. From journalism and policy analysis paths, he stumbled upon the psychology-infused world of copy. He wields words with finesse, crafting compelling narratives for emails, ads, and more. His TikTok journey, gaining 370k followers, showcases his passion for sharing the transformative power of copywriting.
Based on the information provided:
Company: Cardinal Agency and CopyMBA
Journey as a Digital Entrepreneur:
Developed skills in creative marketing, copywriting, and email marketing. Supported that by establishing a significant online presence on Twitter and TikTok.
Served as a Creative Copywriter for Boundless Labs. It is a top e-commerce email marketing agency.
Worked as a Freelance Copywriter and gained experience in crafting compelling content.
Founded Cardinal Agency. It is a self-employed venture focused on providing creative copywriting and marketing services.
Launched CopyMBA, a teaching platform. The platform aims at helping professionals master the art of written communication.
Connect with Mason via LinkedIn.
9. John Tertan
John Tertan is the visionary behind Heygo. Heygo is a boundary-breaking live-streaming platform merging travel and culture. Hailing from Toronto, Canada, he's crafting a global community through immersive tours in 90 countries.  John truly embodies the spirit of exploration and connection.
Company: Heygo
Journey as a Digital Entrepreneur:
Led initiatives at The Oxford Bar Society and Oxford Forum for International Development. Connected students with legal professionals and addressing global issues.
Recognized as an "Ones to Watch Graduate" by Freshminds Talent.
Co-founded SmarTech. The company organizes events exploring the legal implications of innovation and technology.
Gained legal experience at Freshfields Bruckhaus Deringer. There he worked on international deals in various regions and legal aspects.
Founded Heygo, a platform for live-streamed, interactive tours of global locations. The platform fosters a connection between locals and a global audience.
Connect with John via LinkedIn.
10. Marianne Hughes
Affected by the 2013 Dhaka garment factory collapse, Marianne Hughes began a transformative journey. She understood the clothing manufacturing industry in detail. This led to the creation of Kno Global, a revolutionary mental health platform. The platform ushers empathy and efficiency into the supply chain. And is now embraced by industry giants like H&M and Decathlon.
Company: Kno Global
Awards and Achievements:
Forbes 30 under 30 2022
She Loves Tech Hong Kong Winner 2021 (Largest competition globally for female founders)
AHK German Chamber in Hong Kong start-up innovation award winner 2021
ADB Ventures social impact grant winner for She Loves Tech 2021
One Young World Entrepreneur of the Year shortlist 2019
Journey as a Digital Entrepreneur:
A regular consumer in London she was inspired to address supply chain transparency.
Founded Kno Global to humanize the supply chain and reach 10 million factory workers.
Clients include notable brands like Decathlon, Target, and M&S.
Developed a platform collecting real-time data to improve worker engagement and factory conditions.
Spoke at various events, advocated for technology innovation, and participated in entrepreneurial programs.
Connect with Marianne via LinkedIn.
11. Kay Kukoyi
Kay Kukoyi CSM FITOL is a visionary entrepreneur. She is also an acclaimed tech startup mentor and a captivating speaker. With a mission to empower and educate, she's authored 5 game-changing books. (Including Amazon bestseller "Don't Hire a Software Developer Until You Read this Book"). And Kay's Purposeful Group is a beacon of inspiration, fostering global innovation.
Company: Purposeful Group, Tech Startup Academy™, Freelancer Academy™, Digital Careers Academy™
Awards and Achievements:
Recognized on the #IB100 list of the 100 Most Influential BAME Leaders in the UK Technology Sector (2019)
Finalist for the Black Tech Awards Lifetime Achievement Award (2022)
Finalist for Best Small Business Owner and Best Small Service-Based Business at the Small Awards (2022)
Journey as a Digital Entrepreneur:
Founded Purposeful Group, an entrepreneurship, technology, and digital skills consultancy
Created Tech Startup Academy™, Freelancer Academy™, and Digital Careers Academy™
Works with SMEs, entrepreneurs, career builders, and digital upskillers globally
Passion for pursuing challenges, continuous learning, and sharing knowledge
Recognized for outstanding contributions in the technology sector and small business ownership.
Connect with Kay via LinkedIn
12. Charelle Griffith
Charelle Griffith is a dynamic marketing strategist and visionary business mentor. She specializes in empowering financial coaches and service providers. And has an unyielding passion for transforming dreams into thriving enterprises. She's guided countless individuals to success with her wealth of experience. Charelle's journey from humble beginnings is an inspiring testament to the power of dedication.
Company: CharelleGriffith.com, PropelHer
Journey as a Digital Entrepreneur:
Founder of PropelHer, a personal development blog and book club for ambitious women
Marketing Strategist & Business Mentor at CharelleGriffith.com. The company specializes in supporting financial coaches and service providers
Provides multiple service options. Some of these include Fully Booked and Scaling, 1:1 Business and Marketing Mentoring.
Over a decade of marketing and advertising experience in offering strategies and training.
Speaker, trainer, and workshop leader who shares expertise in marketing, business growth, and planning. Ideal for solopreneurs and small business owners.
Connect with Charelle via LinkedIn
13. Dr. Libby Kemkaran
Dr. Libby Kemkaran-Thompson is a powerhouse of transformation and leadership. Her extraordinary journey spans business consultancy, veterinary expertise, and pioneering neurocoaching. Libby is the embodiment of resilience, innovation, and unwavering commitment. And she empowers individuals and organizations to conquer challenges and achieve unparalleled success.
Company: Kemkaran Consulting Ltd
Journey as a Digital Entrepreneur:
Founder and Executive Coach at Kemkaran Consulting Ltd
Utilizes the TAME Neurocoaching methodology to coach and support highly motivated individuals. These can be executives, leadership teams, and CEOs. The aim is to create positive changes and results in both personal and business spheres
Provides ethical, trust-based leadership, culture, and communication behavioral training to corporate teams. Both in-person and remote training options are available.
External Consultant for companies including MSD/Merck. Delivered bespoke training programs such as "Who Do You Think You Are?" based on Neuroplasticity and Behavioral Psychology
Delivers keynote speeches at conferences and events on Behavioral Psychology and personal growth. Also providing personal coaching to clients to support their personal development and growth.
Connect with Dr. Libby via LinkedIn
14. Anna Parker-Naples
Anna Parker-Naples is a remarkable coach and entrepreneur. She has journeyed from overcoming physical disability to igniting others' success. And her story is one of resilience and transformation.  Now a beacon of empowerment, Anna combines Breathwork and NLP to propel high achievers and entrepreneurs to new heights.
Company: Influential Audio, Positively Influential Coaching, The Podcast Membership
Awards and Achievements:
Winner of 'Best Podcast Launch Consultancy 2023' – SME
Host of the Top 1% global podcast "Positively Influential"
Journey as a Digital Entrepreneur:
Overcame personal challenges and transformed her life through personal development.
Utilized her background in audio and performance to enter the motivational speaking and coaching arena.
Launched successful podcasts including the top-ranked "Entrepreneurs Get Visible" and "Positively Influential."
Established herself as a leader in the podcasting industry. And now supports entrepreneurs and experts to launch and grow impactful podcasts.
Expanded her influence by providing transformative coaching and speaking at events. She is now being recognized for her expertise in personal branding and podcasting.
Connect with Anna via LinkedIn
15. Ayo Abbas
Ayo Abbas is a seasoned built environment marketing consultant. She has a remarkable 20+ years' of experience in B2B marketing. She has contributed to prestigious projects like the Olympic Park transformation and King's Cross Rail stations. And Ayo's expertise is truly unmatched. She founded Abbas Marketing, which empowers built environment firms with her strategic prowess. and leadership. Ayo's journey is a testament to driving impactful change in the industry.
Company: Abbas Marketing
Awards and Achievements:
Digital Woman of the Year 2022
Fellow of the RSA (The Royal Society for the Encouragement of Arts, Manufactures and Commerce)
Journey as a Digital Entrepreneur:
Ayo Abbas has over 20+ years of experience in B2B marketing, working for major firms like Arup and Mace.
In February 2020, she founded her own consultancy business, Abbas Marketing. The company specializes in providing marketing services to built environment firms.
Ayo is a marketing expert who has worked with several top engineering firms. She has played a key role in projects like the Olympic Park transformation.
She is known for her expertise in marketing strategy, content creation, and campaigns. And has a focus on making marketing enjoyable and effective for her clients.
Ayo is also actively involved in the industry, hosting her podcast "The Built Environment Marketing Show". She also participates in networking groups like Build Up! She is recognized as a speaker, trainer, and mentor in the field of marketing for the built environment sector.
Connect with Ayo via LinkedIn.
Now that you know the biggies in the digital world, it is time you take their lessons from words to actions and get ready to become a digital entrepreneur.
The best time to set sail is now, and SeekaHost always stands with you with domains and web hosting services to help you make your mark in the digital world with your virtual properties.