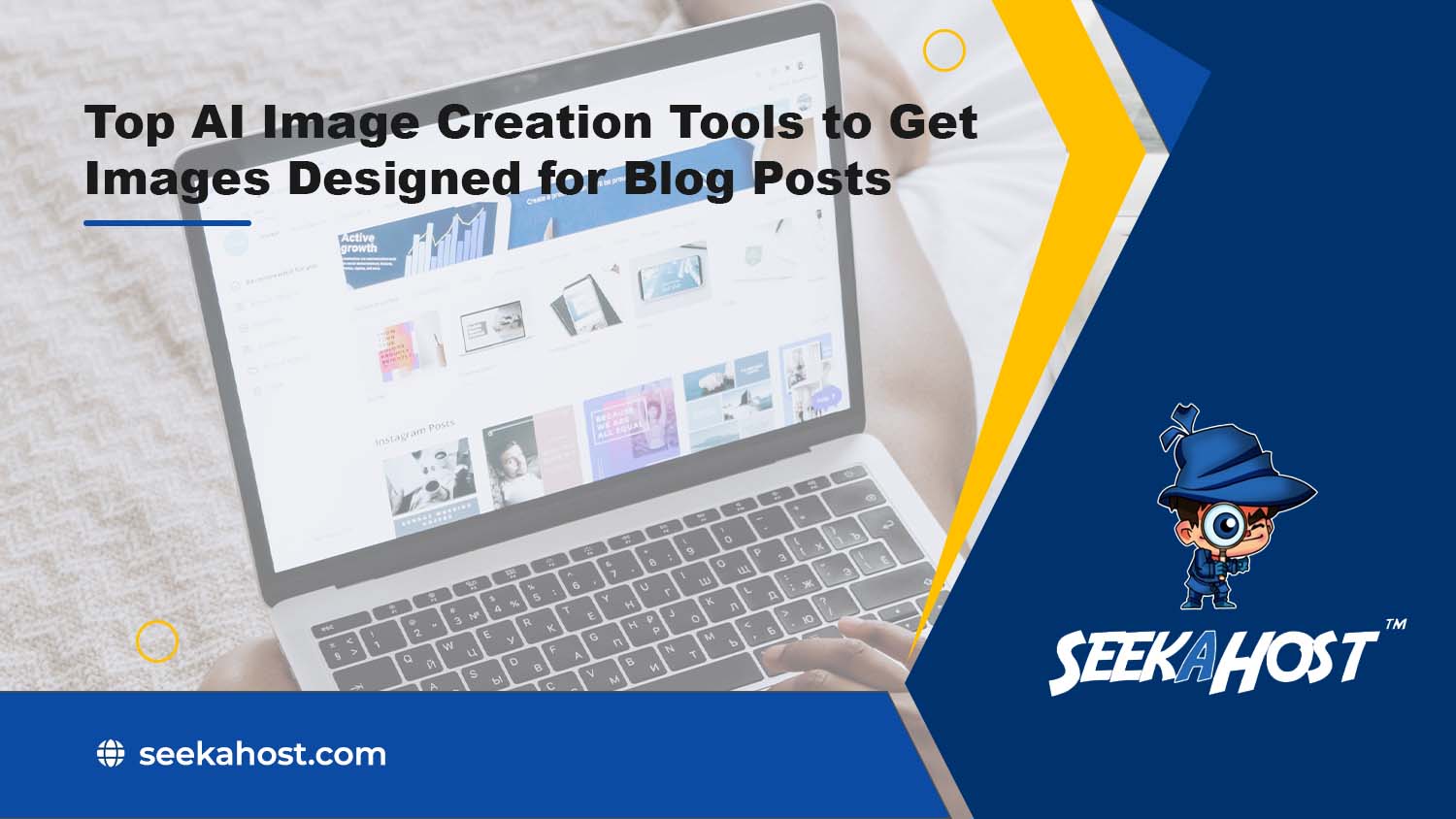 Top 5 AI Image Creation Tools to Get Images Designed for Blog Posts
Hey there, fellow bloggers and creative content enthusiasts!
In the dynamic world of blogging, we all know that a picture is worth a thousand words, and when it comes to creating captivating blog posts, having stunning visuals can make all the difference. But what if you're not a professional graphic designer or don't have the resources to hire one? Fear not! The magic of technology is here to save the day, and it's never been easier to create eye-catching images for your blog posts.
In this blog, we're going to dive into the fascinating realm of AI-powered image-creation tools. These nifty digital assistants have revolutionised the way we design images for our blogs, making them accessible and fun for everyone, regardless of their artistic skills. So, grab a cup of your favourite beverage, get comfy, and let's explore the top 5 AI image creation tools that are going to make your blog pop and sizzle with creativity.
Please check this video to learn about the AI tools that are helping businesses, bloggers and content creators:
Whether you're a seasoned blogger or just starting, these AI-powered gems offer an array of features to suit your needs. From customising graphics to finding the perfect stock photo, these tools have you covered. Plus, they're user-friendly, so you won't need to be a tech guru to master them.
The below tools have been ranked according to their number of reviews, to take your content to the next level. These AI tools offer powerful features, flexible pricing, and glowing reviews, making them the go-to choice for bloggers and creatives seeking to effortlessly enhance their visual and design capabilities.
AI algorithms can make your visual content more engaging, let's break down how each of these tools can help you create the perfect images for your blog posts:
Disclaimer:  The Information shared in this article is subject to change but was correct at the time of publication.
1. Canva
Canva AI Image Tool is a dynamic and user-friendly platform that has revolutionised the way we create and customise images. With its intuitive interface and robust set of features, Canva makes image design accessible to everyone, regardless of their design experience.
From blog banners to social media posts and everything in between, Canva offers a diverse range of templates that can be easily personalised to suit your blog's unique style.
Its library of stock photos, illustrations, and icons makes it a treasure trove for bloggers seeking high-quality visuals. Canvas AI Image Tool offers background removal, colour correction, and even magic resize features, allowing you to effortlessly adjust your images for various platforms.
Pricing
When it comes to pricing, Canva offers both free and paid plans, making it adaptable to bloggers of all budgets.
The paid version, Canva Pro, opens up a world of additional templates, stock photos, and branding options and the pricing starts from $14.99 for a monthly subscription & $119.99 for a yearly subscription.
Reviews
4.8 out of 5 ratings with 14.1M reviews on Google Play.
Social
Facebook, Twitter, Pinterest, Instagram.
2. Wombo
Wombo AI Image Tool is an exciting and innovative platform that takes image creation to the next level. With Wombo, users can transform text descriptions into visually stunning graphics, offering a unique twist to traditional image design.
Search functionality on Dream is here for iOS! 🔎

What hidden gems will you bring into the limelight? Find out today by visiting the link in our bio! 🔗#wombodream #foryou #ai pic.twitter.com/prWESwoRtS

— WOMBO (@WOMBO) August 1, 2023
This makes it an excellent choice for bloggers and content creators seeking a quick and creative way to generate custom visuals without the need for advanced design skills. Whether you need icons, illustrations, or specialised backgrounds, Wombo's AI capabilities can bring your ideas to life with ease.
Pricing
Pricing details for Wombo AI Image Tool may vary over time, but it typically offers both free and premium plans.
The premium version often comes with additional features, including faster image generation and a broader range of design possibilities. The Premium version will cost you $9.99/month, $89.99/year & $169.99 for a lifetime.
Reviews
4.8 out of 5 with 140.3K reviews on the App Store.
Social
3. Runway
Runway AI is a cutting-edge platform that has earned a reputation as a creative playground for artists, designers, and developers alike. With a focus on democratising artificial intelligence, Runway AI offers a wide array of tools and models like text-to-image generators, image-to-image generators, infinite image generators, frame interpolation and many more, that empower users to explore and expand the boundaries of their creativity.
View this post on Instagram
From generating stunning visuals and interactive animations to experimenting with machine learning and neural networks, Runway AI is a haven for those looking to infuse their work with the magic of AI. Its intuitive interface and growing library of AI models make it a versatile choice for a variety of creative applications, attracting artists, makers, and innovators from around the world.
Pricing
They have multiple packages starting from basic which is free to standard and pro packages which start from $12/month and $28/month. Also, the unlimited plan will cost you $76/month and for the enterprise plan you need to contact the concerned team.
Reviews
4.4 out of 5 with 842 reviews on the App Store.
Social
4. Lobe
Lobe AI Image Tool is a game-changer in the world of AI-powered image creation and manipulation. Lobe AI's copyrighting feature in its Image Tool empowers users to seamlessly integrate machine learning into their projects. By facilitating image analysis and recognition, this feature helps protect intellectual property, enabling users to manage and safeguard their copyrighted visual content effectively.
🔭 There are endless possibilities and projects you can do in Lobe with its brand new support to change your default camera, read about some ideas and our process in our blog https://t.co/7Jgg0JSOGD pic.twitter.com/KTMauzaHpr

— Lobe (@lobe_ai) December 14, 2020
One of its standout features is its user-friendliness, making it accessible to both beginners and seasoned graphic designers. With Lobe AI Image Tool, you can easily create eye-catching graphics, edit photos, and craft visuals that perfectly complement your blog posts.
It's a versatile solution for all your image needs. Lobe AI Image Tool offers a range of useful features, including background removal, object recognition, image editing, and various design templates. Whether you need to superimpose objects, remove backgrounds, or retouch photos, the Lobe AI Image Tool has you covered.
Its object recognition capabilities are particularly impressive, allowing you to identify and label elements within your images with ease. This can be incredibly useful for categorising and organising your visual content.
Pricing
Lobe is a free, user-friendly desktop app for machine learning, enabling seamless development from idea to production. With an intuitive interface, offline capabilities, and deployment options, it supports the entire workflow privately and efficiently.
Review
3.7 out of 5 with 77 reviews on Product Hunt.
Social
5. Artbreeder
Artbreeder is a fascinating platform that redefines the concept of artistic creation through the power of AI. This innovative tool allows users to blend and manipulate images to produce stunning and unique artworks with incredible ease.
View this post on Instagram
Whether you're a seasoned digital artist or just a curious beginner, Artbreeder offers a space for exploration and experimentation. Its intuitive interface enables you to create captivating visuals by mixing and matching various images and styles, producing a wide spectrum of possibilities.
The AI algorithms behind Artbreeder are capable of generating everything from otherworldly landscapes to surreal portraits, making it an invaluable resource for digital art enthusiasts, designers, and anyone looking to unlock their inner creativity. It's a testament to the limitless potential of AI in the world of art and visual expression.
Pricing
The free version allowed limited access to the platform's features, while the paid subscriptions, called 'Starter', 'Advance,' and 'Champion' offered more advanced tools and additional benefits. The pricing for the Artbreeder Starter Plan is $8.99/month, the Advance Plan is $18.99/month, & the Champion Plan is $38.99/month.
Reviews
4.6 out of 5 with 5 reviews on AlternativeTo.
Social
Conclusion
AI image creation tools have transformed the way we design visuals for our blog posts, offering a gateway to creativity that's accessible to all. From the user-friendly Canva to the innovative Designify and Wombo, and the efficient Artbreeder, these tools have made image creation a breeze, even for those without a design background. Their features, such as object recognition, background removal, and text overlay, offer unparalleled flexibility. Whether custom graphics or stock photos, AI image tools have us covered.
The pricing models vary, often including free and premium options, ensuring there's something for every budget. These tools have revolutionised the image design process, helping top bloggers, from beginners to experts, craft engaging visuals effortlessly.
In a world where visual content plays a pivotal role in captivating and retaining readers, these AI image-creation tools are invaluable. They've empowered bloggers to enhance the visual appeal of their posts, ultimately elevating the overall quality of content. As technology advances, AI tools such as AI writing tools and more that we will cover continue to evolve, promising an exciting future for bloggers and content creators alike. So, take your pick, and let your creative blog journey begin with an affordable website!