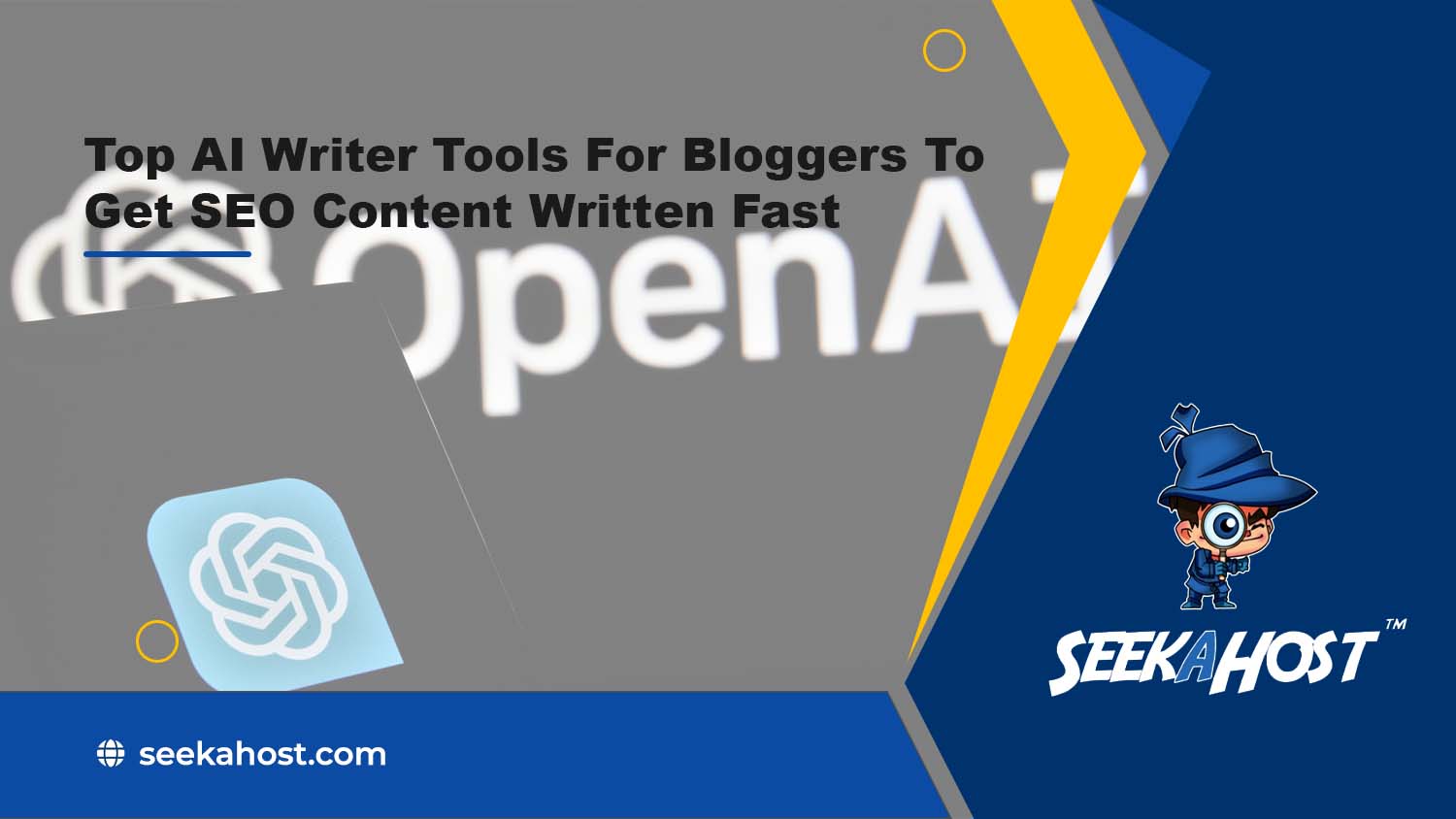 Top 10 AI Writer Tools For Bloggers To Get SEO Content Written Fast
AI writer tools are software applications that use natural language processing (NLP) and machine learning (ML) to generate text based on your input.
These tools can assist bloggers in generating ideas, structuring their content, and even suggesting relevant keywords to optimise their posts for search engines.
In addition, free AI tools can also help bloggers with grammar and spelling corrections, ensuring that their content is error-free and professional.
With AI, and the ability to generate high-quality content in a fraction of the time, these tools are becoming an essential resource for anyone starting a blog, looking to increase their productivity and reach a wider audience for their future business.
With the help of AI tools, bloggers can save time and effort while still producing high-quality content that resonates with their audience and we share some of the best free AI tools in this video:
AI Tools can help bloggers with these aspects of blogging:
Headings and introductions
Making intriguing headings and introductions can capture readers' attention and encourage them to continue reading the blog post. Additionally, incorporating relevant keywords throughout the content can improve its visibility on search engines and attract organic traffic to the blog.
Relevant keywords and topics investigation
Relevant keywords and topic research can help in understanding the subject matter more comprehensively. It allows researchers to identify key concepts, trends, and gaps in existing knowledge. Additionally, exploring different perspectives and theories related to the keywords can provide valuable insights for further analysis and interpretation.
Informative content creation
Creating informative content that is original and engaging is essential for capturing the attention of your target audience. By providing unique perspectives, valuable insights, and well-researched information, you can establish yourself as a thought leader in your industry and build trust with your readers.
SEO and readability content optimisation
SEO optimisation and content readability are two important aspects of creating effective online content. While SEO focuses on optimising content for search engines to improve visibility and ranking, readability optimization ensures that the content is easy to understand and engage with for the target audience. By combining these two strategies, businesses can create content that not only ranks well in search results but also provides a positive user experience, leading to increased traffic, engagement, and conversions.
Editing and proofreading
Your content should be edited and proofread to ensure accuracy and clarity. This will help eliminate any errors or inconsistencies in the text, making it more professional and reliable. Additionally, proofreading can also improve the overall readability of the content, ensuring that it flows smoothly and is easy to understand for the intended audience.
Top 10 AI writer tools for bloggers:
There are numerous AI writer tools on the market, each with unique capabilities, advantages, and restrictions. These AI writer tools vary in terms of their natural language processing abilities, allowing them to generate high-quality content with minimal human intervention.
Additionally, some tools specialise in specific writing genres or industries, catering to the diverse needs of users.
You can check out some tips from Fernando and James at SeekaHost with regard to AI tools and how businesses can use them
We've produced a list of the top 10 AI writer tools for bloggers to quickly write SEO content based on their ratings and top features.
1. Bing Chat
Bing Chat is a new Microsoft Edge AI tool that enables you to communicate with Bing in natural language and receive responses, information, and content recommendations. By asking Bing to write about a subject, supply information, figures, quotes, and more, you can utilise Bing Chat to create blog entries.
View this post on Instagram
You can use Bing Chat to rewrite, enhance, or optimise your content. By typing "chat" into the Bing search box or by selecting the chat icon in the bottom right corner of the Bing homepage, you may access Bing Chat Mode.
Rating: 4.6 out of 5 stars with 589K reviews on Google Play.
Pricing: It's Free.
Why use it: You can communicate, create content, create photos, and get condensed responses to complicated inquiries all from the same interface with Bing. It's meant to be a much more sophisticated version of ChatGPT.
2. Jasper
Jasper is a powerful AI writing assistant that helps you write faster and better. Jasper can generate high-quality blog posts in minutes by using its long-form mode. You can also use Jasper to write headlines, subheadlines, bullet points, summaries, captions, and more.
Jasper supports over 25 languages and integrates with WordPress, Shopify, Google Docs, and other platforms. Jasper is the AI platform that helps businesses scale up marketing content like blog articles, social media posts, sales emails, website copy, and more.
Rating: 4.6 out of 5 stars with 4139 reviews on TrustPilot.
Pricing: The starting cost is $39 per month.
Why use it:  Jasper AI makes it simple to create material. Jasper will produce unique, high-quality material with just a few straightforward inputs. You may create a variety of material using Jasper, such as blog entries, product descriptions, marketing copy, and more.
3. ClickUp
With the addition of ClickUp AI, an AI assistant and content creator, ClickUp, the all-in-one productivity platform, can help you complete your work more quickly. To overcome writer's block, stimulate ideation, and speed up the content creation process, use this AI writing tool.
It is intended to increase productivity by providing research-based prompts for each function and use case. This offers a ton of prompts for marketing teams, content managers, and writers to aid in the creation of everything from case studies and briefs to excellent marketing copy, product descriptions, and blog content.
Rating: 4.7 out of 5 stars with 3.8K reviews on GetApp.
Pricing: You can have their Free Forever plan or can take the Unlimited Plan with $7/month/user, and the Business Plan with $12/month/user.
Social: Twitter, Instagram, Youtube.
Why use it: No matter what your position or duty, ClickUp AI can change how you operate! Their research-based technologies use prompts suited to particular tasks to guarantee high-quality material.
4. Rytr
Rytr is an AI writing tool that enables you to write more quickly, logically, and effectively. Blog posts, articles, emails, advertising, sales copy, social media updates, and more may all be written using Rytr.
Unleash the power of AI in your writing! 🤖🖋️ Say goodbye to writer's block and hello to endless inspiration. AI writing assistants like Rytr are here to revolutionize your creative process, helping you craft captivating content effortlessly. pic.twitter.com/U0Vse3LdCg

— ✍️ rytr (@rytr_me) July 26, 2023
Additionally, you can utilise Rytr to paraphrase, condense, rework, or otherwise enhance your existing content. Rytr provides a variety of tones and styles to fit your audience and purpose and supports over 20 languages.
Rating: 4.8 out of 5 stars with 2310 reviews on TrustPilot.
Pricing: You can use the free package, where you can produce 10K characters per month. The starting cost is $9 per month.
Why use it: There are many supported use cases. More content types can be written by Rytr's AI writer than by most other solutions.
5. Writesonic
Writesonic is an AI writing and image generation platform with a mission to empower everyone in the world to create any form of content 10X faster. It's like Canva for writing, with tools that simplify the process of creating, editing, and publishing SEO-optimised articles, blog posts, ads, landing pages, eCommerce product descriptions, social media posts, and many other forms of content.
Check this out 🙈 https://t.co/vABKSdHmdq

— Writesonic (@WriteSonic) August 24, 2023
With Writesonic user-friendly interface and intuitive features, Writesonic allows users to generate high-quality content effortlessly. Whether you're a professional writer or someone with no prior writing experience, this platform provides the necessary tools to produce engaging and persuasive content that resonates with your target audience.
Pricing: They offer a free trial for 10,000 words per month. The starting cost is $12.67 per month.
Why use it: Content writers may increase productivity, get beyond writer's block, and develop their writing skills by using Writesonic, an AI-powered writing tool. It provides succinct comments, generates article ideas, summaries, and outlines, and aids in producing high-quality content such as blog posts, SEO meta descriptions, and ad copy.
6. Peppertype.ai
An AI copywriting assistant called Peppertype.ai has 38+ use cases and a sophisticated AI system. My experience has shown that it has a simple interface, produces results quickly, and works well for short-form content.
⚡️ Reiterating. See for yourself at https://t.co/GHPoEJsGsv pic.twitter.com/VV7XQLmeqE

— Peppertype.ai (@peppertype_ai) July 26, 2021
Overall, Peppertype is a respectable option at a little inflated cost.
Rating: 4.6 out of 5 stars with 902 reviews on TrustPilot.
Pricing: You need to register first and ask for a free trial or demo.
Social: Twitter.
Why you should use:  Anyone wishing to enhance their writing should use Peppertype, an excellent AI writing assistance. The program includes a ton of useful functions, like social media, blog writing, and copywriting, that can assist you in creating content of a high caliber. Peppertype is an excellent value for the money because it is very inexpensive and simple to use.
7. Simplified
Simplified is one of the market leaders in AI writing and content production apps with 1 million users and numerous G2 awards. You can produce excellent content for blog posts, product descriptions, and landing pages with the aid of the AI writer suite.
Due to its assistance with various forms, like graphic design, social media scheduling, and even video editing, this makes the list of top AI writing tools 50+ templates for various content production types available, making it easy to create engaging and professional-looking content.
Additionally, Simplified user-friendly interface and intuitive features make it accessible for both experienced writers and beginners looking to improve their writing skills.
Rating: 4.7 out of 5 stars with 170 reviews on GetApp.
Pricing: You can have their service, where you can generate 2000 words, or you can take their Pro version. The starting price of the pro version is $12/month.
Social: Linkedin
Why use it: Simplified is a whole toolkit powered by AI, making it a priceless resource for influencers, marketing teams, freelancers, and content creators. Its ability to write, publish, and design an image all within one Simplified app is a major feature.
8. Copy.ai
Copy.ai is a platform that uses creative AI to help you write engaging, unique content for your blog. Copy.ai can create landing pages, social media postings, product descriptions, blogs, and more.
You can utilise Copy.ai to overcome writer's block, identify your brand voice, and develop ideas. Copy.ai offers a range of templates and prompts to help you get started and work with any area and topic.
Rating: 3.8 out of 5 stars with 170 reviews on TrustPilot.
Pricing: The starting cost is $36 per month.
Why use it: Teams can quickly create sales copy using Copy.ai that responds to particular customer segments' needs and pain points, allowing them to engage prospects more successfully and complete more deals.
9. Narrato
Although it is not new to content marketing, Narrato is a relative newbie to the AI tool authoring field.
This AI solution for content writing and copywriting may be used by content managers and SEO specialists to produce briefs, assign them to writers via the Narrato Marketplace, and manage the content workflow using the platform.
Rating: 4.9 out of 5 stars with 16 reviews on GetApp.
Pricing: The starting cost is $36 per month.
Social: Linkedin.
Why use it: You can improve content for SEO, grammar, and readability using Narrato.
10. WordAI
By rephrasing, rewriting, and rearranging lines and paragraphs of text in anything from web copy to product descriptions and sales pitches, WordAI is an AI copywriting tool made to increase your content productivity.
🎉 WordAi Version 5 just went LIVE 🎉

WordAi Version 5 rewrites content that is completely indistinguishable from human-written content.

10x your content output with WordAi!

Try WordAi for free at https://t.co/fx6CvahIXf pic.twitter.com/7H2p9tueNj

— WordAi (@WordAi) June 24, 2021
With the use of its natural language-generating capabilities, it can produce up to 1,000 SEO rewrites from a single piece of material.
Rating: 4.2 out of 5 stars with 11 reviews on Capterra.
Pricing: The starting cost is $27 per month.
Social: Twitter.
Why use it: The goal of WordAI is to create high-quality content that closely resembles text written by a human.
3 benefits of using AI writing tools
1. Improved productivity
AI writing software can significantly speed up the writing process by generating content much faster than humans. This allows writers to complete their work more efficiently and meet tight deadlines.
2. Enhanced accuracy
AI writing software is designed to minimise errors and improve the overall quality of content. It can detect grammar and spelling mistakes, suggest better word choices, and ensure consistent formatting, resulting in more polished and error-free writing.
3. Increased creativity
AI writing software can inspire writers by providing them with unique ideas and perspectives. It can generate creative prompts, suggest alternative phrases or sentences, and even help writers overcome writer's block by offering fresh insights or angles.
Conclusion
In conclusion, incorporating AI tools into blogging can greatly enhance the efficiency and effectiveness of content creation. With the ability to generate ideas, improve writing quality, and optimise SEO, AI tools offer bloggers a valuable resource to streamline their workflow and reach a wider audience. By leveraging these advanced technologies, bloggers can stay ahead in the competitive digital landscape and deliver engaging content that resonates with their readers.