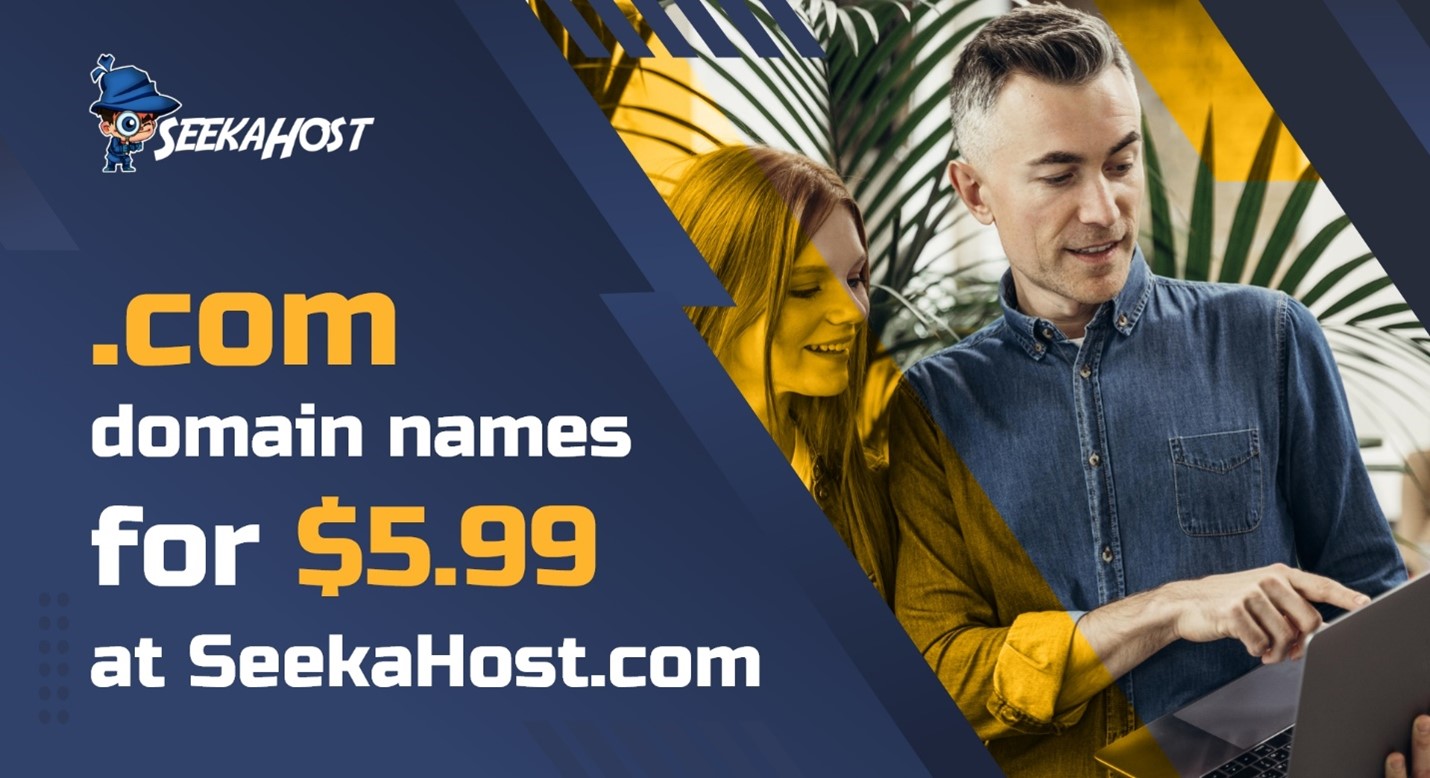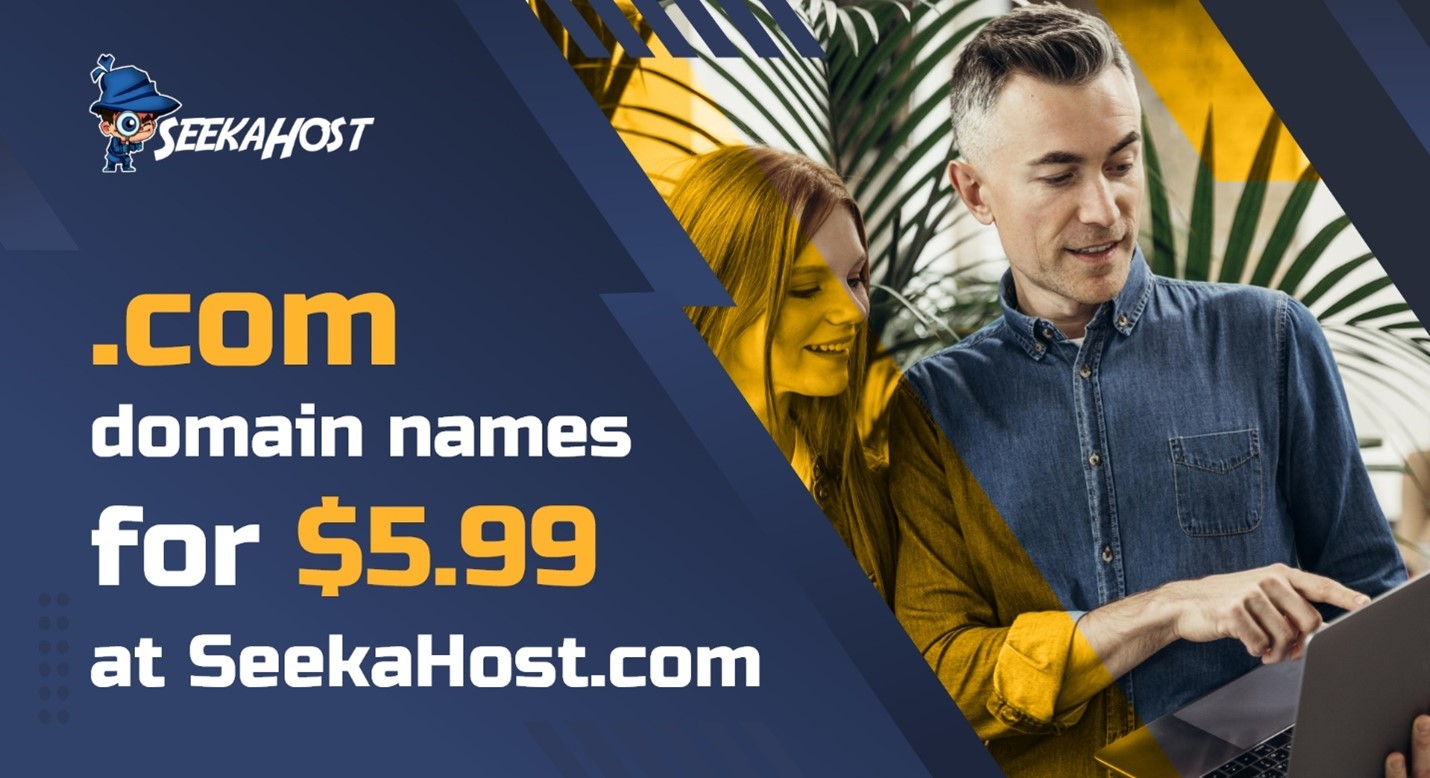 Cheapest .com Domain Name Registration For $5.99 At SeekaHost
Looking for the cheapest prices for .com domain name registration?
At SeekaHost we got the best prices and renews at a better rate than most registrars.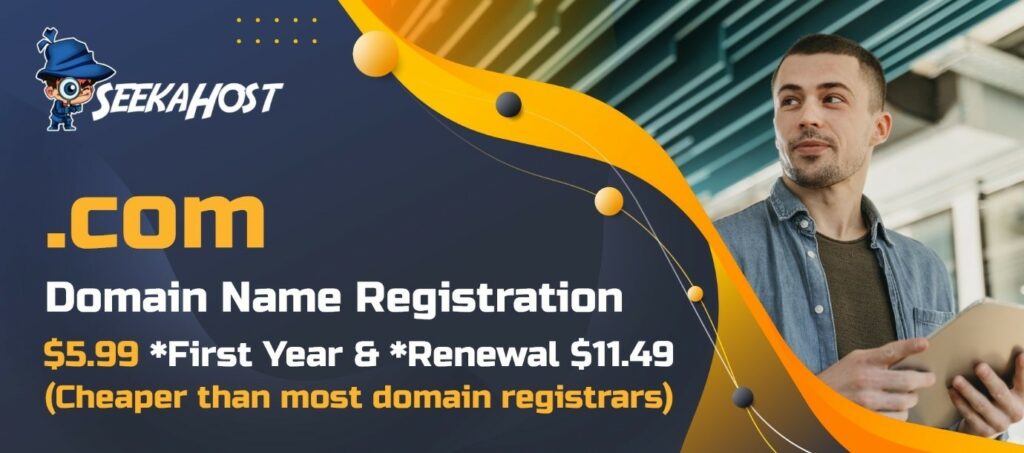 What is cheap is usually not reliable.
And what's the best in the market won't usually be cheap.
Standard rules of business and buying, right?
But the domain registrar business defies these rules.
Here, you'll find dirt-cheap domain names because even the big shots are running discount marketing campaigns.
Why?
The competition is so strife that you've got to do what you've got to do to acquire customers.
How? 
By keeping the initial rates of registration low and the renewal charges sky-high.
By duping customers and selling their personal data.
By offering domain names with other extensions than .com.
By not offering any standard services with the domain name and charging extra for those.
Sounds misleading, right?
Well, at SeekaHost, forget about being misled; we're even anti-hyperbole, anti-hidden-pricing, and anti-profiteering.
The only thing that we do is offer .com domain names for honestly cheapest rates (just $5.99).
And that comes with a bunch of free services (more about that later!).
Plus we have affordable renewal pricing (under $12).
Now we get a lot of questions about how the low rates of domain name registration work out for us.
Well, to be honest, our finance team gets irked ever too often with our marketing team's efforts to offer more and more discounts.
One of our finance guys is often seen giving everyone from the marketing team quizzical looks and mouthing: How can you offer .com domain names for $5.99?
But the strife gets resolved when our customers keep coming back to us for more services.
We also get tons of business from referrals.
And that's how we keep our accounts balanced.
It is simply just about economies of scale.
Why Select SeekaHost's Domain Names For $5.99?
A domain name is like the first brick you lay to start building your dream house.
This is extremely important. The soundness and successful completion of the structure depend on that one brick. Similarly, a good (and affordable) domain name will be the stepping stone for your online journey.
People who can immensely benefit from SeekaHost's $5.99 domain names include:
Digital marketers planning to start a Private Blog Network (PBN). PBNs require that you have multiple websites and blogs. Getting expensive domains for each website will soon run your bank balance dry. With SeekaHost's cost-effective registration and renewal rates, you can build a bigger PBN without worrying about the mounting costs.
Small business owners who are willing to create a presence online. We understand that the list of expenses that small businesses have to bear runs longer than their receipts. But with SeekaHost you have one less thing to worry about. Domain name registration and renewal won't be an issue anymore.
Individuals willing to make a portfolio website for themselves. Whether you are a budding artist or a professional, a website can do good for you. And you don't even have to shell out big dollar bills for domain registration now. At just $5.99, register your domain name and create a website to impress prospective employers and your audience.
Not-for-profit organizations that want to have a digital presence. With a website, NPOs can reach a wider audience, spread more cause-related awareness, and get more support and donations. And starting a website and getting a domain name isn't going to cut into your social cause funds. Plus, SeekaHost's friendly support team will help you make the most of the free services we offer.
To be honest, anyone who wants a website can trust SeekaHost for .com domain name registrations. As a new client, your 50% Offer on domains will be auto-applied before checkout.

What Additional Services Do I Get With SeekaHost?
When you register a .com domain with SeekaHost for just $5.99, you also get:
Free email account
Domain forwarding
Privacy protection
Domain theft protection
DNS management
Easy domain transfer and renewal
And that's not all.
Our offering goes beyond just the cheapest .com domain name.
Want to transfer your domain from the old registrar to us?
Need to buy an expired domain?
Looking for expired domains with traffic?
We have all those options too.
Plus, we have domains with .co.uk, .net, .org, and many other extensions to choose from.
Regardless of what type of domain name you need, we have it available.
Our experts also keep updating our free list of available expired domain names that you can check out.
We also have an expired domain name buying guide for newcomers in the field.
And an expired domain auction zone to help you get the domain you are after.
Get Started With SeekaHost's $5.99 .com Domain Names Today
Now is always a better time than tomorrow to create a digital presence for yourself or your organization.
Take the first step towards it by finding and buying the best .com domain names from SeekaHost at just $5.99. You can also use the domain checker to find domains get them in seekahost.app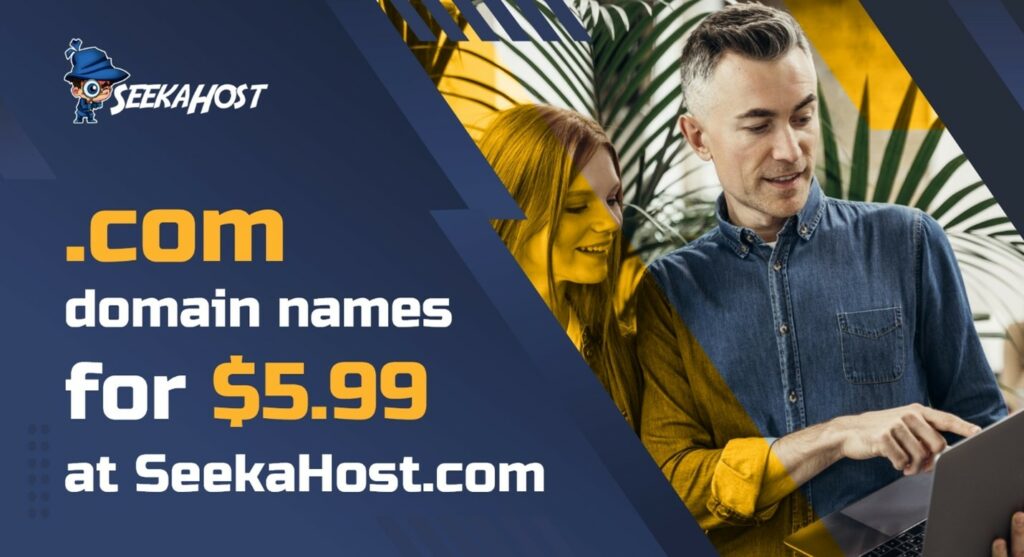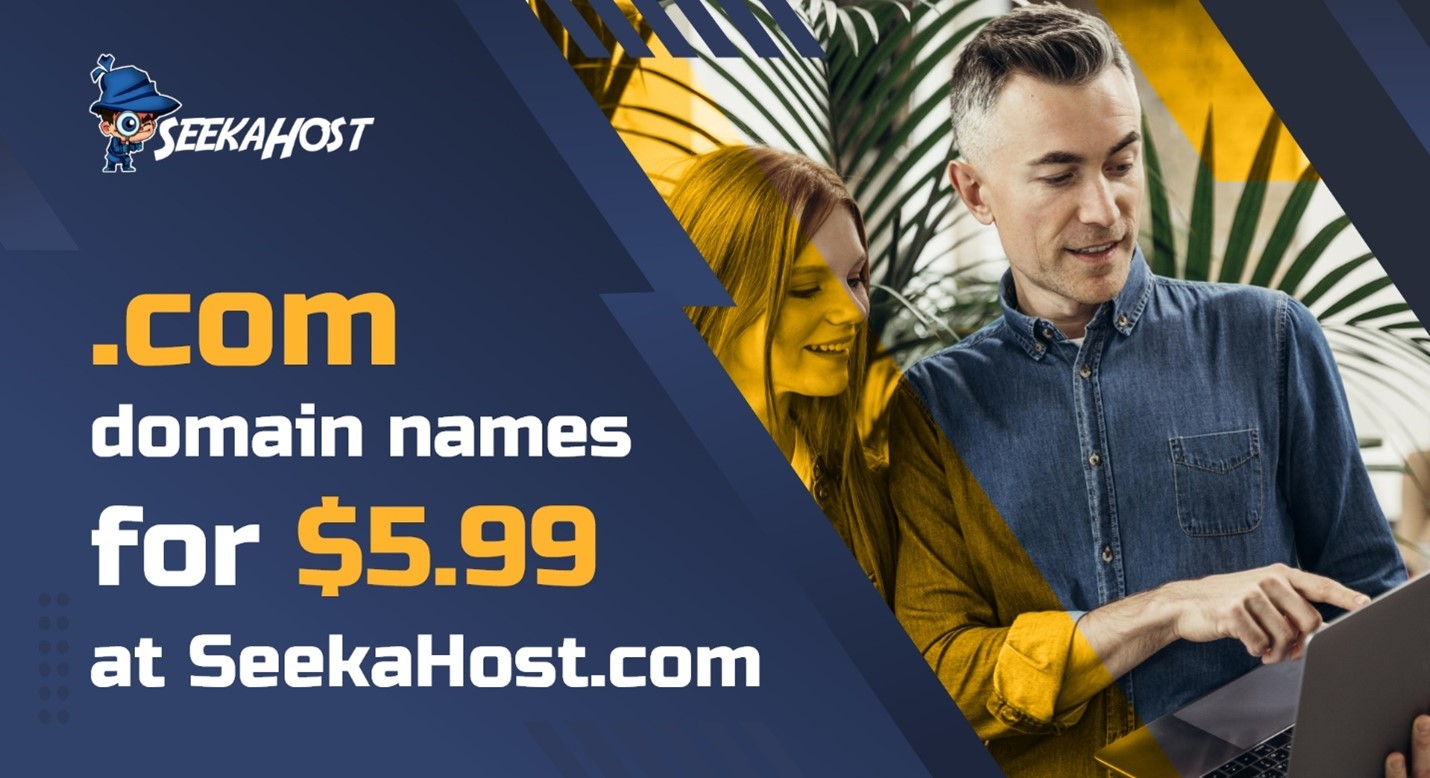 Avail of our suite of services, get quick query resolution with our active customer support team, and enjoy startapreneur-friendly prices.
Got something to say?
Get the conversation started in the comments section below or use email or live chat support to reach out to us.