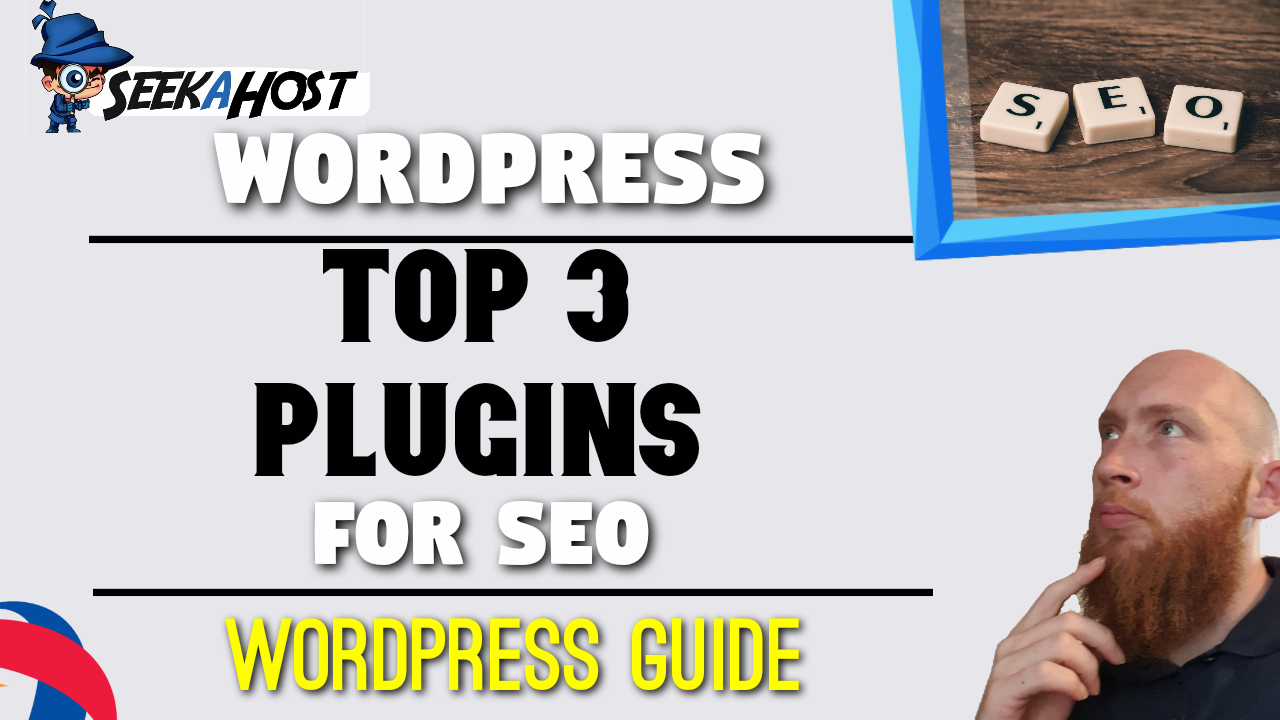 Top 3 WordPress Plugins for SEO
Our Top 3 WordPress Plugins for SEO to build and optimize your site or blog. These are plugins you cant miss out on and are essential for your site.
All in One SEO for WordPress is the original WordPress SEO plugin started in 2007. Over 2 million website owners use AIOSEO to setup their WordPress SEO, so their websites can rank higher in search engines.
If your looking for the best WordPress Hosting Control panel check out our article here.

AIOSEO "We believe you shouldn't have to hire an SEO expert or developer to properly setup WordPress SEO. AIOSEO was built as the most comprehensive WordPress SEO plugin and toolkit, so you can improve your website's SEO rankings and uncover new growth opportunities in less than 10 minutes"
AIOSEO makes it easy to setup WordPress SEO, the right way. Their smart WordPress SEO setup wizard helps you optimize your website's SEO settings based on your needs.
WordPress SEO Integrations
WooCommerce SEO – optimize your WooCommerce product pages and improve your store's SEO rankings.
MemberPress SEO – optimize your MemberPress course pages and improve your membership site's SEO rankings.
Elementor SEO – add SEO optimization for your landing pages.
LearnDash SEO – SEO optimization for LearnDash courses.
Facebook SEO – SEO optimize your website preview on Facebook.
Twitter SEO – SEO optimize your website preview on Twitter.
Pinterest SEO – SEO optimize your website preview on Pinterest.
Open Graph Support – improve your SEO with open graph meta data.
Knowledge Panel SEO – improve website SEO appearance by adding social media profile links for Facebook, Twitter, Wikipedia, Instagram, LinkedIn, Yelp, YouTube, and more.
Webmaster Tool Content – Connect your WordPress site with various webmaster tools to improve SEO rankings.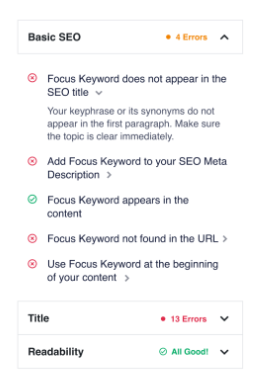 Why We Recommend This SEO Plugin
Its got many features all of which work seamlessly through out the plugin and with others too.  It assists you through all your article and pages with a quick analysis. This happens within seconds of you even typing so you can check as you go.
It gives you a writing score and a SEO score out of 100 on the top of the page live whilst your type. Making it easy to get a general idea of your blog or page strength.
From the meta description to social media sharing, titles, tags, optimization and links this free version comes with many features. And if your looking for more features, you can get this by getting the paid version of the plugin fort some more advanced SEO help.
Looking to Buy your WordPress site Hosting?
Yoast SEO WordPress Plugins for SEO
Yoast SEO has helped millions of websites worldwide to rank higher in search engines. Currently having over 5 million users actively using it.
Yoast's mission is SEO for Everyone. Their plugin's users range from small to large companies around the globe.
Yoast SEO Free contains everything that you need to manage your SEO, and the Yoast SEO Premium plugin and its extensions unlock even more tools and functionality.

YOAST SEO "To rank highly in search engines, you need to beat the competition. You need a better, faster, stronger website than the people who sell or do the same kinds of things as you.
Yoast SEO is the most-used WordPress SEO plugin, and has helped millions of people like you to get ahead, and to stay ahead"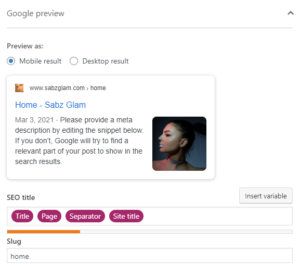 Why We Recommend This SEO Plugin
It has many features that work well for boosting your SEO score, like other plugins the free version will check a variety of things such as your titles, key words, meta descriptions and more.
Its got great page analysis and will also support Facebook and Twitter previews also. This tool can help you optimize your site and blogs to their full potential.
Looking for PBN blog hosting with SeekaHost?
Rank Math WordPress Plugins for SEO
The constant process of optimizing posts can take more time than actually writing the content out yourself. If you always feel that you can do more on the SEO front for your website but don't have the time, then Rank Math could be what you're looking for.
Rank Math "Its host of intelligent features brings top SEO capabilities in your hands that were previously out of reach. The smart automation features give you the power of an entire SEO team with just a few clicks. A well thought out design, powerful features, and years of development by the MyThemeShop squad make Rank Math a game-changing SEO plugin that will level the SEO playing field in your favour to help increase traffic"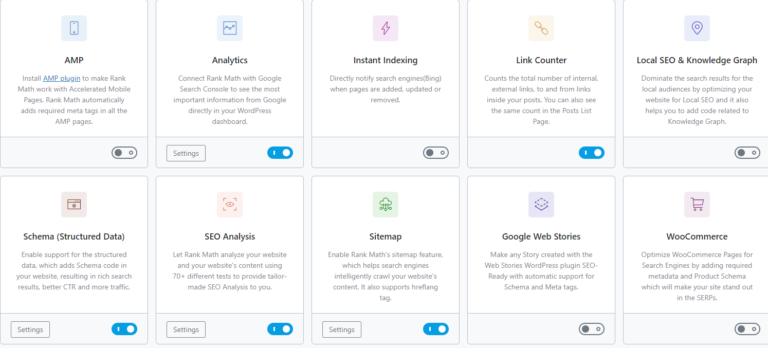 Some of the Features You will Find
Auto Configuration — All you have to do is set a few options, and Rank Math will configure itself perfectly for your website.
Automatic Keyword Suggestions from Google — Get keyword suggestions from Google as you start typing letters in the focus keyword field of Rank Math.
New SEO Analyzer — Rank Math's built-in SEO analysis will give you SEO recommendations that you'd normally spend hundreds of dollars to get.
Elementor SEO – Deep integration with the Elementor Page builder. Now, you don't need to go back and forth between tabs to configure your page's SEO. Everything related to SEO for Elementor can be configured in the visual editor.
Page Builder SEO – The Rank Math plugin's content analysis works perfectly with popular page builder and themes like Divi Page Builder & Theme, WPBakery, Avada, Astra, Themify, Beaver Builder, Page Builder Framework, Schema theme, Flothemes, OceanWP, etc.
Optimize UNLIMITED Keywords At Once — You can optimize your post for up to 5 different keywords by default with the Rank Math plugin and can use a filter to optimize for unlimited keywords.
Image SEO – With Rank Math's perfect solution to add ALT & Title tags on the fly, to optimize images, showing inside the content, and that too for FREE, there is no reason to choose any other SEO solution that does not provide all the essential SEO features.
Translation Plugins Support — Rank Math works flawlessly with the top translations plugins like WPML, TranslatePress, Weglot, Polylang, etc., making it a perfect companion.
XML Sitemap – The Rank Math plugin comes with a fast loading Sitemap feature that works with different post types, including the custom ones and provides deep controlling. One can also generate a Locations KML file via filter for Local Sitemap, & a WooCommerce Sitemap.
1-Click Import From Yoast — With a single click of your mouse, Rank Math can import all your settings from Yoast SEO & Yoast SEO Premium to itself. The transfer is instant, and you don't lose any SERP rankings as a result.
1-Click Import From AIO SEO — Rank Math can also import all your settings from AIO SEO & All in One SEO Pack Pro in a single click. The transfer is instant, and you don't lose any SERP rankings as a result.
1-Click Import From SEOPress SEO — With a single click of your mouse, Rank Math can import all your settings from SEOPress & SEOPress Pro SEO plugin to itself. The transfer is instant, and you don't lose any SERP rankings as a result.
Google Keyword Suggestion — When deciding on focus keywords, Rank Math can help you discover more keywords by pulling in automatic keyword suggestions from Google.
Why We Recommend This WordPress Plugin for SEO
From the start you can customise your experience, you can log in using known sources such as Facebook or Google. Further more creating an account is easy. You can choose whether to have the beginners mode where they do most of the handwork for you by setting default modes configured to work well in general.
Your also able to use the more advanced mode to configure it exactly to how you want it for your site.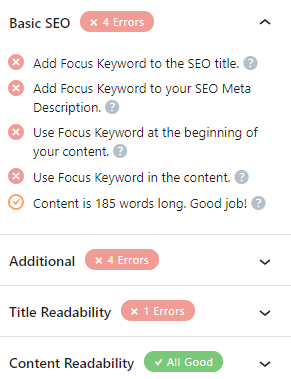 It uses many well known features to analyse your page and give you a result accordingly. Your able to add unlimited key words which is a plus as most SEO plugins will usually offer one key word before buying the premium version.
another very intuitive option that they have added is the ability to import all the data from other well known SEO plugins to this one when installed. And all with one click!
With over 2,809 5 star ratings your certainly cant go wrong with this SEO plugin.
Looking to Buy a New Domain?