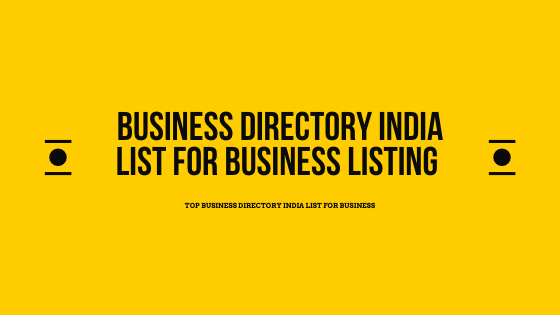 Top 32 Business Directory India List for Indian Business
Looking for business directories in India? 
India ranks sixth among the top largest consumer markets in the world. With a population of around 1.339 billion people, it's easy to see why India is also the leading country with the most number of businesses opening up yearly.
This huge population is a good thing and a bad thing for many new and aspiring business owners. A good thing because if you can market yourself to the right audience, your sales could shoot through the roof in literally no time. A bad thing because there's probably a lot of competition that you have to fight against to make your business conspicuous enough to your target customers.
The questions, therefore here are, 'As a small and upcoming business, how can you increase your popularity and recognition despite the presence of other larger established corporations?'  'What is the easiest way for customers looking for the products or services you offer to find you?'
As a serious business owner, you must know of the available business directories relevant to your area. You must then list yourself in each one of these directories. You may be forgiven for dismissing business directories as a waste of time and inapt to the growth of your business.
But look around. You see all those big corporations you aspire to be like someday? They, too, have profiles and accounts in almost all business directories, both local and international.
You must be eager to find out the most popular business directories that will help get your business to the next level. But before that, it's prudent to see why it's important to enlist your online business in as many business directories as possible.
Why Business Listings are Important for your Business
Some of the main reasons why enlisting in business directories remain influential in your businesses success is because it helps to
Create a professional business profile.
Promote digital visibility.
On these platforms, you create a positive online presence and brand image.
You advertise your business directly to your customers.
It is ideal for generating leads.
It is ideal for increasing traffic to your business.
Great for building an extensive business network.
Increases your customer or client base.
Helps you study and understand the local market.
Increases business popularity.
You can use the information on the directories to analyze and research other businesses.
Improves your site's SEO.
Great way to see who your competitors are.
And with that, here are the top 31 business directory India list for Indian businesses.

Best India business directory list:
[Tweet "Top 31 business directories in India for business listings!"]
SeekaHost Directory

SeekaHost directory is one of the fastest loading free business listing sites to list Indian businesses for free. Easy to list and also get reviews on the business page. The business page will get indexed on Google search fast and help for local business SEO boost.

Here, anybody can search for different existing businesses in India. The best thing about listing on this directory is that it shows the location of your business. This way, it is easier for customers to find you both online and on the ground. With 1000's of business categories here, you are encouraged to include clear and accurate information about your business when filling in your profile.

An international platform mainly targeted at tourists, TripAdvisor is the perfect business directory for the hospitality industry. From travel, hotels, entertainment, and so on. If your business qualifies under one or more of these niches, then you can use this platform to connect with both local and foreign customers.

Some target clients, instead of typing in the business name on the search bar, they look for a business according to its position on the online map. MapQuest makes it easy for people to find you based simply on where you are on the ground. Every listing here contains important basic information about your business in addition to where people can actually find you.

Indiamart is one of the most popular business directories that B2B and B2C companies in India use. Customers can search for suppliers, vendors, distributors, manufacturers, and traders among other businesses in different industries. Knowing how detailed each listing is, customers can quickly find what they want and get the sales process going.

YellowBot comes in both the free version and the premium version. The free version allows business owners to key in their business name and location. You've got a choice to change or update this information later. The premium version, on the other hand, allows business owners to include more details like links to your websites. You can also choose how your profile appears in a bid to gain a hand above the rest of the competition.

If you want to expand your reach within India, you can never go wrong with TradeIndia. It's one of the largest business directories with a focus on supporting B2B companies and sites. The best thing about enlisting on this directory is that you have access to round the clock customer care, and it is an international platform.

It's good to have a platform that markets you locally, but it's even better to enlist your business in a business directory whose reach stretches beyond the farthest borders. Whitepages is a well-known business directory that enables customers to search for people, addresses, phone numbers, and businesses. Enlisting here increases your chances of connecting to your target audience.

The yellow pages is a world-popular business directory where you can find contacts and addresses of almost any business. It is well organized with many categories and unique features that not only make it easy for business owners to enlist but also easy for customers to find you. Yellow Pages India is your key to promoting your business in India and throughout the world.

Unlike most business directories that exist in the form of a website, this one is more like a social app. It is based on location which makes it ideal for business owners whose goal is to attract customers within a specific area. Here, you are allowed to enlist your business by keying in basic details like the business name and address. But also, you get a chance to draft offers, design promotions all meant to grab the customer's attention.

Are you a supplier, an exporter, or a manufacturer? If yes, then you should join the Indiaindusties bandwagon. Indiaindustries is where people drawn from all over India go when looking for industrial suppliers and manufacturers for specific products. It could be anything from electronics, chemicals, plastic, packaging, rubber, and so on.

Linked in is more or less like a social platform where anyone can meet anyone on condition that they have LinkedIn profiles. As a person who owns a business, you will create a LinkedIn profile, adding all important information about your business. This site is more diversified than other business directories because you can use the platform to post vacancies, write blog posts and announce company milestones.

Boasting top position as one of India's most popular business directory SME is a great place for B2B companies to gain recognition. Not only are there hundreds of thousands of businesses enlisted here, there are also equally as many ordinary people who have profiles on this site. SME is best for you if your business is in the wholesale and retail industries.

Want to promote your business to thousands and thousands of potential buyers without spending a dime? Then Jimtrade is what you're looking for. On this site, there are two types of people. There are buyers looking to purchase products, and there are local and international suppliers looking to satisfy these buyers' needs. This business directory is designed to be as straightforward as possible. This way, you can promote your business easily, and the buyers will have an even easier time finding and doing business with you.

Whether yours is a public or a private company, you want your business to be one of over 2.3 million businesses enlisted here. When customers want to find out more about any given company, a good fraction of the trust 99 Corporates for reliable information. If your profile checks out, customers are likely to work with you simply because of what they were able to learn from the details you included as part of your business profile.

With up to 1000 categories and a rich reputation, Yelu is a platform you want your business to be associated with. This local searching platform will not only help make your business popular, but you also get to grow exponentially. Whatever your business is about, you will fit in at least one of the available categories and link up with the right people.

Sometimes, a good looking profile is all it takes to find favor in the customers' eyes. And with Dizylocal, you get just that. This site has employed efforts to create a visually pleasing interface that is easy to operate for all users. Here, your business will attract the right people and increase your popularity in a short time frame.

While this business directory is restricted to exporters, manufacturers, and wholesalers only, you still have a superb chance of getting out there and making a name for yourself if you create a business profile here. With Indiatradezone, you gain access to more traffic to your site and increased sales.

Have you been struggling to get your traffic or your sales up to no avail? If this is you, then Khoj in India might be your answer. Khoj in India, being a media company tells you that you're in good hands regarding all matters marketing. If yours is a B2B company looking to grow and secure your mark among businesses in India, then this is a great platform to get you started.

It is free, and it is effective. Submitmybusiness is a business directory that makes it easy for people in and around your locality to find you. It is easy to use and has its grip far and wide covering all of India. Something that as a business would work in your favor if you create a profile here.

Is your business based in Kerala? Livekerala is one of those business directories that may be limited to the Kerala region in India but is effective all the same. Businesses in this state can take advantage of this site and enlist to increase their exposure within the area. Whatever your sector, you can create a profile and regularly receive updates on what other competitor companies are up to.

This platform is easy to maneuver and is full of useful yet unique features. What's more, you get to spy on your competition just to see where they are at and to monitor their progress. Types of businesses that can benefit from enlisting here are in sectors like IT, manufacturing, retail, consulting, real-estate and so on.

If it is an Indian company, then you are certain to find it enlisted here. Making up this business directory is a plethora of companies in the export, supply, service provision, consulting, and manufacturing business, to mention but a few. Here, you will receive guidance and support to develop and extend your customer base in your quest for success.

Within minutes of creating your profile, you will get full approval to enlist as one of the companies on this site. Huntbiz is a famous platform known for its user-friendly interface, swift loading time, and extensive reach. Both companies and customers meet here to market and to buy products and services respectively.

With most business directories, you're only allowed to access free services for a limited duration. But with Addonbiz, you get free advertising, enlisting, and all other services for absolutely free, forever. No strings attached. Here, it will be easy for customers to find you as they look to purchase the services or products on offer.

Some of the categories here include Health and medical, restaurants, home services, and retail. See anywhere your business can fit in? Pinmarq is an authentic business directory where businesses from major Indian cities come together. All with the goals in mind to satisfy every client's need, plus of course, to grow.

Globalvendormart is available for free. But if you want to get more out of it, you may opt for the premium version. With the unpaid version, you can enlist by including all crucial details about your business and also put up pictures. Some of the categories here include apparel, automobiles, agricultural products, and business services among others.

Most businesses that are doing well on the ground see little to need to have an online profile. However, if you are serious about making more profits and attracting more customers, then Indiabizlist is one of those online business directories that can help you do just that. Its user-friendly interface and professional appearance translate into impeccable marketing results for your company.

Crunchbase is more of a database where people can search and find information about different companies online. However, if you play your cards right, this platform could work in your favor. How? By enlisting as one of the featured businesses and using the platform to lure customers to your actual business site. This platform is perfect for individual entrepreneurs, mid-size companies and start-ups.

HomeAdvisor is a worldwide business directory where businesses in the building and construction industry meet their online customers. Could be you are a plumbing company, an electronics organization, you offer remodelling services, home décor, home improvement, and so on. HomeAdvisor is a gigantic directory that you can use to find potential clients in India.

There's something that attracts a potential customer to your business when they know that their grievances will be promptly addressed. This is what MerchantCircle had in mind when they came up with this business directory. Here, businesses get to create accounts and include all their basic details. Should customers pose questions or leave reviews regarding your business, you are allowed to respond to those concerns. You also have the freedom to add photos and blog posts on your page which if done properly can help attract the right people.

The Chamber of Commerce India is where all business types from all over India enlist. You get to sign up for absolutely free and in turn, earn exposure from over 15 million people who visit this site every year. The chamber of commerce is a great place for business owners to meet customers, business partners, and to learn about competitor companies. What's more, you get invited to numerous events that may help you build your brand, market yourself and add value to become the company you aspire to be.
The bottom line for Business Directory India List
In this comprehensive list, you get to see not just any listings but 31 of the most trusted business directories in India. It has taken tons of research and weeks of study to ensure that all the featured platforms here are worth their weight and indeed do have the potential to propel your business to unimaginable heights.
Any business looking to advertise its work online, you will not go wrong with either one of the sites listed above. Feel free to create a detailed business profile or create an account in one, two or more of the featured business listing relevant to your field. The goal for you is to increase your chances of efficiently and effectively using either directory to reach as many people as possible.
Most of these business directories are free to use. However, there are a few that offer premium services. It's about weighing your options and deciding whether parting with the recommended amount is a sacrifice worth making given the overwhelming exposure the premium service is bound to grant your business.
In this digital era, businesses are striving to create an online presence in order to increase sales and client/customer base. The 31 business directories above will help increase your SEO ranking and in turn, earn you extra privilege from search results on Google, Bing, and Yahoo among many other search engines.
Good, calculated, and regular marketing is the key to building a successful business. While it is always a good idea to focus on enlisting with local business directories, it is also a good option to open accounts or profiles in international business directories. By doing so, you expand your client base locally and globally.
[Tweet "These are the best business directory list for Indian business listings!"]
Soon you'll have the upper hand over your toughest competitors and smile all the way to the bank. This, all thanks to increased sales from an influx of new customers not only in India but from all over the world. What are you waiting for? Register now!