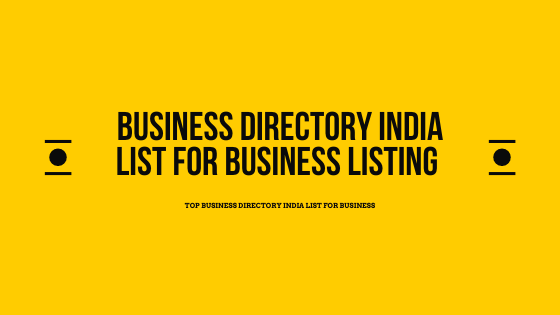 Top 31 Business Directory India List for Indian Business
Looking for business directories in India? 
India ranks sixth among the top largest consumer markets in the world. What with a population of around 1.339 billion people, it's easy to see why India is also the leading country with the most number of businesses opening up yearly.
This huge population is a good thing and a bad thing for many new and aspiring business owners. A good thing because if you can market yourself to the right audience, your sales could shoot through the roof in literally no time. A bad thing because there's probably a lot of competition that you have to fight against to make your business conspicuous enough to your target customers.
The questions, therefore here are, 'As a small and upcoming business, how can you increase your popularity and recognition despite the presence of other larger established corporations?'  'What is the easiest way for customers looking for the products or services you offer to find you?'
As a serious business owner, you must know of the available business directories relevant to your area. You must then list yourself in each one of these directories. You may be forgiven for dismissing business directories as a waste of time and inapt to the growth of your business.
But look around. You see all those big corporations you aspire to be like someday? They, too, have profiles and accounts in almost all business directories, both local and international.
You must be eager to find out the most popular business directories that will help get your business to the next level. But before that, it's prudent to see why it's important to enlist your business in as many business directories as possible.
Why Business Listings are Important for your Business
Some of the main reasons why enlisting in business directories remain influential in your businesses success is because it helps to
Create a professional business profile.
Promote digital visibility.
On these platforms, you create a positive online presence and brand image.
You advertise your business directly to your customers.
It is ideal for generating leads.
It is ideal for increasing traffic to your business.
Great for building an extensive business network.
Increases your customer or client base.
Helps you study and understand the local market.
Increases business popularity.
You can use the information on the directories to analyze and research other businesses.
Improves your site's SEO.
Great way to see who your competitors are.
And with that, here are the top 31 business directory India list for Indian businesses.

Best India business directory list:
The bottom line for Business Directory India List
In this comprehensive list, you get to see not just any listings but 31 of the most trusted business directories in India. It has taken tons of research and weeks of study to ensure that all the featured platforms here are worth their weight and indeed do have the potential to propel your business to unimaginable heights.
Any business looking to advertise its work online, you will not go wrong with either one of the sites listed above. Feel free to create a detailed business profile or create an account in one, two or more of the featured business listing relevant to your field. The goal for you is to increase your chances of efficiently and effectively using either directory to reach as many people as possible.
Most of these business directories are free to use. However, there are a few that offer premium services. It's about weighing your options and deciding whether parting with the recommended amount is a sacrifice worth making given the overwhelming exposure the premium service is bound to grant your business.
In this digital era, businesses are striving to create an online presence in order to increase sales and client/customer base. The 31 business directories above will help increase your SEO ranking and in turn, earn you extra privilege from search results on Google, Bing, and Yahoo among many other search engines.
Good, calculated, and regular marketing is the key to building a successful business. While it is always a good idea to focus on enlisting with local business directories, it is also a good option to open accounts or profiles in international business directories. By doing so, you expand your client base locally and globally.
Soon you'll have the upper hand over your toughest competitors and smile all the way to the bank. This, all thanks to increased sales from an influx of new customers not only in India but from all over the world. What are you waiting for? Register now!