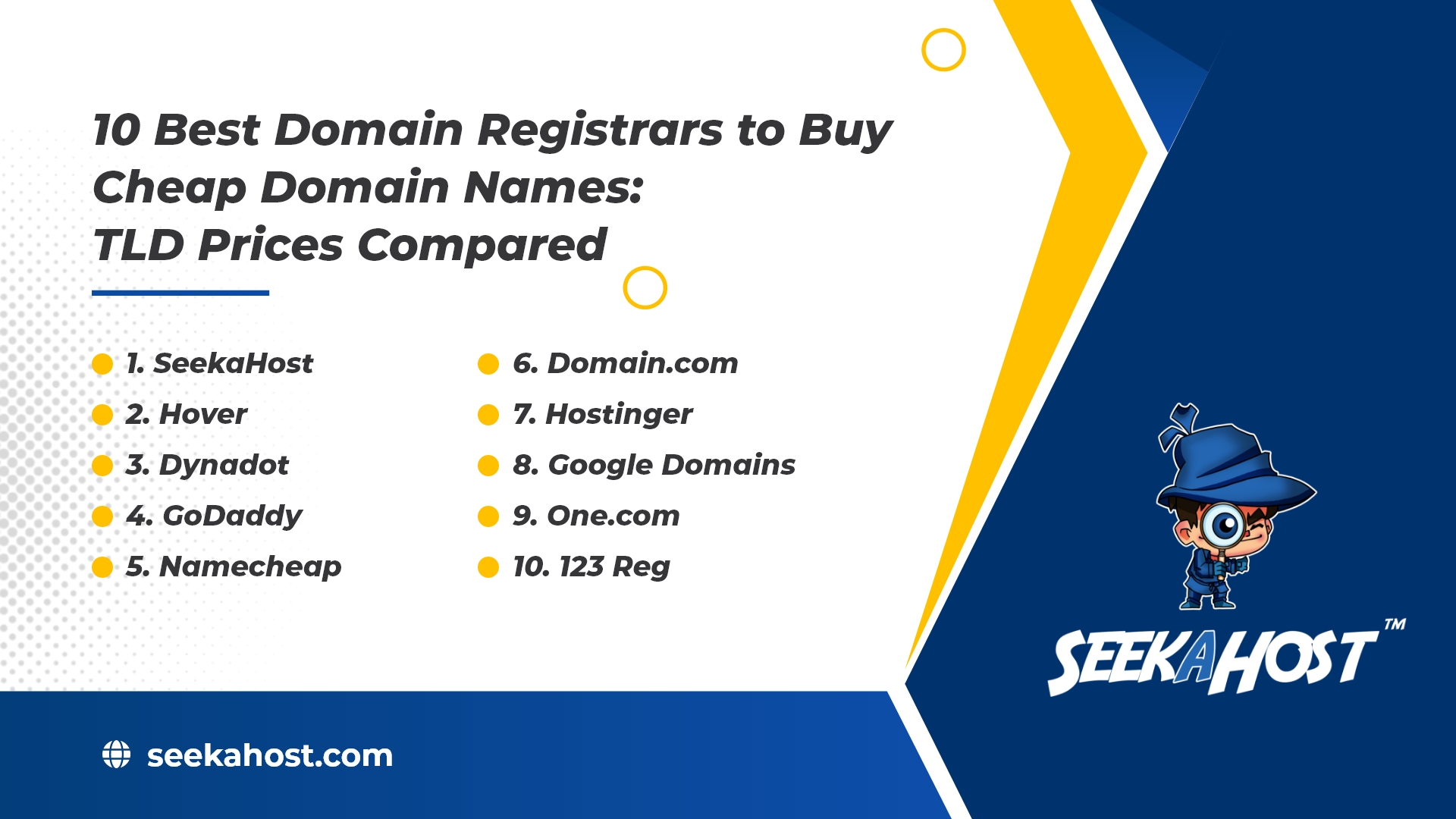 10 Best Domain Registrars to Buy Cheap Domain Names: TLD Prices Compared
Before buying cheap domains, you should ensure you check and compare the prices from best domain registrars out there to get the best value.
At SeekaHost we try to find the best prices for you when it comes to domain name registration, because we know you like to have multiple options. Especially if you are a private blog network creator, we advise you on using various registrars when it comes to domain ownership.
There are so many domain registrars and prices can vary greatly for different TLDs (Top Level Domains).
Below you will find the best domain registrar sites to get .com .co.uk .net and .org as well as other domain types such as .io domains or .tech domains for example.
Why you need cheap domains?
Buying a domain name is an important step in the process of building a successful online presence with your website. A domain name is a unique name that identifies a website or web page on the world wide web. It's also the address at which your website or web page is located.
You need to choose the best domain name registrar to buy domain names from, so that you can get domain names that are both affordable and suitable at the best domain renewal rates for long-term profitability.
Because the initial purchasing of a domain and setting up a website is not the biggest investment for an individual or business, but rather the website development and maintenance cost which can range from $400 to $60,000 per year according to webfx.com.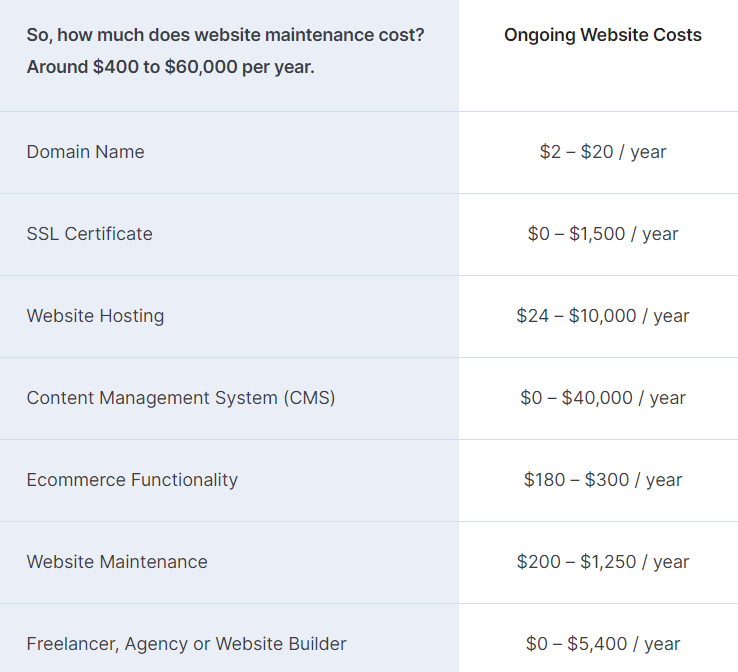 In this article, we'll list ten cheap domain registrar options that you can use to buy cheap domain names.
These registrars offer low registration fees, and you can use them to purchase domain names for all types of businesses with various TLDs (Top Level Domains).
So go ahead and take advantage of their low prices today by comparing their domain pricing!
When to buy a domain name?
Domain name registration is an important part of any website or business. It's vital to make the right decision when it comes to buying a domain name, as this can determine the success of your website or business.
You can find out more here about what to do when your dream domain name is already taken.
How to choose the right domain name registrar?
The domain name registrar is a critical piece of your domain name strategy, especially if you're looking to get into the domain name business aka domaining.
When looking for the best registrar it's important to first:
·      Determine your business goals for the domain name.
Once you've got that figured out, it's time to sign up with one of the best domain name registrars in the industry!
Next:
·      Assess which price range best suits your needs and budget.
After that:
·      Look at the features offered by each registrar and decide based on what's important to you.
When you're done, you're ready to go domain name shopping!
Domain name registration is an important part of web marketing too. Choosing the right domain registrar is crucial for two reasons:
It will give you a great domain name that is easy to remember.
It will help you to keep your domain name registration fees low.
There are a variety of domain registrars to choose from, so it's important to compare prices and features. Some domain registrars offer low-cost plans that include unlimited domains. Other domain registrars let you buy and sell domains, which is an easy way to make money online.
Overall, make sure you research each registry before purchasing a domain name – some have higher cancellation rates than others.
10 Best Cheap Domain Registrars Compared
1. SeekaHost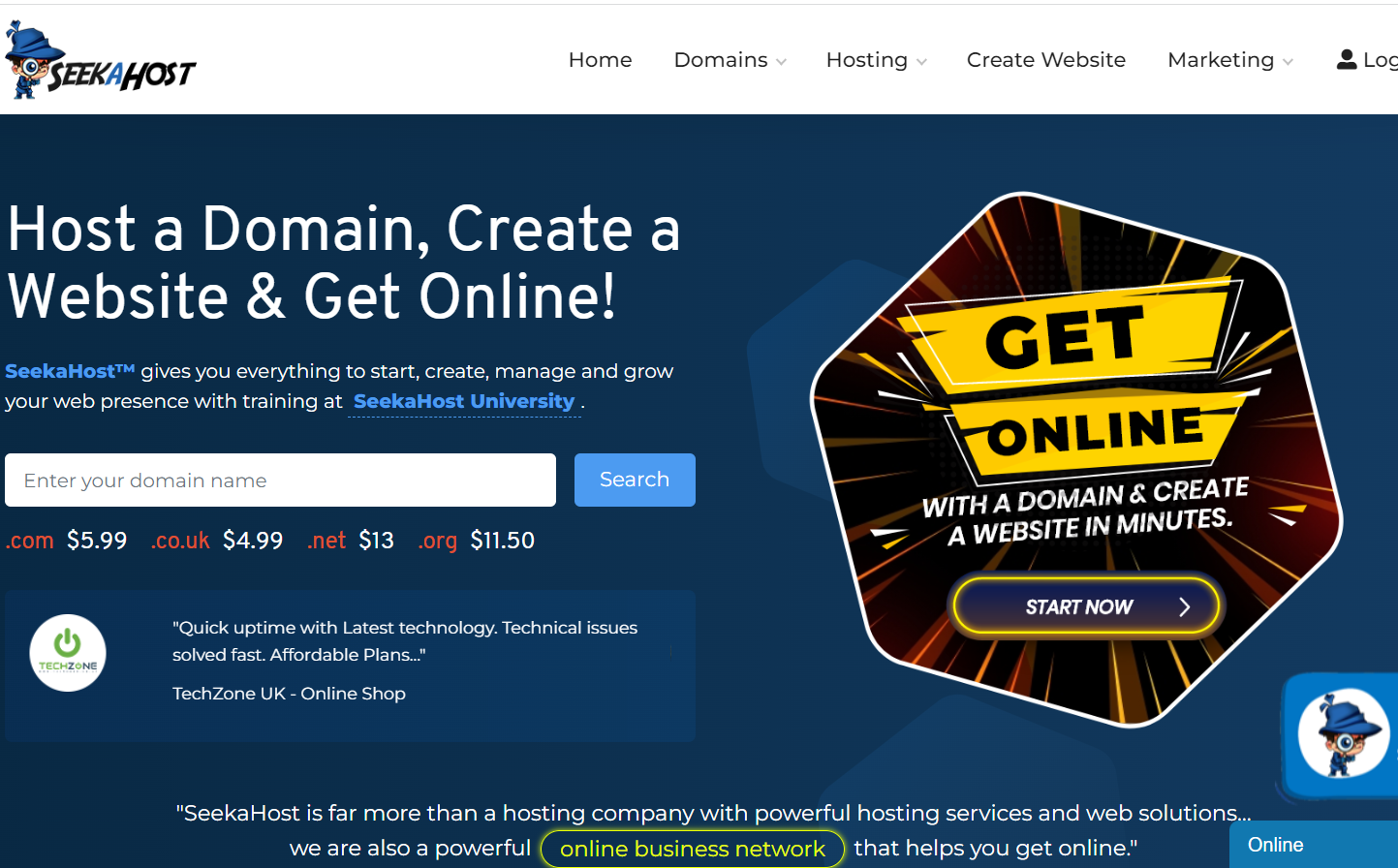 SeekaHost is a great domain registrar that offers some of the cheapest prices for major TLDs and a wide range of domain name options.
The easy-to-use seekahost.app features one of the world's best domain name availability checkers online. You can use the domain name checker to find cheap domain names. In addition, they have a highly-rated customer service and offer bulk discounts on purchases.
With SeekaHost.app you can get .com domain name registration for the lowest price of $5.99, .co.uk domains for $4.75 and .in domains for just $3.99 which is the cheapest .in domain registration price in the market as you'll see in this comparison.
2. Hover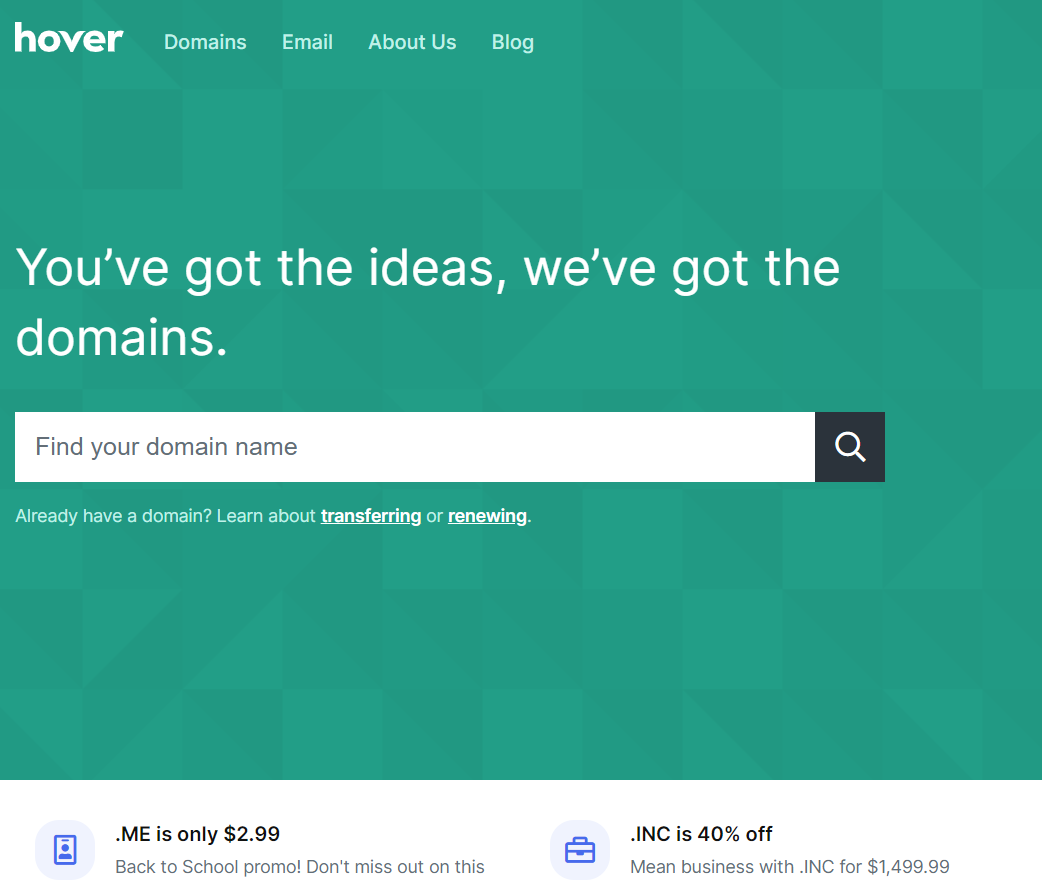 Hover domain name registrar provides services for business owners who want to buy domains that are both accurate and professional. With a wide range of domain names available, you're sure to find the perfect one for your business.
Their customer service is superb, and they offer a 100% satisfaction guarantee on all purchased domains. In addition, Hover also offers a free Domain Name Validation service to ensure that your domain name is up-to-date and fits your business perfectly.
Hover offers .com domains for $13.99 and it's discounted from their original $15.99 price. This is not the cheapest price for .com domain names however, they have many other domains if you are keen to get a cheaper domain with a .me .io or .shop TLD. So, if you are after such domains, then Hover is a site to visit and get your domains registered.
3. Dynadot

If you're looking for a domain registrar that is both user-friendly and affordable, then Dynadot should be your go-to choice. With its easy registration process and 24/7 customer support, this company will help you get started with web hosting or domain name registration in no time at all. Moreover, Dynadot offers a wide range of domains for sale – including some of the best .com names on the market.
However the .com domains are $9.99 to register and .co.uk domains come at $6.99 so not the highest prices but of course not as cheap as SeekaHost's prices for .com and co.uk domains.
4. GoDaddy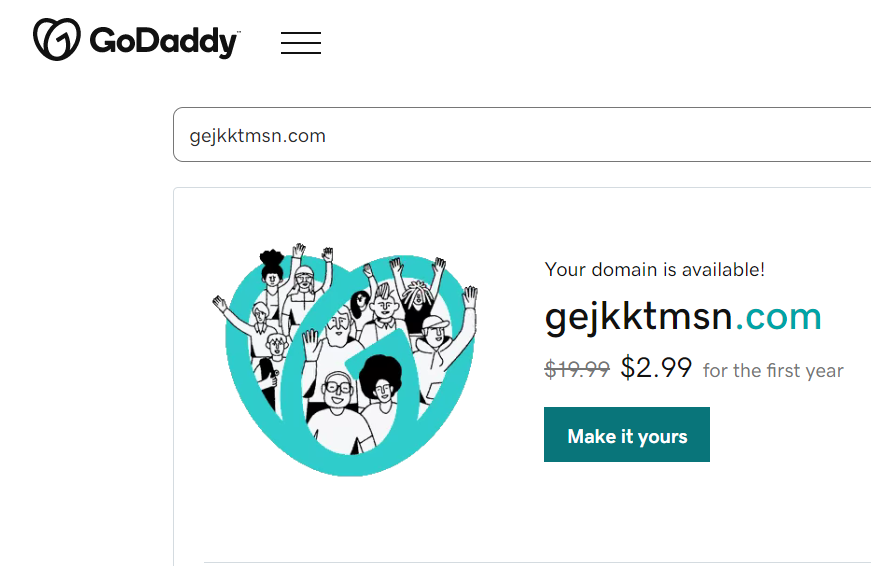 If you're looking for a domain registrar that offers great customer service and an easy-to-use interface, GoDaddy is definitely one of the best options if you are fine to pay a little more than the above-mentioned registrars.
With options to choose from in almost every domain name category, this website is perfect for business owners who need domains for their new website or blog.
Another good feature of GoDaddy is their free domain name registration offer – perfect for newbies who are unsure about which domain name to go with. However, to get a free domain you must buy hosting from them and expect to pay double prices in the second year. Also, when it comes to moving a domain and hosting from GoDaddy some customers have mentioned in their reviews that it wasn't easy.
Overall, GoDaddy proves to be one of the most popular domain registrars available today and it delivers on its promises by providing value for money.
See below the offer that popped up when searching for a .co.uk domain and this only applies if you are buying with them for the first time. See how the cost adds up during the second year when you must renew your domain by heading to their site.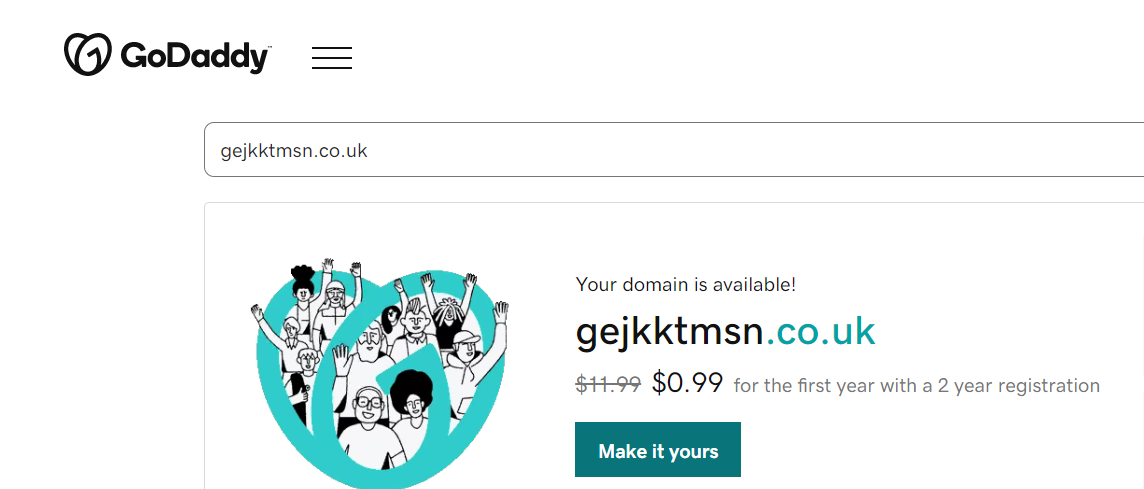 So, think twice before getting a.co.uk domain for $0.99 if you register for two years straightaway.
When looking at what GoDaddy offers there are many more offers which you can see on their site, however, be mindful about buying domains with GoDaddy and check the fine print. If you are trying to build a domaining business, diversify and get domains from various registrars to be ready to move your domains in case an increase in their prices drastically occurs.
5. Namecheap

If you're looking for an affordable domain name and a website builder that is easy to use, then Namecheap is the best option for you. Plus, their customer services are highly rated in reviews and recommendations.
Namecheap is one of best-known domain name registrars and their .com domains start at $7.88 per year for the first year of registration. Expect it to go higher as with other registrars in the second year.
Namecheap is a good registrar if you are happy to pay reasonable prices. Of course, if you are a private blog network owner then you may use all or some of those listed registrars to have your domains registered in a diversified manner.
6. Domain.com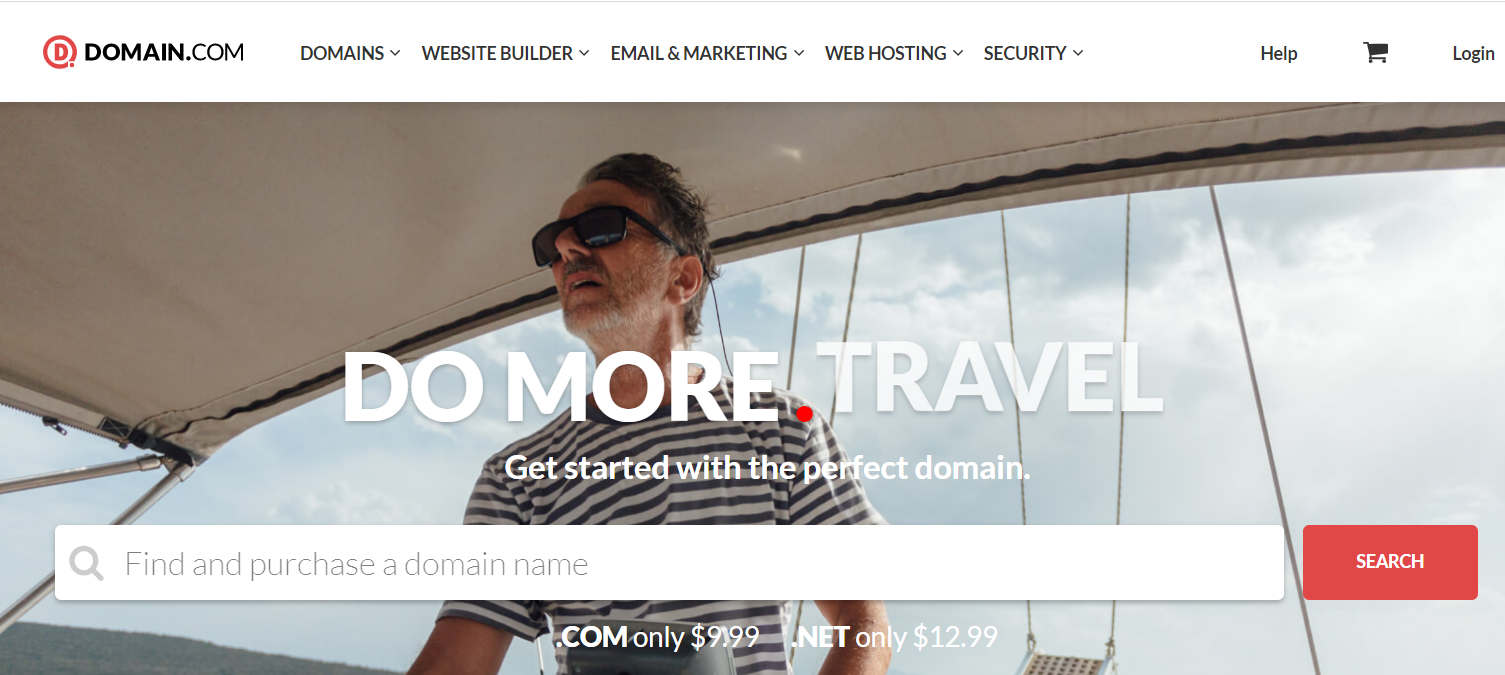 Domain.com is a great place to start if you are looking for cheap domain names.
They offer a wide range of domain names and prices, so you are sure to find the perfect one for your business website or blog. If you are new to the domain name game, Domain.com is a great place to start as the customer service is also very helpful and they will be able to help you with any queries that you may have
7. Hostinger

Hostinger is a hosting provider that offers some cheaper domains to register for the first year. Their prices for .com start at $8.99 and that's just the first year's price but expect to pay more for the domain renewal and you must check that beforehand to avoid nasty surprises.
They have a wide range of domains to buy and compared with the above 6 registrars their prices are higher and only second to GoDaddy's renewal fees.
8. Google Domains

Everyone knows about Google domains since they have been launched and ranked on top of their own search engine for the keyword "domain registration".
When it comes to prices it's not the cheapest but you can register a .com domain name for $12.00 per year and also most of the known other TLDs at a similar price.
$12.00 is a reasonable price, so if you are willing to pay that, you can register domains with Google. Do you want to do it? Up to you and above you saw some fine registrars where you can get pretty good, discounted prices. Google may be a powerful company, but your data may not be that safe with them.
9. One.com

On one.com you can get incredible prices if you register a domain name with them however, renewal costs can add up significantly. However, if you are looking for the cheapest or even some free domains then you can check them out.
As of writing this list post, on their website they have mention an offer: now get 93% off your business website and a free domain name.
And see the below screenshot from their site for reference:
Surely that's creating curiosity. But there are some terms and conditions which you should read before registering a domain name with one.com to fully understand such offers.
10. 123 Reg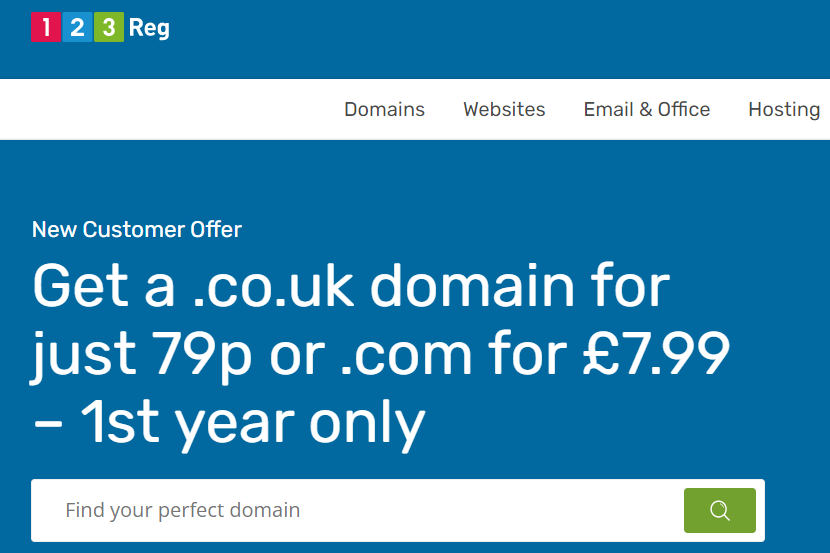 A well-known UK domain registrar which is owned by GoDaddy. They offer the.com domain for £7.99 for the first year only.
They are a popular domain registrar in the UK and in this article James explains how to register a domain at 123-Reg and host it via SeekaHost.app.
Conclusion
Domain name registration is an important step in website development and management and choosing the best registrar is essential for a successful website that won't break your bank.
In this blog post, we have listed the top 10 cheap domain registrars that you can use to buy domain names. Make sure to read through their special offers and deals and if you need more details to compare the prices to find the best registrar then head to their websites.
If you want to easily compare domain prices, the SeekaHost domain checker tool can help you with that. SeekaHost also offers cheap .co.uk domains and the cheapest .in domain name registration that you'll struggle to find anywhere else.