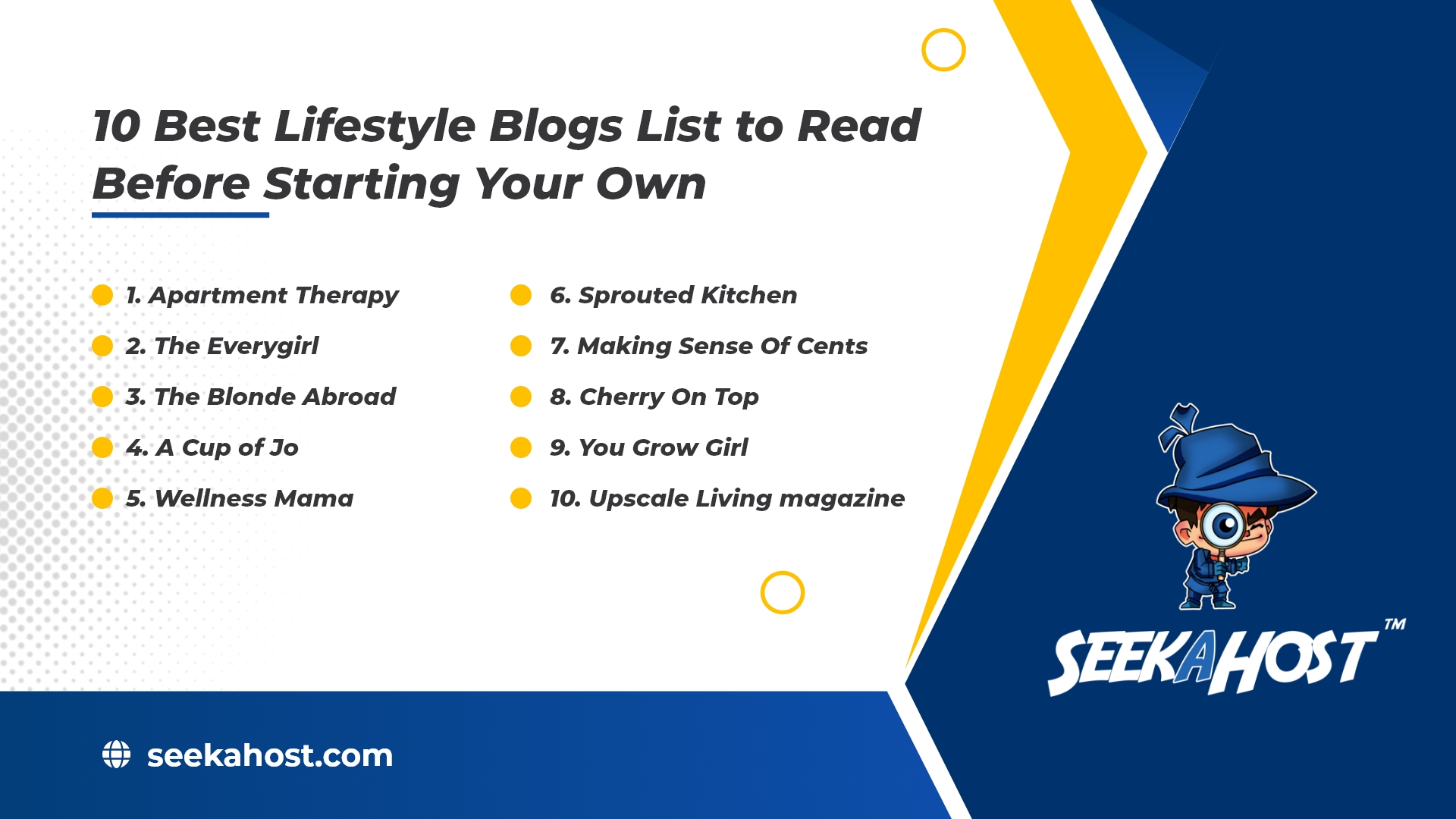 10 Best Lifestyle Blogs List to Read Before Starting Your Own
A lifestyle blog is like an online diary that covers the blogger's everyday life and activities.
It portrays a set of lifestyle blog posts shown in reverse chronological order, with the most recent shared content appearing first.
A lifestyle blog's goal is to educate others about a particular lifestyle from a personal blogger's perspective by providing information, provoking conversation, and offering actionable recommendations. The audience, not the author, is the emphasis of the blog articles.
Many lifestyle blogs begin by covering a wide range of subjects before narrowing their focus as certain themes become more popular with their readership.
Here are some of the most popular lifestyle blog niches and topics:
Health
Parenting
Food + Drinks
Personal Growth
Money & Finance
Travel & Adventure
Relationships
Interior Design & Decorating
Plants & Gardening
Fashion & Beauty
Family
Home
Design
Décor
Of course, there will be some overlap if you blog about numerous categories; just try to keep them related. Fitness and healthy eating, for example, or motherhood and family are obviously connected. You can find crossovers between several topics and often readers like that, if it's relevant for them.
A lifestyle blog differs from a personal blog by focusing on specific hobbies and interests rather than establishing a deeply personal connection with blog followers.
Wouldn't it be fantastic if you could earn money by writing about what you enjoy? You can, in fact, do that.
According to SEM Rush, the average revenue of a lifestyle blogger is above $5,000. But, from personal experience, I can tell you that you might be making a lot more. Some of the most popular lifestyle bloggers earn over $100,000 each month through blogging and influencer marketing. With over 30 million bloggers in the United States alone, it may appear like there is a lot of competition.
However, if you are passionate about what you're doing, you may be able to quit your full-time job and start a lucrative lifestyle blog. Starting a blog is easier when you examine the blogs you respect and appreciate to inspire you.
To help you we've put together a list of popular and unique lifestyle blogs in different niches that have become gained a decent following. Based on these examples you will see what a good lifestyle blog needs to have and that it usually takes time to build and grow it, but that it's all worth it.
10 Unique Lifestyle Blogs List to Read Before Starting Your Own
1. Apartment Therapy

Maxwell Ryan founded Apartment Therapy in 2001. It was merely a weekly email for clients back then.
Why should you pay attention?
Therapy has become a go-to site for home décor, hacks, and advice. It's also known for publishing daily house tours submitted by readers who bring in their unaltered designs.
The blog's main goal is to bridge the creative gap for clients by providing them with the greatest shopping recommendations, professional advice, and DIY tutorials. Architecture, House Tours, Projects, Arranging & Cleaning, Estate, well-being, Living, Videos, and Bazaar are among the themes covered on the blog.
Website: https://www.apartmenttherapy.com/
Instagram: 3.2M Followers
2. The Everygirl

Alana Kaczmarski and Danielle Moss founded the blog. This incredible partnership has crafted a masterpiece with a plethora of information for all ladies, especially those striving to better themselves.
Why should you pay attention?
I'm serious when I say that the Everygirl blog is for every girl. Reading the blog can help any young lady who wants to live a well-rounded, established, and fashionable life. It contains a wealth of information ranging from career advice to meal-prep tricks.
From business ideas to being entire as a single person, they've got you covered. Alana and Danielle, the authors, have also stepped out and developed The Everymom, a speciality site that caters to the unique requirements of that population.
Website: https://theeverygirl.com/
Instagram: 1.1M Followers
3. The Blonde Abroad

Travel influencer Kiersten Rich (Kiki) shares hundreds of location reviews on her travel blog, The Blonde Abroad.
Why should you pay attention?
Even dedicated homebodies are intrigued by Kiki's international travels and skilled travel guidance. She aims to assist women in "discovering the courage to travel the globe." Her one-of-a-kind "Start Here" tour of the site also shows how to plan, pack, and prepare for a trip.
Website: https://www.theblondeabroad.com/
Instagram: 520K Followers
4. A Cup of Jo 

A Cup of Jo is a lifestyle blog that covers relationships, fashion, cuisine, travel, and parenthood. Joanna Goddard graduated from the University of Michigan in 2001 and currently lives in New York City, established it. Joanna collaborates with an in-house editing team that comprises two content writers.
Why should you pay attention?
A Cup of Jo, unlike other blogs in other categories, does not prioritize long-form material. Each post, on the other hand, is polished to perfection, ensuring that the author's personality shows through with Instagram-worthy photographs.
Joanna constantly contributes a percentage of her profits to charity in addition to writing meaningful articles about her various loves.
Website: https://cupofjo.com/
Instagram: 256K Followers
5. Wellness Mama

The Wellness Mama site was founded by Katie Wells, the primary boss lady.
Why should you pay attention?
Katie is a multi-talented mother of six with a journalistic background. Katie got right in when she was presented with health issues and began investigating natural and alternative treatments. Wellness Mama grew out of this desire. Katie has a team of medical consultants, writers, and researchers on her side. They provide readers with factual, trustworthy articles, and the site has a good image as a trusted guide for many subjects of organic living and parenthood.
Practical parenting advice, DIY housekeeping hacks and cosmetic ideas, natural and herbal cures, recipes, and much more can be found here.
Website: https://wellnessmama.com/
Instagram: 231K Followers
6. Sprouted Kitchen

Sara and Hugh Forte, partners, collaborated to develop Sprouted Kitchen. Hugh's gorgeous food porn photography is featured on the site just as frequently as Sara's delectable recipes.
Why should you pay attention?
They are great believers in the advantages of eating in season. "A late-August peach from a farmer's market tastes precise as a peach should." In addition, they attempt to make healthy-ish cuisine that fits into your daily routine by focusing on veggies, whole grains, essential fats, and sugar substitutes.
Sprouted Kitchen currently has a large recipe library spanning various cuisine categories. There's also a section on the equipment you may use — both the kitchen equipment used to prepare the dish and the photographic equipment Hugh prefers.
Website: http://sproutedkitchen.com/
Instagram: 229k followers
7. Making Sense Of Cents

Michelle, a finance MBA graduate, graduated from college in 2012 with a mountain of student loan debt. Michelle began her career as a financial analyst in the financial services business, but she finally left to start makingsenseofcents.com and has never turned back.
Why should you pay attention?
Michelle established MakingSenseofCents.com to assist her readers with getting out of debt and managing their finances after she followed her own advice and got rid of her debt herself. Michelle is a self-employed freelancer and solopreneur who creates and distributes her own material, including monthly revenue reports.
Website: http://makingsenseofcents.com/
Instagram: 28.6K Followers
8. Cherry On Top

Cherry On Top, a beauty and lifestyle blog founded by Sayantini in January 2013, is her first blog. She is always testing new items, from skincare to cosmetics, and she provides you with the greatest fashion and beauty tips.
Why should you pay attention?
Sayantini's love for cosmetics and beauty products is one of the reasons you should read her blog, as she provides a wealth of beauty and fashion tips that you may utilize for your own blog, before investing in certain beauty goods that you share. So if you're searching for a one-stop beauty and lifestyle site that covers anything from makeup to accessories to skincare, Cherry on Top is the blog to check out.
Website: https://cherryontopblog.com/ 
Instagram: 21.4K Followers
9. You Grow Girl

Gayla Trail, the blogger, is a writer and photographer who has produced several gardening publications, including Groundbreaking Guide to Gardening and Easy Growing: Organic Herbs.
Why should you pay attention?
Beginning and expert gardeners will find the garden design blog useful and easy to grasp. There are suggestions for choosing the perfect plants for your garden, planting at the right time of year, and proper planting and preparing practices. Edible flowers, vegetables, herbs, flowers, plants, and shrubs are discussed in blogs. In addition, a seed starting guide, a novice gardening guide, a container gardening guide, and a guide for preserving and canning the veggies you harvest in your garden are available.
Website: https://www.yougrowgirl.com/
Instagram: 15.3K Followers
10. Upscale Living magazine

Since the winter of 2004, Upscale Living magazine has been a luxury lifestyle monthly. It is known as the world's luxury doorway, delivering unrivalled elegance from the coast of Capri to New York Fashion Week.
Why should you pay attention?
Fashion, fine jewellery and timepieces, rental properties, home interiors, wine, spirits & cigars, gastronomy, travel & destinations, accommodation reviews, luxury autos, yachts and jets, and all aspects of a life well-lived are all included.
Website: https://www.upscalelivingmag.com/
Instagram: 4K Followers
Conclusion
As you can see, there's no lack of lifestyle blogs on the Internet. There are millions of blogs out there, and making your blog stand out to be the most popular lifestyle blog that gives actual value to the readers is a challenge, but achievable as these examples show.
You may get started once you have a basic understanding of portraying yourself to the community through your own unique lifestyle blog. This list of the finest 10 lifestyle bloggers worldwide will certainly help you on the way to becoming the next top lifestyle blogger as you can learn from their blogging techniques and strategies. We hope this post provides you with some useful inspiration and ideas to build your own blog and start earning.