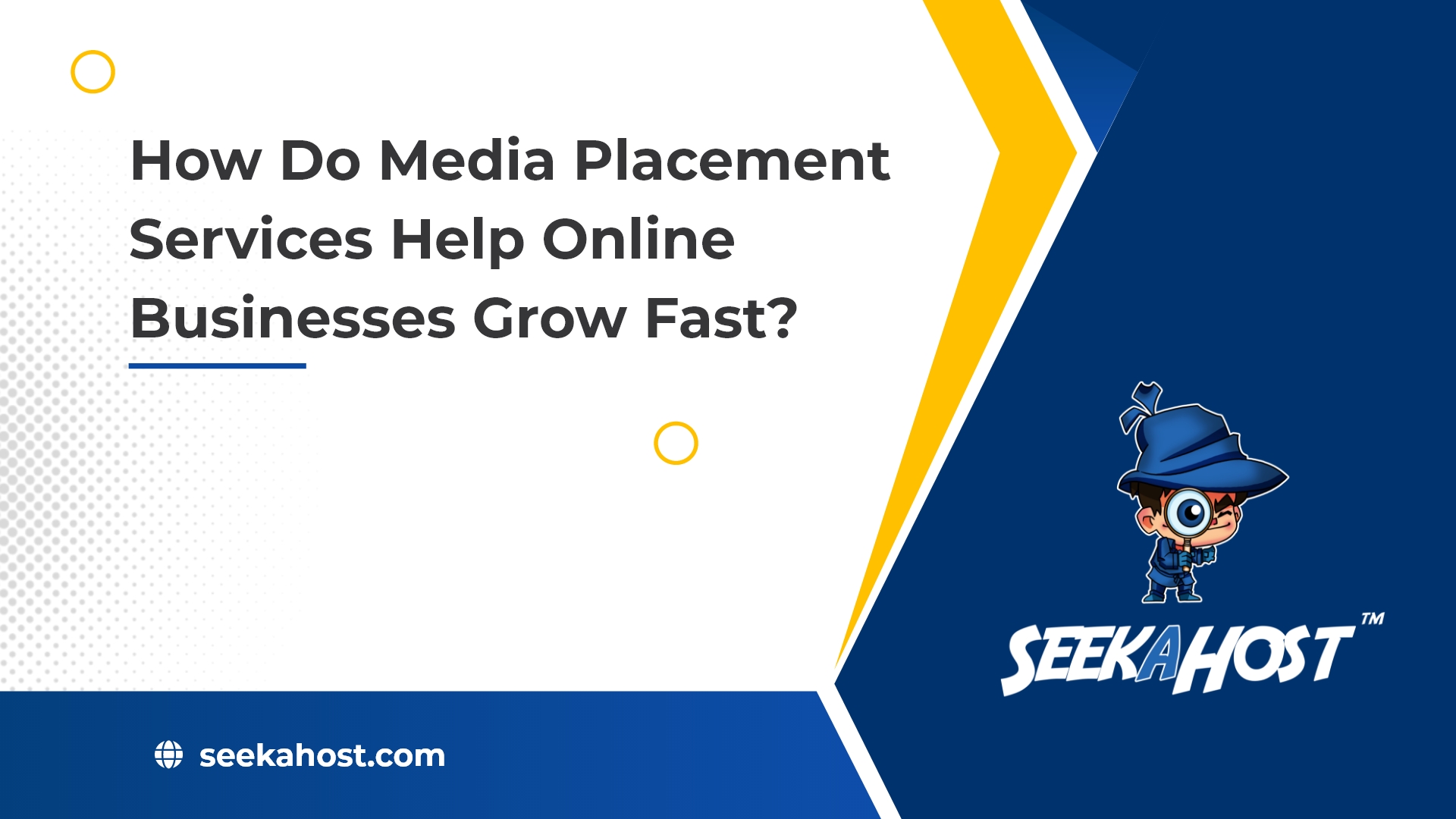 How Do Media Placement Services Help Online Businesses Grow Fast?
Simply put, media placement services refer to the placement and publication of advertisements and marketing content on media and publishing platforms.
Advertisements in the digital age come in various formats such as guest or blog articles, interviews or opinion pieces and news and press releases that in essence cover news or aspects of the business being promoted.
Media placements are not just important for PR but also for SEO and in this post we provide insight into how media placement services can help your business grow.
Online Vs. Offline Media Placement Services
In this digital era where phones and laptops rule the world, we know online media placement services are what businesses really need to thrive. And that's what SeekaHost aims to support your business with too.
The time the average U.S. adult spends with mobile media has increased from 46 minutes in 2011 to 258 minutes in 2017.
When we wake up in the morning, we check our phones. It's like a reflex action. Online media really has the power to make or break your brand image. That's why getting your business on the digital map is the best way to grow your business, and fast.
Online content, whether it is in written form, animated, or uses a video-audio format, is king when it comes to increasing online visibility and interactive content, as well as the use of images, graphics, and infographics, are incredibly helpful with boosting website traffic. According to OptinMonster, 91% of B2B marketers use content marketing to reach customers, while 86% of B2C marketers consider content marketing their key strategy.
The marketing strategy is heavily influenced by internet searches of users. So-called long-tail keywords, meaning full sentences search engine users enter during a search, offer context to the content, and also support better conversion rates with an average long-tail keyword having a 36% conversion rate.
So, when a business tries to not only gain more customer attention, but with it more sales, it must make the media placements and publications purposeful and targeted to achieve a higher conversion rate.
This is often not easy, as the whole media placement process requires SEO analysis, content creation with written SEO and visual content for an effective media publication. This is why many businesses seek help through expert media placement services.
Getting Started with Media Placement Services for Your Business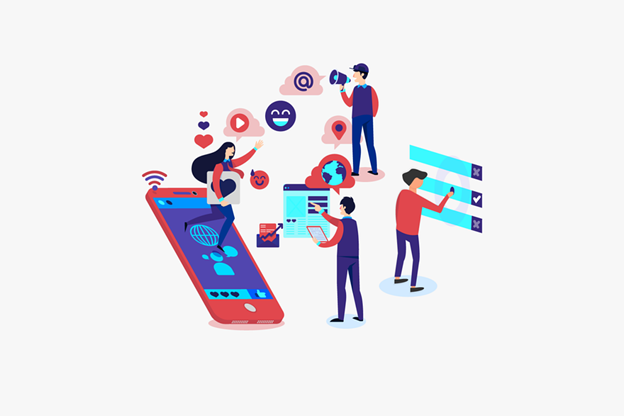 With the right media placement strategies, you really can increase your business' value and reach and get an ROI from online media placements.
So, how can you get started with the media placement services?
·      Make sure you choose the right media
One of the main aspects of media placement strategies is the appropriate media channel you're choosing for your selected or specifically created marketing content. For instance, if your business deals with medicine, you can't advertise your business in a motor magazine.
It is vital to understand how to choose the right media platforms for the media placement and to make the publication unique without violating the editor's guidelines. It is also crucial to create a guest post or press release that even more esteemed publications and platforms would accept and publish, which is not easy. The more business mentions on websites with a high domain authority are achieved, the better for the business website and brand as the authority is passed on.
See one example of a mention of SeekaHost in a post on Forbes.com, which has a domain authority of 94 and 65 million organic traffic monthly: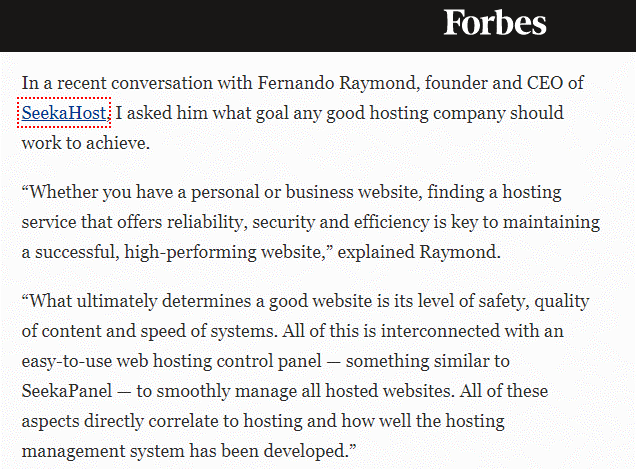 For such mentions that position your business as an expert in your industry, you require professional communication with relevant journalists and writers and know-how about how to make this mention valuable for your brand. The media placement services experts will take care of that for you.
·      Research the target audience
As mentioned earlier, your media placement will only provide you with a positive ROI, if it is noticed by the right people that are interested in what you offer and may be more likely to become your customer or client.
So, you'd have to check out the demographics of the publication you're advertising in first and many provide media packs that include statistics about their websites such as monthly visitors, visitor demographics, newsletter subscribers etc. If they don't then SEO tools are great to research the target audience and media placement services can do that for you.
In our huge guest posting sites list you can read more about the purpose and advantages of having your content placed in high-quality publications plus find our recommendations and partner sites where your media placements can be published, among many others that our team could source individually for you.
The goal of any marketing campaign should be for your target audience to see your media placement. Because you want to reach who is particularly interested in the products or services your business is providing and would potentially become your next customer.
You could also check the kinds of advertisements and media placements your competitors are running and connect with similar platforms for a placement; however, you want to stand out so it would have to be very unique.
·      Place your media placements most effectively
For example, a media placement located in the corner of a newspaper won't attract any potential customers because they won't even look there! Ensuring to position them accordingly so that you can make your business grow faster is another key element of media placement campaigns.
Many companies pay thousands for online advertisements, but according to research by the digitalexaminer.com most don't evaluate the ROI:
With targeted media placements that are strategically planned, it is far easier to track the success of the campaign by using SEO tools to discover where web visitors to your business site or target page have come from. If your website suddenly experiences visitor spikes after a marketing campaign is completed, you'll see how one valuable media placement can make a huge difference and impact.
It is advisable to link to your business website in a media placement and often dedicated pages or posts work better when it comes to tracking the traffic and targeted conversions. Websites certainly work better than phone numbers in this digital age! And this can direct customers to make a purchase, hence boost your ROI.
With SeekaHost's media placement services, your business will achieve a greater reach.
4 More Ways to Make Your Online Business Grow and Various Platforms to Place Your Ads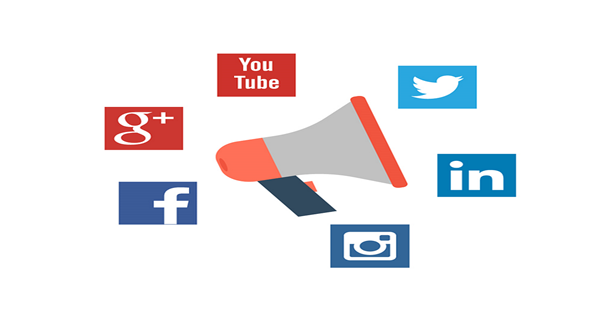 We know that media placement services can grow your business. But, while formulating your media placement strategies, you also need to keep in mind the following to promote business growth:
1.    Create a blog
Did you know? According to reports, blogs attract at least 67% more leads on a monthly basis!
You could run your online blog to inform potential customers about trending topics related to your business or industry. Remember to optimize your content so that it ranks well on Google and reaches your target audience with SEO optimized blog content. SeekaHost is a great partner when it comes to hosting and marketing blogs.
Suggested: How to Create a Website From Scratch: Ultimate Guide To Build A Website | SeekaHost™
2.    Have a social media presence
Almost everyone uses Instagram, Twitter, and Facebook. Since these platforms are so easily accessible, you can use them to your advantage to grow your business with digital marketing. While creating your media placement strategies, you should also consider the impact social media has on potential customers. Placing promotional content on social media platforms is an excellent way to improve your brand image, plus sharing your media placements on your own business socials.
Many platforms offer to share your media placement on their socials and depending on how many followers they have this could provide your brand with additional PR reaching thousands to millions more. The goal is to be consistent. Interact regularly with your audience on these social media platforms to get good results. Keep them updated on exciting offers, conduct polls to get to know them better, and provide an overall personalized experience for them.
Suggested: 10 Ways How To Market A Business Online For Free | SeekaHost™
3.    Use email marketing
Media placement services could also include positioning promotional content in email newsletters going out to thousands of subscribers. They support a huge range of advertising formats, and with your media placement you could have text ads, native ads, or display ads sent out additionally. Many platforms offer such email marketing services on top of the original media placement. The advantage is that their subscribers have trust in their emails and content. They've already subscribed and have chosen to receive emails because they trust the brand.
Suggested: 8 Best Email Marketing WordPress Plugins for Optins, Sign-up forms, and Email List Management | SeekaHost™
4.    Invest in video marketing
YouTube, TikTok and Webinars are often used for video marketing, but videos also perform very well on social media. Customers are more likely to engage with videos than long-drawn articles. A short video that explains what your business does or displays the genuineness of your brand can do a lot for your business.
Media placements can include features on successful YouTube channels for example or with podcasters in your niche. They could also come in the form of interview recordings such as this one of SeekaHost CEO Fernando Raymond:
Suggested: 8 Video Marketing Tips That Successful Startups Swear By | SeekaHost™
Why Are Online Businesses Better Than Offline Businesses?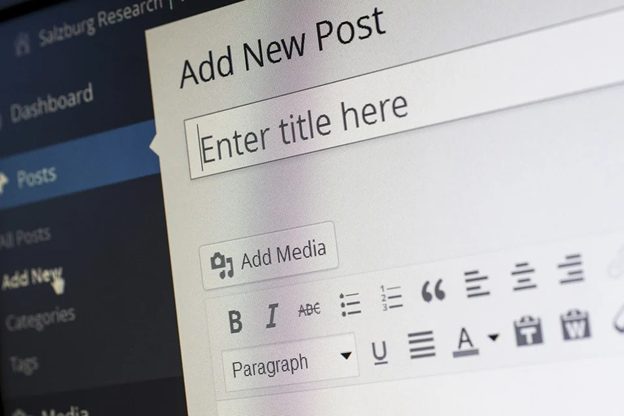 As already mentioned before, this digital age has made online businesses the new thing. And to top it off, media placement services only further increase their reach.
But what are the other reasons they are better than offline businesses?
1.    Less operational expenses
Have you noticed how prices charged by online retailers are often a bit lower than those charged by brick-and-mortar stores? It's because of their lower operating costs. With online businesses, workers aren't required at every location, and nor are security or health staff. Even the sales are automated nowadays besides many other ecommerce tool automations.
2.    Global selling
If your business sells quality products, you can literally sell them across the globe. You're not limited to a specific location. With the help of the Internet, your business can expand online in so many more and effective ways with a business website.
3.    24/7 availability
Offline stores usually have fixed timings. But your online or home business website is available all day, every day. This means your customers can reach you and make purchases at all times. No one is restricted to shop at a certain time of day. With increasing availability, there's also an increase in profits and the possibility of building better connections between merchants and buyers.
And with excellent media placement strategies and services, you can place advertisements about your business on the internet, spreading the word about your business globally!
In conclusion
Media placement services can grow your business exponentially. But before you get started, ensure you define your campaign goals. By creating a SMART framework that is Specific, Measurable, Achievable, Relevant, and Time-bound, you set clear goals.
Your goals for your media placement campaign could be to increase traffic, generate new leads, increase brand awareness, boost sales, or/and bring back repeat customers. Whatever they are, make sure you get media placement experts involved and SeekaHost's web consultants can help with that and many other aspects of making your business web presence a success.